The stars of European amusement parks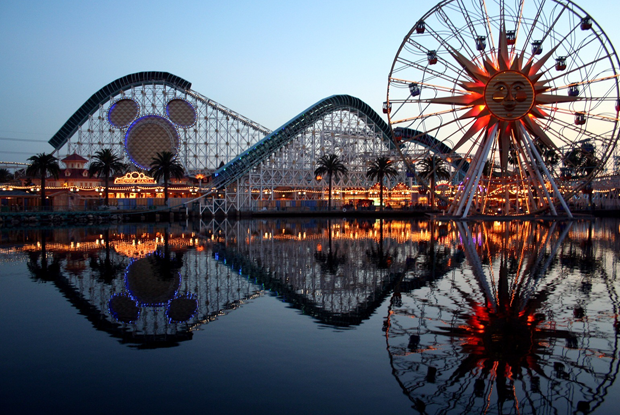 Back to childhood
Amusement parks are places where everyone can feel like a child again. Huge roller coasters, queues, Ferris mills, gondolas - everything that is associated with pleasure. It's not just children who have a great time in an amusement park, and no one should feel stupid if they want to go there as a madman, not a serious adult.
The undisputed leader of amusement parks on the old continent is Disneyland near Paris, advertised as a place every child dreams of. Disneyland Park and Walt Disney Studios Park are the most visited amusement parks in Europe, being at the forefront of the most visited parks in the world. They offer guests several lands where you can meet heroes of fairy tales from childhood - there are, among others, Fantasy Land with the Sleeping Beauty Castle and Adventure Land with Pirates of the Caribbean and Robinson Crusoe themes. Both parks, together with the surrounding hotels and Disney Village, form a gigantic recreational and leisure complex. Fairies, princesses, smiling Mickey Mouse or Winnie the Pooh with a pot of honey - we will meet everyone here. It may be too sweet for some people, but after all, it's a world of fairy tales and magic.
Spells, elves and talking trees
When it comes to witchcraft, it is impossible to ignore the place full of magic - Efteling in the Dutch city of Kaatsheuvel . Every visitor has the impression that he has moved to Wonderland. There are, of course, plenty of fun activities for an amusement park. There are several Rollercoasters, including the famous Vogel Rok, which is driven in complete darkness. On 72 hectares, tourists will also find the Bobbaan bobsleigh track, the Spookslot House of Spirits, the rapid river Pirania, as well as the land of a thousand and one nights' fairy tales called Fata Morgana - a palace that is visited in several-person boats. The Fairy Tale Forest is waiting for the children, where Little Red Riding Hood and the Wolf are walking, there is also a mirror of the Evil Queen and a talking gingerbread house. One of the greatest attractions of the Forest is the Talking Tree which answers the questions. You can admire the entire park from a bird's eye view, just enter the Pagoda, which slowly rises up, while making a gentle turn.
It is also worth seeing Sprookjesbos - a palace decorated with flowers, in which there is a land of fairies, elves and gnomes, and planets suspended in space with castles straight from the "Little Prince". Another attraction is Aquanura , the largest fountain system in Europe, which was established in 2012 on the occasion of the 60th anniversary of the park. The shows of light, water and fire are synchronized with the atmospheric music and delight every viewer. Ticket prices to the park start from 32 €, but if you buy more expensive ones, you will get a discount on the purchase in the souvenir shop, free coffee or tea with a muffin, and the possibility of entering the park half an hour earlier.

The highest roller coaster in Europe - Shambalaha
What if someone wants to conquer - like a mountain peak - the highest roller coaster in Europe? Until recently, the German Silver Star was the winner, but in 2012 it was 5 meters ahead of the Spanish Shambalaha. The current number 1 is 78 meters high, and we can find it in Port Aventura , located near the cities of Salou and Tarragona, several dozen kilometers from Barcelona. Admission to the park costs € 44 for adults and € 33.50 for children and seniors, and apart from the rollercoaster itself, there are over 100 other attractions in the park. The guests are waiting, among others the largest roller coaster in Europe, Dragon Khan, wooden roller coaster Stampila and the tower launcher Hurakan Condor. Visitors to the park can also watch Chinese acrobatics and tribal dances straight from Polynesia. Port Aventura Park is open daily from March to November and during the Christmas and New Year holidays. At other times, it is only open on weekends.
There are expensive hotels and little cheaper campgrounds near the park, but what if you want to see this wonderful place? Approximately 3 km away is the Camping Resort Sangulí Salou, where the accommodation rates are fixed ( € 7 for an adult and € 5 for a child aged 4-12), while for a parking space in early August we will pay from 59 € to even 67 €, while in September - from € 15 to € 18.

The largest amusement park in Germany
The above-mentioned Silver Star is a 73-meter roller coaster located in Europa-Park , the largest amusement park in Germany and the third largest number of visitors in Europe. It is located in Rust near Strasbourg, covers 85 hectares and offers tourists 16 thematic lands (including the Enchanted Forest, Children's World and the Land of Adventure), 11 roller coaster and many other attractions for children and adults. You can fly here on a Leonardo da Vinci flying machine, get on a steamer, visit a space station or go to Siberia.
Europa-Park is a huge recreational and leisure center. There are 4 hotels on its territory, as well as a tipi village and a camping site. In summer, an admission ticket for an adult costs about PLN 150, for children and seniors about PLN 135. However, in winter it is cheaper - a ticket for a child is about PLN 110, and for an adult it is about PLN 125.
There are several large amusement parks in Germany, and the closest to Poland is Heide-Park . It is located between Hanover and Hamburg and targets mainly families with children. But there is also something for adults - there is a diving queue waiting for them, i.e. Krake, which cannot be used by people with high blood pressure and heart problems. Another, equally extreme attraction is Scream, the world's largest falling elevator, speeding down from a height of 70 meters. Children have a smaller version, falling from a height of 12 meters - it can be ridden by 3-year-olds.
European fun lands
This is just a fraction of any European theme parks worth exploring. You can talk about them for a long time, and the topic will not be exhausted anyway. Each of them deserves a separate story, but there will be time for that.
A writer by profession, a passion of a cat. One day he will see what is behind the Urals - good to Vladivostok. So far, when he can, he enjoys the sun of the countries of southern Europe. And it's also fun;)
Enjoyed reading this article? Share it!