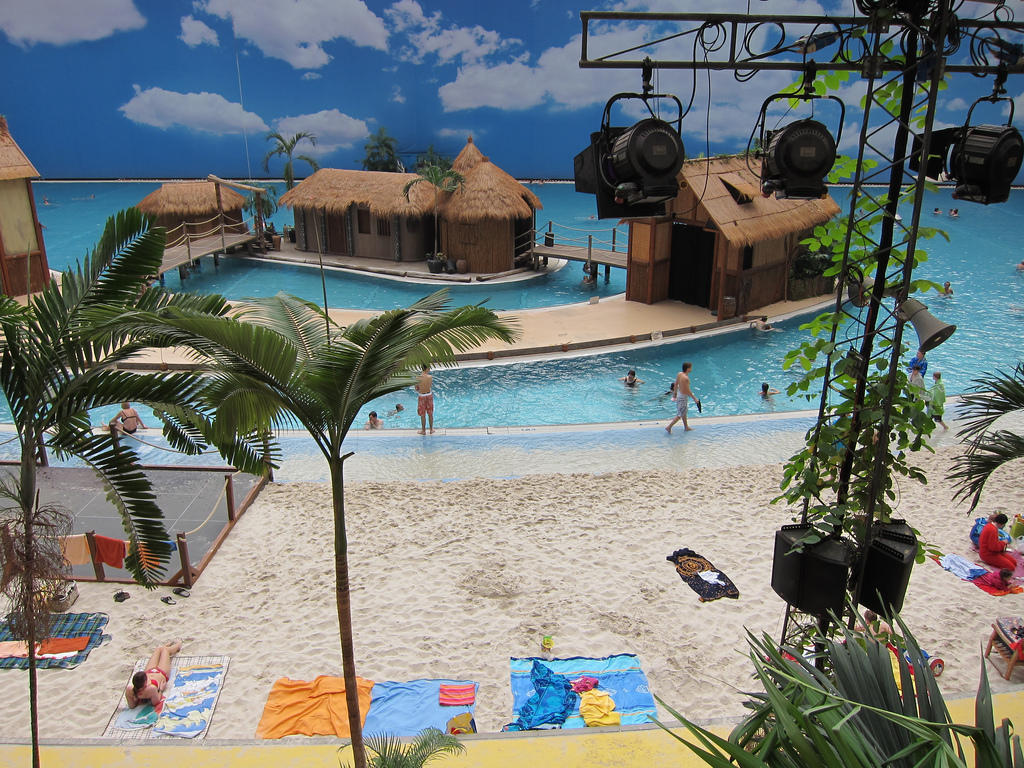 Tropical islands just abroad? Yes, in Germany, the Tropical Islands hall awaits those who long for sun and relax on a beach with golden sand. You can wear a bikini here even in the middle of winter.
Many of us dream of a vacation in the tropics, especially now, when we are still waiting for winter and trying to prepare for frosty days full of snow. Unfortunately, the hot islands are far away and not everyone can afford an exotic trip. However, if someone is very thirsty for sun, beach and palm trees, you can visit our western neighbors - loose sand and warm water await guests abroad, in Germany.
The Tropical Islands are located 60 km south of Berlin, on the A13 motorway (Berlin-Dresden). Those who want to go there with their own car should leave the highway at the Staakow exit and drive about 3 km. Their markings will guide them to their destination.
Tropical Islands - the sky under the dome
Tropical islands arose on German soil in 2004, covering an area of 66,000 sq m. They are located in the largest self-supporting hangar in the world, on the site of the former airship production hall. They stretch under a dome so large that the Statue of Liberty could fit inside.
Tropical Islands can be visited all year round, 24 hours a day. They are divided into the Tropical Zone with beaches and forest and the Sauna Zone, which is the only one in a tropical amusement park that is closed for several hours - from 1 am to 9 am. Guests of the complex can not only feel like on a paradise island, but also enjoy dishes served by several restaurants and take advantage of the rich entertainment program.
Tourists who decide to stay in one zone will pay 34.5 euro for the admission ticket. A ticket for children aged 6-14 costs 27 euros, and children up to 5 years old can enter for free. To enter both zones - both the Sauna Zone and the Tropical Zone - you have to pay EUR 39.5 for an adult and EUR 27 for a child.
Overnight in the tropics
At Tropical Islands, everything is taken care of, from delicious food in the cottage-style restaurants of the South Sea beaches to a wide range of accommodation. Guests can book accommodation in the amusement park itself (in comfortable rooms, bungalows and tents in the Tropical Forest), as well as outside the hall. Those who chose the second option have holiday homes, apartments and parking spaces at the campsite at their disposal.
Camping Tropical Islands is open to receive guests from April 1, 2014 to January 12, 2015. It offers space for approx. 20 private tents, 34 tipi tents for rent, as well as 91 places for motorhomes and caravans . The accommodation for 2 adults and a child costs about 30 euros.
The great advantage of the campsite is its location. Not only is it close to the Tropical Islands arena, it is also accessible via the free shuttle bus. That's not all - tourists staying at the campsite pay entry to the hall only once, and every next day they can enter the amusement park for free.
On the beach, in the shade of palm trees
Inside the hall there is a constant temperature of 26 ° C, creating a truly tropical microclimate together with high air humidity. You can lie on the beach for hours, lazily sip a drink with a straw, walk among the thickets of trees or enjoy one of the many dishes of Indian, Asian (Asian Wok House) or Jabarimba (tasty barbecue).
Transactions made at Tropical Islands are recorded on a special chip wristband with a credit function. Paid is, among others admission to the mini-golf course, participation in the evening show in the Tropical Village and African Jungle Lift.
So what are you waiting for? We invite you to the largest tropical island under the dome in Europe.
A writer by profession, a passion of a cat. One day he will see what is behind the Urals - good to Vladivostok. So far, when he can, he enjoys the sun of the countries of southern Europe. And it's also fun;)
Enjoyed reading this article? Share it!