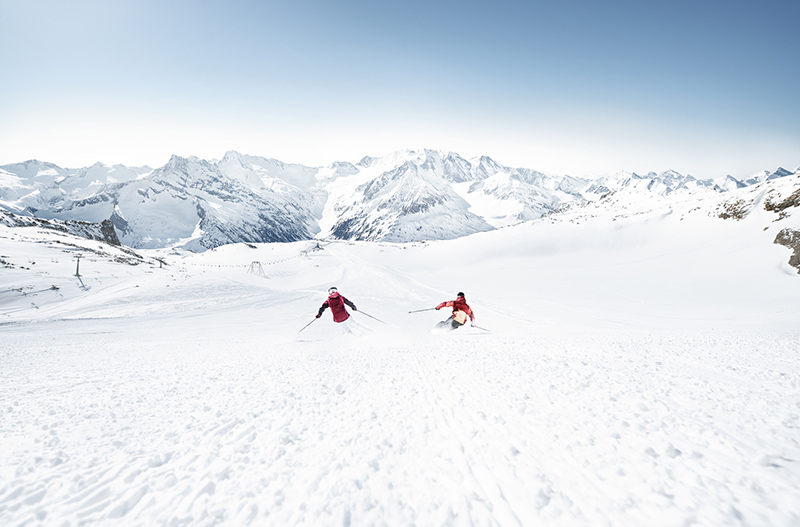 This exotic-sounding name hides a glacier, advertised as the only year-round ski area in Austria. Hintertux is a famous resort and part of the huge Zillertal Valley, 50 km long. You can reach its top by a gondola lift, and after reaching the highest point accessible by ski lift, everyone will feel delight at the view of the panorama stretching from the terrace lying at an altitude of 3,250 m. To say that it is worth coming here is definitely not enough - anyway, just say that Hintertux was named "The Best Glacier Ski Region in the World for 2011". The award was given to him by Skiresort.de, one of the largest online portals for testing ski regions. In the "Best Ski Region" category, Hintertux received 4.2 out of 5 stars, which is also quite an achievement.
Slopes
Well-prepared slopes await winter sports enthusiasts. Skiers have at their disposal over 86 kilometers of routes of all difficulty levels (23 km easy, 47 km intermediate and 16 km difficult) and 22 ski lifts, of which 18 are currently open. The highest lifts reach points at an altitude of 3250 m. Additionally, the resort offers 68 km of hiking trails and 28 km of cross-country trails, 3 ski schools and 5 shelters. The Gletscherbus 1 cable cars from Hintertux help tourists get to the Sommerbergalm, there are also free ski buses and the Nightliner night bus.
Passes
In the 2012/2013 season, the prices of the passes (in the period from December 13 to May 10) will be EUR 45 for 1 day of skiing for an adult, the cost of a weekly pass is EUR 244, and for a two-week pass - EUR 420. However, for example, a 5-day children's pass costs 84 euros.
Campings
Speaking of prices, it is worth mentioning the cost of accommodation. Specifically, about the cost of accommodation on camps - finally, according to "Camping, Cars & Caravans" (a magazine for caravanning fans) and the aforementioned portal Skiresort.de, the Zillertal Valley is the best region for motorhomes.
The closest to Hintertux is Camping Mayrhofen (Laubichl 125, Mayrhofen), where you can bring your dog. The prices of the stay are EUR 7.50-8.50 / day for an adult, EUR 5.20-5.70 / day for a child up to 14 years of age, and for a dog - EUR 3 / day. We will pay more for a stay in the period from 10.12 to 06.01, while later (07.01-14.04) lower rates apply. If you pay in cash, you will get a 2% discount, we will also get a nice discount if our stay is longer than 15 days - then we will get a 10% discount. The price includes access to hot water showers, the swimming pool, and also includes garbage disposal and ski bus rides, which take skiers to the slopes every 20 minutes. Advance booking is required if you wish to arrive over the Christmas and New Year period.
A little further away is Campingdorf Hofer (Gerlosstraße 33, Zell am Ziller), a campsite open from mid-October to the end of April. The price of one adult stay here is 7.70-8.60 euro / day, depending on the month. A place for a vehicle costs 8.50-9.50 euro / day, and for a dog, regardless of the season, the price is 2.50 euro / day. On the campsite, we can connect to the Internet without any problems, we can also use the swimming pool and, of course, the free ski bus.
Another place worth noting is Camping Hochzillertal (6272 Kaltenbach / Tyrol). It is located in the middle of the valley, so those who choose it can freely choose from the nearby ski resorts. The nearest one, the Zillertal, is only 300 meters away, and thanks to the free buses that stop right at the campsite, the other slopes are just as easily reachable for those wanting to practice skiing. The prices are as follows: both for a place for a motorhome and for an adult's stay from the beginning of November you pay 6 EUR / day, for children under 14 - 4.20 EUR / day, and for a pet - 3 EUR / day.
Other attractions
In addition to skiing, the Hintertux region attracts tourists with a large number of healing springs. They are the highest in Europe and every year hundreds of vacationers come here especially for them. In turn, nearby, next to the Spannagelhaus hut, there is an attraction for speleology enthusiasts - the Spannagel cave (Spannagelhöhle). It is the largest natural cave in the Central Alps, approx. 10 km long and can be visited with a guide. Additionally, the resort offers visitors two amusement parks: Familypark Hintertux and Betterpark Hintertux, besieged by snowboarders and freestyle enthusiasts. It starts operating in October as Austria's first snowpark to open, and at the same time hosts Europe's first Snowpark-Opening. This is an event that freestylers and boards alike cannot miss.
In addition, the resort has good restaurants, there are also discos and pubs. Leaving the town, many people will probably not be able to throw out of their heads a lively song that was once quite a hit, ie "Tux tux Hintertux" sung by Helmut from Majorca.
A writer by profession, a passion of a cat. One day he will see what is behind the Urals - good to Vladivostok. So far, when he can, he enjoys the sun of the countries of southern Europe. And it's also fun;)
Enjoyed reading this article? Share it!