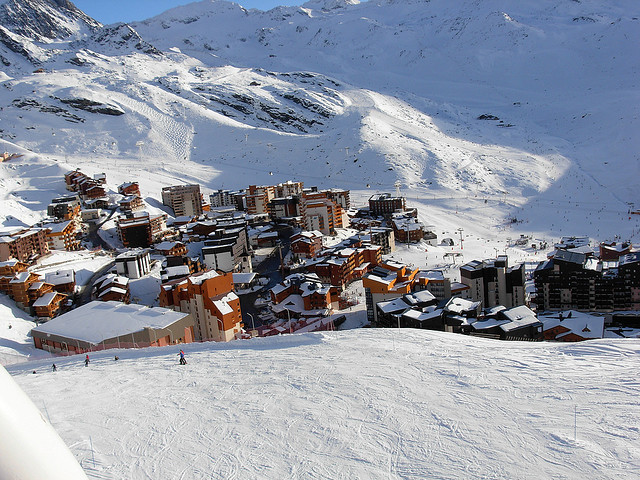 Those who already sharpen their skis for the madness on the slopes have an extremely large selection when it comes to renowned European resorts. The offer is diverse and suited to everyone - from advanced skiers looking for a challenge to beginners who want to find out if snow skiing is what speeds up the blood flow in their veins. You can choose between small, even intimate, and huge resorts with hundreds of kilometers of ski slopes and extensive tourist infrastructure.
A great example of an ideal resort for active people who want to make the most of their stay is Val Thorens - a ski paradise which is the highest winter sports center in Europe. The station is located at an altitude of 2,300 m, offering skiers excellent conditions for practicing their favorite sport even in May. An extensive accommodation base located directly on the slopes, numerous restaurants and shops, as well as discos together create a tempting offer, which is used by hundreds of thousands of tourists from all over Europe every year.
Skiing in Val Thorens - suspended under the sky
Val Thorens is part of Les 3 Vallèes, the world's largest ski area in France. During your stay in the region, you can get to know the routes of other stations - 600 km of slopes and 199 ski lifts await snow lovers. This is a real skiing basin, and all valleys are connected by lifts, so you don't have to take your skis off to be able to test yourself on a different slope. Val Thorens' sister Mèribel tempts those who want easy access to all the resort's attractions - it is located in the very center of the region. Courchevel attracts with modern equipment, including a cable car taking skiers to the top of Le Saulire, where the famous black run awaits them. On the other hand, Val Thorens itself, in addition to its location, offers guests 140 km of its own ski slopes and a number of attractions, such as a sports and recreation center and a wellness center with a wide range of relaxation treatments.
Boredom doesn't get that high. In the sports center, we have the opportunity to play on the tennis court, exercise in the gym, we can also use the squash hall, indoor swimming pool and sauna. Outside, there is the longest toboggan run in France (6 km long), as well as bikes and snowmobiles. If someone needs an even bigger injection of adrenaline, they can take a car ride on the ice or walk through the frozen waterfalls.
Val Thorens tempts with something else. Every year, a great event for snowboarders takes place here - SKI & BoarderWeek . This year, it is organized on 14/12/13 - 21/12/13, and it consists of DJ performances, competitions of competitive sports enthusiasts, as well as product tests of well-known snowboard companies. There will also be a Freesyle Show & Coaching, additionally the entertainment offer is extended by Easy Funpark & Big Airbag and events at the Malaysia club.
Ticket prices in the season 2013/2014 in Val Thorens

The station will open to skiers on November 23, 2013 and will be open until May 11, 2014. People interested in the routes of Val Thorens and other slopes of the Three Valleys will probably want to compare the prices of ski passes. In the case of Val Thorens, the cost of a 1-day adult pass varies from 37.60 euro to 47 euro , depending on the season. For a weekly ride on the slopes you have to pay from EUR 204 (in the period 23.11-13.12) to 255 EUR (in the period 21.12-18.04). Comparing with the Vallée des Belleville station, for example, the prices are much lower. For example, for 1 day of skiing on the slopes of the said station, we will pay EUR 45.60, and the weekly pass costs EUR 256.
Tourists have at their disposal Halfpipe, 5 snow parks, and a 1.4 km long boardercross route. One of the most famous and most difficult routes in Val Thorens is La Cascada, 5500 meters long. Also famous are the 6 km long black run of La Combe de Caron and the 12 km long Col de l'Audzin with an altitude difference of 1,400 meters.
Where to stay in Val Thorens?
As already mentioned, tourists coming to the station have a wide selection of accommodation, ranging from intimate guesthouses to luxury hotels. Those wishing to go skiing with their own motorhome can stop at one of the three parking areas. The fee for them is EUR 14.50-25 per night, and tourists can easily empty the toilet and refill their water supplies. Seats can be booked on-line (at valthoparc.com), which will reduce their price somewhat.
However, if someone would like to find accommodation in one of the numerous local hotels, they will probably also be able to take advantage of the wide range of SPA treatments. After an eventful, but a bit tiring day on the slopes, undergoing such a relaxing therapy will put everyone in a state of bliss. The next day you can hit the trails with renewed energy - after all, we are at the highest ski station in Europe.
A writer by profession, a passion of a cat. One day he will see what is behind the Urals - good to Vladivostok. So far, when he can, he enjoys the sun of the countries of southern Europe. And it's also fun;)
Enjoyed reading this article? Share it!