Where in a ski camper? Th. II, Italy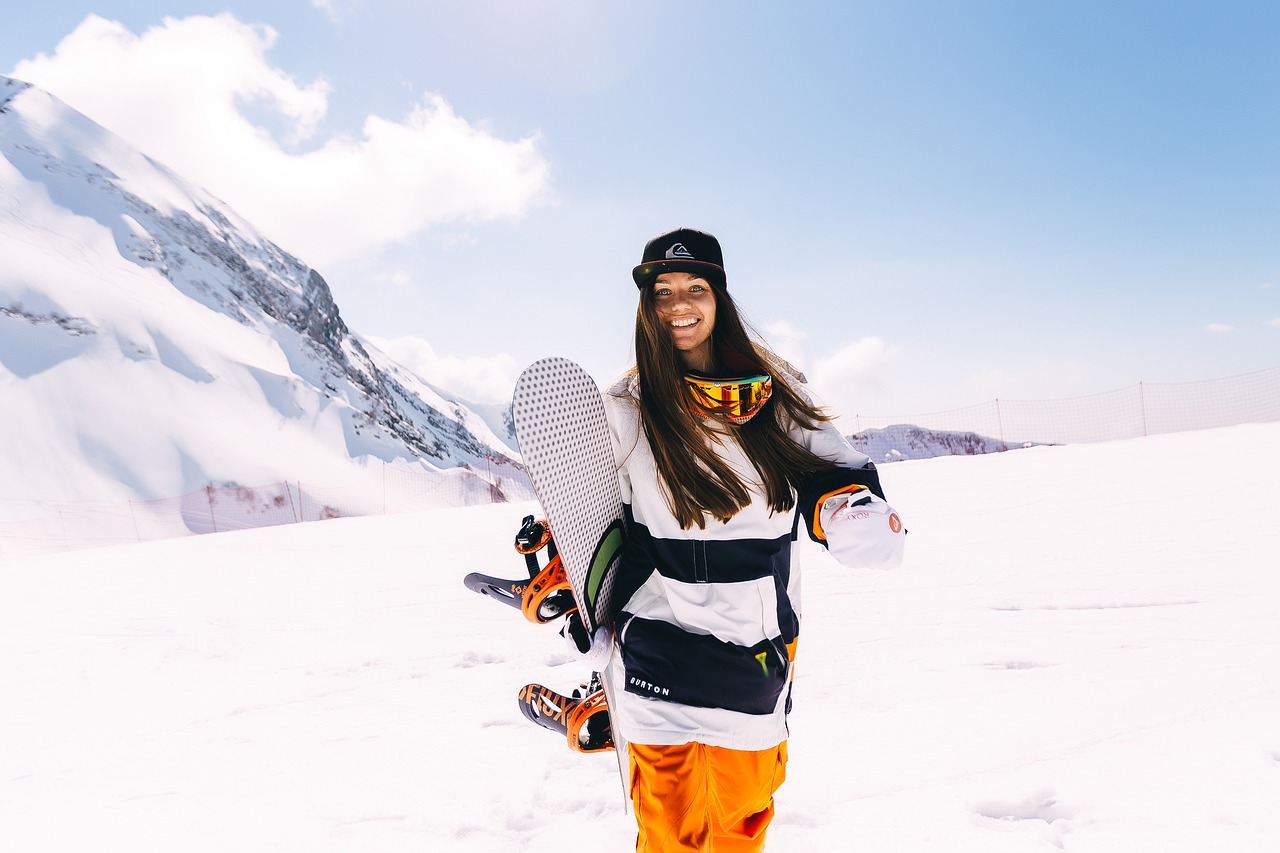 The ski season is in full swing, so we suggest where to go skiing - not only in a motorhome. This is the second part of our guide - this time we focused on winter camping in Italy.
Italy is a country beloved by Poles, both in summer and winter. No wonder, because it offers not only magnificent monuments, but also breathtaking landscapes and the inexhaustible richness of nature in every form. Sea, forests, lakes and of course mountains. There are many ski regions here, with a lot of snow and excellent infrastructure, which attracts organizers of numerous sports competitions and thousands of tourists.
In many places, the conditions for white madness last from the end of October to the beginning of May , so Italy is a destination for skiing enthusiasts for at least six months. Numerous centers differ not only in terms of prices, but also the required technical skills and even entertainment, so everyone - starting from families with children and ending with "crazy" snowboarders, will find something for themselves.
Camping Vidor Pozza di Fassa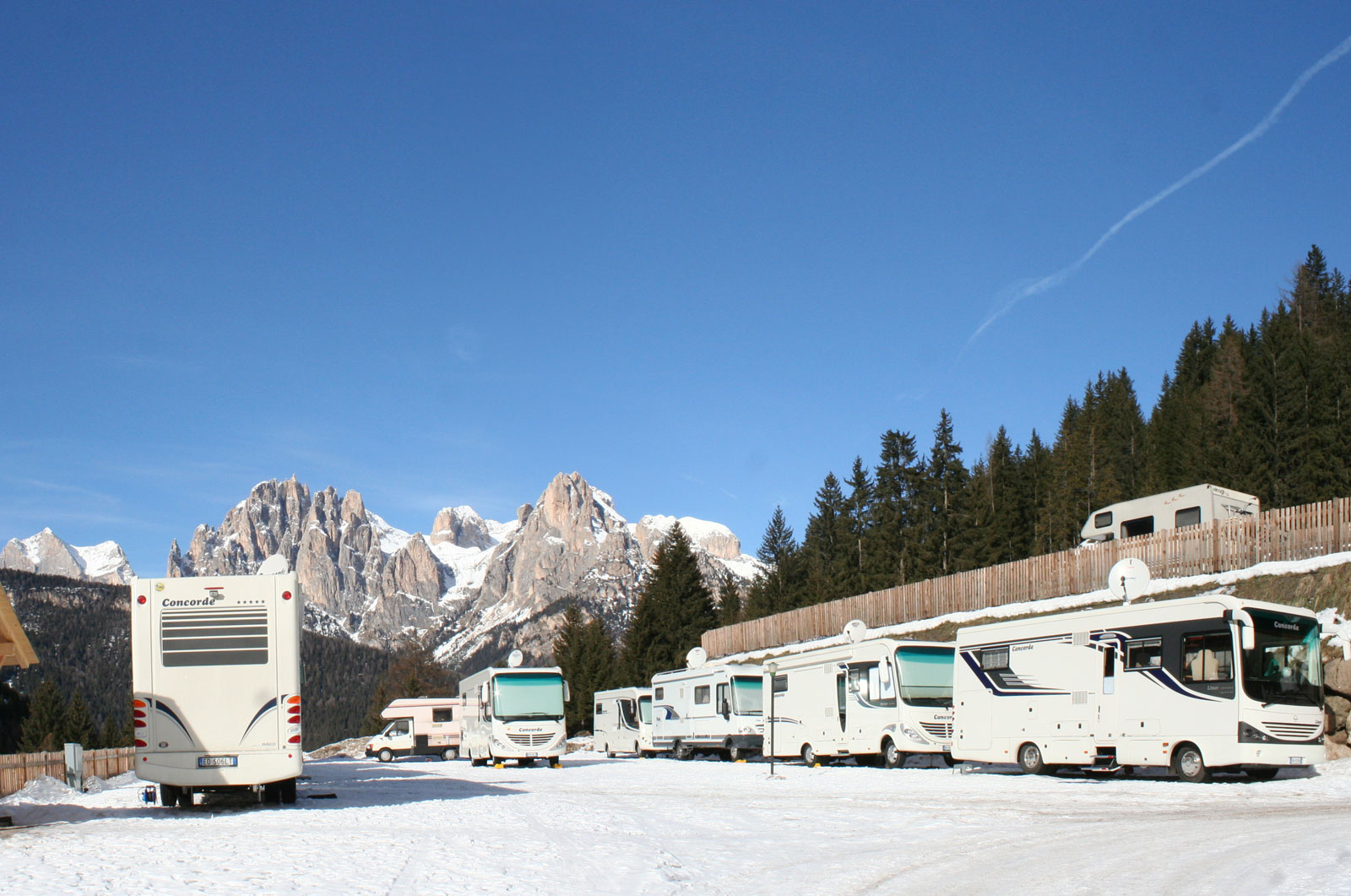 Strada Ruf De Ruacia 15, 38036 Pozza di Fassa TN, Italy
Area
The enchanting valley of Val Di Fassa lies right in the center of the Dolomites. There are such famous ski resorts as Predazzo, Canazei, Obereggen Latemar, Sella Ronda and Marmolada . In the entire Val di Fassa valley we have 9 ski resorts at our disposal, i.e. a total of 230 kilometers of slopes (not counting Sella Ronda - approx. 500 km of slopes) of varying degrees of difficulty.
There are 122 ski lifts on the routes. The ski resorts are connected with each other: Canazei and Belevedere connect with the Passo Pordoi slopes; the Ciampac and Fedaia runs with the Marmolada ski area; Campitello Col Rodella is connected to Passo Sella; Vigo - from Pozza di Fassa; the centers of Catinaccio, Aloch, Buffaure and Carezza - with Nova Levante; from Moena Alpe Lusia we ski to Bellamonte, on Passo San Pellegrino we go all the way to Falcade. After purchasing the appropriate ski pass, we can go on a different route every day .
The ski area of Val di Fassa lies at an altitude of 1,330 m to 2,630 m above sea level . The valley and the nearby Marmolada massif also offer some beautiful "off-piste", that is, descents off the official routes. Those looking for thrills on jumps should definitely go to the Belvedere hall . They will find a special border cross track there.
Families with children will prefer the easy routes around Catinaccio, Buffaure, Bellamonte and San Pellegrino . It is worth adding that Passo San Pellegrino is considered the most beautiful pass in the Dolomites. The famous piste Col Margherita (2,520 meters above sea level - maximum gradient 49%) and Panoramica Rossignol in Falcade (maximum gradient 42%) are among the top 10 Dolomites.
The most famous, however, is Ciampac - the top route of the World Cup in Alba di Canazei . The Alberto Tomba route in Vigo di Fassa with a beautiful view of the Catinaccio peaks is also very popular.
But the tourist does not live by the descents alone ! The " Dalaondes" in Canazei is the most modern SPA complex in Val Di Fassa. On an area of 2,400 sq m you can find swimming pools, slides, saunas and relaxation zones. The center is divided into 4 zones: "Water & Fun" - with five swimming pools, "Eghes Wellness" with saunas and baths, "Sport & Fitness" with an avant-garde fitness room and "Eat & Drink" where you can taste local delicacies. The "Dalaondes" Water Center is open every day in winter until 8:00 PM.
The village of Pozza Di Fassa lies in the heart of the Dolomites at altitude 1 . 320 m above sea level and is surrounded by the peaks of Cime Undici. Although small, it fully deserves the name of a resort. The village has access to the Catinaccio (Rosengarten) and Pozza Buffaure ski areas. Nearby is the Skitour Panorama - one of the most beautiful ski trails in the Dolomites with the top black Ciampac run. From Alba di Canazei we get to Sella Ronda by ski bus (1 stop) or the so-called Trenino (train). It is worth noting that the Aloch lift , belonging to the Ski Stadium Val Di Fassa, is also open at night. It is close from here to the Ciancoal cross-country skiing center, which also has night lighting. The nearby Catinaccio with ski schools directly on the slopes and the "Baby Park" for children is a paradise for children.
Camping
From the A22 motorway, take the Egna-Ora-Termeno pass and continue on the Val di Fiemme e Fassa motorway (No. 48) to the center of Pozza . At the roundabout, take the first exit towards Meida and Valle S. Nicolò, then cross the bridge and go straight ahead for approx. 2 km.
The campsite is a real wellness and spa center . In its center there is a large hotel and recreation building with all amenities. The reception is open 7 days a week from 8:00 to 22:00. Free jewelery and valuables storage is available at the reception for all guests. There is also an ATM at the reception. Wireless Internet access is available in the entire complex for a fee.
Each apartment, house or room is equipped with a safe. It is also possible to rent a fridge or freezer. You can even book a spacious , luxurious, private bathroom - modern and equipped, among others. in the TV.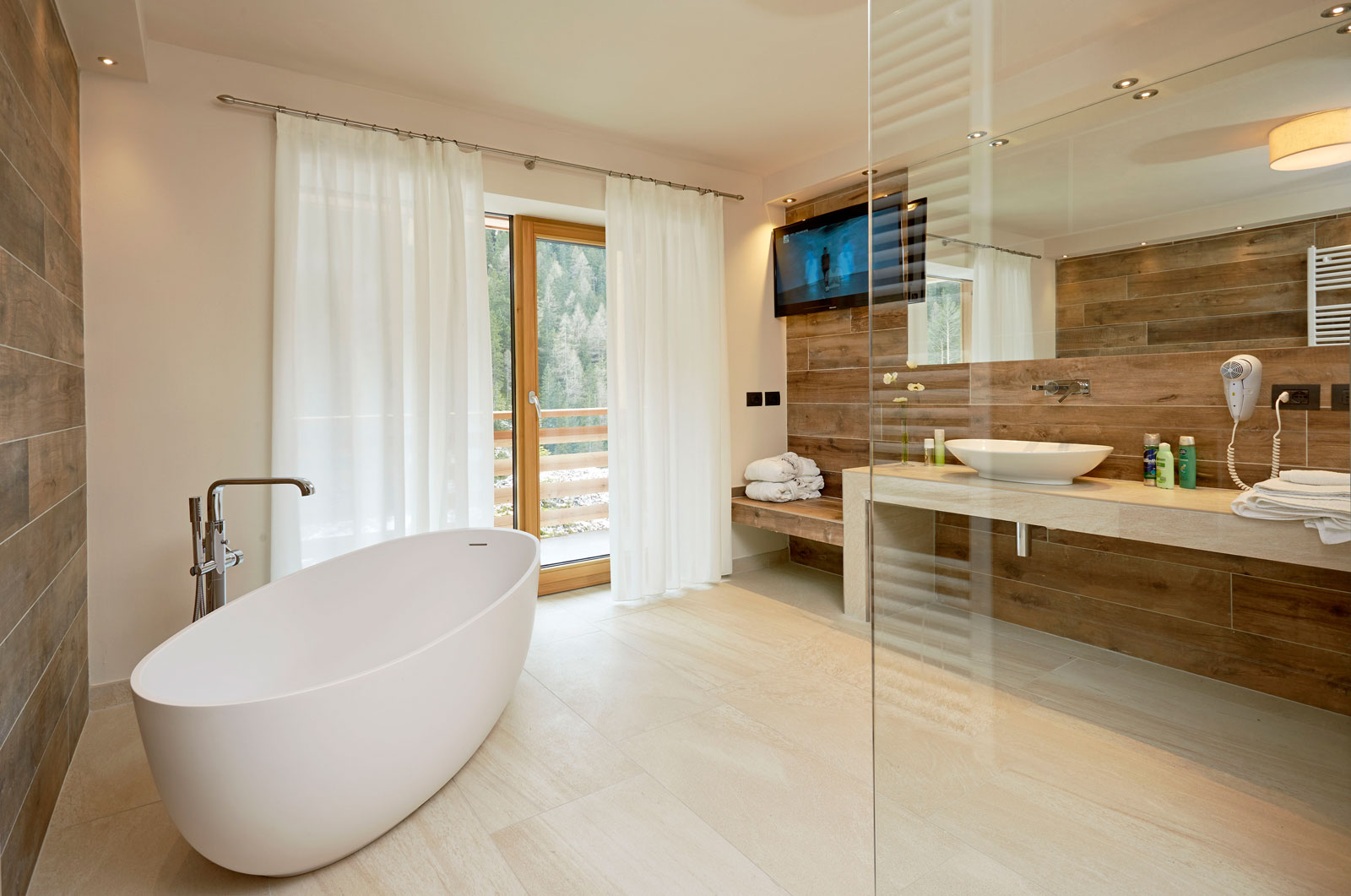 The central building houses a private SPA that can be rented for personal or family use . We can also order massages and beauty treatments. The undoubted attractions include a cinema room, a games room and a climbing wall.
The center also offers full sanitary facilities. There is also a room with irons and ironing boards, as well as a ski storage room and a clothes drying room.
For those who come by their own means of transport, the campsite has 16 covered and heated parking spaces (motorbikes are free of charge). The motorhome pitches are located in large terraced areas.
Pets are welcome , but must be kept on a leash in common areas. There is even a special bathroom for pets with an entrance ramp and a bathtub. There are vast pastures adjacent to the campsite, where the animals can run freely.
The campsite has a restaurant serving regional , Mediterranean and international cuisine. There is also a supermarket of the Italian chain "Conad". There is a petrol station just 4 km from the resort. A doctor is available every day at the local infirmary during high season. In addition, there is a well-stocked pharmacy in Pozza.
Camping Catinaccio Rosengarten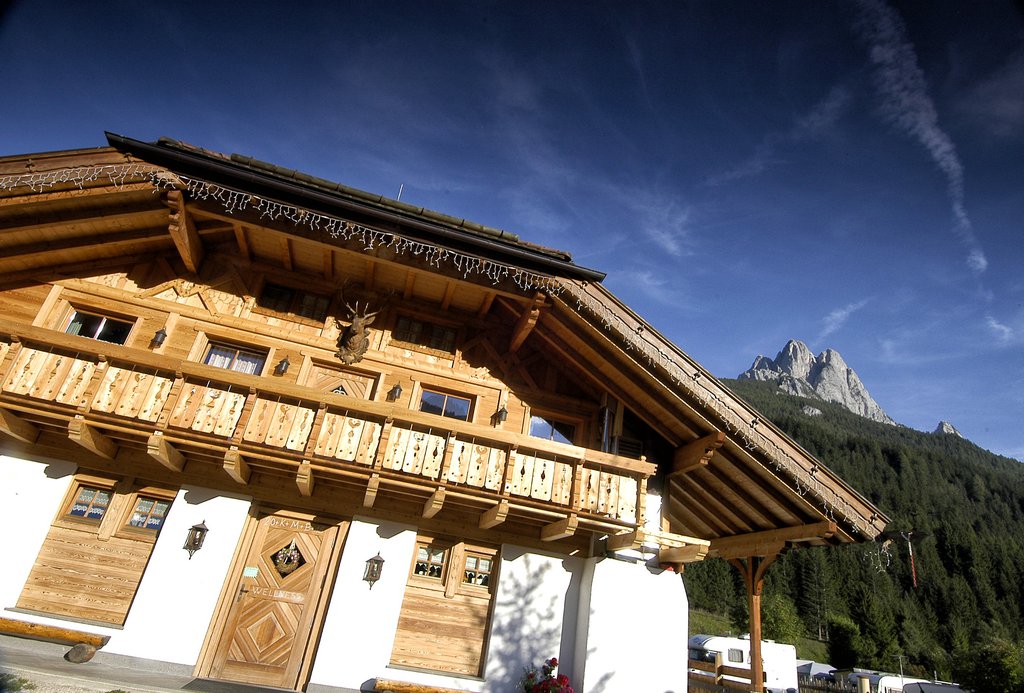 Strada de Pucia 4, 38036 Pozza di Fassa TN, Italy
Camping Catinaccio Rosengarten is located in Pozza di Fassa , 1,320 meters above sea level, 200 meters from the village center. It is owned by the Rizzi family who have been running it for three generations.
The center is a large square with a centrally located building. There are four studio apartments with an area of 30 sq m, which can accommodate up to 4 people, and two apartments for up to 2 and 3 people, with an area of 27 sq m.
The campsite has modern equipment, new sanitary facilities with hot water are located in the building. There you will find ski storage and drying rooms with boot warmers and the possibility of waxing the equipment. There is also a cafe where you can have breakfast. The store offers fresh bread and milk.
The campsite organizes evening entertainment programs with music and dancing, as well as cultural meetings, table football and table tennis tournaments. The campsite is an ideal starting point for Nordic walking tours. Two private minibuses provide a free shuttle service to and from the Dolomiti Superski slopes.
Pozza di Fassa is connected to the Sellaronda by the Buffaure-Ciampac ski area, Panorama Skitour. The ski lifts are approximately 1 km from the campsite. For beginners, in cooperation with the ski school, Vajolet camping organizes ski and snowboard courses for all skill levels. You can also organize snowshoe hikes. There is an ice rink 50 meters from the campsite. A children's animator is provided in high season.
Camping Palipert - Livigno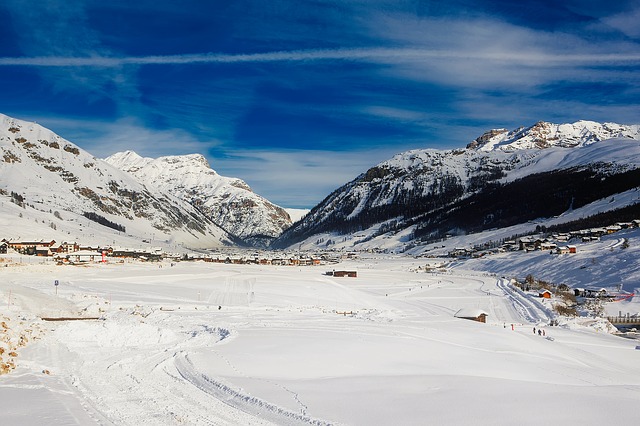 Via Palipert, 530 Livigno, SO 23030.
Area
Livigno is a paradise for lovers of white madness and one of the best ski resorts, discovered only in the 1950s, and developed with the construction of the La Schera tunnel . In winter, we find a lot of snow and just as much sun.
The town itself is situated in a beautiful valley surrounded by peaks 2,000-3,000m high. Skiers and snowboarders are attracted not only by great slopes, but also by a specific climate. Livigno has an average of 322 sunny days a year , and snow lies on the slopes from late November to early May. All this makes the skiing conditions perfect. In turn, the duty-free zone also attracts amateurs of cheap shopping.
Both beginners and experienced skiers will find themselves in Livigno. You can use 140 km of ski runs (including 10 km of black runs!) And 40 km of cross-country tracks. We will also find a lot of easy, typically training slopes. In addition, the region has two snow parks with halfpipes , jumps, rails and boardercross , which will surely please snowboard enthusiasts. Livagno also has a winter offer for Nordic walking enthusiasts. About 20 km of hiking trails cross the entire valley. Along the way, we will meet many cafes, so you can strengthen yourself with traditional bombardino (eggnog with whiskey and whipped cream, sometimes also with coffee) or other warming drinks.
Camping
The campsite is situated at the end of the valley in a very sunny location. There is peace and quiet everywhere. There is no problem with getting to the center of Livigno, public buses run every few minutes. There are three free bus lines from 07:30 to 20:00, including a connection between Livigno and Trepalle. All the lifts in Livigno are very close to each other. With just a few bus stops, which takes only a few minutes, we are on a different lift.
The facility has a full bathroom. It is also possible to rent bed linen. The price for a motorhome is around 18 euros, including electricity and toilets. Near the campground, about 10-15 minutes on foot, there is a Porsche driving school - you can race with a brand new model, which will undoubtedly be an unforgettable attraction. We can also rent a snowmobile or go-kart adapted to driving on ice. A bicycle path runs right next to the resort, which in winter becomes part of a 30 km long ski trail . A carousel lift is available a few minutes' walk away.
As for dining, the Baita Veglia restaurant is nearby, where take-away meals can be ordered. Campsite customers have a 10% discount. There is a grocery store and a duty-free store 500 m away.
Caravan Park Sexten
Dolomiti di Sesto (Sextern Dolomiten)
Via San Giuseppe Moso 54, 39030 Sesto, Italy
Area
Dolimiti di Sesto is even an archetype of the Dolomites. There are several resorts offering great conditions for skiers of all levels. The resort is part of the Dolomiti Superski mega ski complex, which offers over 1,200 km of ski slopes in one ski pass.
The main towns in the area are Vipiteno (Sterzing) and Racines (Ratschings). You can find there a wide range of accommodation and catering services. The ski season runs from December to April. Sexten has 60 km of slopes located at an altitude of 1,130 to 2,200 m above sea level. The slopes for intermediate skiers dominate - a total of 38 km of slopes. The resort is also well prepared for beginners, especially children. There are 13 km of ski slopes here and there are many ski schools. The so-called magic carpet , special prices of ski passes and areas intended only for children . Experienced skiers will not necessarily like the area, as it has only a few kilometers of black runs. We will find, however, very well-prepared cross-country tracks.
Sexten is definitely a region for families with children and people who value peace and nature. The apres-ski offer is poor, but you can certainly spend a nice time in traditional Italian bars and restaurants. Other attractions at the resort include a sleigh ride in the Fiscalina Valley and the option of snowshoe walking.
In addition, the event for the season opening - the Ski Cross Worldcup is very popular. History lovers will be interested in the fact that in the valley there is a parish church of Peter and Paul visited for beautiful murals. The region also has over 400 historic strongholds, castles and estates built over several centuries, such as Castobello Castle, Fortezza Fortress, the ruins of Boymont Castle and Tieffenbrunner Castle.
Camping
Caravan Park Sexten is a large village with a centrally located building. In addition to parking spaces for motorhomes, there are also wooden houses and real tree huts .
Camper Park offers comfort type pitches - up to 140 m, gravel or grass, with 220 V / 16 Amps power supply (CEE plug) and TV connection. The water and sewage connection is only available in the summer. The cost of the lot is € 17.25 per night. We can also choose a gravel pit with an area of up to 300 m, with electricity, gas and TV connections. In this version, the water and sewage connection is available all year round. The cost of a day is approx. € 21.25.
The property has a kitchen area for washing dishes and a laundry room with coin-operated washing machines and dryers. Guests have at their disposal full sanitary facilities with comfortable showers and washbasins, and a special zone for children has been created. It is possible to rent a separate, private bathroom. There is even a dog bathroom. There is a discharge of sewage from chemical toilets in the Waldbad service area.
The on-site shop and restaurant Patzenfeld serves traditional dishes using fresh, seasonal products from Sesto and the surrounding area, as well as international cuisine. You can also visit the Sextner Almhütte tavern , where numerous local folklore events, cabarets and dance evenings take place. The third option is Chef's Table - a special restaurant for up to 6 people, located in a cellar that stores the best wines. The restaurant S. Anna al Lago is located near Caravan Park Sexten, between Alto Adige and Veneto. Among the numerous specialties, you can try delicious local cuisine accompanied by fine wines.

The center has a SPA - wellness area with saunas and swimming pools, where we can take advantage of a number of biological regeneration treatments.
The lifts are in the same village, a few minutes' walk from the complex. There is a ski and ski rental, and a clothes drying room on site.
Camping Olympia

39034 Dobbiaco, Camping 1
Area
Dobbiaco is located near the Plan de Corones ski area (Kronplatz) and 15 km from Cortina d`Ampezzo. At a distance of 1 km from the town, there is the Monte Pelmo ski station with 51 kilometers of ski slopes serviced by 27 lifts . In Dobbiaco itself you will find toboggan runs and a natural ice rink on Lake Lago di Dobiacco .
The numerous attractions include horse-drawn cart rides, snowshoe hikes and climbing frozen waterfalls. Famous resorts such as Bolzano (Bozen) are nearby. Italian and German are spoken here, as in the whole of South Tyrol, the capital of which is Bolzano.
History lovers will visit the Gothic Dominican and Franciscan churches, and in the local Archaeological Museum you can see a complete sensation, the "ice man" - Ötzi , dating back to around 3200 BC. It is also worth visiting the spa town of Merano (Meran). Merano Thermal Baths offer a wide range of health treatments. It is worth visiting the Women's Museum, which tells the story of the past two centuries from a female perspective. For beginners , the Merano 2000 ski station is a great place to learn the sport, but more experienced skiers may not be satisfied.
It is also worth making a trip to Bressanone (Brixen), the oldest Tyrolean town, founded in 901. We can visit a beautiful baroque cathedral, adjacent courtyard decorated with frescoes, the so-called the bible for the poor and the baptistery. Also of interest is the Diocesan Museum, located in the former Bishop's Palace. For amateurs of mountain expeditions, the Stelvio National Park is a must-see with beautiful mountain trails of various levels of advancement. The stunning routes are located around the Martello Valley.
Undoubtedly, we will also appreciate the Passo dello Stelvio (Stilfserjoch) - an Alpine pass located on the Italian-Swiss border. This is probably the most picturesque road in the world , although it should be added that it is a narrow road with 48 sharp turns on steep slopes.
The region offers a lot of perfectly prepared ski slopes, and thanks to the cooperation between individual resorts, it is possible to buy a combined ski pass. The most famous resorts are Maso Corto, a resort located at an altitude of over 2,000 meters above sea level, near the Austrian border. We go skiing and snowboarding here all year round and the cable car takes you all the way to the Hochjoch Glacier at 3,500 altitude. m asl As Poles are the second most frequent nation after Italians, they spend their holidays here, Polish subtitles, menus and Polish-speaking instructors await them.
Plan de Corones (Kronplatz) is the ideal ski area on the slopes of the mountain of the same name (2,275 m above sea level). The summit is completely treeless and therefore well insolated. We have routes of varying difficulty to choose from. A modern and efficient network of lifts leads to all of them. The already mentioned Merano 2000 has a toboggan run , and in January every Friday evening you can use the illuminated slope.
Camping
Since the opening of the facility in 1954, it has been a family business, open all year round. Camping has received numerous awards such as "Camping Info Award 2015" and "Tripadvisor Certificate of Excellence".
The campsite is located in the Puster Valley . There are 200 seats on 7 pitches with power connections (6 Amp or 16 Amp) and TV connections. Some pitches also have gas and water connections.
There are two restaurants, a heated swimming pool , a supermarket, a playground and an enclosure for animals. The Wellness zone offers Finnish, Turkish and infrared baths , various types of blood circulation treatments, massages and even a solarium.

In a modern sanitary building you will find showers, washbasins and toilets, also adapted for the disabled. There are rooms for the youngest, where you can conveniently change the nappy and wash the baby . In the main building, we can wash dishes, there are also washing machines and dryers (we will receive tokens at the reception). There is also a separate bathroom for dogs.
Every day in the supermarket we buy fresh bread, croissants, dairy products, drinks, fruit and vegetables, cold cuts, eggs, sweets and local products, as well as toiletries and camping equipment.
Sexten Dolomites and Kronplatz are 20 minutes away by ski train from the campsite. Thanks to a special pass, the so-called The Holiday Pass , which can be obtained free of charge at the resort's reception, will be used for free and unlimited use of buses and trains throughout South Tyrol.
From December to March, the bus will take us directly from Olympia campsite to Niederdorf / Dobbiaco and back. There is a bus stop right at the exit of the property, from which you can start your journey.
Directly in Dobbiaco, in the Puster Valley , just 2 km from the campsite, is the small Rienz ski area, especially recommended for families. There is enough space for leisurely snowboarding and skiing . Adrenaline junkies must try night skiing on Mount Haunold in the Hochpustertal!
Park Camping Nevegal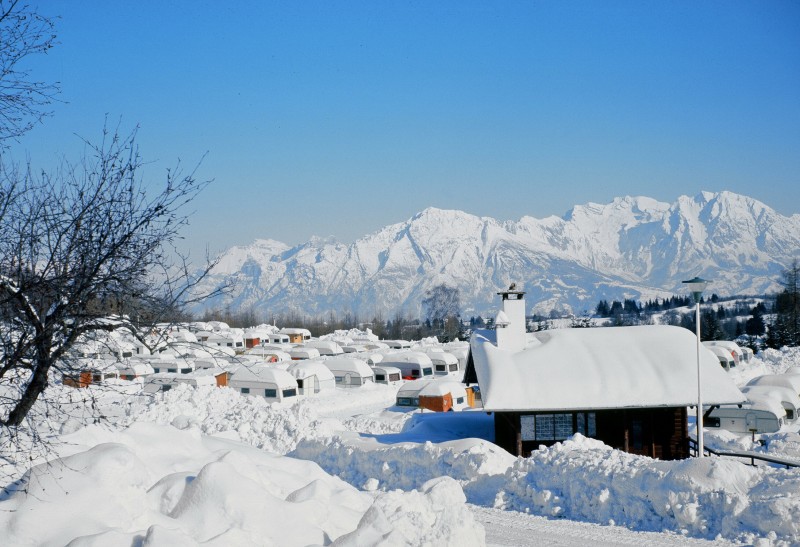 Via Nevegal 347, 32100 Belluno
Area
Should Belluno lie in the region of Trentino Upper - Dolomites. The local mountains of Belluno Pre-Alps and Cansiglio are rich in natural resources hidden deep in the rocks. Their most valuable value, from a material point of view, are, however, resorts. In summer, they attract the famous via ferratas (climbing routes), in winter the area turns into a kingdom of skis. On the border with Trentino lies the highest peak of the Dolomites - Marmolada , at 3,343 meters above sea level. The name comes from the Ghiacciaio della Marmolada glacier, which does not mean a type of fruit jam - in Ladin the word "marmalade" means "shiny".
In Nevegal , Belluno, winter sports can be practiced by all skiers, both beginners and advanced. We will find there 35 kilometers of perfectly prepared slopes, equipped with artificial snowmaking systems . There are also numerous ski schools with experienced instructors for students of all levels. The brave can try night skiing thanks to the illuminated track. There is also a snow park , a fun park for children, areas for skating and sledding. It is also worth trying snowshoe hiking or cross-country skiing.
For breathtaking views, Monte Avena - Croce d'Aune and the Belluno Dolomites National Park are worth visiting. Families with children should go to the Feltre ski resort near Veneto. Apart from the excellent ski infrastructure, the complex offers cultural and recreational facilities also for the youngest guests.
Nevegal offers seven paths with a total length of 10 km and two cross-country ski runs, situated amidst wonderful views of the Feltre Valley and Belluno. Nearby, in the Alpago, you will find many routes for ski tourism, snowshoe walks or even dog sledding .
It is also worth going to Tambre, 10 km away, where you will find three ski lifts and 3.5 km of ski slopes. Thanks to snowmaking systems, snow is guaranteed throughout the winter season. It is a real beginner's paradise. The resort has also prepared an offer for fans of cross- country skiing . Among the beautiful landscapes, there are 7 routes with a length of approx. 30 km .
Camping
Camping Nevegal is located in a small village near the village of Belluno at an altitude of 1,018 meters above sea level. It is a good starting point not only to Cortina and other places in the Dolomites, but also to Venice.
We can walk to the ski lifts in a few minutes. Holidaymakers have at their disposal a large area for campers, caravans and tents. It is an ideal place for those who like peace, walks and skiing. It is also an excellent choice for families with children. Children up to 5 years of age stay free of charge . A huge playground with slides, swings and a funicular has been created for the toddlers.
The facility provides wi-fi. Nearby you will find a bar and a mini market. A room with refrigerators and freezers is provided for guests. The camping is equipped with a sanitary facility, heated bathrooms. The facility provides hot water 24 hours a day , electrical connection without consumption limits, caravan service, as well as a drying room with a fan and an ironing room. Dogs are welcome.
Other objects worth visiting in winter can be found in the first part of our guide .
Sometimes it is better to get lost than to ask for directions too much. Aldous Huxley
Enjoyed reading this article? Share it!