Where to go skiing in a motorhome? Austria, France, Italy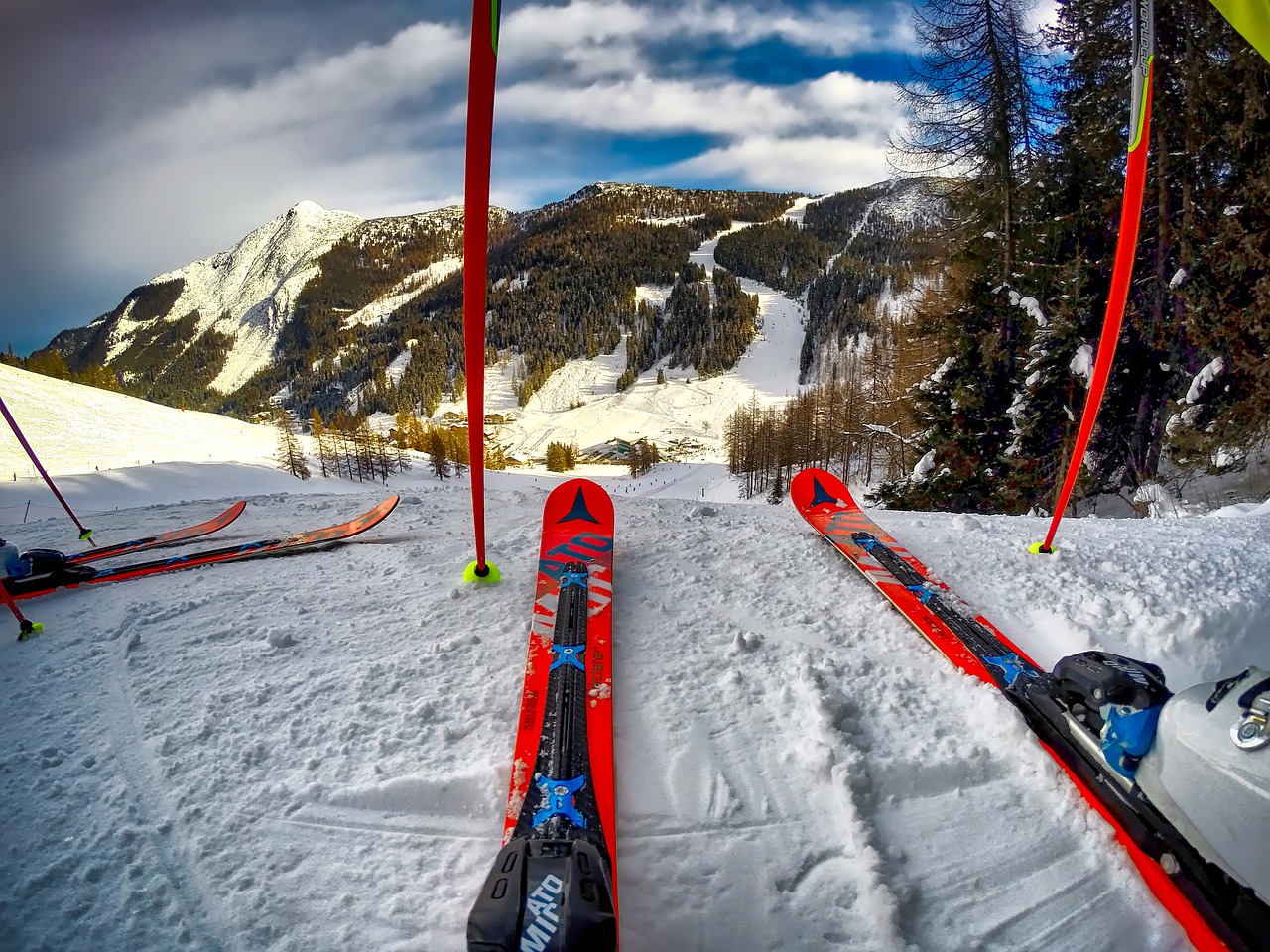 Austria, Italy or maybe France? If you are considering camping with good infrastructure for skiers and snowboarders, here are some interesting suggestions. We chose the places that have the most to offer to tourists traveling with motorhomes, but also to those who do not have a camping vehicle, but would like to have a good rest in winter.
In a camper van to Austria
Camping Sölden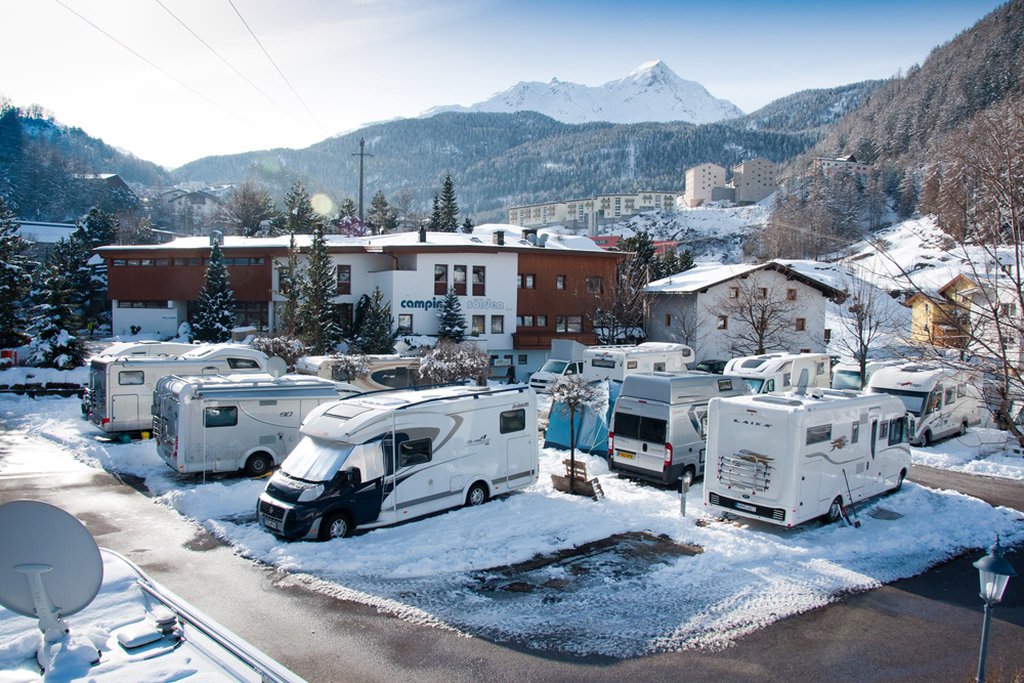 lfahrtstraße 22, 6450 Sölden
Area
The campsite is located directly on the southern outskirts of the Tyrolean commune of Sölden, in the Ötztal valley at 1,368 meters above sea level.Although this famous tourist resort can theoretically only accommodate 15,000 tourists at a time, the reality is quite different - almost 2 million visitors annually guests. It is the only region in Austria where the glacier runs are directly connected to the rest of the ski area via lifts. The whole of this vast area, with as much as 148 km of routes, consists of three parts, differing in character.
For beginners, we especially recommend the area of the Giggijoch Pass (3,058 m above sea level), where you can safely practice your skills on blue routes, several hundred meters wide. On the other hand, Gaislachkogel (2,090 m), which is over 3,000 meters above sea level, is a paradise for experienced skiers. Fans of fast skiing and sweeping will find the best conditions for themselves on the gentle, very wide slopes of the Tiefenbach and Rettenbach glaciers (2,684 m).
Sölden is definitely a resort for demanding and fun-loving skiers and snowboarders.
In December 2017, the following were active:
8 T-bar lifts,
15 chairlifts,
7 cable cars,
1 cable car.
It should also not be forgotten that Sölden is the venue for the inaugural Alpine Skiing World Cup competition. They take place on the Rettenbach Glacier.
As part of attractions for skiers and snowboarders, the offer of the Freizeit Arena recreation center has been prepared, e.g. steam or herbal baths, sauna, swimming pools, massages, fitness, and even shooting ranges and bowling. On the other hand, in the town of Langenfeld , several kilometers from Sölden, there is the Aqua Dome water park and a complex of thermal springs.
On the Rettenbach glacier, the Igloo Village , a specific hotel with eight fully equipped igloo houses, was built.
From the "BIG3" viewpoints we can admire beautiful panoramas. The nightlife cannot be forgotten either. Sölden is one of the so-called Austrian apres-ski centers. The parties start here in the early afternoon at Giggijochu, then the company moves to pubs, bars and restaurants, which are abundant here. Apparently, table dances are not uncommon.
Distance from Warsaw - about 1400 km. The journey from Warsaw by car takes approximately 15 hours.
Camping
The campsite is located just 200 meters from the Gaislachkogl mountain railway . The center of Sölden is 1 km away, so it is a great starting point. The campsite has a fitness room, wellness center with sauna, steam bath, solarium, etc. Sanitary facilities are included in the price. A washing machine, dryer and ironing station are available in the washing area. It is possible to rent a locker. A climbing wall with an area of 85 m2 was also built. There is also a ski storage room and a drying room.
There are 99 pitches for motorhomes and caravans on the campsite. There are also cottages for rent and a camping site. Due to the fact that the number of available places is much smaller than the number of interested tourists, it is worth thinking about booking well in advance.
In 2019, the campsite is undergoing a small metamorphosis and new amenities will be available for the 2019/2020 season. A multi-storey car park is being built on its premises, as well as premium pitches - they will be able to park larger campers and will be able to connect all utilities.
Camping Panorama Zell am See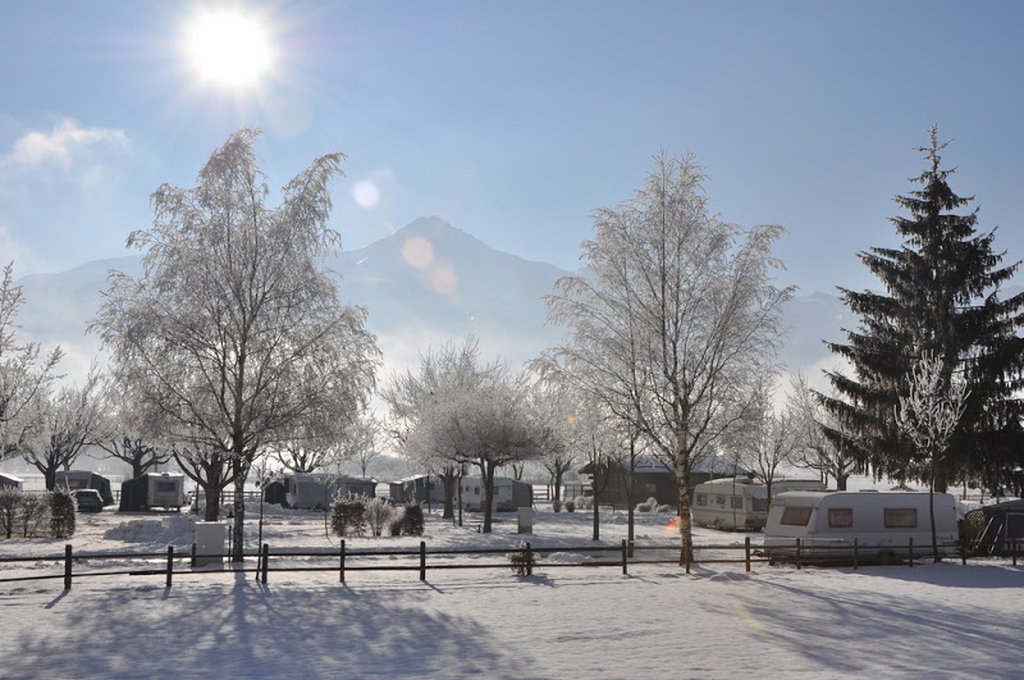 5700 Zell am See, Seeuferstrasse 196
Area
Zell am See-Kaprun , two renowned resorts, are at the heart of Salzburg's unique holiday region.
The Tyrolean region, including the resort of Zell am See , is one of Europe's most famous ski destinations. Every fan of this sport will find ideal conditions for skiing on the slopes, and the ski season in the region lasts from autumn to early spring. However, in winter, we can also skate on the ice -bound lake, watch a hockey match or a dog sled race. The resort of Zell am See is situated in an extremely picturesque setting.
Camping
In order to fully enjoy the region and be close to nature, it is worth taking advantage of the attractions offered by Camping Panorama Zell am See, which is located at an altitude of 756 m above sea level. The camping is located in a nature reserve , near the southern shore of the Zeller See lake.
On the premises of the center you will find a playground for children, a mini zoo, a place to play table tennis, a bicycle rental and a jogging track. Near the campsite there is a water slide, an outdoor and indoor swimming pool, as well as a paddling pool for children from 1 to 3 years old, sauna, golf, mini golf and a volleyball court. The ski lift is 2.5 km away .
Camping Panorama is a perfect place for lovers of downhill and cross-country skiing . In high season, the free ski bus to the Kitzsteinhorn, Schmittenhoehe and Maiskogel ski runs stops right outside. Every year, balloon fiestas are also organized here.
Toilets are available on the campsite, and tourists have at their disposal a campsite as well as spacious holiday homes. On the premises of Camping Panorama Zell am See we have access to free Wi-Fi and even cable TV.
Note - the campsite does not have a bar or restaurant, but the nearest bar is located 0.5 km from the resort, and a restaurant - about 1.2 km. Fortunately, we can buy bread directly on the campsite. Camping allows you to be with pets . Half a kilometer from the center you will find a paddock and a bathing area for dogs.
The campsite is open all year round and ACSI Camping Card holders can enjoy attractive discounts.
Sportcamp Woferlgut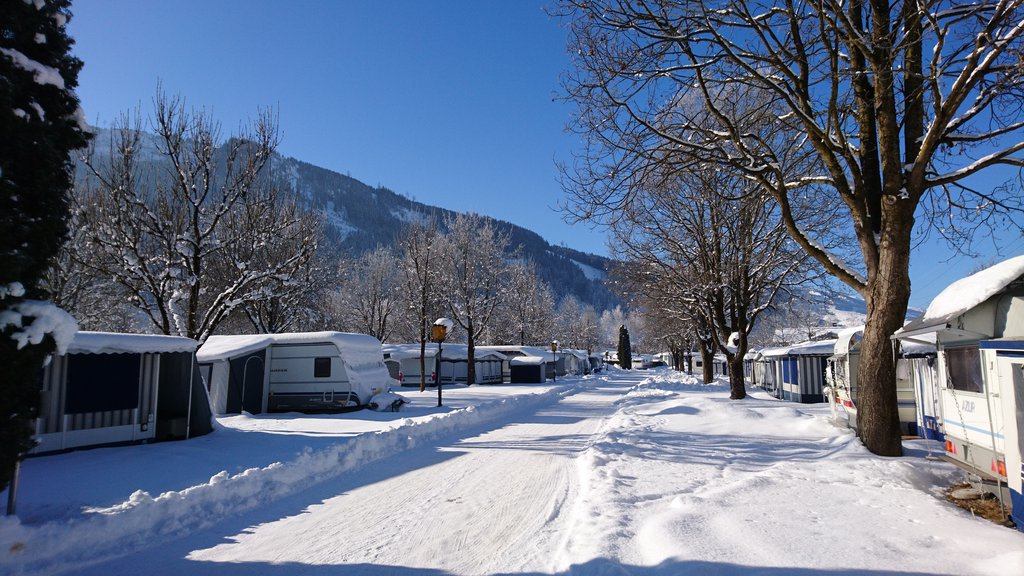 5671 Bruck an der Glocknerstraße, Krössenbach 40
Area
There are 3 ski areas in the vicinity: Schmitten, Kitzsteinhorn, Maiskogel. These three resorts offer a total of 279 km of slopes, 5 gondolas, 10 chairlifts and 9 T-bar lifts. The combined ski pass for these 3 resorts costs approx. 225 EUR.
In these resorts, about 85% of the slopes are artificially snowed, and many of them are also illuminated. In addition, there are several designated places where you can ride off-piste.
In summer, Zell am See also attracts tourists with numerous hiking and cycling routes. There are many beaches around Lake Zeller, and you can safely swim in the lake.
Camping
Sportcamp Woferlgut is 6 kilometers away from the city center and the lake itself, and roughly the same distance to the ski slopes. It is basically located in the town of Bruck, which is the beginning (or the end - it depends on which side you are looking at) the famous Großglocknerstraße. Consequently, also at the foot of mountains such as the Kitzsteinhorn or the Großglockner . Kaprun is 10 km away.
There are plenty of pitches on the campsite, some of them near the swimming pond. The plots have water and electricity connections, gray water can be drained to the sewage system and gas, which is especially useful in winter.
Guests of the campsite and hotel can use the saunas and baths free of charge, but the swimming pool is at an additional cost. A single entry is quite expensive because it costs about EUR 23, but the most profitable thing is to simply buy a weekly pass, then this amount is almost 3 times lower. When I write a swimming pool , I mean a huge complex of swimming pools, saunas and baths. There you will find a recreational pool, an Olympic pool, an outdoor pool also open in winter, a large jacuzzi, a giant slide and a children's pool with shallow water and a small slide. There is also a wellness area and a fitness studio with the possibility of renting a private trainer. This is a real spa in the mountains !
All guests have at their disposal a ski room with a drying room, where you can easily leave your shoes and wet clothes to dry.
The city ski bus departs from the campsite and takes you straight to the gondola. It runs in the morning and in the afternoon, but if you miss these morning transfers, or you want to come back earlier from the slopes, you can use an additional paid camping bus. It is enough to make an appointment in advance at the reception.
Mountain Camp Pitztal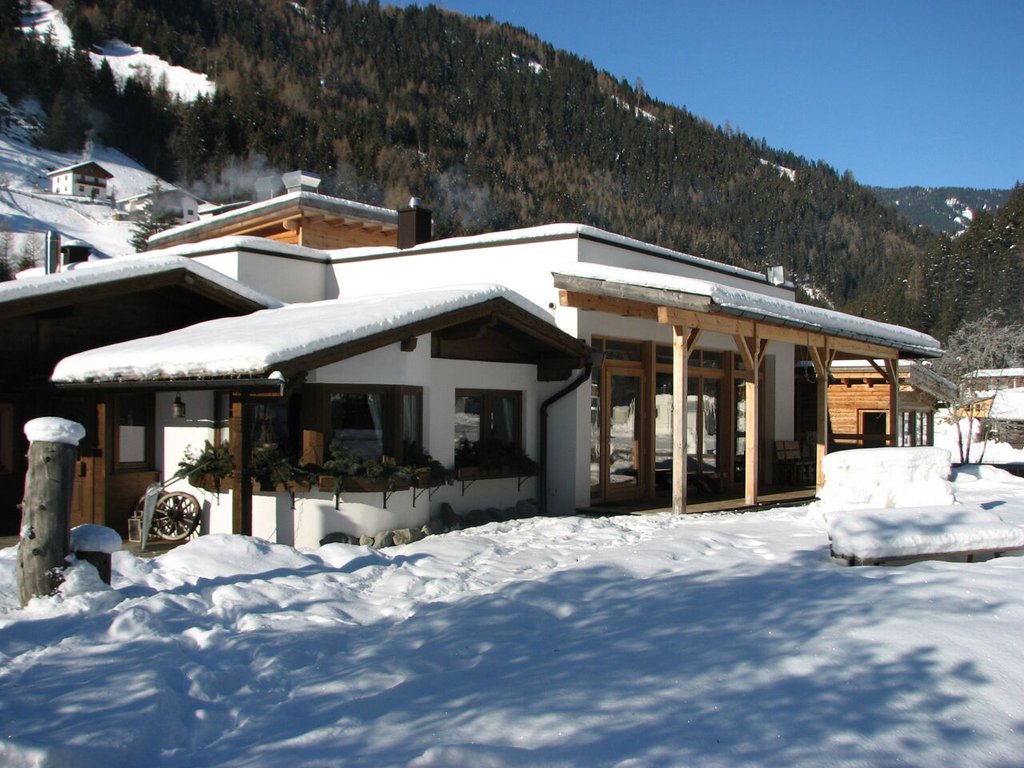 6474 Jerzens, Niederhof 206
Area
The Pitztal Valley is 50 km west of Innsbruck and its main attraction is the glacier ski area . The Pitzexpress high-speed overhead train runs from Mittelberg, allowing skiers to reach an altitude of 2,800 m above sea level in just a few minutes.
The resort has the highest cable car in Austria - thanks to it you can admire the panorama of the Alps from an altitude of 3,440 m above sea level There are three ski areas in the Pitztal area: the Pitztaler Gletscher (3,440 m), the Hochzeiger (2,560 m) and the Rifflsee Hütte (2,293 m above sea level). The terrain is also perfect for snowboarding. There is a snow park on the glacier with attractions such as halfpipe , quaterpipe and high jumps .
The main towns around the Pitztal are: Arzl im Pitztal, Wenns, Jerzens, St. Leonhard and Tieflehn . You can find there a wide range of accommodation and basic catering services. The village of Jerzens itself is close to the Hochzeiger mountain, which can be reached in a few minutes with the free shuttle bus. Pitztal has 85 km of ski runs , 24 of which are easy, 42 medium and 19 difficult. The longest route is the Pitz-Panoramabahn, 2 km long with a level difference of 593 m.
Camping
The camping area is 1.50 ha . The area is located approx. 100 m from the river and lake . The public transport stop is approx. 200 m away. The campsite is open all year round. It offers 38 comfortable positions with electricity, gas, cold water and sewage connections. In winter, it is possible to pull the water directly to the square and connect to the gas system. Camping provides equipment for this. Drying rooms were also provided.
Wi-Fi available throughout the property. In the sanitary building there are toilets, changing table, single showers, washing booths and a separate bathroom with toilet and shower for rent. Dishwashing stations are available, and a washing machine and dryer are available at an additional cost. Fresh bread can be ordered every day except Sundays and public holidays. Meals (including breakfast) can also be ordered at the campsite restaurant (the restaurant is closed on Tuesdays).
One of the interesting attractions of the campsite is the opportunity to acquire (and test) your ice fishing skills - trout can also be caught in winter. You can also try archery on skis.
Some hotels in the area have an indoor swimming pool and wellness facilities at an additional cost. There is also a 6 km long natural toboggan run nearby - importantly, with lighting!
Camping Grubhoff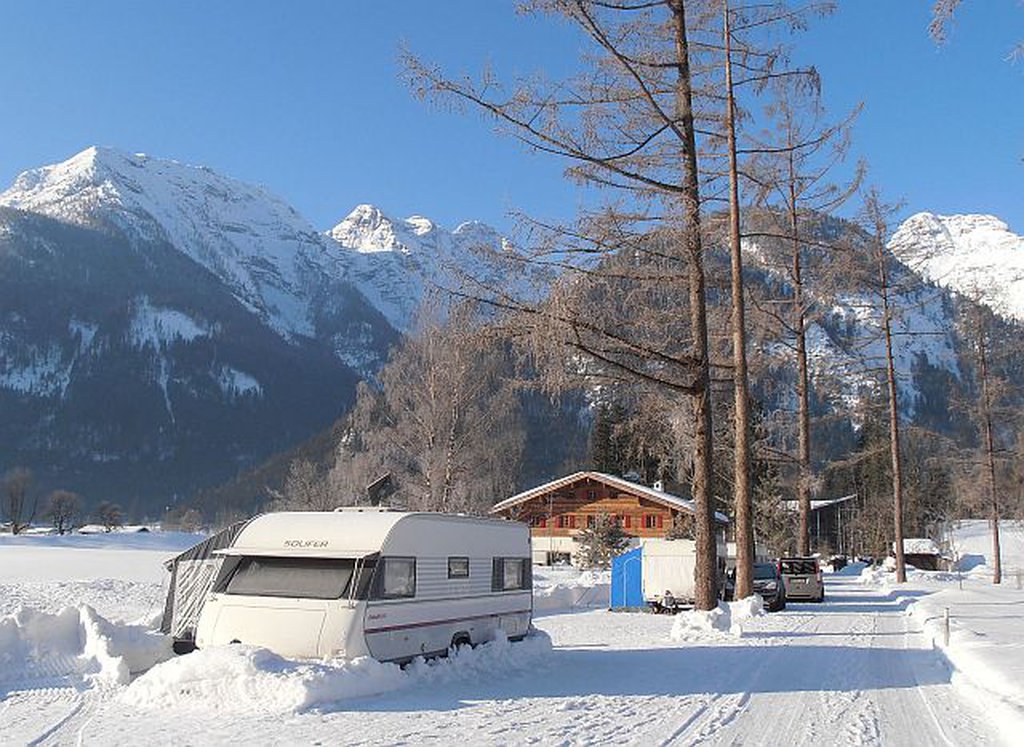 5092 St. Martin bei Lofer, No. 39
Area
Camping Grubhof is located in the heart of Austria in the middle of the Austrian and Berchtesgaden Alps , between the towns of St. Martin (1 km) and Lofer (2 km) . Almenwelt Lofer , a family-run ski area with 46 km of groomed slopes, 10 cable cars and lifts, is 2 km away. It is worth adding that this place has gained the name of an inexpensive family ski resort.
The free ski bus stops right outside the parc every 30 minutes. Other ski resorts in the area can be reached in less than 30 minutes from the campsite. For example: Steinplatte is 8 km away, Skicircus Saalbach Hinterglemm Leogang Fieberbrunn - 25 km, Maria Alm - 25 km, Kitzbühel - 35 km.
Camping
The camping was organized in the area of the former Castle Park located on the Saalach River , which explains the park nature of the resort. The campground has full sanitary facilities, and if someone wants, they can even rent a bathroom exclusively.
On the premises of the facility you will find a shop, restaurant, playroom for children and saunas. Parking spaces for motorhomes and caravans are divided into sizes. The smallest plots are 120 square meters and have access to electricity and water. Lots X-Large - 150 sq m and have electricity, gas and water connections. The largest XX-Large - minimum 180 m, can also boast a sewage outflow and the best location - along the river.
Tourists without motorhomes and caravans can stay overnight in mobile homes and in rooms for rent. The camping has, among others sauna, SPA , gym, restaurant (closed on Thursdays) and shop. There is a WLAN internet network available in the resort.
A ski camper van to Italy
Seiser Alm Camping, Italy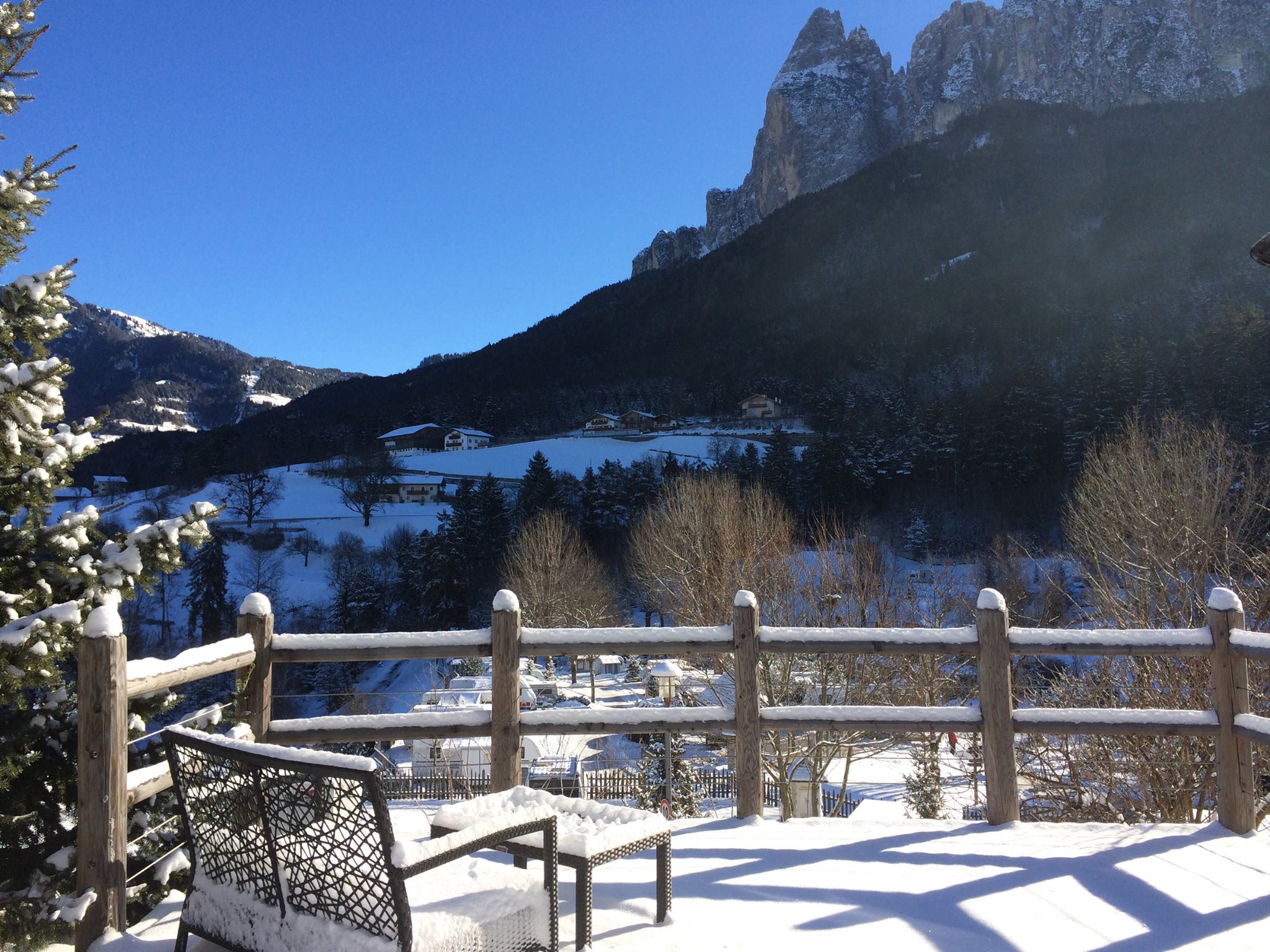 Via San Costantino, 16A,
39050 Fie 'Allo Sciliar BZ
Area
Seiser Alm (that's the German name) or Alpe di Siusi (Italian version) is a ski station in South Tyrol. It is situated in the heart of the Dolomites . Nearby we find Val Gardena and the peaks of Sasso Lungo, Punta d'Oro, Sasso Piato . Alpe Siusi is actually a huge hall, the largest high mountain plateau in Europe. The great attraction of this beautiful place is as many as 250 sunny days a year.
The region is especially recommended for beginners , relaxed skiers and families with children, as well as for people who dream of sun and sunbathing in the middle of winter. Despite so much sun, the skiing conditions are favorable. Alpe di Siusi offers skiers 60 km of slopes - from easy (the most) to medium-difficult.
The slopes are treeless and wide, so it is a pleasure to ride them. The ski area is easily accessible thanks to the 16-seater cable car with a station in Siusi.
From the campsite you can conveniently reach the ski area by bus in just 3 minutes. The stop is right outside the resort, 100 meters away. A shuttle bus stops there every half an hour. In addition, there are 4.7 km of toboggan runs in Alpe di Siussi, and a natural ice rink is created on the frozen Lake Vols , which is 20 minutes from the campsite.
Camping
Guests with their own campers and caravans will find comfortable parking spaces of various standards. Pitches A are approximately 80-90 square meters , B - 90-110 square meters, C - approximately 170 square meters, with the last two on the edge of the terrace, offering a beautiful view. Most places have water and sewage connections, TV, gas and electricity (16A). Wi-Fi is available on request.
The campsite has a fully adapted sanitary facility, as well as the possibility of renting private bathrooms. It was even foreseen make-up room, equipped incl. in hair dryers. There is also a laundry room, a drying room, there are also showers for pets . The property has its own restaurant and mini-market.
Camping Toblacher See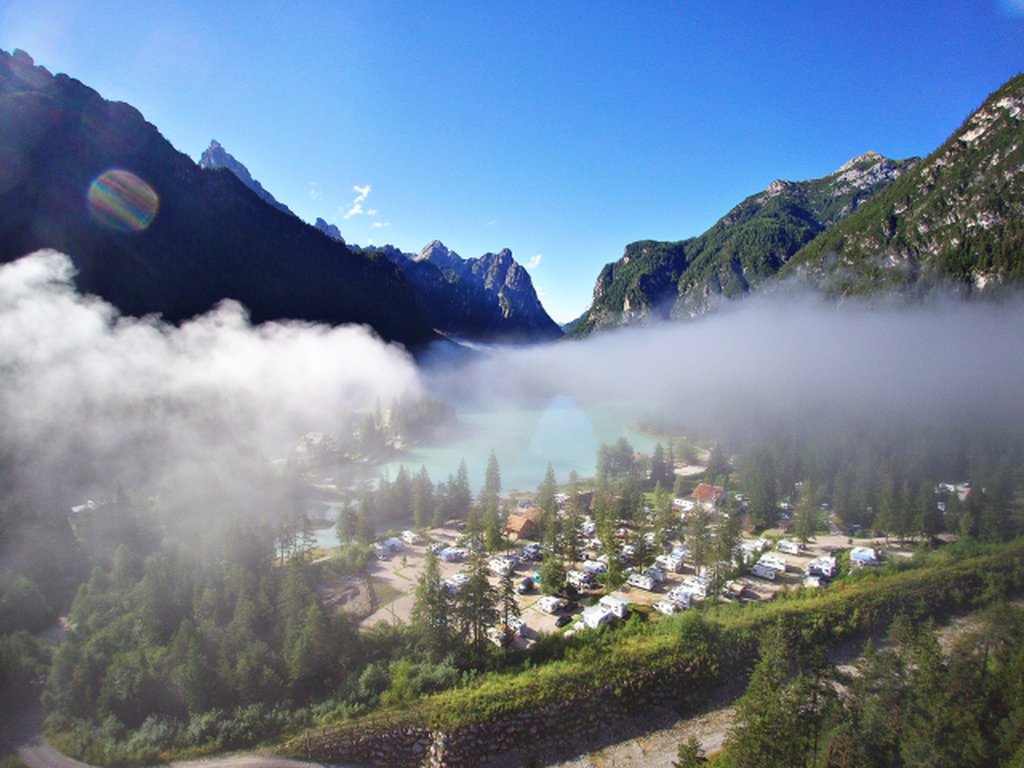 Toblacher See 3,
39034 Dobbiaco BZ
Area
Bolzano is a town with much more Austrian than Italian character. Italian and German are spoken here, as in the whole of South Tyrol, the capital of which is Bolzano.
Dobbiaco , on the other hand, is a Tyrolean cross-country skiing center located near the Plan de Corones ski resort (Kronplatz), approx. 15 km from Cortina d`Ampezzo . About 1 km from the town there is the Monte Pelmo ski station with over 50 km of ski slopes serviced by 27 lifts.
lan de Corones, Sesto Dolomites, Misurina, Cortina d'Ampezzo , as well as the famous Sella-Ronda are the best prepared ski slopes for white sports enthusiasts of all levels.
For the first skiing trials, the Rienz Skicener Dobbiaco is worth recommending. A chairlift and two ski lifts lead a total of 4 km of slopes for beginners and intermediate skiers. There is also a children's park with a magic carpet and a mini-ski lift.
There is a kindergarten in the Nordic Arena as well as a Toblach skating center in the village. A recommended place is the Toblacher Wildpark , where you can admire deer, lynxes, wild boars, raccoons, snow owls and many other animals. In the village you will find toboggan runs and a natural ice rink on Lake Lago di Dobiacco . We can also take a horse-drawn carriage ride or a snowshoe hike.
Camping
The resort on Lake Toblach is a quiet family campsite at an altitude of 1,259 m, right on the border of two nature parks: Sesto Dolomiti and Fanes Senses Prague , both on the UNESCO World Heritage List. In winter, freshly prepared slopes and numerous cross-country tracks await there. When the lake freezes, you can ice skate on it.
There are 125 motorhome and caravan pitches on the campground. There is also a motorhome service station on site, incl. with the possibility of emptying the chemical toilet. The camping has a modern two-story sanitary building, which is open 24 hours a day and offers spacious shower and toilet cabins, as well as 18 private bathrooms for rent. In addition, there is a large laundry room with a drying room. Miniature bathrooms, changing rooms and showers have been specially designed for kids.
The campsite has a snack bar, pizzeria and a restaurant with an extensive menu. You can also get groceries and fresh bread. Wi-Fi on the campsite is free of charge. The bus to the slopes departs from the campground.
Camping Dolomiti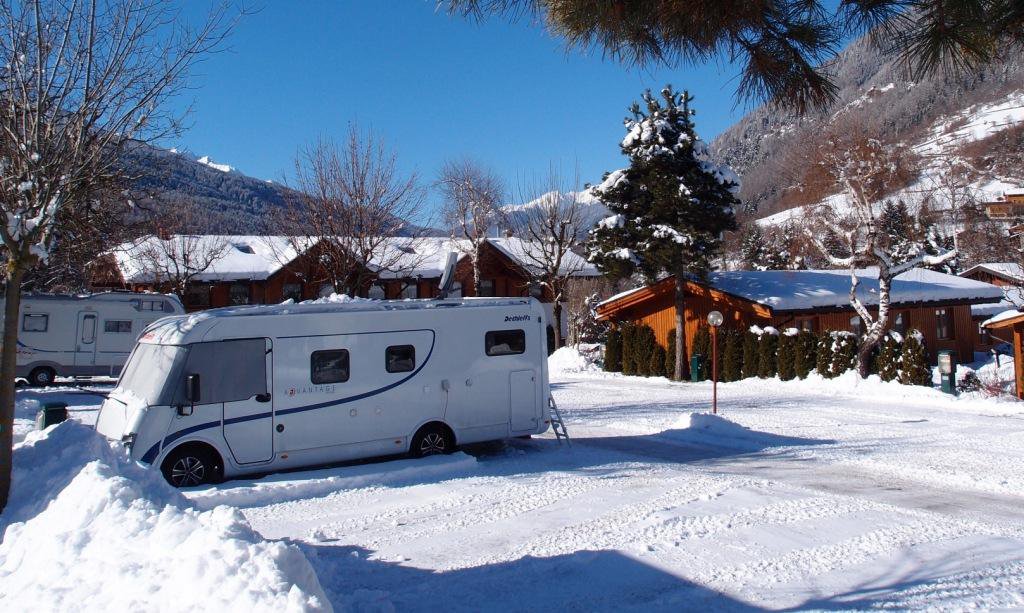 38025 Dimaro Folgarida, via Gole 105
Area
Something for true ski lovers! From the peaks you can enjoy breathtaking views. The region offers 150 km of ski runs between Madonna di Campiglio , Folgarida and Marilleva . Comfortable and fast ski buses connecting Dolomiti Camping Village with the ski slopes are provided for guests.
Additional attractions can be wine tasting and sleigh rides. In Val di Sole , thanks to the Folgarida-Marilleva, Passo Tonale and Peio passes, we have the largest ski carousel in western Trentino. Thanks to the geographical location - the presence of the highest mountains in the Central and Eastern Alps (Ortles-Cevedale, Adamello-Presanella and Dolomiti Brenty), a lot of snow falls here. In addition, the slopes are equipped with snow cannons, which ensures excellent skiing conditions throughout the season.
In addition, Val di Sole has 55 km of cross-country tracks . There is an excellent ski infrastructure in places such as Passo del Tonalem Vermiglio, Cogolo, Ossana, Mezzana, Commezzadura and Rabb . There is no shortage of places where you can lubricate or rent skis, ski schools and experienced instructors.
Camping
Camping Dolomiti covers an area of 40,000 square meters and is divided into large, carefully delineated and numbered pitches connected to central electricity and water supplies.
In total, the facility has 190 places for motorhomes and caravans . They are divided into several categories: Mini (35 sq m - suitable for small tents), Standard (70 sq m - suitable for small and medium caravans and campers), Comfort (90 sq m - for large camping vehicles), Superior (100 sq m - for the largest motorhomes or for people who need more space).
The campsite has laundries, private bathrooms (for rent), places to relax and grill, as well as a restaurant, pizzeria, mini-shop, swimming pool, new playground, internet point, Wi-Fi zone, football and volleyball court, and also a wellness center (extra charge).
The Dolomiti camping area in Dimaro in Val di Sole is located inside the Dolomiti Camping Village & Wellness Resort , a 4-star resort with many amenities. For people without motorhomes , cottages, rooms and apartments are available. On site we will find, among others restaurant, supermarket and sports center (the largest in the area).
In a camper van to France
Le Plan du Fernuy
1800 route des Confins
74220 La Clusaz
Area
Camping Le Plan du Fernuy is quietly located at an altitude of 1,200 meters, just 1.6 km from the resort center of La Clusaz , in the heart of the Aravis Mountains . It is an ideal starting point to discover the wonderful countryside and attractions of the Haute-Savoie, such as the lakes of Annecy and Léma n.
About one kilometer from the campsite is the ski resort of La Clusaz . We have the possibility of cross-country skiing, as there are trails with a length of 45 km . The free shuttle bus runs every 30 minutes and stops at the parc.
La Clusaz offers 55 lifts and 132 km of slopes . On site, you will find conditions for practicing many winter sports, such as skiing, snowboarding, carving, freeride, square, telemark. Ski schools are also available.
Camping
The camping is small, it consists of 80 places for motorhomes and caravans . The plots are from 80 to 100 square meters. You can also spend the night in houses and apartments (from 6 to even 10 people).
Le Plan du Fernuy offers a heated indoor swimming pool (13 mx 7 m) for all ages, so you can enjoy swimming in summer and winter! From the pool you can admire the beautiful panorama of the area and the snow-capped peaks.
The campsite's mini market is open all year round. Wi-Fi is available at the reception for free, and at the camping pitches for an additional fee. Washing machines and tumble dryers are charged extra.
Pets are allowed only on camping pitches. A supermarket and restaurant are approximately 1.5 km from the resort, and well-known ski resorts such as Chamonix Mont Blank are 60 km away.
Camping La Giffre
1064 Route du Lac aux Dames
74340 Samoens
The Giffre Valley is a small region in the heart of the Haute-Savoie . Easily accessible terrain offers wild landscapes full of natural wealth. There are resorts here: Morillon, Samoëns, Sixt Ferŕ Cheval and Praz de Lys Sommand . These villages, intended for family skiing, provide good conditions for skiing.
The first three are part of the Grand Massif . Cross-country skiing is also very popular here. The resort, including the Espace Nordique du Haut-Giffre and the Praz de Lys Sommand area, is one of the most extensive in the Haute-Savoie.
Samoëns (800 - 2,220 m), a traditional, centuries-old village with stone huts is the only ski resort in France classified as a historical monument. The center is car-free. A gondola lift takes you from the village to an altitude of 1,600 m above sea level to the station of Samoëns, from where you can get to the Flaine, Morillon and Les Carroz areas. There is a ski school in the village.
Camping
The campground is situated on the edge of Giffre Park and Ladies' Lakes , 700 meters from the village and its shops. The center is open all year round. There are 196 places for motorhomes and caravans waiting for us at the campground, and its area covers an area of 6.9 ha. Each place has access to electricity (6 or 10 amps). We also find here large and clean sanitary facilities. For guests without motorhomes, cottages and a hotel with studio apartments (with kitchen and bathroom) are available.
There is a ski rental and a chairlift in the vicinity of the campsite. There is even an ice rink and a children's toboggan run on the campsite. There is a bakery nearby.
Noteworthy is the free transport to the center and nearby towns. The property is a 15-minute walk from the village center and the cable car to the slopes is a 5-minute walk from the campground. The property is located 15 m from the lake and 1.10 m from the river Le Giffre .
Camping Eden Savoie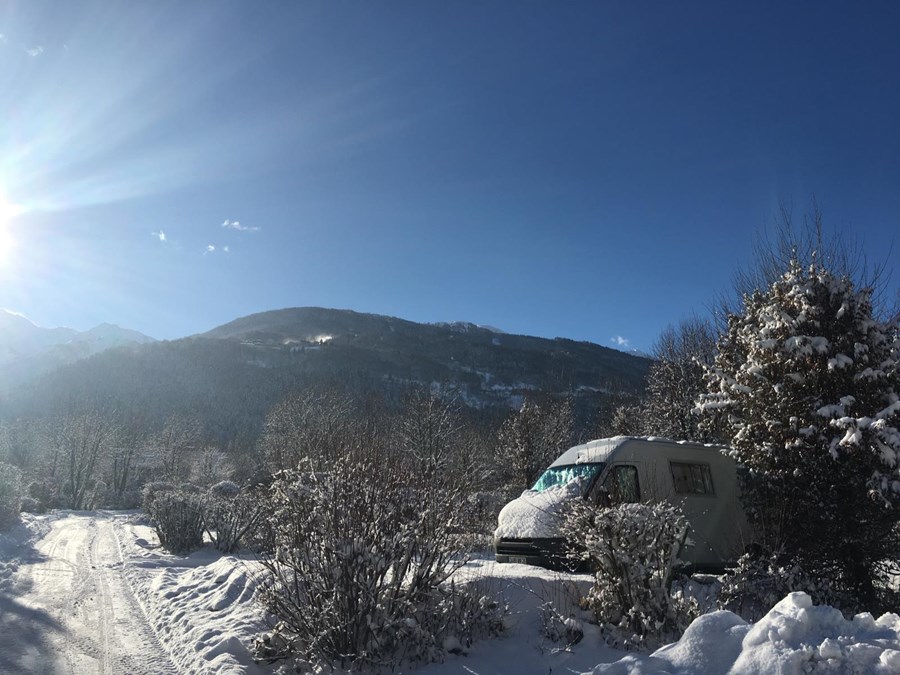 Avenue de la Gare 73210 Landry
Area
Peisey-Vallandry is a village of several villages located in the resort of Les Arcs and Paradiski . Plan-Peisey and Vallandry are the main villages at 1,600 m, ensuring reliable snow conditions. The traditional style of alpine architecture reigns in the villages.
The Vanoise Express lift from Les Arcs to La Plagne ends at Plan-Peisey . The resort offers a wide variety of routes. It is suitable for whole families. There are several easy routes for beginners, but there are also blue, red and black routes with a high level of difficulty for experienced skiers.
One such route for advanced skiers is the one that leads from the top of the Aiguile Rouge . You can also try the cross-country trail to Villaroger . There is a fast 6-seater chairlift close to the campsite that will take us up to 1,800 m.
The resort offers many good restaurants and bars. It should be emphasized, however, that this is not an "apres-ski" entertainment center. We will not find noisy events and attractions here. It is a great place for people who value different routes, beautiful landscapes and local delicacies.
Camping
The campsite is located in the heart of one of the most beautiful ski resorts in the Rhodes Alps, in Haute Tarentaise . It is the perfect base camp for skiing. It is surrounded by a beautiful, wooded area of 2.7 ha.
There are almost 100 pitches and over 20 holiday homes waiting for us at the campsite, including fully equipped cottages. There is also an indoor heated swimming pool, available both in summer and winter.
In the current season, the camping is open from December 15 to September 14. The resort is equipped with showers and toilets. The property is equipped with a washing machine and dryer (payable locally). We will also replace the gas cylinder on site. The place for discharge of sewage is free only for campsite customers. Wi-Fi is available for a fee.
You can use the bar 7 days a week (7.30-12 and 14-20). There is also a bakery on site. The grocery store is in the village, 600 meters from the campground. There are several supermarkets in the towns of Aime or Bourg-St-Maurice (6 km from the parc).
Buses go directly to Peisey-Vallandry or to Bourg-St-Maurice (where the cable car is located). They circulate in both winter and summer.
You can find the second part of the article here: Where to ski in Italy?  
Sometimes it is better to get lost than to ask for directions too much. Aldous Huxley
Enjoyed reading this article? Share it!