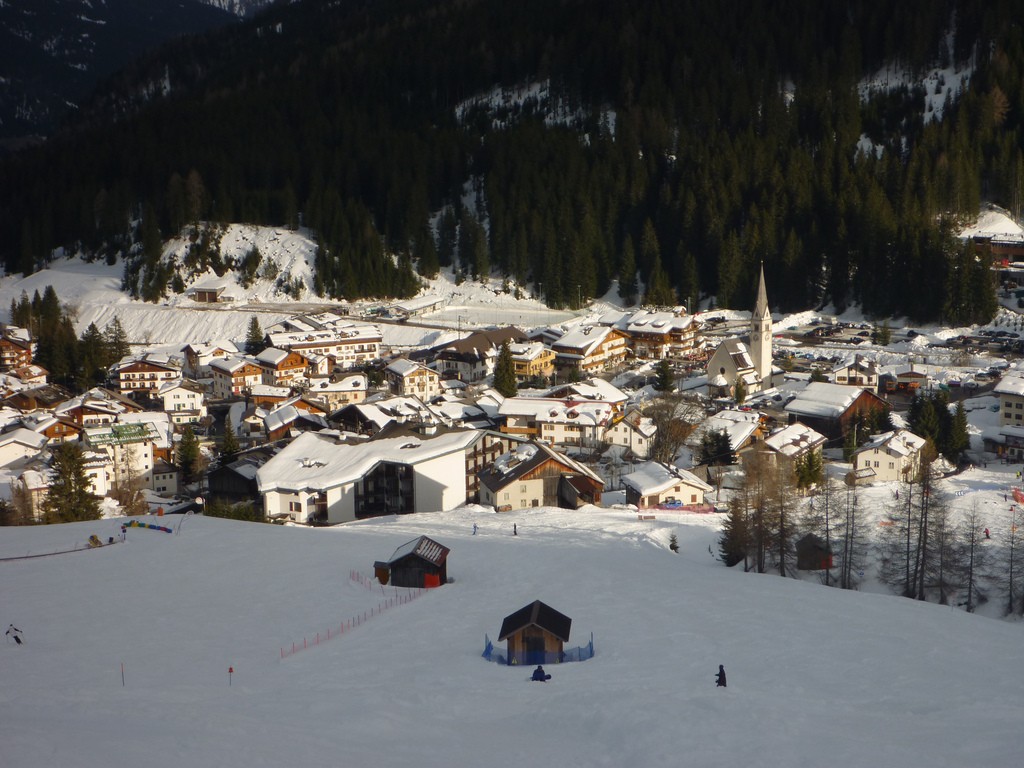 Where in Europe can we find a region where you can drink fine wine in one of the most charming ski resorts? At the Italian glacier Marmolada, where Arabba invites you to its slopes.
Veneto is the region of Italy with the most beautiful and popular cities. It is enough to mention the romantic Verona or Venice, famous for its kilometers winding canals and gondolas gliding through them. There are also several popular ski resorts in the area, including the glacier-linked Marmolada Cortina d'Ampezzo, Civetta and Arabba . The last resort attracts mainly advanced skiers, although on its slopes you will find easier descents, ideal for learning for adults and children.
Arabba ski runs
The Marmolada slopes are long and perfectly prepared. The glacier itself stands proudly above the other peaks of the Dolomites like a dignified silent king. Skiers who go here on vacation have easy access to almost 500 km of slopes in the surrounding resorts, not to mention the nearby ski carousels. There are plenty of opportunities to spend time actively - cross-country skiers, alpine skiing enthusiasts and snowboarders will be satisfied with the northern areas of the glacier. On the other hand, the southern area is popular among climbing enthusiasts. The walls here are steep enough to make you feel a winner at the top.
Arabba is the most popular ski station in the region, attracting hundreds of Italians and foreign winter sports fans. There is a reason - the tourist infrastructure is very extensive, the après ski offer is extremely varied, and snow is guaranteed thanks to a system of numerous cannons. You cannot miss the most important one - the ski carousel called Sella Ronda , of which the station is a part.
The Arabba-Marmolada resort offers skiers 62 km of slopes of all levels of difficulty. The longest descent (Bellunese) is 12 km. The route is wide and steep, through hills and forests. Hiking trails are over 40 km long and lead visitors through the charming Campolongo, Pordoi, Sella and Garden passes. The most famous run in Arabba is Portavescovo, the black Pista Fodoma, 3.3 km long, is also popular. Freestyle fans praise the well-equipped snow park in Passo Pardoi, while snow skiers - over 10 km of slopes.
Season 2013/2014 - prices of ski passes
From 02/02 to 15/03 we will pay € 45 for a 1-day adult pass, € 32 for a child's pass, and € 41 for a senior. A weekly ski pass costs € 248 for adults, € 174 for a child, and € 223 for a senior.
It is worth adding that parents who want to go skiing can leave their children at the ski school at the foot of Monte Burz . Children learn their craftsmanship there under the supervision of instructors, riding a donkey meadow, and then on slightly more difficult routes. Some runs are approx. 4 km long.
Attractions of the region
As mentioned above, the region is famous for its delicious red and white wines. A specialty of the area is prosecco - light white wine, usually dry. While in Arabba, you should also try grappa, an alcoholic drink made from the remnants of pressing grapes (including skins).
The town offers guests many atmospheric pubs and restaurants serving regional dishes. A large part of them are family businesses, paying a lot of attention to tradition, which can be seen in the interior design and costumes of the staff. There are also a lot of reputable boutiques where you can go shopping during the break between going down the slopes.
Compared to neighboring towns such as Malga Ciapela, Arabba is a quiet resort with plenty of family guesthouses. It is an ideal resort for relaxation, so tourists looking for a place to vacation will be pleased with their stay.
A writer by profession, a passion of a cat. One day he will see what is behind the Urals - good to Vladivostok. So far, when he can, he enjoys the sun of the countries of southern Europe. And it's also fun;)
Enjoyed reading this article? Share it!