Celebrities, politicians and... motorhomes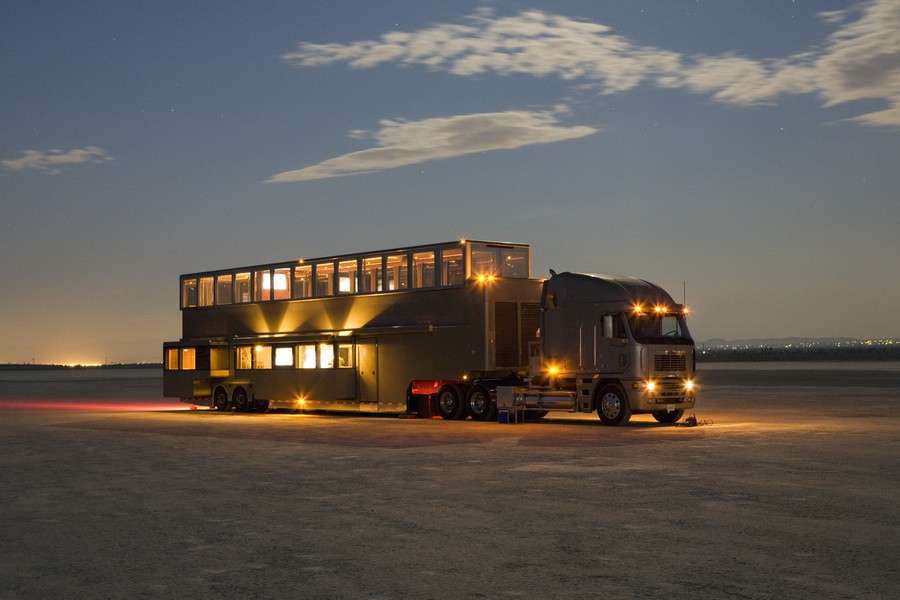 Caravans and motorhomes are very practical vehicles. More and more often such way of spending free time is chosen by politicians and celebrities, not only by ordinary enthusiasts.
Madonna, George Clooney, Kanye West - these are just a few names of celebrities, who use giant camping cars (or rather buses) or caravans (sometimes even double) of a brand Quixote.
This results not only from simple celebrity "whim", but often from their needs. Celebrities spend a lot of time on the road, and luxuriously equipped caravan serves not only for relax. Usually, there's also a dressing and make up room, sometimes even office.
Famous owners of houses on wheels include Rihanna, Nicki Minaj (this singer demands a separate caravan for her wigs) or actor – Will Smith.
On board at Will Smith's
Will Smith has got a truck with a "motorhome" caravan from Anderson, worth 2 million dollars. In the equipment of this two storey caravan we'll find a dropdown, 100 inch screen, 50-inch TV, as well as few smaller, 37-inchTVs.
Such vehicle couldn't miss a dressing room – and we're not talking about just a place for clothes, but also about the room where specialists do the scenic make-up. Of course, in such caravan there must be a fully-equipped kitchen. Furnishing is also very classy – made of Italian cherry wood.
Actor spends most of the time on the ground floor, on the first floor, there's a place for a living room with a bar and an office, where his assistants work.
Polish celebrities
Do Polish celebrities also use caravans? Yes, indeed. There're even companies that specialize in renting caravans on film sets.
Bednar Film Company, among other vehicles, also offers cult caravans Airstream and American campers, although it must be admitted that those vehicles are much more modest and older in comparison to those, which belong to American celebrities.
But if someone really wants, he can rent a 12 meter camper Chevrolet Seneca, which has a dressing room, 3 stands for make-up, three monitors (32 inches each) for a director's preview, three air conditioning systems and two heating systems.
Polish celebrities like to use campers and caravans also privately. A famous caravanning enthusiast is Karol Strasburger, but in the media you could also hear about Kasia Cichopek and Marcin Hakiel. Last year the couple decided to spend their holidays in rented camper on the South of Italy.
Political issue
Politicians don't shun campers and caravans, even the British Queen. On November 22, 2012, Queen Elizabeth II along with Prince Philip visited the Bailey factory in Bristol, specializing in campers and caravans. The company celebrated its 65th anniversary then. The Queen was posing in a camper and even took a short ride in a model Approach SE 760.
In January 2013, the leader of the Five Star Movement, Beppe Grillo, took a political tour around Italy. Actor, comedian and now politician, used camper to meet with voters. The campaign was successful - the Movement received 25% of votes.
Campers are rather used by local activists - for example, Matteo Renzi was using camper in 2009, when he applied for the position of the mayor of Florence. In Canada, in 2011, Mark MacDonald did a camper campaign when he applied for mayor of the city of Cornwall. Unfortunately, he didn't win.
Well, apparently having a camper won't guarantee you success. House on wheels may, however, make both political campaign and musical tour interesting and even arouse more interest in the media.
Czasem lepiej zbłądzić, niż zbyt nachalnie pytać o drogę. Aldous Huxley
Enjoyed reading this article? Share it!