KRK - an Island, where you can go by motorhome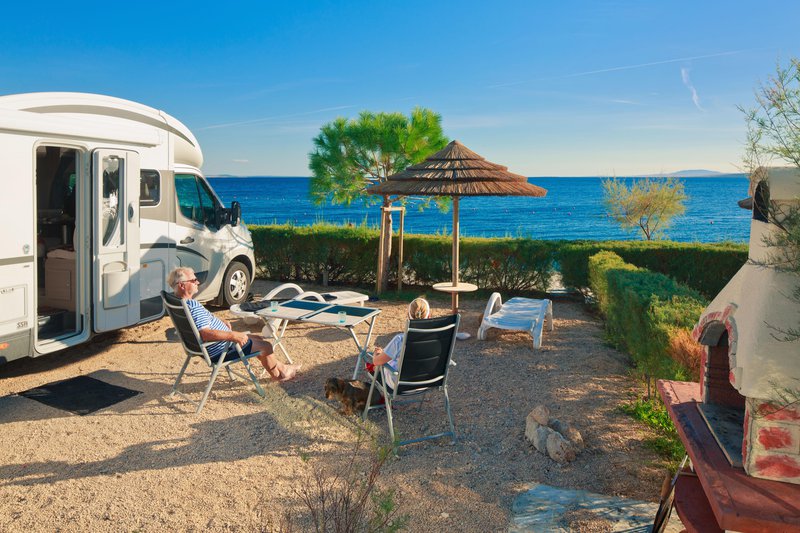 The biggest Croatian island, with the name sounding very exotic to the Polish ear, tempts with plenty of things. But for fans of CARAVANNING, its biggest attraction is the possibility to reach the island... with A MOTORHOME.
Just like several other islands on the Adriatic Sea, Krk is connected to the mainland by a bridge. If you want to use Most Krcki, the length of which amounts 1430 m, you have to pay, but what you see on the island, is worth every penny. There's a reason why the island is also called the Golden Island. Fabulous, illuminated colors of the local beaches at sunset, the color of ripe honey and olive oil, along with stunning karst formations - these three elements together form the local color palette. Inside the island you will find fertile fields, full of picturesque olive groves, while the coastal shoreline of over 219 km is dotted with rocky beaches and numerous picturesque bays. Reaching KRK with a MTORHOME is very easy and will take you only a few hours. It's located only 382 km from Split, 172 km from Zagreb, and only 53 km from Rijeka.
5 reasons why Krk is the "most"
Collectors of attractions and curiosities will be delighted with Krk. Experienced tourists without any problems can mention at least 5 reasons, why it's worth to pack the baggage to the MOTORHOME and come here for vacation. It's the largest of the islands in the Adriatic Sea, it's easily accessible (you can get here not only with your comfortable MOTORHOME, but also by bus, boat or plane). The nearest international airport is located in the city of Rijeka. Due to the wonderful Mediterranean climate, it's also the most popular place among tourists, who choose it for their holiday destination. Experts say that the fifth reason is an incredible diversity of this island. Enthusiasts of history will be delighted: the island has a very rich cultural heritage and many valuable monuments with thousands years of history. Fans of the relaxation on the bosom of nature will enjoy the visit in the nature reserve, Glavotok. But most visitors come here to spend holidays among beautiful scenery, excellently-equipped beaches and picturesque coves.
No way to get bored on Krk
KRK has plenty of attractions. Here you can swim, snorkel in the crystal blue sea and sunbathe on the beach. You can also rent a sailboat in the marina at the Port of Punat, enjoy water bikes or windsurfing and even try paragliding. Even small towns such as Malinska or Dobrinj pulsate with life late into the night. You definitely have visit Omialj, where in mid-August is held a famous folk festival Stomorina - the equivalent of our harvest festival. In close proximity, there's a cave Biserujka, about 100 meters deep. Concerts of classical music in the cave are a great attracion.
Where to stay?
A perfect place for an overnight stay, where your MOTORHOME will be safe, is Camping KRK covering the area of 11 hectares. It's open from April to October. It was awarded with the Blue Flag, symbolizing the cleanliness of the environment and ecology. For more information about this amazing camping you can go to our Camp Site List or check its website directly www.camping-adriatic.com/camping-krk-politin  
Jeden z twórców CampRest, zapalony podróżnik. Kocham zimę tak samo jak lato z tym że zimą każdą wolną chwilę spędzam w górach na snowboardzie a latem jak nie w górach to nad wodą pływając na kitesurfingu, robiąc zdjęcia lub popijając zimne napoje :)
Enjoyed reading this article? Share it!