A pearl of western Istria - Vrsar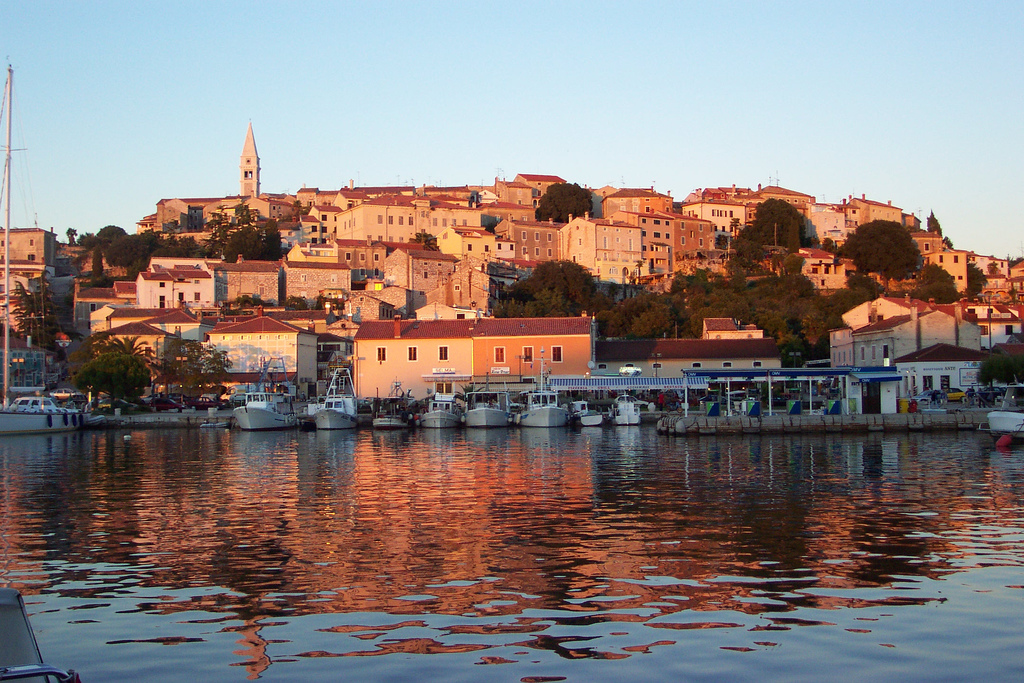 In the vicinity of the largest naturist resort, among hills and lush Mediterranean vegetation, there's Vrsar, a lovely Croatian resort. Wide beaches and azure water attract tourists from all over the continent, who also come here for its exquisite cuisine.
Vrsar is situated approx. 9 km south of the town of Poreč, in western Istria. It has an exceptionally beautiful archipelago, which consists of 18 tiny and uninhabited islets covered with Mediterranean flora. People can admire it from a speedboat, which can be rented in the town, just like pedal boats, sailboats and surfboards.
A cuisine of a thousand flavors
The town attracts with its beauty. In the past it was called Orsera, but today it's known as Vrsar. It was the place, where mainly nobles and bishops lived in the past, it also functioned as a port through which Istrian stone was exported. Today it enjoys a considerable popularity among tourists, who visit Croatia.
The main street of the city, Obala Maršala Tita, runs along the harbor – it's also a promenade. The resort has preserved the Mediterranean climate, thanks to a tangle of stone streets and numerous, comely squares. This place is beautiful and full of colors, and besides it also pleases the sense of smell and taste. The local cuisine is famous for its diversity - among the dishes you can try there is ham with truffles and asparagus, and seafood served in plenty of ways.
Attractions of Vrsar
Vrsar will appeal especially to families with children and amateurs of active rest. People can spend their time on one of several tennis courts that are located in the city. Of course, you can spend your 2-week vacation on blissful lounging on the beaches, but wasting such great opportunities would be a shame. These beaches have all facilities, a suitable equipment and offer a wide range of entertainment. They have a gentle descent to the sea and are covered with fine gravel.
People, who love monuments, will be very pleased with the visit in Vrsar. In the old part of the resort, there's a tiny Renaissance church with a rich collection of sacred art, but also a Romanesque gate and Trg Degrassi, which in the past was the main square in the city. To these days only fortifications of Illyrian settlement have survived.
The city is dominated by a dignified silhouette of St. Martin church with bell tower, from which you can admire the whole town. Equally noteworthy is the Renaissance-Baroque church of St. Anthony and the summer residence of the bishops with the remains of two towers. In one of them has a built-in sundial. On the ground floor of the building there's a collection of paintings of the Croatian artist Ed Murtića, who creates works in the style of abstract expressionism.
Outside Vrsar you can also find a lot of attractions. It's worth going for a trip to a fiord channel Lim, located about 3 km north of the city. It's considered a landscape park, and within its territory there's a restaurant with an extensive menu prepared according to traditional recipes.
Cradle of naturism
In a distance of approx. 2 km south of Vrsar, there's Europe's largest naturist resort - Naturist Park Koversada. It can accommodate up to 5 thousand people and has an excellent recreational infrastructure. On the campsite, tourists can enjoy football pitches, basketball and tennis, they can also play beach volleyball there. Equally rich is also a range of water sports –beginning from water skiing, yachting, and ending with diving lessons.
Those, who prefer traditional sunbathing in bikini, can choose Croatian Camping Orsera. Parking space for motorhome costs approx. 18,50 to 35,50 euro. The cost of accommodation of an adult ranges from approx. 8 to 11 euro.
Holidays in Vrsar are a guarantee of great fun and relaxation at numerous beaches, of which up to 5 are rewarded with Blue Flag. Regardless of whether we will spend time on the promenade or in the hilly old part, the holidays in this resort will remain in our memory forever.
Z zawodu pisak, z zamiłowania kociara. Kiedyś zobaczy co jest za Uralem - dobrnie aż do Władywostoku. A póki co, kiedy może, cieszy się słońcem krajów południowej Europy. I też jest fajnie ;)
Enjoyed reading this article? Share it!