SpaceCamper - more space in Volkswagen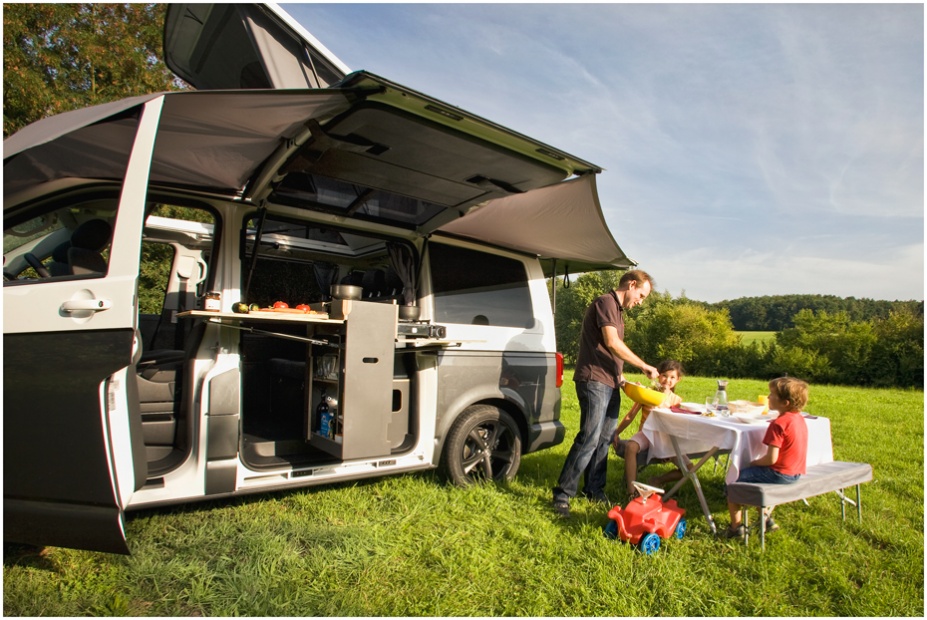 Volkswagen T5 is a grateful object of modifications, what has already been proven by many companies converting vans into touristic vehicles. However, the German company SpaceCamper offers even more changes.
Seemingly, this is just a simple Transporter with seats for 5 people and a 700-liter luggage space. But after SpaceCamper's interference, it's also a multi-purpose vehicle, perfect for every-day use, as well as for longer trips. Besides, thanks to the light weight of the equipment, the car has a load capacity of 1000 kg.
The manufacturer ensures that the interior uses only high quality materials - birch plywood, stainless steel and aluminum. The furniture is made of plywood that is made of thin layers of wood glued together. Such technology allows to create a material resistant to water and damage. The kitchen worktop can withstand temperatures up to 185 degrees Celsius, the impact of strong chemicals and scratches.
Even four may squeeze in
SpaceCamper comes in three variants. Classical variant provides an accommodation up to four people, but it would be better if two of them were children. Three people can sleep on the folding sofa. It's 2.03 meters long, 1.3 meters wide and only 80 mm thick.
Thanks to this, you can fit in a lot of baggage under the sleeping place. Fourth place to sleep is located across the vehicle, on the front seats.
During the day you can fold back the rear row of seats, leaving behind the baggage covered with other two parts of the mattress. Thanks to rotating seats of driver and passenger four people can sit together at one table.
There's also an option to fold the whole sleeping part along with the rear seats, turning the van into a small truck.
The vehicle provides space even for a kitchen with a 25-liter refrigerator, a sink with retractable faucet and a gas stove.
SpaceCamper is also available in versions Light and Open. Open is especially worth attention, due to the sliding doors on both sides. As a result, you can open 5 doors at the same time, turning the car into a terrace with chairs.
1001 additions
What's equally interesting is the additional equipment. SpaceCamper provides two versions of high roof. Lifted roof made of fabric is well known from many other motorhomes. Except that here, the roof can be converted into the observation deck, because the front part of the superstructure can be opened. It's worth to pay attention to the fixed roof with a large, hinged window.
A safe, LED lighting and reading lights, electrical protection against forest animals, additional rear seats, a system for transporting bicycles and motorcycles, tent integrated into the tailgate, which can also be used as a walk-in shower... It's just a part of the elements of additional accessories.
The most bizarre thing, however, is the toilet - if a board with a hole covered with a plastic bag can be called a toilet at all. When you're done, you can fold the board back into the cabinet. Well, it should be treated rather as an emergency solution.
For more information please visit www.spacecamper.de
Czasem lepiej zbłądzić, niż zbyt nachalnie pytać o drogę. Aldous Huxley
Enjoyed reading this article? Share it!