Swisstainable camping - what is it?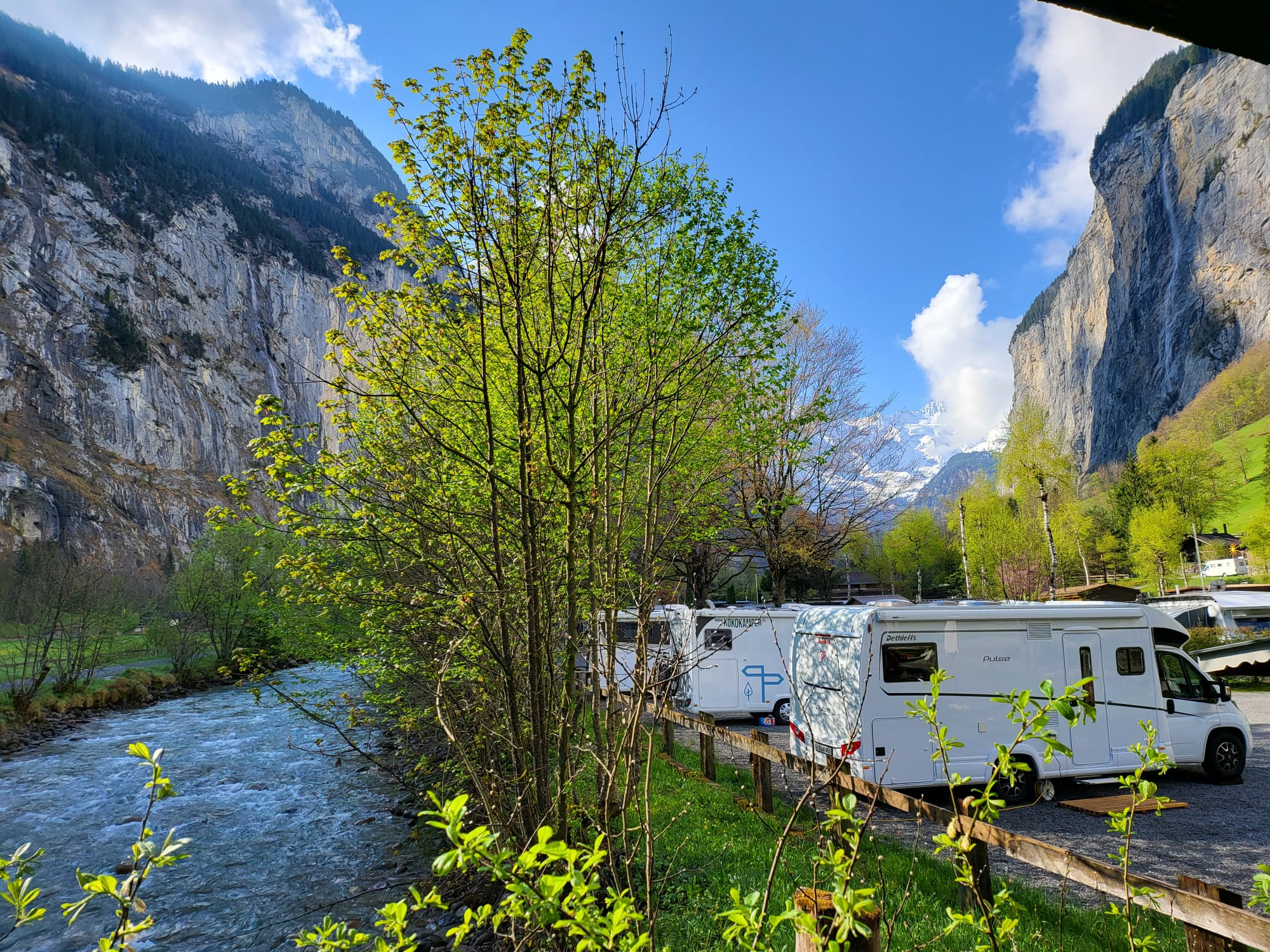 Nowadays, there is no need to wonder if it is possible to combine modernity with care for nature. Are there advanced solutions, and at the same time based on ecological materials and technologies? Find out what 'swisstainable' means - or check it out in practice when visiting Switzerland. Today we would like to introduce you to this concept by describing several swisstainable campsites.
What does "swisstainable" mean?
Let us first stop at this mysterious term. It was created from two English words: swiss, which means Swiss and sustainable, which means balanced, conscious. Switzerland can serve as a model for other countries when it comes to caring for ecology and conducting social education in this field. In recent years, this small country has made tremendous changes in many sectors, including transport and tourism. It may seem that the designation of special glass or PET collection points will not change much for the planet. This is the wrong approach. The Swiss state focuses on recycling and this is not only a temporary trend.
If you have ever relaxed in this beautiful country, your lungs must have been grateful for it. For over a century, Swiss legislation has required a third of the country to be covered by forests and wooded areas. Unfortunately, the developers' activity, which is known to us all too well, will not be successful here. It should be green, because it not only looks beautiful, but is also beneficial for health and safety (protection against avalanches).
Traveling ecologically in Swiss
Swisstainable is the term for the nationwide sustainable tourism promotion program that is currently being implemented. In Switzerland, hiking and cycling are considered the greenest. If you think of a vacation you see in your imagination a car laden with luggage up to the roof, this is the wrong direction. Not only because some attractions are not accessible by car. You can visit here without any problems using public transport. By bus, train or boat you can reach both large centers and tiny towns. The railway network of SBB (Schweizerische Bundesbahnen) is less than 3,000 kilometers long. There are 9,000 trains that run along these tracks every day!
The impressive number of these trains is not all that Swiss public transport can boast about. For many years, the system has been based on renewable energy, with particular emphasis on hydropower plants. SBB railways rely on it in 90%, and in the next few years (until 2030) they plan to reach 100%.
Among Swiss trains, many deserve recognition, but there are those that impress with both the routes traveled and the comfort of driving. Be sure to get to know the Rhaetian Railways and take a ride on the panoramic train at least once. Large windows up to the roof provide amazing views.
Ecological accommodation, which is what?
Rest in the spirit of "swis-stable" does not mean camping, washing in a stream and food reheated on a makeshift stove. None of these things. If you decide to spend your vacation like this one time, you'll love it. Swiss tourist facilities that focus on ecology offer guests the highest standards of service. Cozy accommodation places in various forms await those willing. You can book a hotel room, mobile home, bungalow or glamping tent. If you prefer something more original, consider unusual options such as a treehouse or a building with an unusual shape (e.g. barrels). How about a night in an eco capsule powered by solar and wind energy? You can call it a caravan of the 21st century, because it is self-sufficient, fabulously modern and can be placed anywhere. On the beach, forest clearing or mountain slope. Possibly on the roof of a skyscraper. Until then, you can see it on the terrace of the Titlis Bergbahnen mountain station. It is an eco hotel with a spectacular view of the mountain peaks.
Traveling responsibly in Swiss means admiring nature and getting to know its charms, but without harm to the surroundings. It is relaxation in the bosom of nature, on the shores of a clean lake and under the blue sky. It would seem obvious, but today you won't find places like this everywhere. Swisstainable means ecologically, respecting nature, in line with the zero waste and recycling trend. If you dream of escaping from the big city, giving up processed food and breathing fully, this is something for you.
Swiss camping in the spirit of swisstainable
You have already learned what sustainable tourism in Switzerland is about. However, it has been known for a long time that everything can be best seen on examples. So see what tourists can count on when choosing one of the swisstainable campgrounds. Our first fire is Camping Jungfrau , located in the center of the Interlaken region, in Lauterbrunnen. Located in the Bernese Oberland, the site is considered to be one of the most beautiful campsites in the Swiss Alps. It is located in the immediate vicinity of the Staubbach waterfall and its guests can admire the wonderful mountain landscape. It is open all year round. You can visit it when you dream of skiing in the Jungfrau region or you want to go to the Jungfraujoch Pass. The highest rack railway in Europe runs there, so it's worth it.
The camping offers tourists a comfortable accommodation, wonderful landscapes and many amenities. Among other things, you have access to a restaurant with traditional Swiss cuisine. You can also easily get to the surrounding attractions. A camping bus leaves regularly, and the bus stop is only 300 meters away.
Camping by a lake in Switzerland
Another suggestion is Camping Fischers Fritz . It is located on the western shore of Lake Zurich and is made for fans of fish dishes. Here you can eat them served in dozens of ways or devote yourself to fishing. It is a year-round facility which, apart from camping pitches, also has a bar with fresh fish and a shop. If you want to be as close to nature as possible, rent one of the 10 Safari tents. They have a wooden floor, and inside they have a comfortable double bed and everything you need for a blissful rest. They are available from May to October.
The campsite has a marina for boats and offers an overnight stay overlooking the water. It is very green and modern at the same time, and it is also close to the attractions of Zurich. This is a great spot for everyone who wants to relax surrounded by nature.
The last facility is TCS Camping Morges , located on the shores of Lake Geneva. In 2022, silver Streamlines trailers joined its accommodation offer. The models iconic in the USA have been modernized and adapted to provide holidaymakers with maximum comfort. You will only meet them at this particular campground. Come to Morges if you are hippie soul or you simply miss the good old days. In addition to the Streamlines trailer, you have vintage-style trailers at your disposal. They are adorable!
There are many cycling and walking paths in the area. The region is extremely picturesque, so you will have a rest in it all the time.
These are only three of dozens of campsites that you can easily reach by public transport. A wide range of accommodation options, wonderful views, lots of greenery and modern - often ecological - amenities await you on site. Don't be long persuaded. Plan your trip to Switzerland.
Z zawodu pisak, z zamiłowania kociara. Kiedyś zobaczy co jest za Uralem - dobrnie aż do Władywostoku. A póki co, kiedy może, cieszy się słońcem krajów południowej Europy. I też jest fajnie ;)
Enjoyed reading this article? Share it!