By plane, by train, by coach - what you shouldn't forget when getting ready for your trip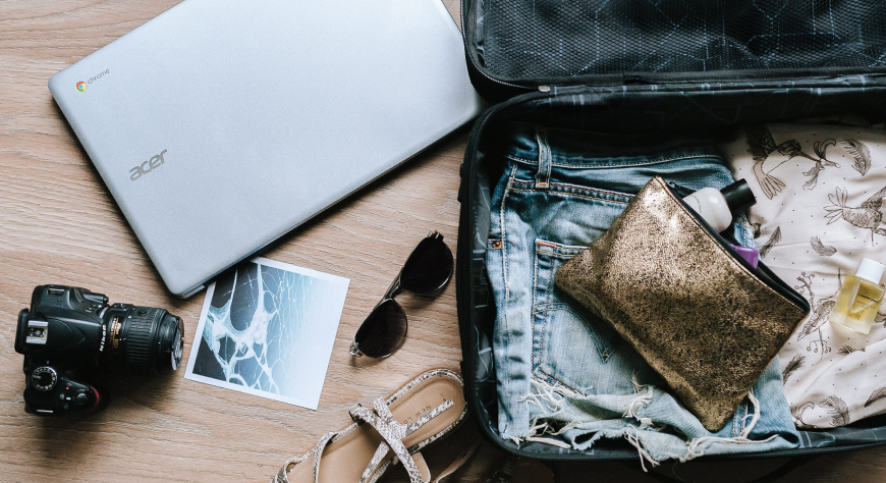 Are you going on a journey by plane, train or coach? Then you need to ensure the comfort of your trip! Getting there by a means of transport other than your own car requires us to carefully packaged, so that the travel bag contains only the necessary things, without any unnecessary items. The smaller and lighter the luggage, the more comfortable the journey will be for us. However, this does not mean that we have to give up most of the equipment. However, it is worth replacing some things with their tourist counterparts, with compact dimensions and lighter weight.
You should not forget about hand luggage , which should include accessories that increase the comfort of traveling. Another important issue is travel safety - protection against theft and preparation for various situations. So what is worth remembering when getting ready for a trip by plane, train or bus?
When traveling by means of transport with other, strangers, we must be prepared for different situations. It is easy to steal in stations, airports and other crowded places. Of course, it is not worth assuming in advance that passengers traveling with us have bad intentions towards us, but you can always protect yourself, and even more - you have to. Instead of frantically checking the contents of our backpack in its place, it is better to equip yourself with an anti-theft backpack right away. It can also be an anti-theft bag or suitcase. In such a backpack, special anti-theft technologies are used, the purpose of which is to ensure maximum safety while traveling. What specifically? It all depends on the model we choose.
Anti-theft backpacks, bags and suitcases are the domain of the Pacsafe brand - the manufacturer uses various security technologies in its products, including:
eXomesh 360 ° - a steel mesh between two layers of material protects against cuts and allows the backpack to be turned into a safe.
Carrysafe - each of the straps is equipped with hidden steel cables, so that the thief will not cut them off.
RFIDsafe - special pockets block frequencies from 10MHz to 3GHz, and thus protect cards and documents from being scanned.
Interlocking zip - the special shape of the sliders guarantees their joining, protecting the backpack against opening.
Smart Zipper Security - protects against undesirable opening of the zipper.
Roobar Style - a zipper protection system, thanks to which any outsider has difficult access to the inside of the backpack.
The above solutions can be found in various models of Pacsafe anti-theft backpacks. It can be, for example, a capacious Pacsafe Citysafe CX backpack, with a capacity of 17 liters, equipped with all the above-mentioned technologies and distinguished by an interesting design. It will be perfect not only for travel, but also for everyday use. It combines elegance and comfort with the latest anti-theft technologies.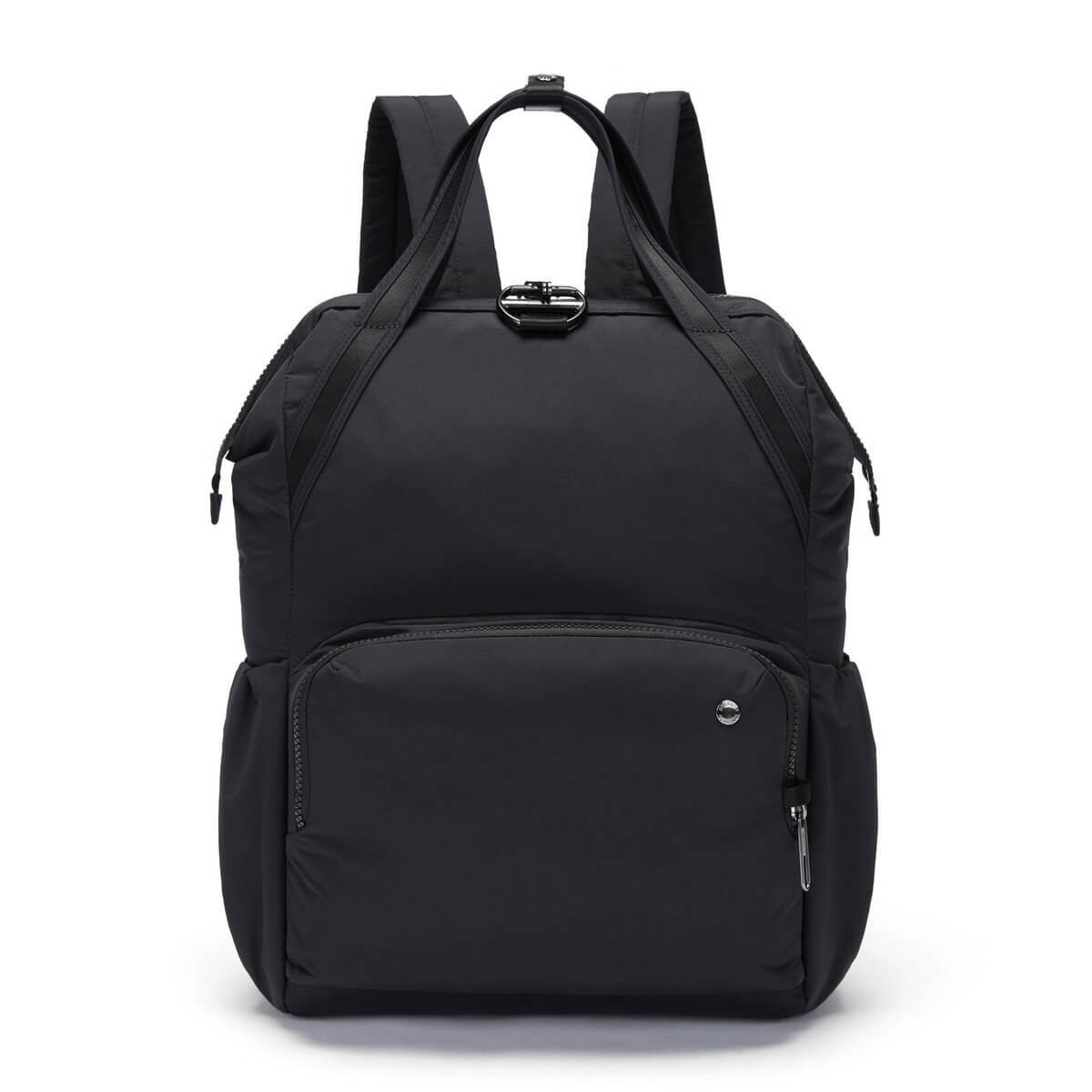 Tourist kidney
Valuable items such as wallet, keys, phone or documents are best kept with you at all times. Instead of putting them in a backpack or bag, let's pack them into a tourist kidney with which we will not part. Hip sachets usually have numerous pockets closed with zippers . These can be classic Milo Heffo sachets, with a spacious main compartment and two additional pockets, and equipped with a wide, comfortable belt with the possibility of adjustment. But it can also be a small anti-theft Pacsafe Venturesafe X waist bag with numerous internal pockets and security systems. There is room for a 7 '' tablet in the kidney, as well as valuable items such as a wallet and keys.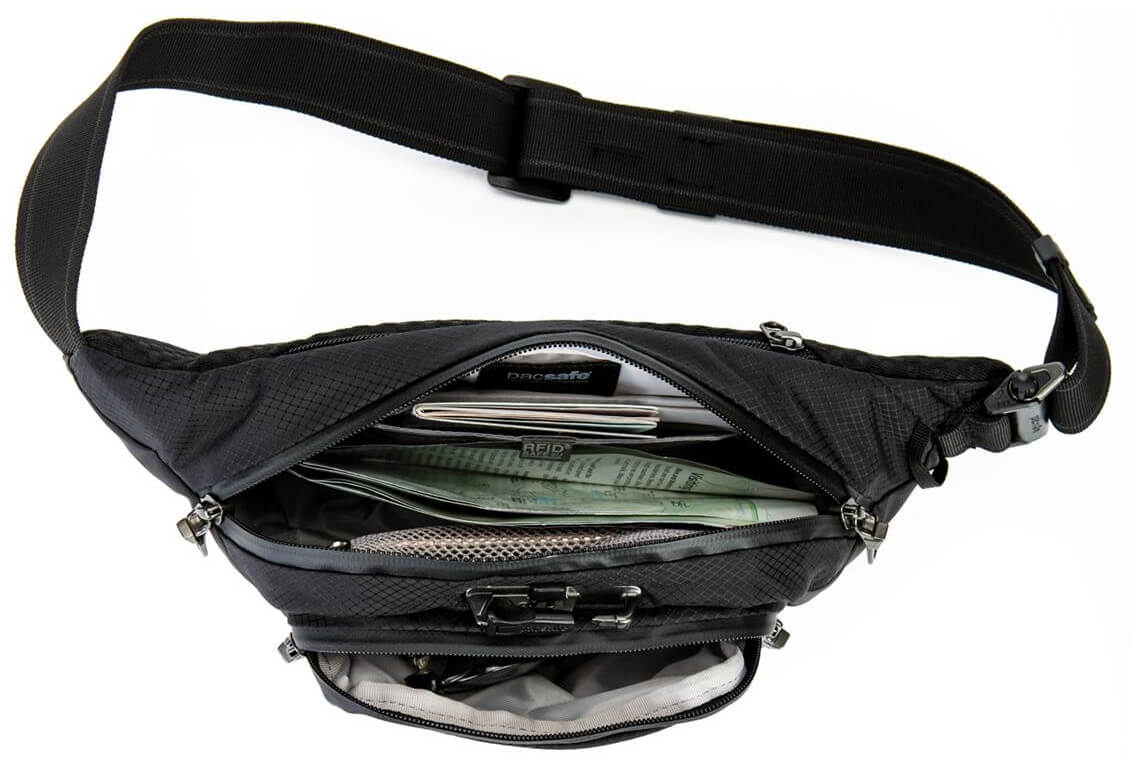 When going on a trip, we must not forget about the travel pillow, especially when we have a long ride or a flight in a sitting position. A good-quality tourist pillow, despite unfavorable conditions, will allow you to comfortably take a nap on a train, coach or plane. The small size and low weight of the pillow will allow it to be easily packed on any route. Such a pillow will provide the head with adequate support, and thus protect us from pains and spine injuries. An inflatable travel pillow is a great option, with a large valve that makes it easy to inflate and fold it quickly. These include the Lifeventure Inflatable Neck Pillow , Exped NeckPillow and Rockland Bolster models. There are also sets for sleeping on the go - Easy Camp Travel Sleep Kit or Dr Bacty, consisting of a pillow-croissant, blindfolds and earplugs.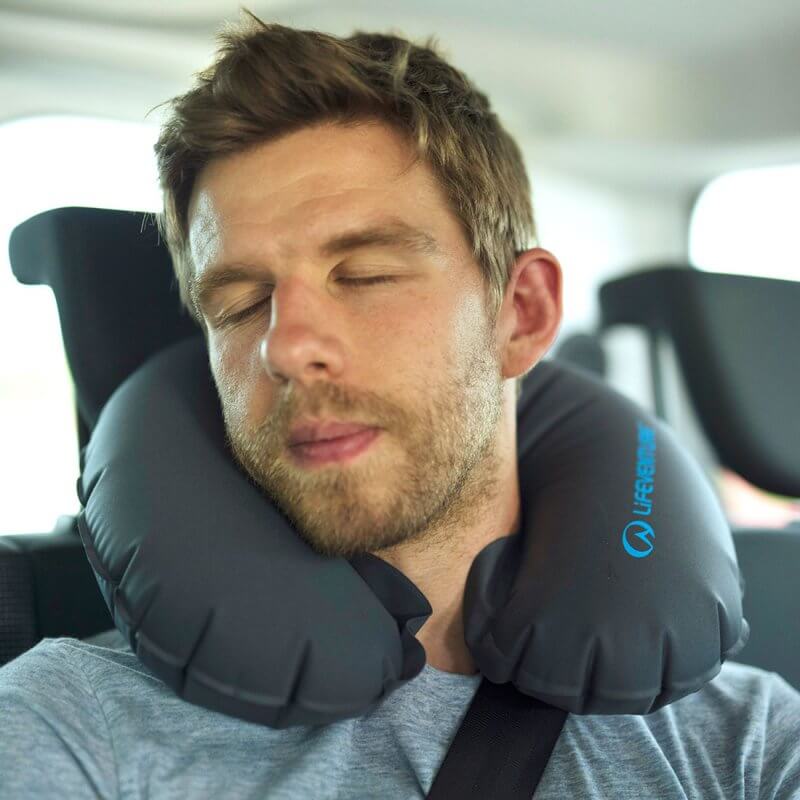 Safety and comfort of travel are of course important issues, but no less important is the proper packing of luggage. In such a way that everything we need can fit into a bag or suitcase, and we would easily find the things we need at the moment. Therefore, when you go on a trip, do not forget about travel toiletry bags. A good-quality travel toiletry bag, preferably one that is waterproof, will ensure the proper organization of cosmetics and protect the rest of the luggage from possible flooding in the event of opening a shampoo or shower gel.
Both smaller and larger toiletry bags are available. Their size should depend on the nature of the trip and our needs. Most models have functional compartments, thanks to which each cosmetic has its place. A popular solution is also equipping the beautician with a hook, thanks to which we can hang it in the shower to comfortably use the entire set of cosmetics. Travel toiletry bags with a hook are the Brunner Holiday or Eagle Creek Wallaby models. Lifeventure Wash Holdall and Brunner Body & Soul are additionally equipped with a mirror.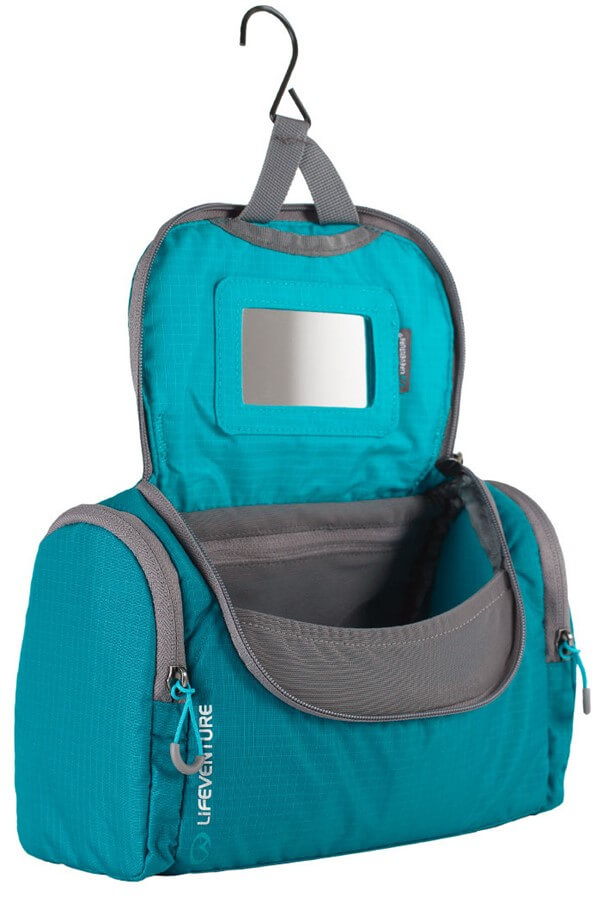 Travel cosmetics
The travel cosmetic bag should also contain appropriate travel cosmetics. Large bottles of shower gels, soaps and shampoos not only significantly burden our luggage, but can also flood our clothes, food or electronic equipment. Therefore, it is worth taking with you tourist versions of cosmetics, especially if you travel by plane , where the amount of liquids transported is limited. This is where the Lifeventure brand comes in handy, offering cosmetics perfect for travel. Biodegradable soap, shampoo and shaving foam in sheets are an excellent solution. These products are extremely convenient and easy to use. It is enough to take one leaf from the package and use water to dissolve it in your hand. Cosmetics in sheets not only take up little luggage space, but are also safe to transport. Moreover, those offered by Lifeventure are fully environmentally friendly.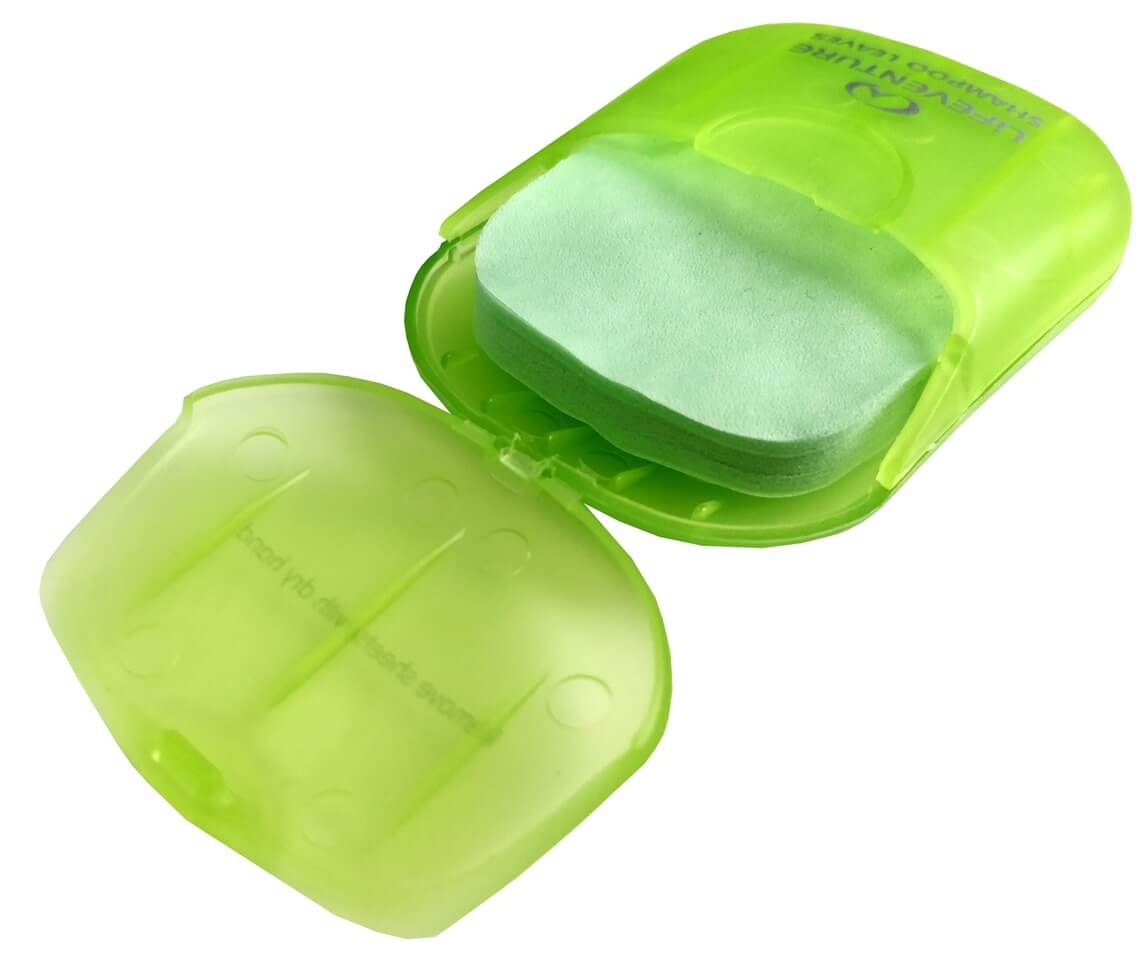 When talking about travel hygiene, it is also worth mentioning the tourist towel, specifically the quick-drying towel. This is a great alternative to the cotton version that we use every day. A cotton towel, both dry and wet, takes up a lot of space in the bag, and also weighs down our luggage. It is different in the case of a quick-drying towel - in the dry version it is extremely light and compact, and in the wet version it dries very quickly, keeping it fresh for longer. Quick-drying towels are made of synthetic fibers. There are microfiber and velor versions available. The former dry up quickly, the latter - a bit slower, but are more pleasant on the skin.
Producers of quick-drying towels even tried to create a special antibacterial technology, thanks to which the number of bacteria multiplied on the towel is reduced to a minimum. One of the most popular solutions is to enrich the fabric with silver ions, thanks to which the towel gains antibacterial properties. The Dr Bacty brand uses the Polygiene technology in its products, which effectively prevents the multiplication of bacteria, thanks to which the towel stays fresh for a long time. It absorbs 4.5 times more water than it weighs, and dries 10 times faster than a classic towel!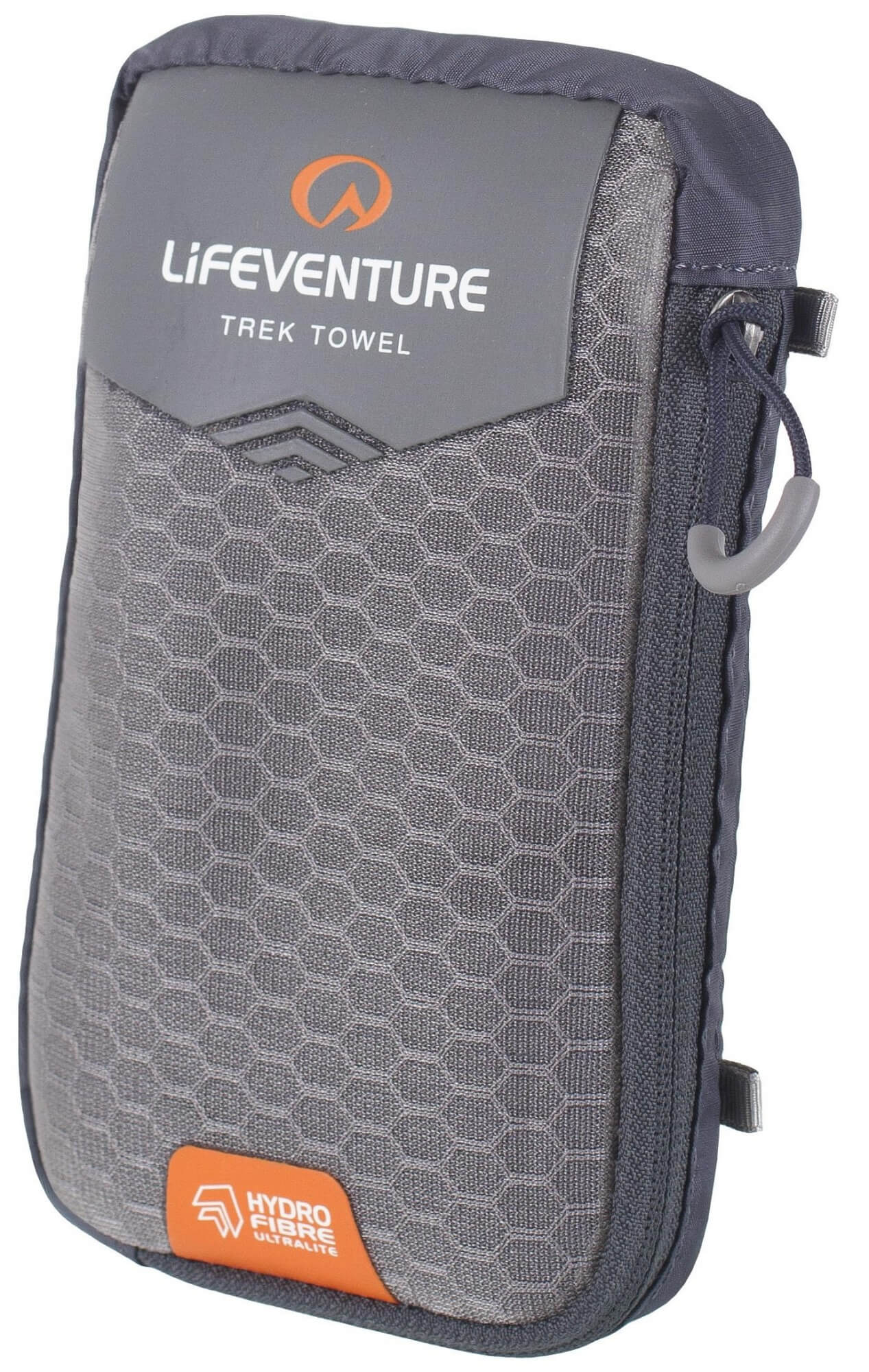 Tourist umbrella
It is worth being prepared for any weather and taking an umbrella with you. But in the tourist version, it would take as little space in our bag as possible and burden our luggage as little as possible. Such products can be found in the offer of various tourist brands. Sea To Summit Ultra-Sil Umbrella is a model with a light and durable frame made of aircraft aluminum and reinforced with brass rivets. The umbrella itself is made of a fabric that is abrasion-resistant and highly waterproof. It also has a rubber grip that fits comfortably in your hand. Lifeventure Trek Umbrella has similar features. In turn, the Helinox Umbrella One model will protect us not only from rain, but also from strong sun. The material from which the umbrella was made has UV protection UPF25. Each of the umbrellas is folded to a compact size and hidden in the cover.
What else will we need while traveling? Solar powerbank! Especially when the chosen means of transport does not have access to electricity to which we could connect and charge the device. Powerbank with a solar panel allows you to generate the energy necessary to power a smartphone, laptop, tablet, MP3 player or GPS navigation. Tourist powerbanks with solar panels are distinguished by their small size and weight, so we can easily pack them into a backpack and set off on a journey. A good solar power bank is one that shows the best performance and is as light as possible. In addition, it is also splash and dirt resistant.
Such gadgets can be found in the offer of the Sunen brand - PowerNeed Power Bank 12000mAh is a model with a built-in solar panel, waterproof housing, capacity indicator, as well as a built-in electric lighter and LED diodes, thanks to which it can be used as a flashlight.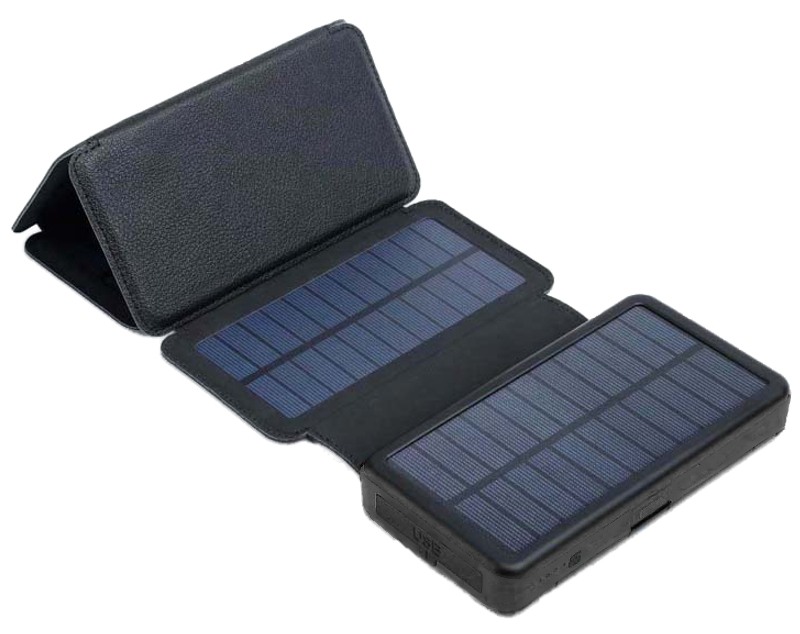 Tourist first aid kit
A tourist first aid kit is definitely a must-have for every trip! Regardless of where we are going and what means of transport we get to the place, we must take a first aid kit with us. We can immediately buy a ready-made set containing all the necessary elements. It cannot lack bandages, patches, dressings or disinfectants. Lifesystems offers a large selection of travel first aid kits. Depending on the selected set, in the first aid kit closed with a waterproof zipper you will find, among others regular and elastic bandages, dressings, gauze pads, plasters for wounds and blisters, disinfecting wipes, scissors, tweezers and safety pins.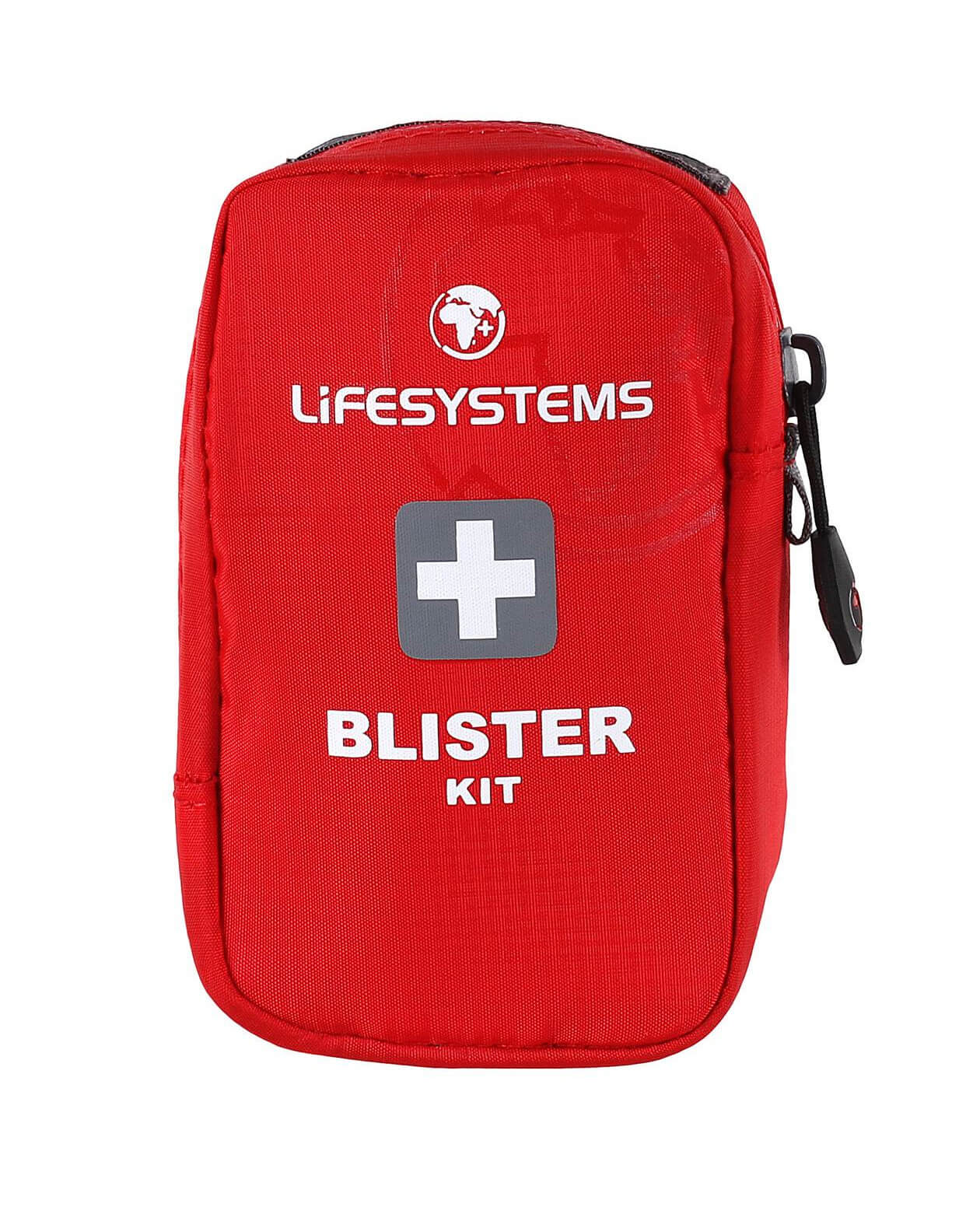 Tourist flashlight
It is also worth putting a tourist flashlight in the bag. Such a gadget does not take up much space, and can be very useful in many situations. Not only on the trail, but also during the journey itself. When the lights on the coach or train are turned off during the night ride, and we want to search the contents of our backpack, then it is worth using the flashlight. When traveling, a tourist flashlight in a pocket version, i.e. one equipped with a key ring that allows it to be attached to keys or a backpack, will be especially useful. It is the perfect choice for all those who appreciate practicality and want to take the lightest luggage possible. The pocket torch Ledlenser K1 weighs only 10 g, has a power of 13 lumens, and its range can reach up to 16 meters! This model is resistant to water and falls.
We have created the CampRest portal for people who value freedom and travel on their own.
Enjoyed reading this article? Share it!