Check VIN before you buy a motorhome!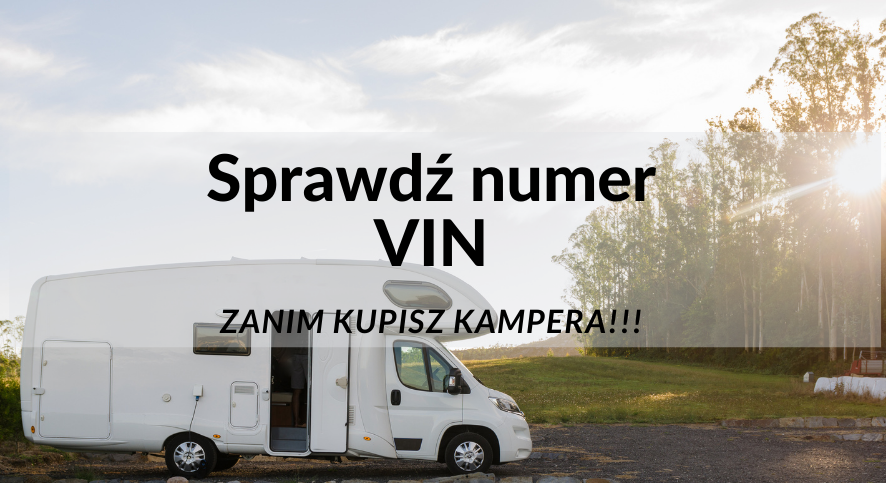 The motorhome market is experiencing a real explosion. Aftermarket prices have soared and factories are lagging behind orders for new vehicles. The commodity is therefore very scarce. In addition, when something interesting appears on the horizon, potential buyers literally "fight" to hunt down the desired car. In search of opportunities, however, it often happens that our vigilance is put to sleep. Since we are talking about camping vehicles related to our hobby and associated with pleasure, family and travel in the purchasing process, we may not keep our sober mind. Act impulsively, amok, often looking through "pink glasses". However, we must be aware that this purchasing process is in no way different from buying a family car for everyday driving. In addition, we are talking about the considerable amounts in which these transactions close.
The motorhome's VIN will be confirmed by the factory
The above-mentioned opportunities are beginning to appear on the Polish market. In addition to the accident history of the vehicle and a thorough analysis of the technical condition, we strongly recommend that you check the VIN by a specialist company. Entities belonging to the Polish Caravanning Group offer such a service free of charge. And they have something to do ... In Elcamp , the distributor of the Adria brand, the phone rings frequently. At least once a week, you "get" a motorhome with VIN number, which the Adria factory has never left. There was even a case of verifying the Adria vehicle on the Peugeot Boxer chassis, while the manufacturer never used these cars as a base.
A discussion flared up on several social media forums. There were voices that after the accident everyone should be able to transfer the car body to a different base and use the car without consequences. Following this line of reasoning, these cars should not be called ADRIA , HYMER or PILOTE , but should be included in the procedure for "SAM" vehicles.
Camper thefts are more and more frequent
Of course, there are guesses in the background as to why suddenly so many of these "buildings" and occasional spacers appeared. Of course, some superstructures may come from accidents in which the base vehicle was damaged. However, it should be said openly that this scale must also be in direct correlation with the increasingly frequent thefts across Europe. Not a day goes by with our western neighbors without disclosing a dozen or so cases of unlawful misappropriation of motorhome vehicles.
Motorhome bodywork transplant - a lucrative business
The problem is the appropriate marking of construction elements , which most manufacturers can look for in vain. Bodies, so it is very often difficult to clearly identify and assign to a specific car that left the factory with a specific body number. There are brands that, due to the numerous embossing of the VIN number in the building elements, will not be such a tasty morsel (eg Carthago ). Evidently, the so-called campervans / blaszaki and semi-integrated vehicles. According to According to the findings of the German police, most of them, if they fail to be transported across the eastern border of the EU, serve as a base for "transplants". Due to the huge variety of models and bodies, these vehicles are not disassembled and sold for parts.
The scale of the phenomenon is also confirmed by a representative of one of the largest caravanning companies from Wielkopolska. At the same time, it draws attention to the economic aspect. Taking into account the current market boom, the purchase of the bodywork for about PLN 50,000 and the base vehicle even for PLN 70,000 means huge profits for a company dealing with such a deal. He also confirms that he knows about cases where such activities have resulted in sentences for stolen goods and fraud for serious companies in the car industry .
Be vigilant and check what you are buying!
Remember that even when buying a car in good faith, and being aware of possible (let's say it delicately) "formal shortcomings", we can expose ourselves to a number of unpleasantness. From possible leaks or technical defects related to an unprofessional spacer, through possible legal problems in the event of inspection or technical inspection, to potential problems with resale, when a customer interested in buying it wants to verify the VIN at a brand dealer.
Not only campers
Although the above article is devoted to motorhomes , the plague of theft and potential threats in bargain hunting also applies to caravans . Not only in Germany, but also in Poland, there are more and more cases of misappropriation of trailers not only from private properties, but also from dealerships. The most spectacular robberies are creepy, and the stories of theft read like a good detective story. German-speaking sources and further police statistics across Europe show that this trend is intensifying.
Regardless of whether we are buying a motorhome or a trailer - let's be careful and carefully check not only the technical condition of the vehicle, but also its history and origin. Companies such as: Elcamp and CarGO! - associated in the Polish Caravanning Group - help to make such verification free of charge.
At Elcamp , you can check brands such as:
Adria
Sun Living
Globe-Traveler
Hymer
Westphalia.
In CarGO! you can check brands such as:
Frankia
Pilote
Mooveo
Bavaria
Le Voyageur
Morelo
Hobby
At Buerstner Polska , you can check brands such as:
In the Kutno Camping Center you can check brands such as:
Dethleffs
Concorde
Hymer
Hobby
At ProCamp , you can check brands such as:
Knaus
Tabbert
Weinsberg
Eiffeland
Witmar
Wolf
T @ B
India Campers
In the Warsaw Caravanning Center , you can check brands such as:
In Campery Wadowscy you can check brands such as:
Hymer
Dethleffs
Sunlight
Knaus
Weinsberg
Laika
If you decide to finance a motorhome or caravan at Idea Getin Leasing , this company will check each vehicle for you before registration with the appropriate manufacturer.
I feel best in the form of trade fairs and meetings with enthusiasts. Technical freak. In my life I have dismantled many motorhomes for the first time. Fan of large vehicles, mountain biking and traveling without weight and financial restrictions. At CampRest, I am responsible for all publications on automotive topics.
Enjoyed reading this article? Share it!