How to choose a caravan seat? Motorhome guide and test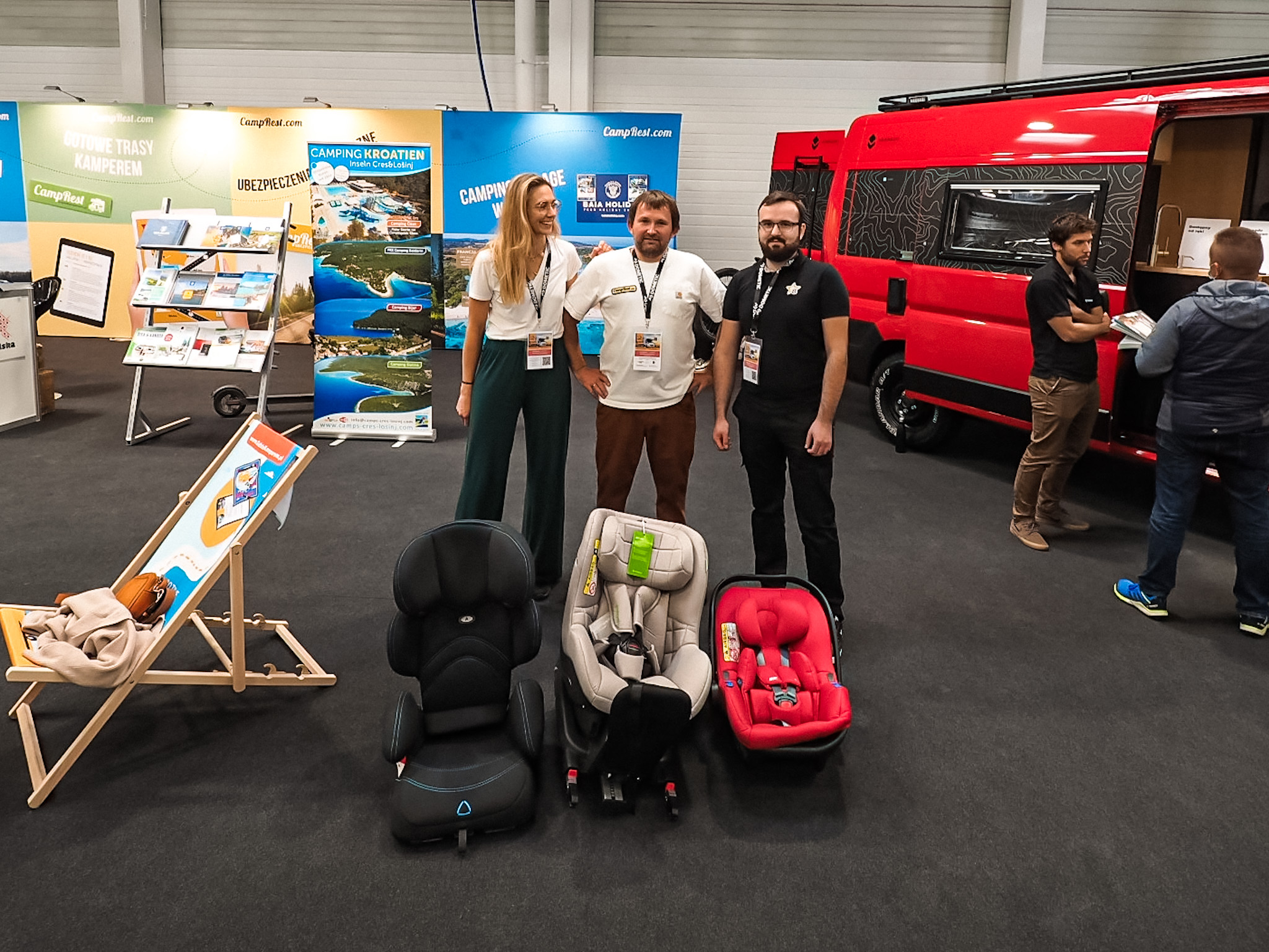 How to choose a caravan seat ? Or maybe the question should be: how to choose a motorhome for the car seats we have? Because most often we buy a motorhome as the next car in the family and we will not necessarily buy more motorhome seats .
Either way, it is known that the choice of a motorhome involves many different variables, but if you are traveling with a child or with children - it is worth considering whether it will be comfortable for everyone to travel after installing the seats.
How was this article written?
We test several different motorhomes every year. In almost every motorhome we tested, we encountered some difficulties in assembling the seats and then storing them during the stoppage. We have been thinking for a long time to try to match car seats to different types and brands of motorhomes, to choose those in which this process is easy and pleasant;) Caravanning fairs were ideal for this, where we had a lot of different types and brands of motorhomes on hand.
We invited Captain from the chain of stores with Eight Stars car seats to cooperate with us, who provided us with several test seats and a specialist from the Warsaw branch of the company. Eight Stars is a shop where we personally also bought car seats. Employees are experts in their field. They know everything about car seats and will professionally select and install a seat in a car or in a motorhome .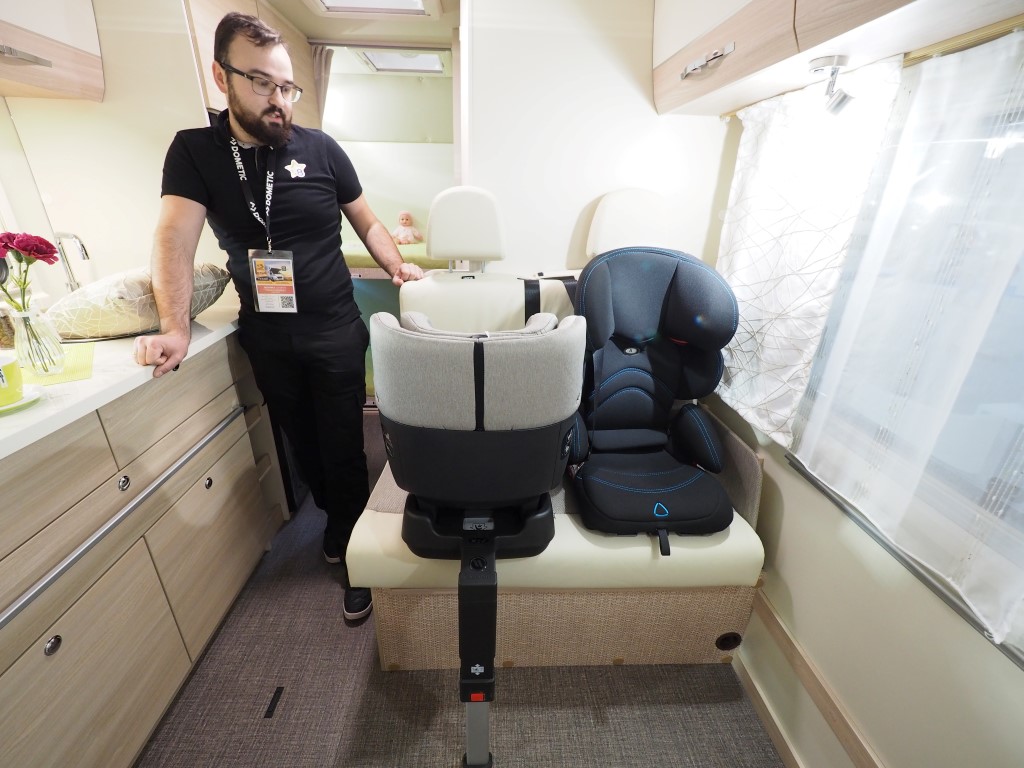 During the fair, we were time-limited (we were also an exhibitor), so we chose only a dozen motorhomes and the 3 most popular car seats. In this way, we managed to pay attention to a dozen or so details that will help you in the future to match your motorhome to a car seat or a motorhome seat.
Can I drive without seat belts or child seats in the motorhome?
Perhaps for some of you it will be a stupid question, but we hear it quite often, so I explain that the obligation to fasten seatbelts is enshrined in Art. 39 sec. 1 of the Act - Road Traffic Law: "The driver of a motor vehicle and the person transported with such a vehicle equipped with seat belts are obliged to use these belts while driving."
The provisions of Art. 39 sec. 3 of this Act also impose an obligation on drivers to carry children less than 150 cm tall in a seat or other restraint.
What to pay attention to when choosing a motorhome?
When we were preparing for the test, we thought that we would simply select the most child- friendly motorhome based on the fit of the motorhome seats, but it turned out that we saw something more thanks to this test. We gathered all the adversities we encountered in one place. It is worth paying attention to them when choosing a motorhome:
Too thick seat cushion - prevented you from moving your leg away from the isofix base
Isofix brackets mounted too low - in addition, with a too thick pillow, it practically prevented the correct attachment of the ISOFIX seat or prevented it at all.
The belt is too short - which makes it impossible to fasten the "shell" seat at all. Such a situation took place in only 2 tested motorhomes - it will be reported in the factories.
The need to disassemble the table in order to properly install the seats - sometimes it was dictated by the safety issue, so that such a table would not be in front of the child fastened in the +15 kg seat, and sometimes the table simply interfered with the installation of a rearward driving seat.
The table cannot be disassembled or moved - some seats cannot be installed.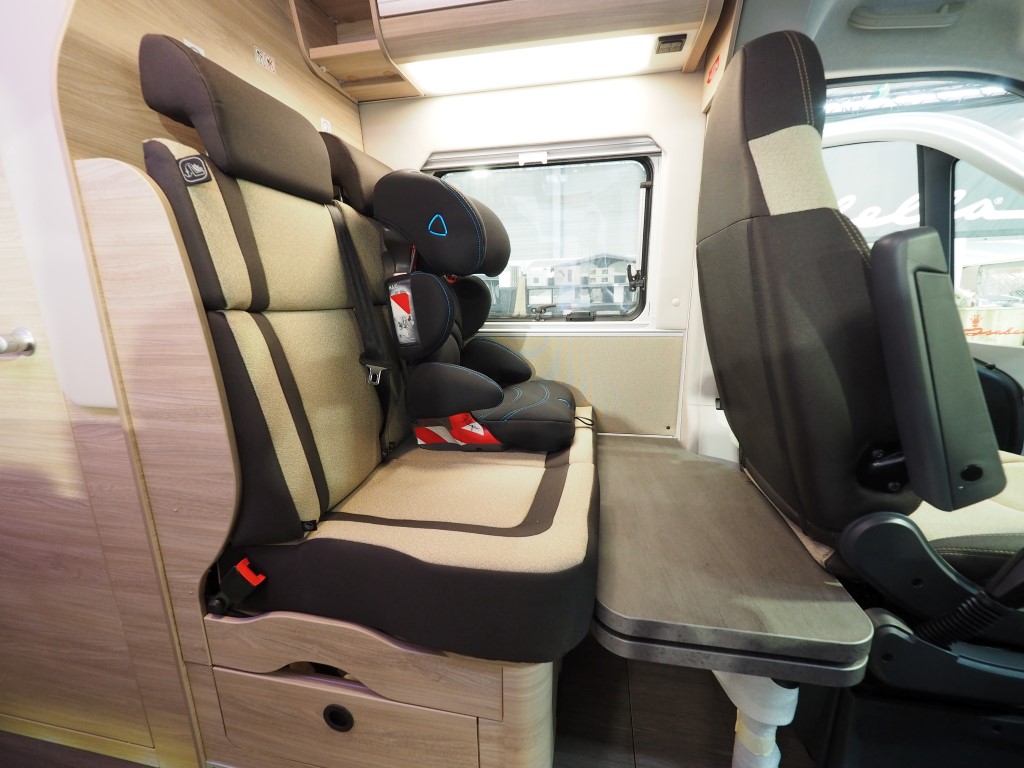 Ease of assembly and convenient operation in a motorhome
The next points do not concern the correct installation of the seat, but simply the functionality of living in a motorhome at a standstill. Here are our insights:
The easiest way to install car seats is in motorhome vans, where there are "normal" car seats.
In "face to face" layouts in motorhomes , it is usually not necessary to disassemble the table.
We do not recommend the "face to face" arrangement in a situation where the parent wants to sit next to the child, especially facing rearward facing.
Pay attention to the capacity of the garage - is there a place to store child seats at a standstill?
Check whether it is necessary to disassemble the seats while the car is parked in order for 4 or 5 people to function in the motorhome: i.e. whether everyone will have, for example, somewhere to sit.
Is it necessary to remove the seats to leave the extra bed in the living room? - probably no semi-integrated motorhome will be able to lower the bed to the very bottom, but it may be possible to slide it low enough to easily get into the bed. At least for one night.
The width of the entrance door - easy to bring seats.
The third child in a RV will normally have to sit in the front. 3 The driving seat is usually rearward and has only a lap belt, which prevents the seat from being attached correctly.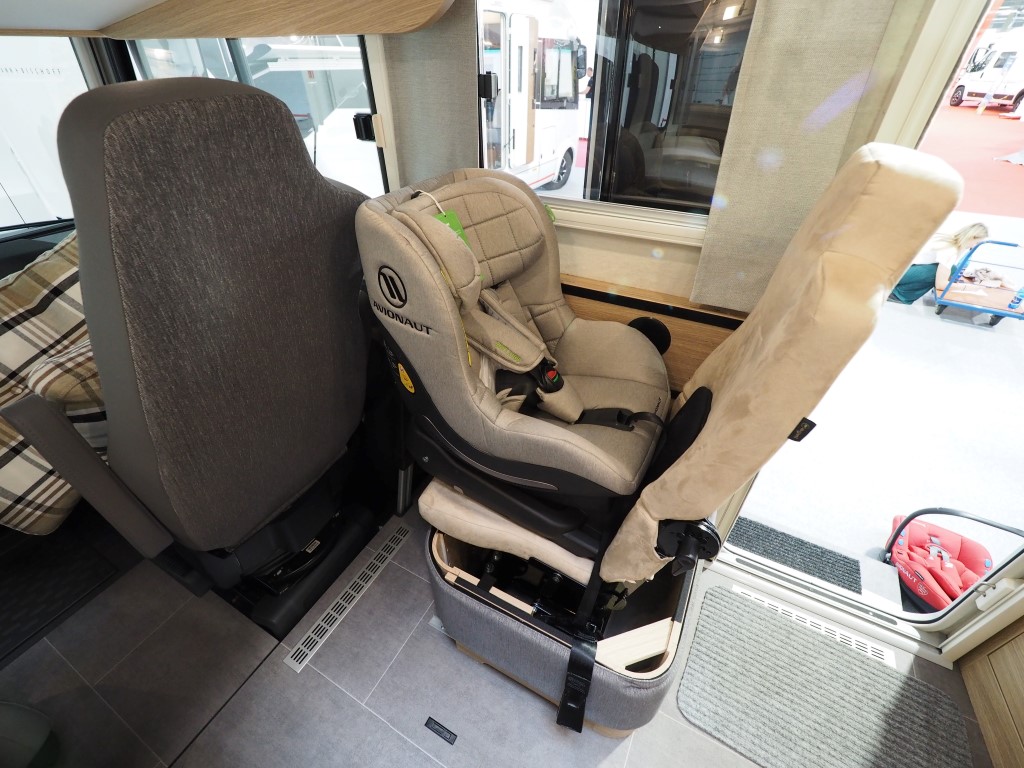 Seats selected for the test: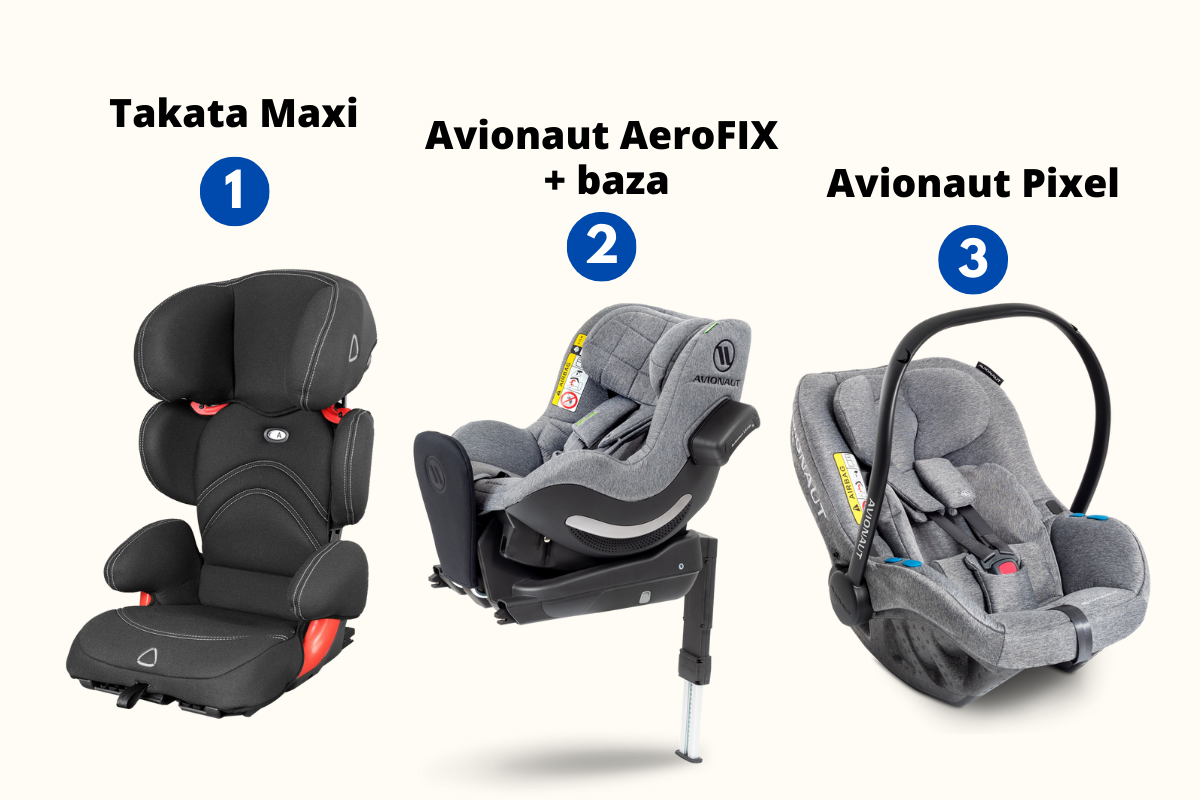 Summary of the installation of car seats in motorhomes at the fair in Nadarzyn
For the test, we only selected campers and vans that have seats with Isofix handles. Summarizing this test:
The easiest way was to install the seat in motorhomes, in which the isofix is located next to the passenger seat, not on the sofas. So in all vans, campervans. The exception was Nissman Bischoff Arto, in which such an armchair slides out from under the couch.
3 seats can be installed in the motorhome only if one of them can be in the front. The 3 rear driving seat is virtually always rearward-facing and has a lap belt, which makes it impossible to attach the seat.
While we have pinned seats in the living room, the bed above them can be comfortably unfolded only in integra motorhomes (except for Globe Traveler or vans with a lifting roof).
In most semi-integrated campers, you will need to remove the seats to unfold the bed. In some, however, it is possible to lower the bed low enough to go upstairs and sleep at least one night.
Check if the table can be maneuvered - in some motorhomes it was impossible to sit on the driver's and passenger's seats at all with the tables installed and the table moved to the front of the vehicle, and it could not be dismantled.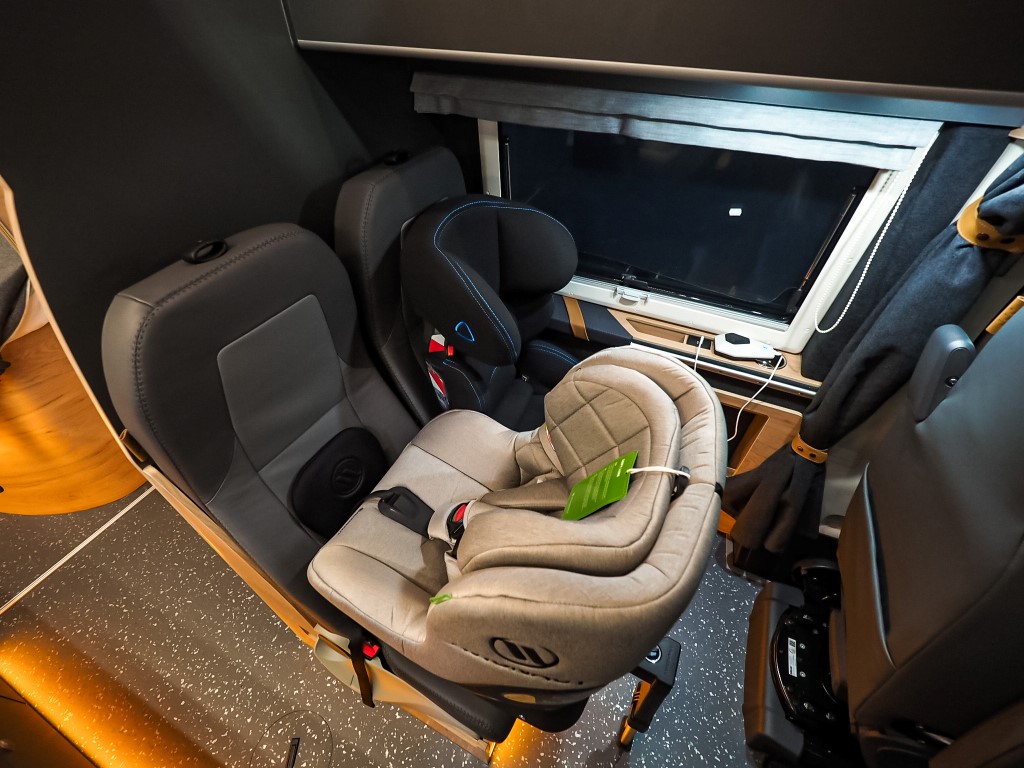 Maximum number of points available: 33.
Campervans on this scale gained 23 points in principle. They lost 10 points on the fact that they have to be removed to unfold an additional bed, that it is not possible to install a third seat and for the inability to store the car seats in the garage when parked. Tested cars:
Dreamer Cap Coast
Burstner Copa
Randger Ford Transit Custom
Karmann Dunca 496
Wavecamper
The vans (the so-called Blaszaki) gained from 23 to 27 points. They lost points for a small garage, no possibility of installing a 3rd seat and no space to transport a table.
Knaus Box Star 600 Lifetime - 27 points - reduction of points for not being able to mount a 3 seat (4-person motorhome). (Note: it is not possible to mount the "shell" because the belt is too short)
Globe-Traveler Voyager X - 23 points - reduction of points for the necessity to disassemble the table for assembling car seats, no space for storing the table after disassembly, no possibility of installing a third seat (4-person motorhome).
Half-integrals and Integra - here the scatter in points was large. For this reason, I will present them to you in the order in which they obtained these points, depending on which seat we put in.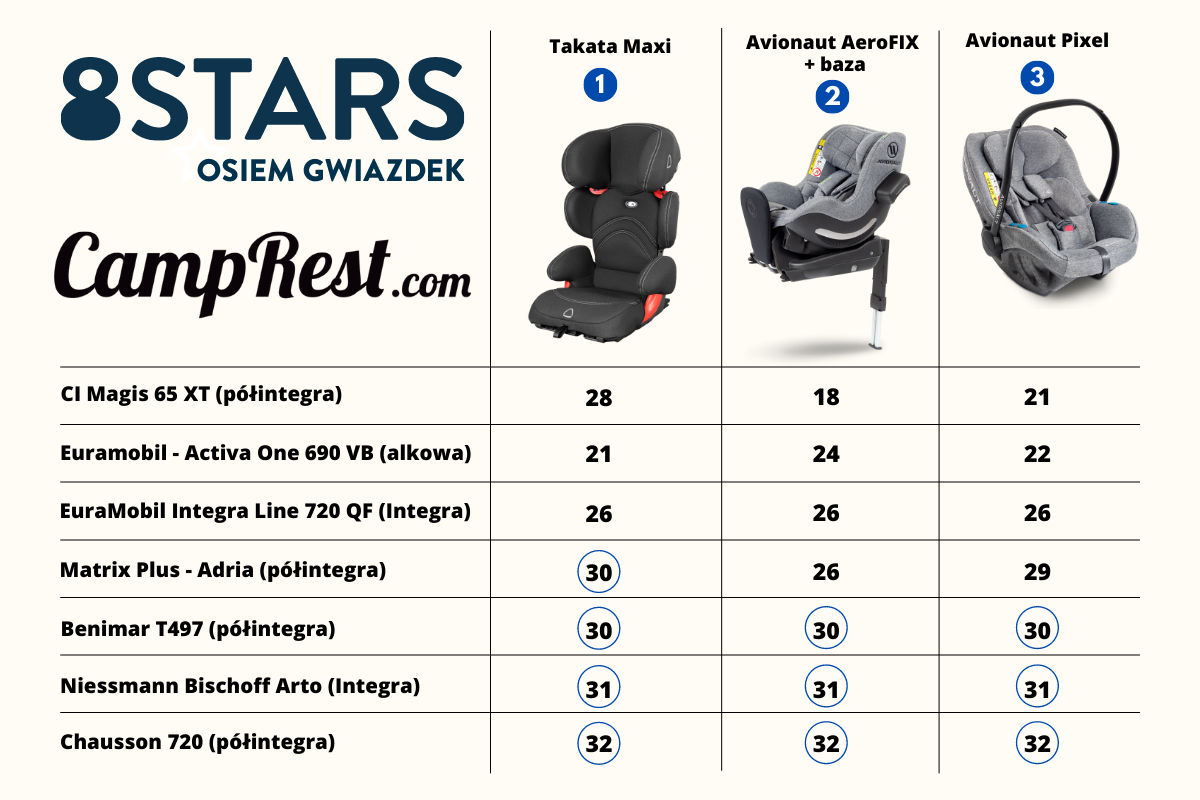 CI Magis 65 XT (semi-integrated): 18 to 28 points - a reduction in points for the fact that the rear seat mounting table cannot be detached, because the Isofix is placed too far and it was not possible to attach one of the seats.
Euramobil - Activa One 690 VB (alcove): 21 to 24 points - reduction of points for the necessity to disassemble the table for assembling seats and that there is no special place for it in the motorhome, therefore it is not possible to function comfortably in a motorhome with attached seats because there is no table ...
EuraMobil Integra Line 720 QF (Integra): 26 to 26 points - a reduction in the score for limited functionality when two seats are installed and for the inability to install a third seat, in this motorhome we also did not manage to mount the "shell" back on the belt (it was too short)
Matrix Plus - Adria (semi-integrated): 26 to 29 points - a reduction in the score for the need to lower the table for mounting the seats and for the fact that the car seat with the base did not enter here at all
Benimar T497 (semi-integrated): 30 points - a reduction in the score is basically only for the fact that it is not possible to install a 3 seat if it is used by a family of 2 + 3 (4-person motorhome) and that with the seats installed, functioning in a motorhome has certain limitations
Niessmann Bischoff Arto (Integra) - 31 points - the face 2 face system gains the most points in our list due to the ease of installation and considerable convenience in functionality with two car seats installed. In Niessmanie, it is worth paying attention to a cool solution with a hidden armchair in the couch.
Chausson 720 (semi-integrated) - 32 points - This motorhome is also a face 2 face layout. He only lost one point due to the rather small garage.
Remember that we have not managed to install the seats we have chosen everywhere, but in the 8stars.com store and Eight Stars salons, there would certainly be other models of seats that would fit these motorhomes. Motorhomes are exactly the same as passenger cars: not every seat fits in every car, but you can choose a seat for every car.
Interesting solutions of motorhome seats
In the forward-facing 9-18 kg group, we have the best experience with the Romer King II LS seat. The seat is light and small, the disadvantage is that it cannot be mounted backwards.

Britax Max Way Plus and Axkid Minikid are RWF seats up to 25 kg which, thanks to their versatility, have a good chance of correct installation in a motorhome.

If the motorhome is equipped with ISOFIX, such seats as Axkid One or Avionaut Aerofix will ensure easy, quick installation and a high level of safety.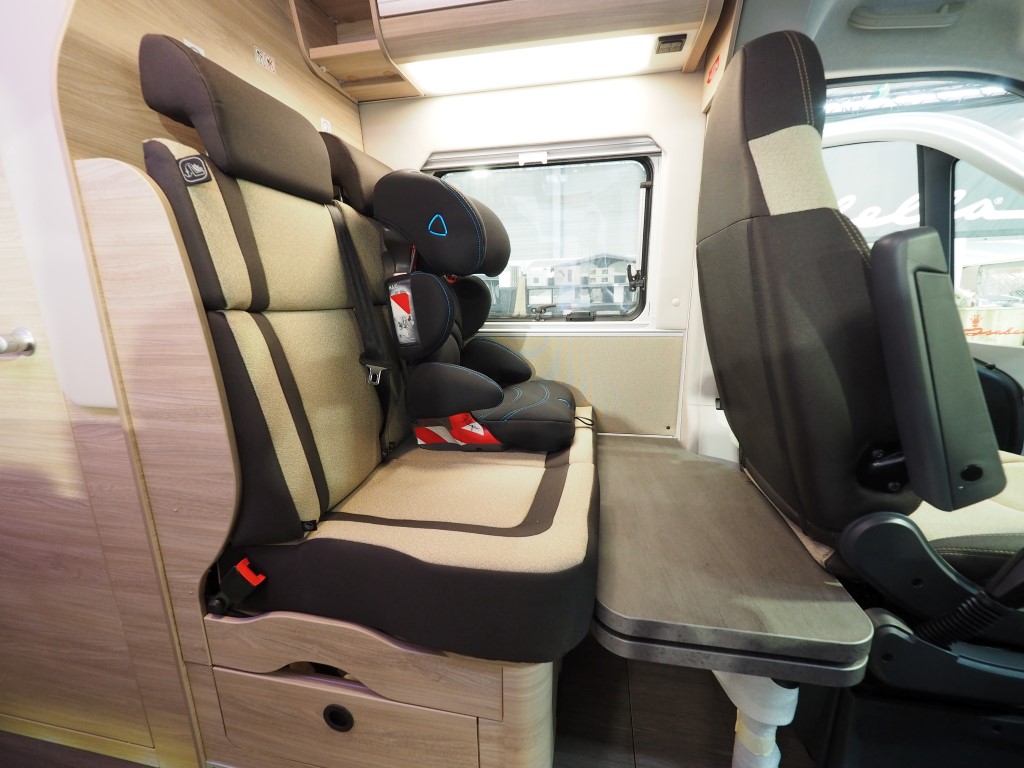 Takata Maxi , thanks to its narrow design, is perfect for camping sofas. The folding function in half makes it easier to store when not in use.
Where to buy caravan child seats?
The Eight-Star chain of stores currently consists of 20 stores located in every major city in Poland . Convenient parking at each store allows you to try on and install a motorhome seat. All three stores in Warsaw have the opportunity to drive a vehicle into a heated assembly hall and purchase a seat in comfortable conditions.
We have created the CampRest portal for people who value freedom and travel on their own.
Enjoyed reading this article? Share it!