How to level a motorhome or caravan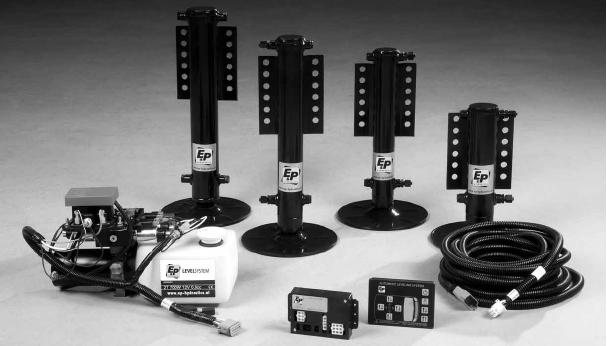 Proper leveling of a motorhome or caravan is quite an important element of using these vehicles. Usually, we use overrun wedges and hand-lowered paws for this purpose, but the precise setting of the motorhome is quite laborious and time-consuming. The solution to this problem began to appear some time ago in the market of add-ons and accessories for residential vehicles - these are hydraulic self-leveling supports.
The power is in the hydraulics
These supports are powered by a hydraulic pump that can easily lift even a 7.5-ton vehicle. Thanks to them, you can level the vehicle without unnecessary effort, which results in a comfortable rest in bed and will end the troublesome rocking of the motorhome when getting in or out.

Where do we mount it?
In the case of a motorhome, such supports are mounted directly to the dedicated places of the vehicle frame specially designed for such a solution, while in the case of caravans, the mounting system is slightly different. This difference is mainly due to the fact that the trailer must not be lifted on the "feet" only - it may collapse the floor! Dedicated hydraulic leveling systems for trailers consist of 4 supports installed in place of the factory ones, and 2 special vertical supports, which are mounted directly on the axle, which allows for safe lifting of the trailer.
Phone controlled
Most systems level with an accuracy of 1 centimeter automatically, or give us the option to do it manually using a special remote control or - what is new - an application installed on a smartphone or tablet.
There are several manufacturers of the solution described above available on the market. The more famous ones are E&P Hydraulics and Goldschmitt AG - their offer includes not only leveling systems but also other useful "gadgets" for suspensions mainly used in motorhomes. One of the companies in Poland where we can purchase and install leveling systems for camping vehicles is the company Elcamp from Krakow.
I am a fan of motorization, especially the camping one. I like searching for new products and gems in this market.
Enjoyed reading this article? Share it!