Kemping - co należy mieć ze sobą?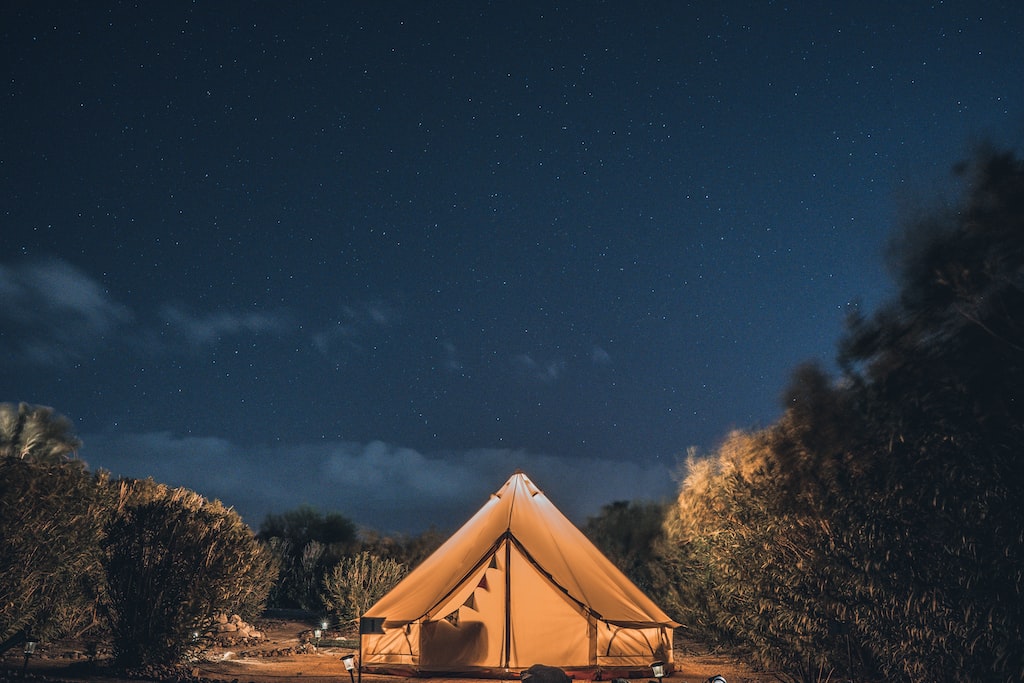 Jeśli wybieracie się na kemping, niezależnie od tego, czy po raz pierwszy, czy kolejny - na taki pobyt trzeba się bardzo dobrze przygotować. W Polsce jest wiele ciekawych miejsc, gdzie można się w taki sposób spędzić weekend. Na mapie ciągle pojawiają się kolejne, ponieważ kempingi zyskują na popularności. Niegdyś, camping kojarzył się tylko i wyłącznie z namiotem. W ostatnich latach sporo jednak się w tej kwestii zmieniło.
Podróżnicy często wybierają się na kemping z pomocą kampera. To spory pojazd, w którym można znaleźć właściwie wszystko, co potrzebne. Nie bez powodu, na kampery mówi się czasem, że są to mieszkania na kółkach. Można je wyposażyć w sypialnię z wygodnym łóżkiem, kuchnię, łazienkę, czy nawet jadalnie. Niezależnie od tego, czy mamy namiot, kamper, a może własny samochód - wszystko to musi być dobrze zaopatrzone, by przetrwać.
Dlaczego kempingi są coraz bardziej modne?
Kempingi w Polsce zyskują na popularności z kilku względów. Przede wszystkim - koszty wynajęcia miejsca na kempingu są dużo niższe od na przykład pokoi hotelowych. Lokalizacje kempingów są właściwie na całej mapie Polski, więc każdy znajdzie miejsce, które mu pasuje. W dodatku, takie kempingi to zawsze trochę więcej emocji. Często są w lasach - może się to kojarzyć z survivalem.
Jeśli o survivalu mowa, warto wcześniej znaleźć ciekawe wskazówki na temat kempingu. Można je znaleźć na stronie internetowej o campingu, czy ciekawym blogu. Można się zawsze dowiedzieć o tym, jak w Polsce, ale i w Europie organizuje się kempingi. To przygoda dla całej rodziny. Można w ten sposób zarówno nieco zaoszczędzić na wycieczce, jak i korzystać w stu procentach z tego, co daje nam natura.
Co kupić wybierając się na camping?
Aby przetrwać, trzeba być oczywiście dobrze zaopatrzonym. Na kemping zawsze należy wziąć ze sobą porządną latarkę z wytrzymałą baterią. czasem możemy taką kupić na ciekawych promocjach i sporo przy tym zaoszczędzić. Latarka się przyda, bo pola kempingowe nie zawsze są zaopatrzone w prąd i światło. Najlepiej, kiedy latarka ma uchwyt, za który możemy ją przywiesić na przykład do sufitu naszego namiotu. Pojazdy czerpią energię z silnika, więc aby mieć w nim światło, auto musiałoby być non stop odpalone. Mając latarkę, oszczędzamy.
Na pewno warto zaopatrzyć się w naczynia turystyczne. Taki podstawowy zestaw dostaniemy już za kilkadziesiąt złotych. Dzięki nim, mając jeszcze kuchenkę turystyczną, możemy przygotowywać rozmaite potrawy, a także ciepłą kawę, czy herbatę. To kolejny sposób, by podczas kempingu zaoszczędzić kilka groszy na wizytach w restauracjach.
Na pewno must have na taką wycieczkę do odpowiedni plecak turystyczny. Na kempingi często wybieramy się w miejsca, gdzie jest sporo do zwiedzania. To często tereny jurajskie, czy górskie. Na piesze wycieczki trzeba dobrze się zaopatrzyć. Odzież na wypadek deszczu, buty na zmianę, woda. To wszystko musi się gdzieś zmieścić. Plecaki turystyczne są pojemne, a w dodatku wygodne i nie obciążają za bardzo naszego kręgosłupa.
Pokrowiec na kemping to dobra rzecz dla osób, które poruszają się kamperem. Na noc, możemy nasz kamper zabezpieczyć specjalnym pokrowcem. Dzięki temu, zmniejszamy ryzyko zniszczeń - na przykład z spadających liści i gałęzi. Dzięki temu również chronimy w nocy swoją prywatność.
Podsumowując, kamping to świetna sprawa dla poszukiwaczy przygód i nie tylko. Nic dziwnego, że są tak popularne. Na każdą wycieczkę należy się odpowiednio przygotować. Na szczęście, wybór produktów na rynku jest naprawdę ogromny.
We have created the CampRest portal for people who value freedom and travel on their own.
Enjoyed reading this article? Share it!