Motorhome garage - steel halls from KoKo Kamper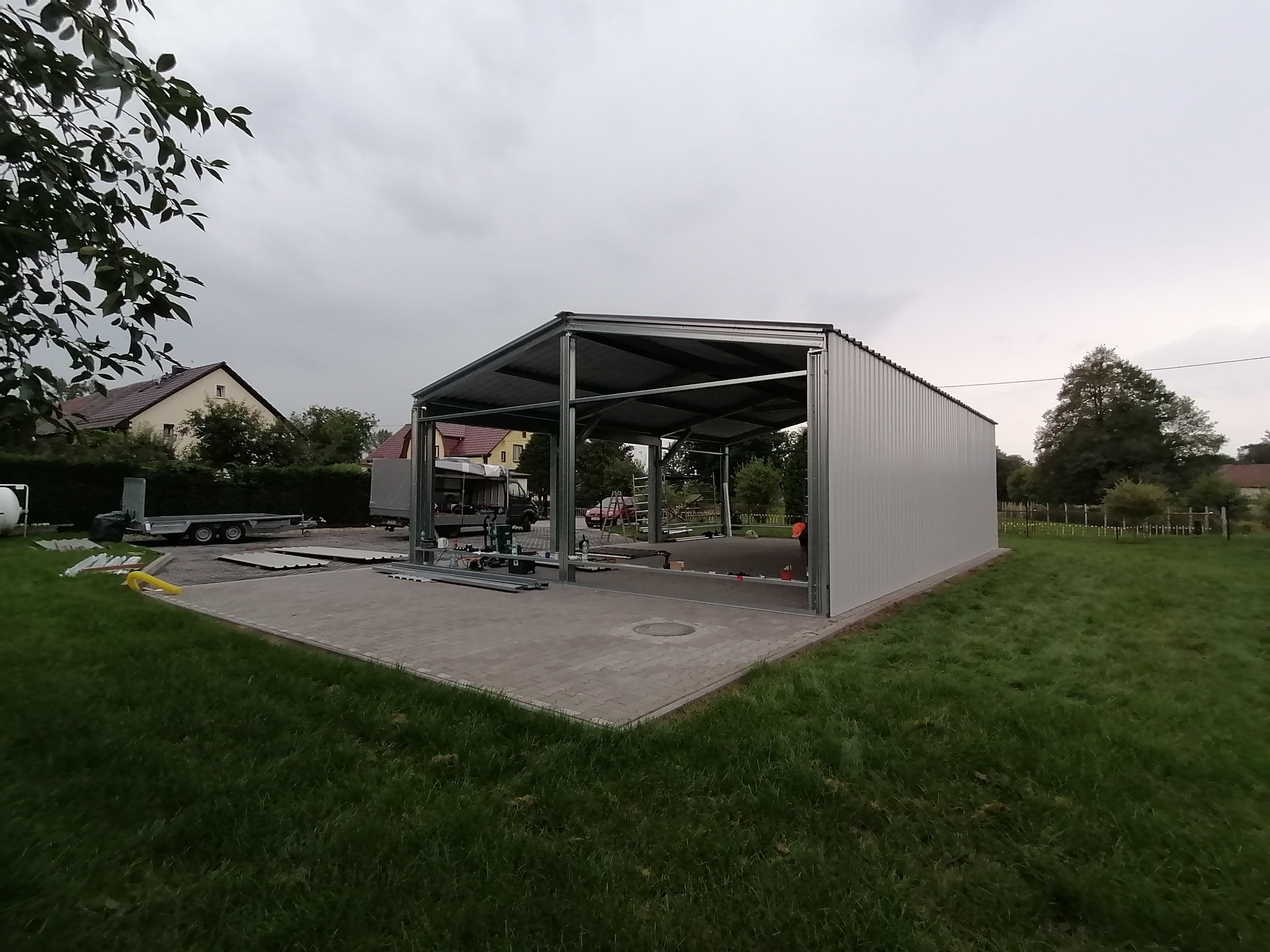 At Koko Kamper, we build steel halls with sandwich panels (this is one of the types of fencing) - our offer is addressed primarily to owners of motorhomes. It's the perfect solution for parking your motorhome or caravan in the winter. We are also working towards building service stations, etc.) If you want to know more details about steel halls from Koko Kamper - be sure to read this article!
Durable and quality structures - a comprehensive offer of our company
Our constructions are aesthetic and representative. They are distinguished primarily by their solid and high-quality workmanship made of high-quality steel. Thanks to many years of experience (also in the field of cold-formed steel processing and its cutting) and the use of the latest technologies, we can offer our customers a comprehensive service including the design, production and assembly of modular steel halls.
It is also worth mentioning that due to the professional cladding of the steel halls, they are exceptionally resistant to weather conditions. As a consequence, vehicles and camping equipment can be stored all year round - regardless of the temperature and conditions outside.
If you are looking for a reliable and professional contractor for a steel hall for wintering campers , passenger cars and the necessary equipment - choose Koko Kamper.
We guarantee not only safety, but also functionality and aesthetics. We encourage you to contact us. We are ready to meet any challenge!
Finishing steel halls for wintering campers - innovation and professionalism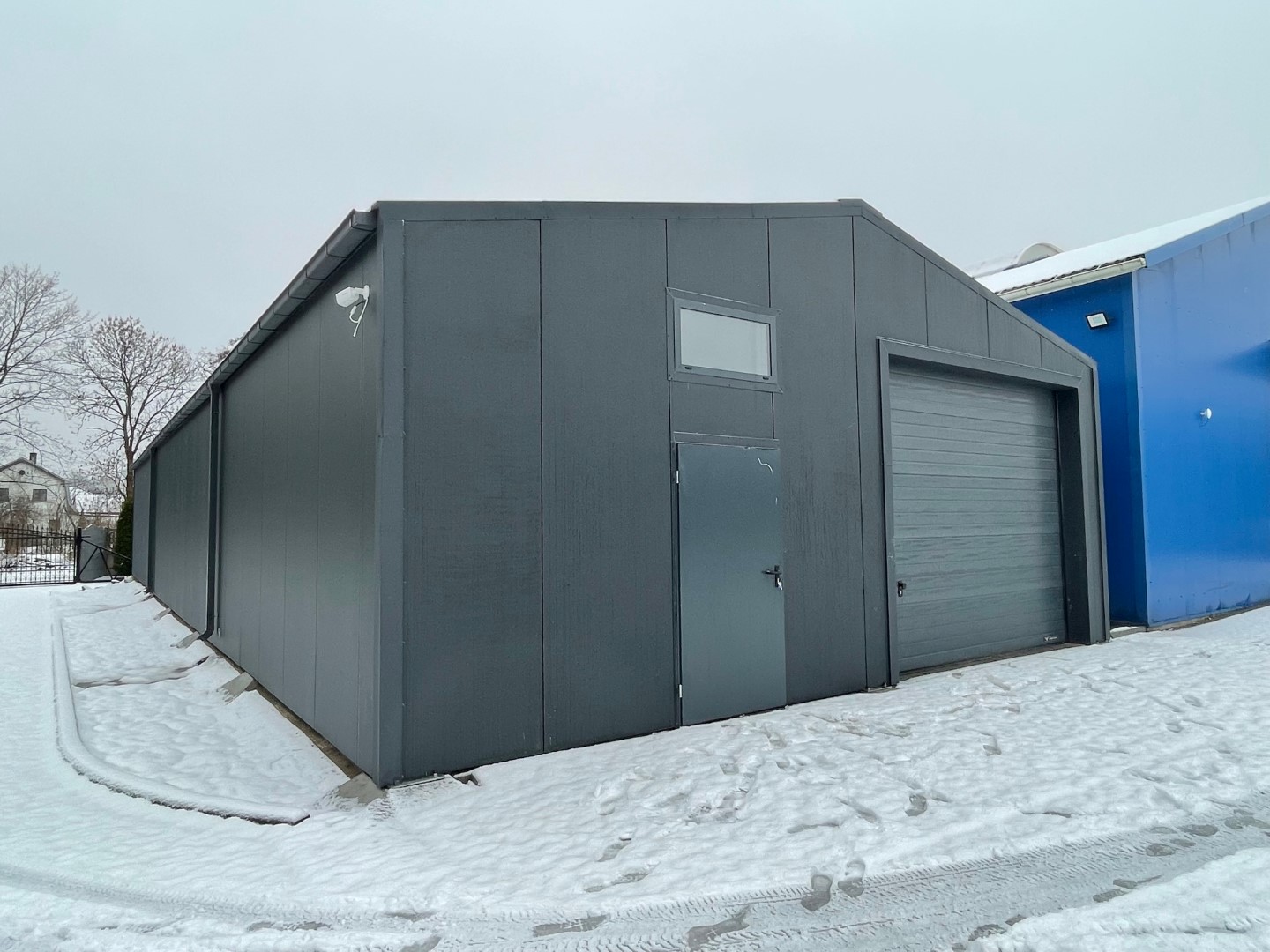 We finish steel halls in which campers can be wintered in two ways:
sheet metal,

sandwich panels.
It is worth remembering, however, that the structures can be strengthened for what the client needs and covered with it.
By implementing appropriate insulation, we are able to make the modular structure have a positive temperature inside. It is used by our customers not only in the summer season, but also in winter, when temperatures are low. In addition, in order to improve the energy efficiency of the building, we can install photovoltaic panels on the roof (and not only), which will allow you to produce your own electricity.
Remember!
Koko Kamper solutions meet the standards of wind and snow zones. Thanks to the modular structure, it is possible to easily expand and adapt the hall to the changing needs of users
Koko Kamper offer - who is it dedicated to?
Koko Kamper offers solutions for customers who need a hall, but do not know how to build it. We do not deal with earthworks, but we help in the preparation of documentation and the process of obtaining permits from authorities. We also have an architect supervising the entire process. For earthworks, we provide only personalized guidelines that definitely facilitate the implementation of individual solutions.
How long is the construction time for steel halls with sandwich panels?
The production time of the modules is from 12 weeks. When it comes to structural changes - 2-4 weeks, while erection of halls starts from 5 working days. In the case of large-scale buildings, the time may be extended.
Steel halls can also be dismantled and moved to another location.
Construction of steel halls for wintering campers
Steel halls can be used primarily for wintering campers and storing caravanning equipment, but they are also used for other purposes, including:
storage of goods (this is a good option if you have a stationary store),

production (e.g. furniture and metal products),

winterization of vehicles (including cars and motorcycles),

warehousing and storage of sports equipment (e.g. ski equipment, bicycles or surfboards),

conducting transport activities (as halls for trucks and buses).
It is also worth mentioning that steel halls are a popular solution in agriculture, where they are used as warehouses for grain, agricultural equipment and animal feed. It is also a great option for caravanning services.
Why is it worth choosing steel halls in Koko Kamper?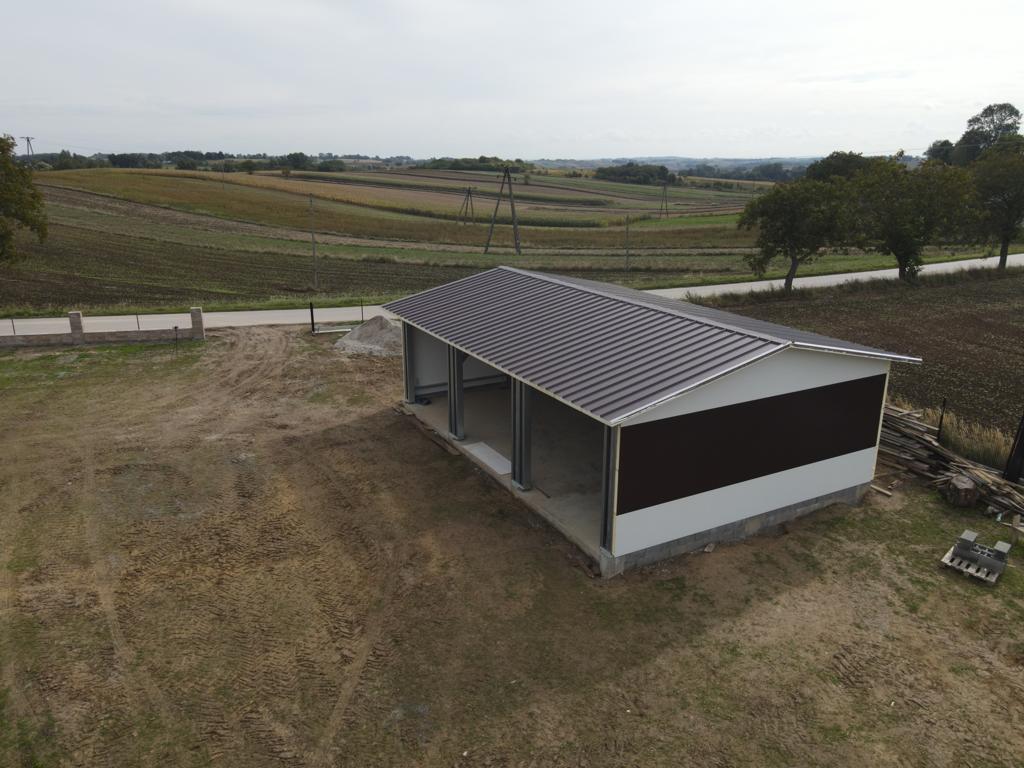 By choosing the Koko Kamper offer, you are guaranteed:
Experience and professionalism - we are distinguished by many years of experience in erecting steel halls (this is related to the professional implementation of each project).

Individual approach to the client - we guide the client by the "hand" throughout the entire process (we enable constant contact, and at each stage of work we provide substantive advice, if required).

Aesthetics and representative appearance - steel halls designed in Koko Kamper are distinguished by a representative appearance, which allows them to be easily integrated into the surroundings (the occupancy, however, depends on the customer's preferences).
Take advantage of the comprehensive offer - steel halls of the highest quality
Using the latest technologies and high-quality steel, Koko Kamper distributes durable and durable structures that are characterized by excellent resistance to weather conditions. Steel halls can be used for various purposes - from storing sports equipment and storing goods, to winterizing campers and conducting transport activities.
We stand out from the competition, among others:
easy to expand,

assistance in preparing documentation and obtaining permits from authorities.

the possibility of moving the steel hall to another location,
Using our offer, you have a guarantee of solid construction and professional and comprehensive customer service.
FAQ - the most frequent questions and answers [wintering campers in steel halls]
Below are the most frequently asked questions and answers about wintering motorhomes in steel halls.
Are steel halls a safe place for wintering campers?
Steel halls are a safe place for wintering campers. Koko Kamper constructions are made of durable materials that are resistant to weather conditions. Our solutions guarantee protection against external factors - they meet wind and snow standards for the locations where they are placed. This is required by the latest legal regulations. Thanks to this, your motorhome will be safe in the context of violation of such a hall (e.g. under the influence of wind). However, we will not do it in every zone (e.g. in Zakopane based on basic modules, because then we have to strengthen them).
What are the benefits of winterizing motorhomes in steel halls?
Winterizing motorhomes in steel halls allows for safe storage of vehicles throughout the year, regardless of weather conditions (so there will be no blooms or moisture). In addition, steel halls can be used for other purposes, such as storing sports equipment or storing goods.
What sizes of steel halls are available for wintering campers?
We make steel halls in various sizes, tailored to the individual needs of customers. This applies to e.g. 8m, 12m, 16m, 20m, 32m, 40m span. The height of the side pole includes 3.3 m, 4 m, 5.5 m. Modules in length every 4 meters.
Are steel halls easy to assemble?
Ordinary steel halls are difficult to assemble. Solutions from Koko Kamper (modular) are definitely easier. The production of modules is 12 weeks if they are not in stock. Construction starts from 5 days.
What materials can be used to finish the steel hall?
Steel halls can be finished with various materials - e.g. trapezoidal sheet, sandwich panels, glass, and many other materials requested by the customer.
Are steel halls adapted to winter conditions?
Steel halls are perfectly adapted to winter conditions. The use of appropriate fencing allows you to maintain a constant temperature inside the structure.
For more information, please visit https://kokokamper.pl/koko-hale-modulowe/
We have created the CampRest portal for people who value freedom and travel on their own.
Enjoyed reading this article? Share it!