The best gadgets for cycling tourists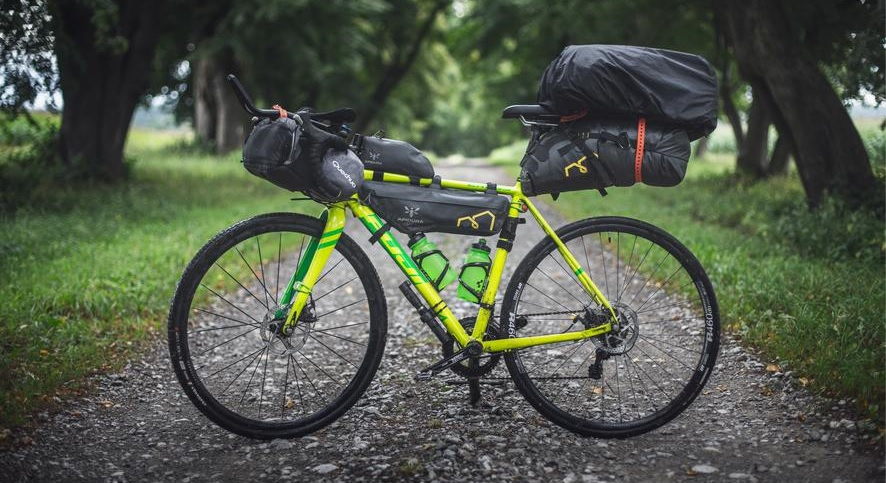 Cycling is a great way to spend your free time actively. Such a trip can take the form of a day trip, weekend getaway or even a longer trip. Every bicycle tourist should stock up on equipment and gadgets that will improve the ride and make it safe. This is especially important when we go on a longer trip on two wheels, we have to take more luggage with us or include children in our plans. When choosing various bicycle accessories, it is worth focusing on such good quality ones that will not disappoint us during the trip and will serve for many bicycle seasons!
Front bicycle rack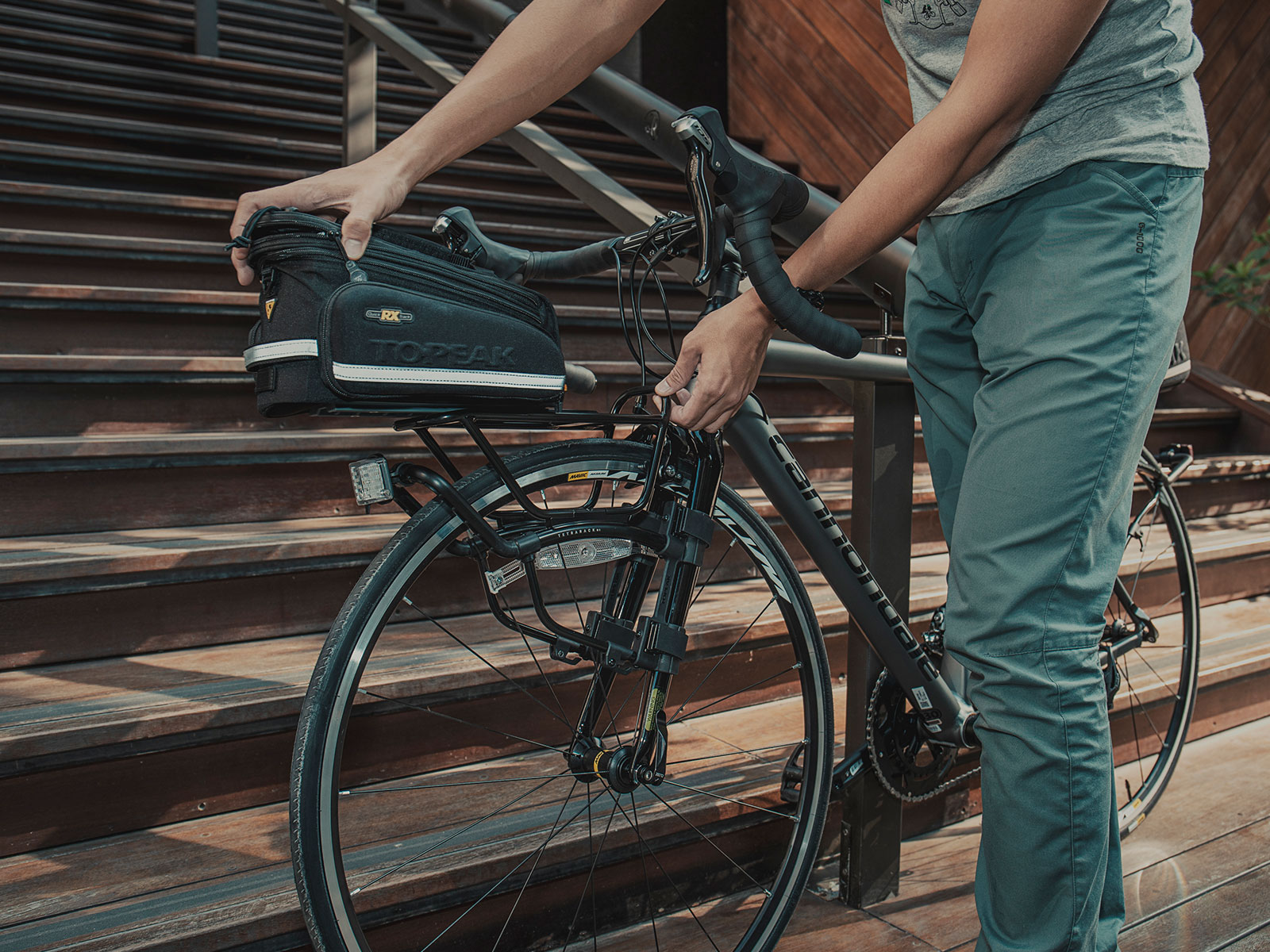 Every lover of bicycle trips should have a good trunk. The trunk does not have to be mounted only at the rear. We can opt for the front rack! Such a gadget will allow you to mount various system bags on the bike, into which we will pack the necessary equipment for the trip. Topeak models are interesting - Tetrarack M1 for mountain bikes MTB, with a load capacity of 10 kg, equipped with the QuickTrack system, thanks to which the bag can be inserted at the press of a button. And also the Tetratack M1 model for road and touring bikes, with a slightly lower load capacity of 7 kg, but with the same quick attachment and detachment system.
The full offer of the Topeak brand is available at Campingshop.pl
Handlebar bag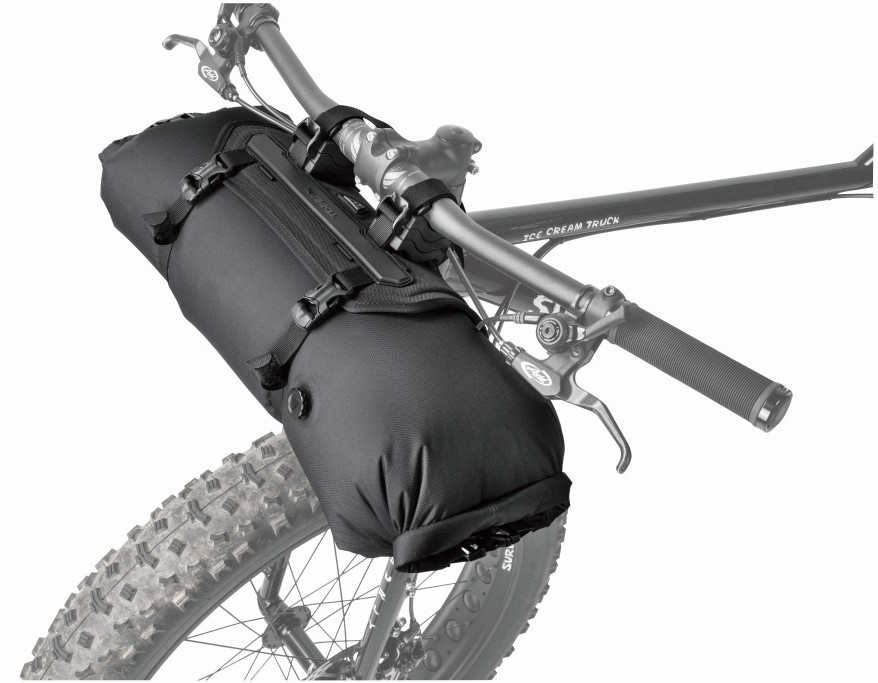 Do you think about bikepacking ? Then take your handlebars bike bag with you! Such a bag is perfect for carrying light items, such as mats, sleeping bags or spare clothes. It is important that it is made of durable, waterproof and abrasion-resistant materials. The Topeak Frontloader model looks particularly interesting - a bag with a capacity of 8l, with an additional inlet to easily access its contents, and a built-in valve, thanks to which we can compress and reduce the volume of the incomplete bag. Thanks to the mounting strap and clamp, we can firmly attach the bag to the handlebars and hit the road.
Saddle bag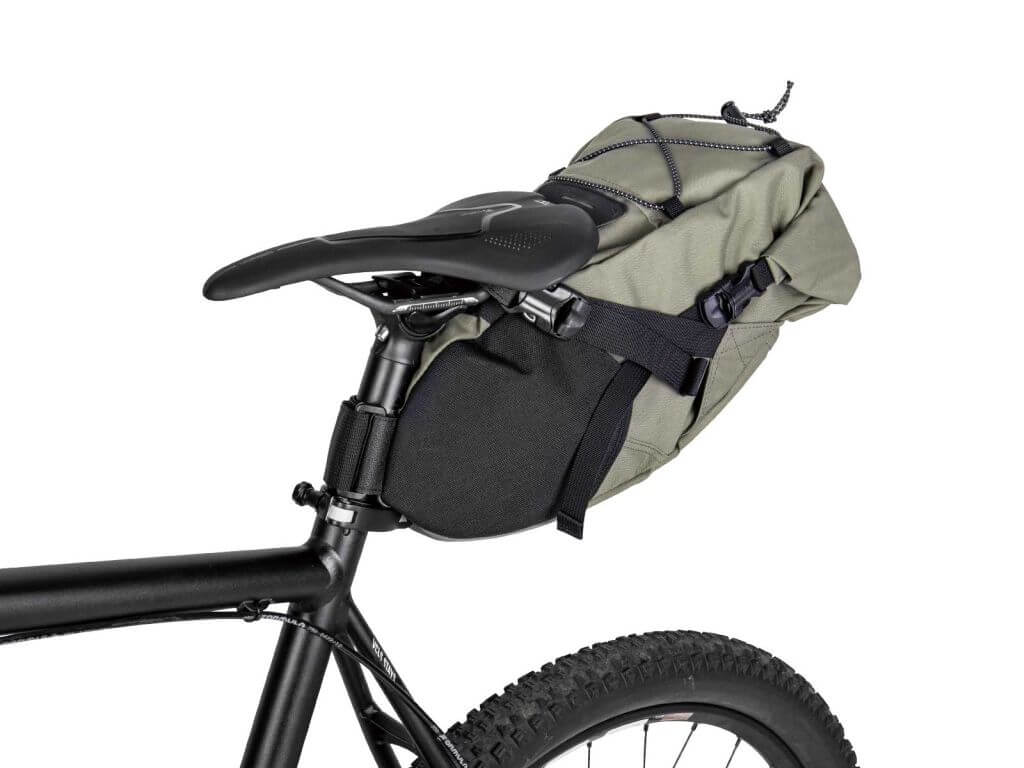 The bicycle bag can also be mounted under the bicycle saddle. Such a bag makes it possible to conveniently transport the most necessary equipment without the need to mount a rear rack . It is the perfect place to store various bicycle tools, which are undoubtedly worth taking with you on a trip to be prepared for minor faults. In the saddle version, it is also worth mentioning a Topeak product - a Topeak Backloader bag with a capacity of 15 liters, made of durable material, waterproof inside and additionally equipped with an air release that allows you to reduce the volume of even a heavily loaded bag.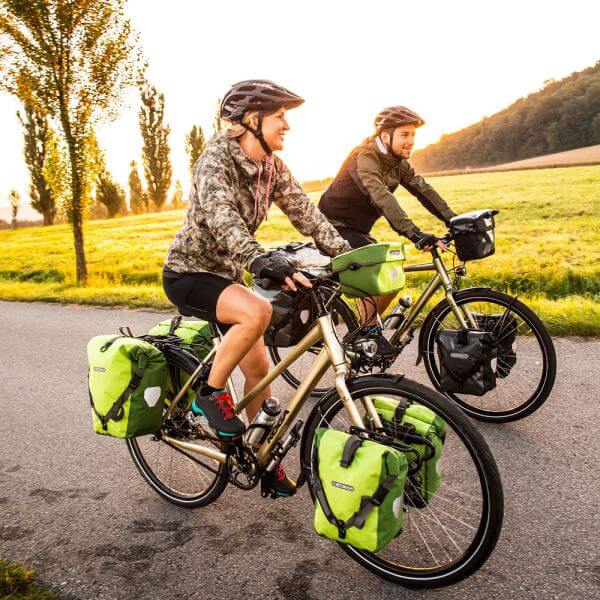 An expedition pannier is another accessory that will be useful for a longer trip by bike. Panniers are usually much larger than bicycle bags and also allow for even distribution of all luggage. The heavier equipment is best packed in a pannier mounted on the bicycle rack, while the lighter one can be placed in a pannier mounted on the handlebar or on the frame in the front part of the bike.
How to choose a capacious pannier? A pannier with a capacity of 30-40 liters should be sufficient for a weekend bike trip, while for weekly or even longer trips, it is best to choose a model up to 70 liters. The Ortlieb brands are absolute hits among panniers - available in various variants, capacities and colors.
One-wheel luggage trailer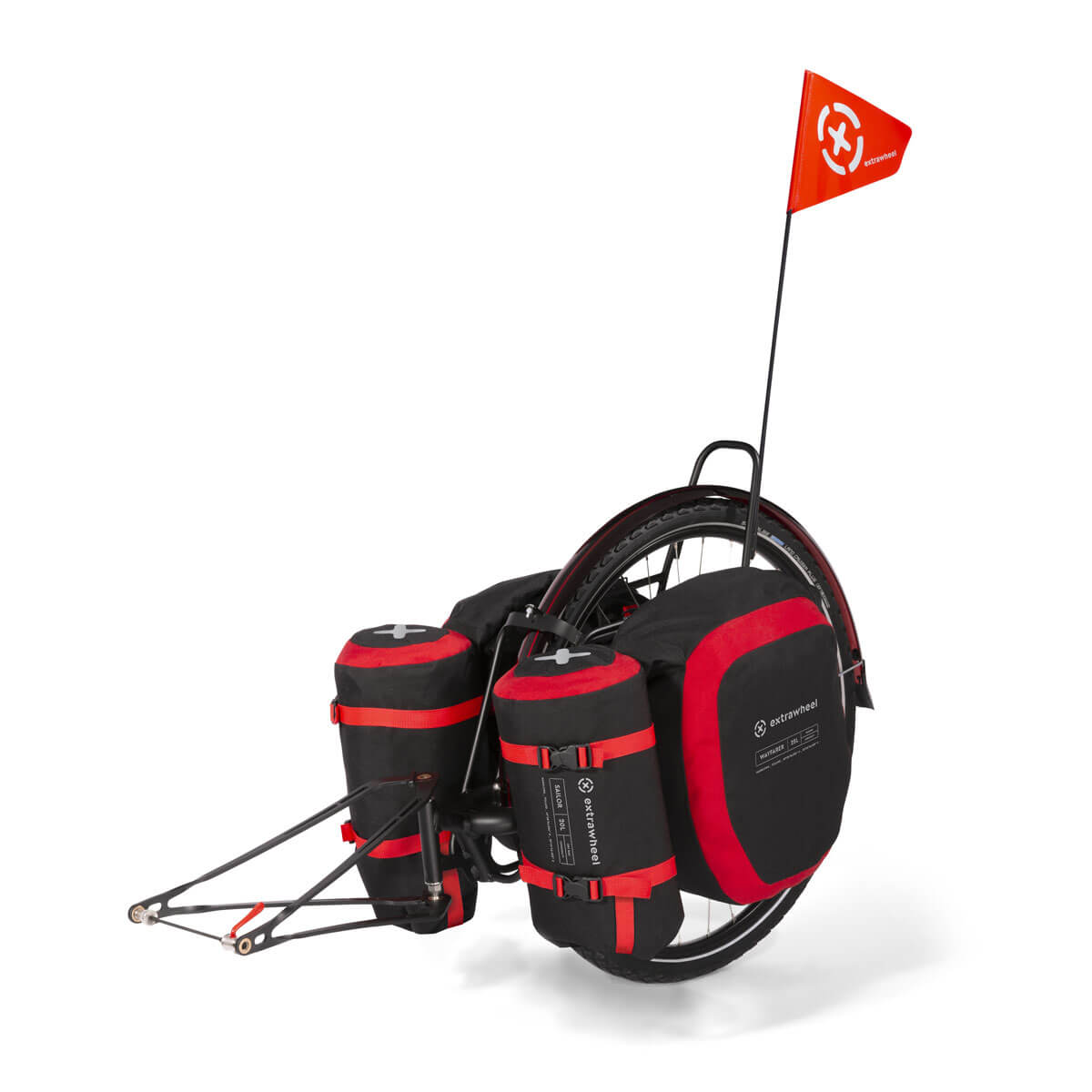 A bicycle trailer is a great addition to our two-wheeler, when classic bicycle bags or panniers turn out to be too small for our equipment or overload the bicycle. In such a situation, it is worth attaching a trailer to the bicycle and placing the luggage in panniers or bags on both sides of its wheel. The perfect solution are single-wheel Extrawheel trailers, consisting of a strong frame, one wheel, a waterproof pannier, a fender and a warning flag. They are relatively light, and therefore agile and easy to maneuver. They will work even when driving off road! What's more, the Extrawheel trailer, which takes the form of one wheel, can also act as a spare wheel in the event of a failure of our bicycle.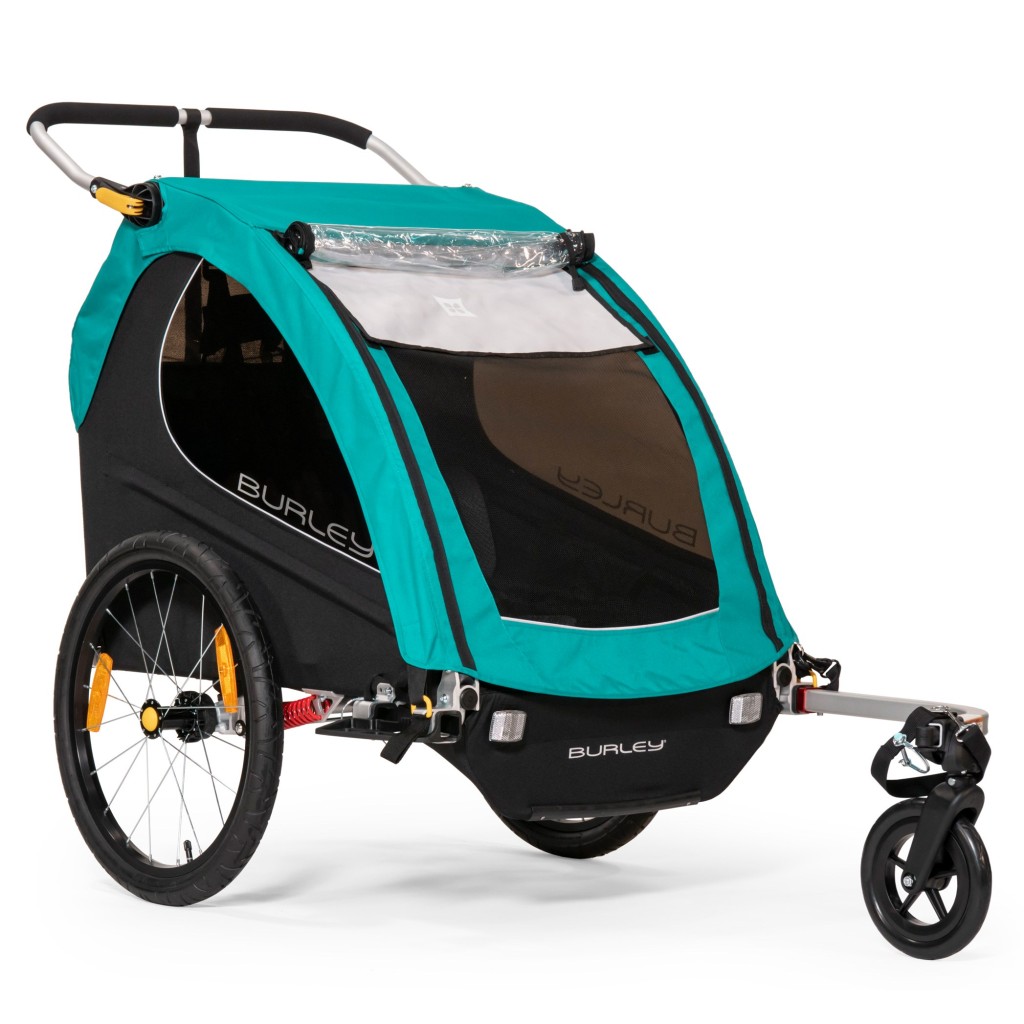 If we go on a bike trip with a small child, we must provide the child with the greatest possible comfort and safety while riding. A bicycle trailer for a child , preferably a two-wheeled one, will be perfect for family trips. It is a trailer with a solid frame and a closed structure that protects the child against wind, rain and sun. It can be adapted to transport one or two children. It is worth paying attention to the models from the Burley offer - these are trailers that repeatedly undergo durability tests and guarantee the highest level of safety. The Burley Encore X model can be used not only as a bicycle trailer, but also, after using the appropriate sets, as a stroller, climbing, jogging or skiing stroller.
Set of bicycle tools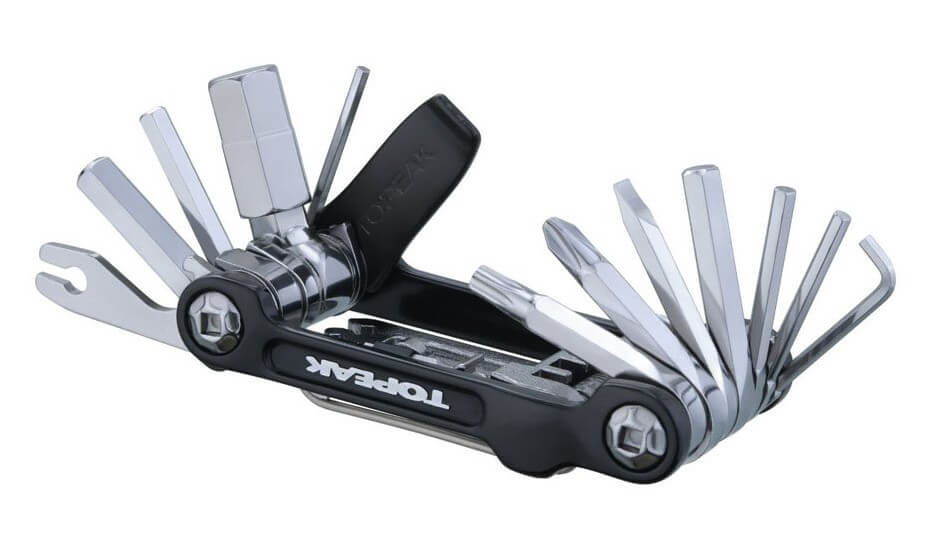 You can't go without it! A set of basic bicycle tools is a must-have for every bicycle tourist. You have to be prepared for various emergencies that may happen to us while driving. The tools will allow you to repair minor faults that happen to us in the middle of the forest or in a complete wasteland. Instead of selecting individual tools, it is best to immediately buy a multitool, such as the Topeak Mini 20 Pro . This is a set of keys consisting of as many as 20 elements. The multitool will enable, among other things, the repair of the chain and spokes, as well as the replacement of a broken tire. The kit includes an ampule, torx, spoke wrench, vice, tire lever, screwdrivers, pin opener and pin breaker. All tools are made of stainless steel, set in an aluminum body and packed in a case.
Phone holder
If you don't already have a phone holder, consider it. The handle mounted on the handlebars, stem or on the stem cap allows you to comfortably look at our smartphone while driving. And it's not just about checking the time or picking up an important call. When going on a bike trip to unknown areas, we will definitely need a map. The navigation on our phone, which we can monitor on a regular basis while riding a bike, is a great convenience. Some holders are immediately available in a set with a waterproof case that will protect the phone from rain.
We have created the CampRest portal for people who value freedom and travel on their own.
Enjoyed reading this article? Share it!