America by car, part 3/10 - Kodak Theater, Staples, Chinatown etc.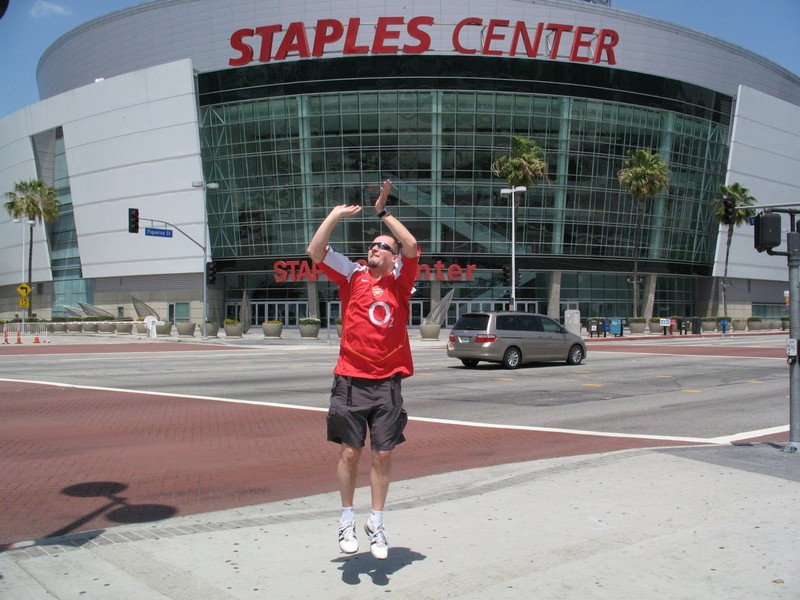 Oh, that we should always get up like this - wake up after 6 o'clock - our organisms wake us to life on their own at the crack of dawn. It is known - we change over J Today, after breakfast, we packed, we said goodbye to our friendly boss and went to the Kodak Theater (once again), where we took some photos on the Walk of Fame, in front of the Chinese Theater and nearby ... We did not go without a visit to the Virgin Store music store , where I and Jerzy dived between records, books, T-shirts, gadgets ...
It was clear from the beginning that the schedule was quite tight - so we headed towards Chinatown (by car). There it turned out that it was enough to leave the main artery for a moment to be in the middle of Asia. Chinese, Chinese all over J
Los Angeles Downtown is actually the only thing that remains to be seen (about the so-called Pueblo in a moment) in strict LA today. Skyscrapers - different than in New York, as if "newer", gathered in a practically small space and ... no parking spaces L Unfortunately, there was no chance (due to time constraints) for a quiet parking and a walk around the extinct (today was Sunday) Downtown. In the end, we managed to find a new (after the legendary Great Western Forum) Los Angeles Lakers hall - Staples Center - we did not do without a lightning photo session J
When talking about Pueblo, they mean an old Mexican city, or rather a settlement that over 150 years ago lay at the foundations of today's Los Angeles. The church, the chapel and the railway station, which dominates the area of Union Station, are the main, but not the most important attractions of this place. The preserved villa of Francisco Albeda and - which we had the pleasure to visit seems to be the most important.
The Crystal Cathedral in Anaheim is an incredible attraction - all glass and steel. Protestant church built in 1980, perhaps. Beautiful weather, a soaring glass tower, a gigantic cathedral building, organs from all over the world - all this contributed to the amazing atmosphere of this place.
Finally, we got to the tape (after a great dinner in an atmospheric town on the outskirts of LA - to, attention, ... PALM SPRINGS!
A beautiful town, low-rise buildings, lots of tourists, and most of all - a cable car to the nearby summit (approx.2500m above sea level) - there is a photo session and return - a great experience!
From there, we went at night to the most charming theme from which I am writing to you. I do not go into details, because I do not have the strength anymore, and tomorrow we will have a big challenge - we have to visit Joshua Park quickly and drive to Flagstaff for the night ...
I invite you to read the next part about Yoshua Tree Park
I crossed America by car and I am happy to tell you about it!
Enjoyed reading this article? Share it!