Lombok - welcome to paradise!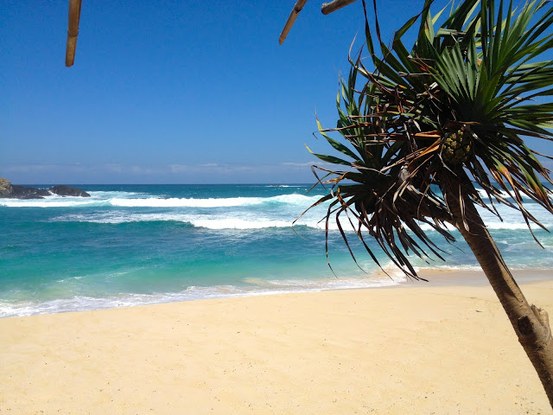 Planning our vacation this year, we decided to visit Lombok. We've heard a bit about the island before, but not much. Only that it is large and completely different from Bali. Therefore, we didn't really know what to expect.
We arrived on the island with the transport mentioned in the post on GILI T :) We drove about two hours to get to Kuta. And here is the first surprise. Nothing to do with Kuta, Bali. There - a crowd of tourists, here a crowd of children trying to sell hand-made bracelets. We were surprised that they could say "Hello, how are you" in almost any language :)
We had dinner calmly, thinking that we would find accommodation without any problems, but unfortunately we cheated ourselves a little :)
It was not that easy, but after about 2 or 3 hours of searching on scooters. So remember to book something before you get there :) (depends of course on the season)

It is an island of the most beautiful wild beaches I have ever seen. And completely empty. Of course, empty until you decide to stop somewhere, within 5 minutes you will find local people selling pineapples, beers, sarongs, coconuts, or trying to extort a fee for guarding the scooter in the 'parking lot' :)

Here you will not be surprised by a crowd of crazy tourists and locals on scooters, because the roads are completely empty :) I even dared to give up a helmet and long pants: P
I recommend the Sonya warung. It is owned by a woman who was born in Lombok and came from a very poor family. As an eight-year-old she was selling pineapples on the beach in Kuta, trying to earn a living. From the age of 15, she was selling sarongs and this continued for the next 12 years. In 2010 she was met by a girl from England who visited Lombok again. In gratitude for Sonya's hospitality, she decided to help her and financed the construction of the warunga. This is a place with amazing food, kindest service in the world and the most delicious watermelon juice !! You can't help but look there :)

I also recommend a trip to the northern part of the island to see the waterfalls! Sendang Gile is an island attraction that cannot be missed. The guide will take you along a path through the jungle, through broken bridges, under fallen trees, up to a fairy-tale waterfall! You can take a dip, so don't forget about swimwear and shorts :)

Being on the island, it would be a sin not to buy souvenirs such as masks, dishes, sculptures, etc., because on this island they are the cheapest and different than all of them. You will see the rest for yourself :)

Surfing as much as possible. Unfortunately, not by the beach, but somewhere where there are waves. The locals take you a very small boat (how is it possible that it is not sinking? :) to the place where the best waves are on a given day. Remember about the camera card, because I just left it in the laptop, so you won't see the photos :) But you have to take my word for it! WORTH! :)

To sum up. Lombok is definitely a must stop when visiting Inonesia. MUST SEE !!!
I love traveling, especially with my close friends. I love Asian cuisine, feel the sand under my toes and swim in the ocean.
Enjoyed reading this article? Share it!