Air instead of a frame - advantages of inflatable vestibules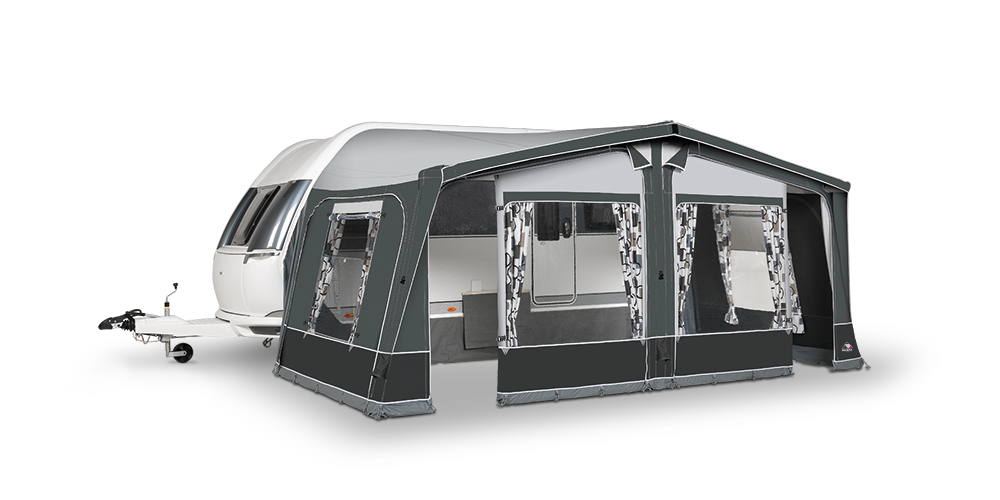 On the motorhome and accessories market, we are constantly observing changes and improvements that translate into the appearance and functionality of many elements inherently associated with caravanning. For example, caravan awnings have evolved over the past few years. As a rule, they still have the same function - increasing the usable area "under the roof", protected against unfavorable weather conditions.
The old stagers perfectly remember the tarpaulin attachments for Polish "n" trailers, mounted on heavy and clunky steel frames, surrounded by guy lines and pegs. Of course - these solutions were stable, and many fondly still mention the quality of workmanship. However, trailers grew over time, and manufacturers looked for ways to make the structure lighter while maintaining stiffness. In addition to steel rack structures, there are alternatives in the form of carbon fiber or lighter metal alloys.
The construction diagram itself has also become more user-friendly and intuitive. The plating materials used have also undergone a considerable change. Breathable materials, all-year-round and typical summer solutions offer a huge choice. The range of vestibules complementing the range of vestibules is also large in the case of many manufacturers. Dedicated annexes extending the atriums with an additional bedroom, a garage for bicycles or a field kitchen, as well as protruding roofs protecting against sun and rain - these are just some of the ideas.
The very fact of the existence of thriving companies specializing only in the production of awnings for recreational vehicles proves the size and potential of this segment of the market.
The experiments with the use of pneumatic support frames for the construction of atria, initiated by several manufacturers, turned out to be a bull's eye. Initially, some of them did not pass the test in difficult winter conditions and were prone to unsealing, but for several seasons the offer of most self-respecting pioneers in this market is largely based on such solutions. As it turns out - that's very good!

One of the leading entities that performs well in the international arena is the Dorema brand - a manufacturer with decades of experience in the design and production of tents and attachments for the caravanning market.
The range of models is extremely rich and within one series we can deal with several variants of construction, from the traditional one to the air frame. To make things easier, the manufacturer uses the "AIR" addendum in the names that clearly indicates this solution.
Dorema AIR for trailers

The Maribor model has been a proven vestibule for caravans for years - each of its new versions is characterized by an excellent value for money, durability and timeless design. It is no different with the pneumatic variant. Maribor AIR is available for trailers with a circumference of 775 cm to as much as 1,200 cm - a total of 17 variants for a perfect fit of the attachment to almost every trailer. As for the depth, we gain as much as 240 cm of additional space. If we need additional space on the sides or in the front, we can easily supply a system utility tent, a bedroom or a sun canopy.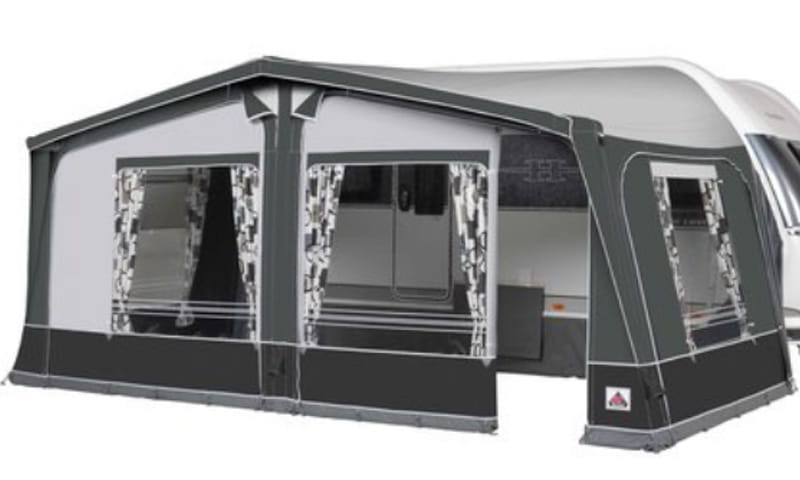 https://sklep.elcamp.pl/pl/p/PRZEDSIONEK-DOREMA-MARIBOR-AIR/13152
New for 2022 is a real palace - Luxor AIR model Available for trailers with a circumference of 850-1125 cm, the model is the first in the manufacturer's collection that offers a depth of up to 280 cm in combination with pneumatic technology. And all this while maintaining high technical and resistance parameters (dynamic strength of the roof 5 kg / m2 and water resistance at the level of up to 7000 mm of water column). Of course, we also have the option of selecting system accessories here. The bedroom will be the perfect solution when we travel with a large family, teenagers or simply want to create a safe asylum. In the utility tent, you will find a place for a beach, furniture, toys and bicycles.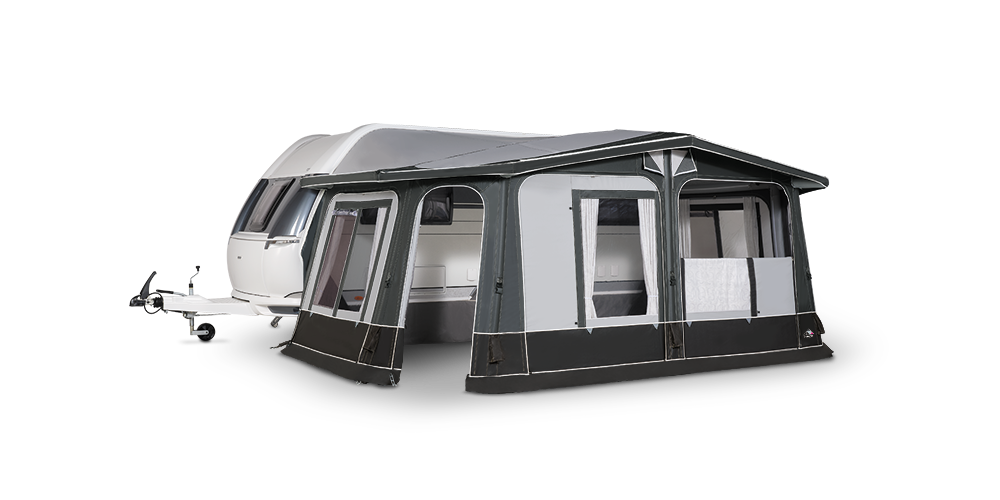 https://sklep.elcamp.pl/pl/p/PRZEDSIONEK-DOREMA-LUXOR-AIR-280/13159
Traveler AIR Klimatex - a treat for motorhome owners

The Traveler AIR with the pneumatic rack technology is a great solution for motorhome owners, for several reasons:
- Thanks to its innovative, free-standing structure, it is extremely versatile, light and stable. We have the ability to travel by car, e.g. during a stop at the campsite, without having to pack all the equipment and physically release the lot.
- The universal tunnel allows you to connect to various vehicles - the mounting height ranges from 180 to 330 cm - we simply buy the appropriate adaptation tunnel.
- 260 cm deep and up to 320 cm wide gives a lot of additional space in front of the motorhome with the low weight of the tent (only 22 kg). At the same time, we do not limit access to the rear garage door in larger motorhomes.
- Klimatex is a material with reduced condensation, tear resistance and excellent water resistance - up to 10,000 mm of water column.
- The possibility of full personalization and the creation of a door on the side, the use of system attachments, and even curtains.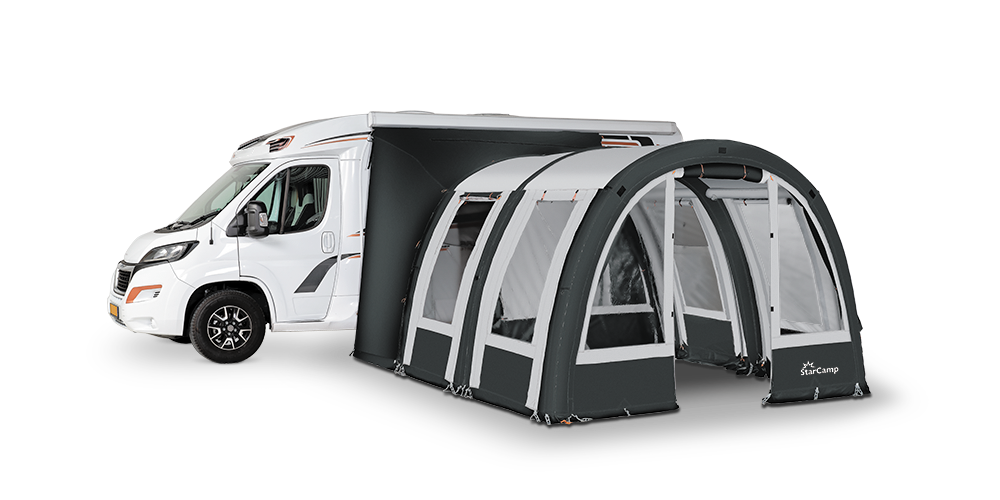 https://sklep.elcamp.pl/pl/p/PRZEDSIONEK-DOREMA-TRAVELER-AIR-KLIMATEX-XL/13257
Summary

It is not only novices who consider the ritual of unfolding and folding the vestibule as not a very pleasant task to start a holiday adventure. If our trip is short, or we need an additional place, but we intend to move every few days, we will rather look for time savings and the most effective solutions. Inflatable frames will certainly make this task easier for us, and their low weight will make the spine grateful to us. All-season models are so durable that, following the manufacturer's recommendations and proper installation of storm belts, we will not be afraid of the most unfavorable weather conditions, regardless of latitude. Certainly, pneumatic atria have many advantages and have become a permanent feature of the caravanning world. It is difficult to imagine a manufacturer who does not offer this type of models and - it is not a passing fashion, but a significant simplification and a revolutionary step to make our hobby even more enjoyable.

A wide selection of Dorema vestibules, as well as other manufacturers, including those with "traditional" frames, can be found in the ELCAMP store - sklep.elcamp.pl .
I feel best in the form of trade fairs and meetings with enthusiasts. Technical freak. In my life I have dismantled many motorhomes for the first time. Fan of large vehicles, mountain biking and traveling without weight and financial restrictions. At CampRest, I am responsible for all publications on automotive topics.
Enjoyed reading this article? Share it!