Cadac - a guarantee of successful grilling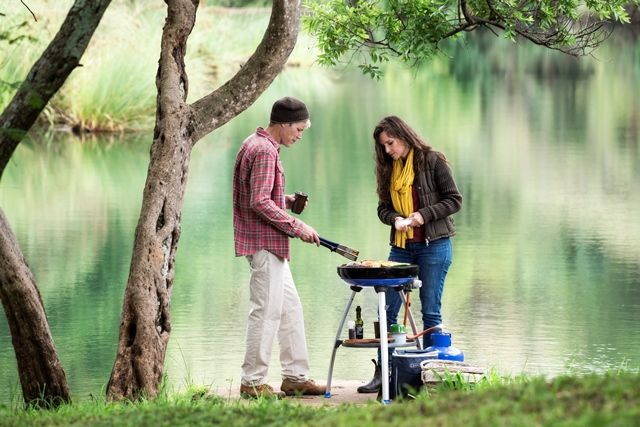 Grilling is an inseparable part of caravanning life. For many, it is the quickest and simplest idea for a tasty meal, while others have perfected the art of thermal processing on the grill, implementing the most sophisticated recipes. Regardless of the level of culinary craftsmanship and preferences, every amateur of grilled dishes should have the right equipment at his disposal.
Traditional charcoal-fired grills are no longer an option for most of us due to several significant disadvantages: often problematic lighting, difficult regulation of the intensity of combustion, the possibility of burning/burning food, unpleasant smell, for example on clothes, and also (or perhaps above all) the dangers of open flames and hot ashes. On many campsites and camping sites throughout Europe, it is expressly forbidden to use traditional grills and hearths.
Today we will look at alternative, safe and healthy ways to grill, taking a closer look at the assortment of the market leader - the Cadac brand.
The company has 75 years of experience and is now part of the Dometic group. The range of products is really impressive and includes several models powered by gas and electricity.
Compact for cartridges - SAFARI CHEF 30 COMPACT LITE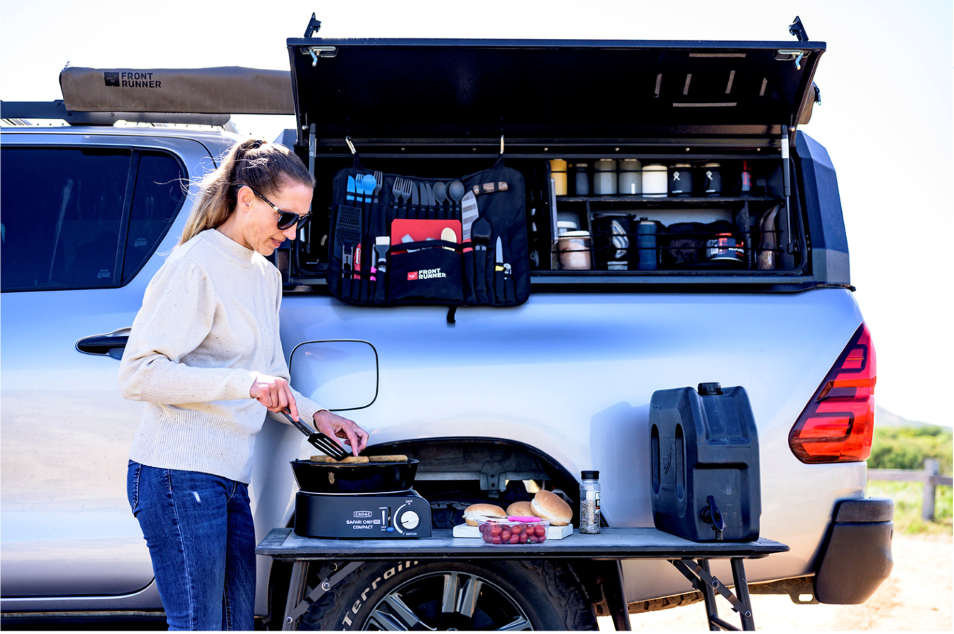 When packing a motorhome or caravan, do you try to choose the equipment that is as compact and light as possible? Safari Chef 30 will be the perfect companion for your travels. Powered by gas cartridges with a capacity of 227 g, the model is convenient to use and extremely handy. Not only will you take it on a long journey, but it will also be perfect for a weekend picnic outside the city. The ultra-compact device (width: 23 cm, height: 30.4 cm, depth: 34.7 cm) weighs less than 4 kg and comes complete with 3 different cooking surfaces.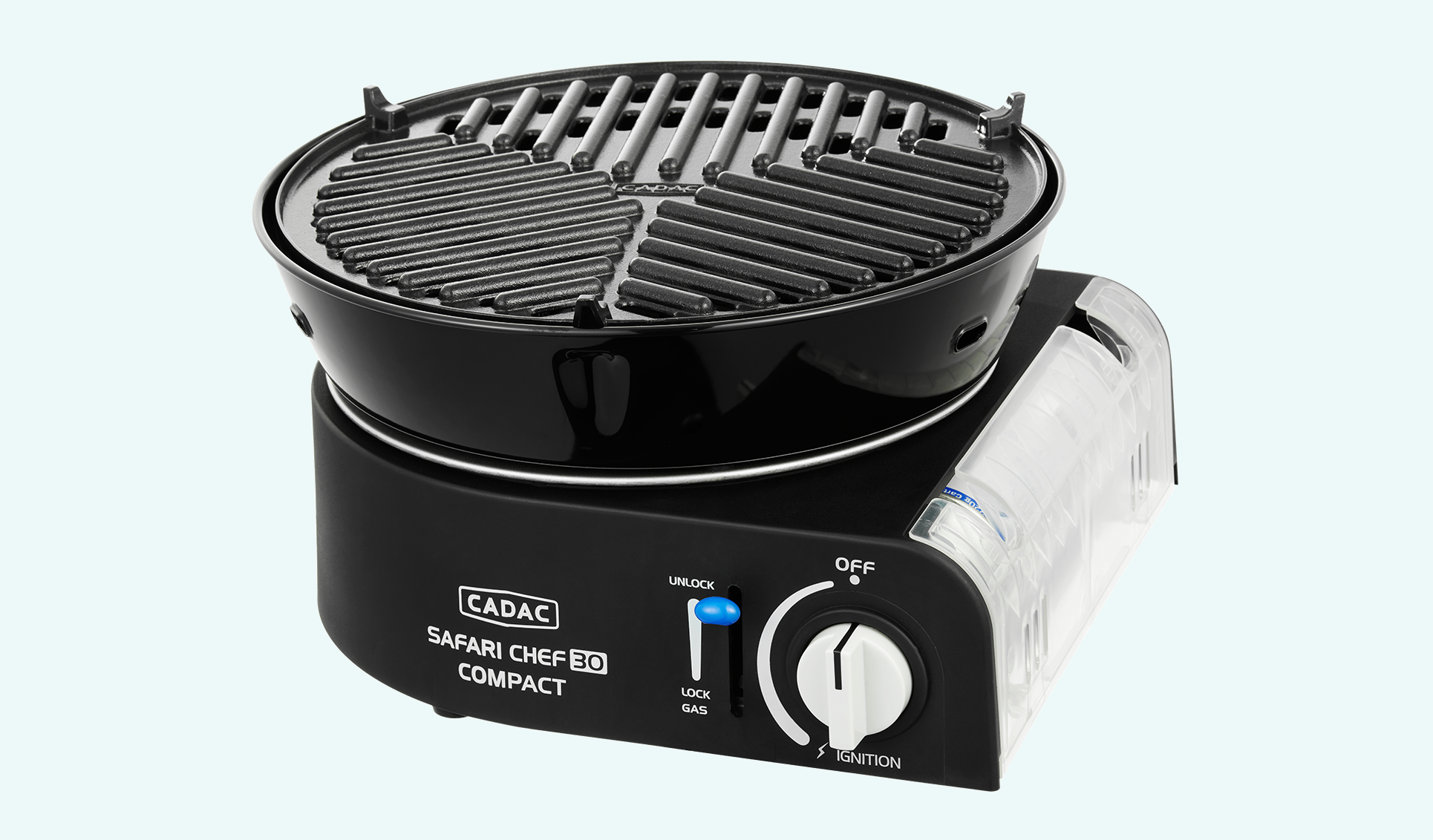 Regardless of whether you want to heat something in a pot or prepare something on the grill - you will do it quickly and without complications. The grill grate and baking tray have a special GreenGrill coating, and the integrated tray not only collects cooking residues, but also protects the burner from the wind. A dedicated bag delivered with the device will take care of order and safe transport and storage.
Little chef - CADAC CITI CHEF 40 BLACK 30mbar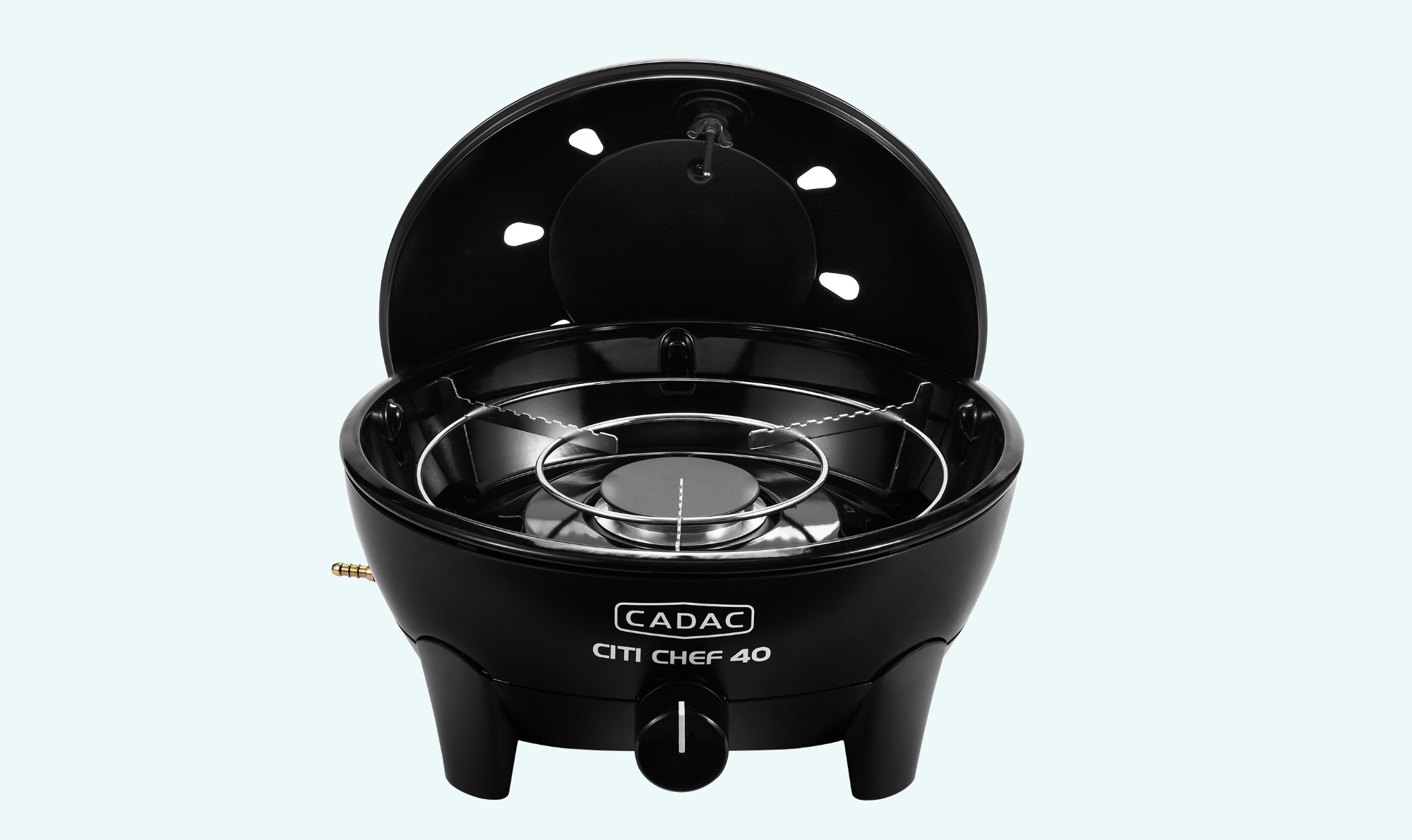 Citi Chef 40 is a solid, compact (width 42 cm, height 33 cm, depth 42 cm), portable (weight is only 5.8 kg) gas grill to be placed on a countertop, table or cabinet. Inside, it is equipped with a stand on which we can place a pot or kettle. Of course, as standard, the device is delivered with an aluminum grill grate covered with a ceramic non-stick coating. Dripping fat accumulates under the firebox in the outer pan of the bowl - thanks to this, the grill is easy to keep clean. By choosing this model, you gain access to a full range of accessories - additional cooking surfaces, including even a pizza stone or a paella pan. In the lid we will find an integrated thermometer, thanks to which we can monitor the development of the situation on the burner. During transport , the Citi Chef 40 disappears in a practical bag.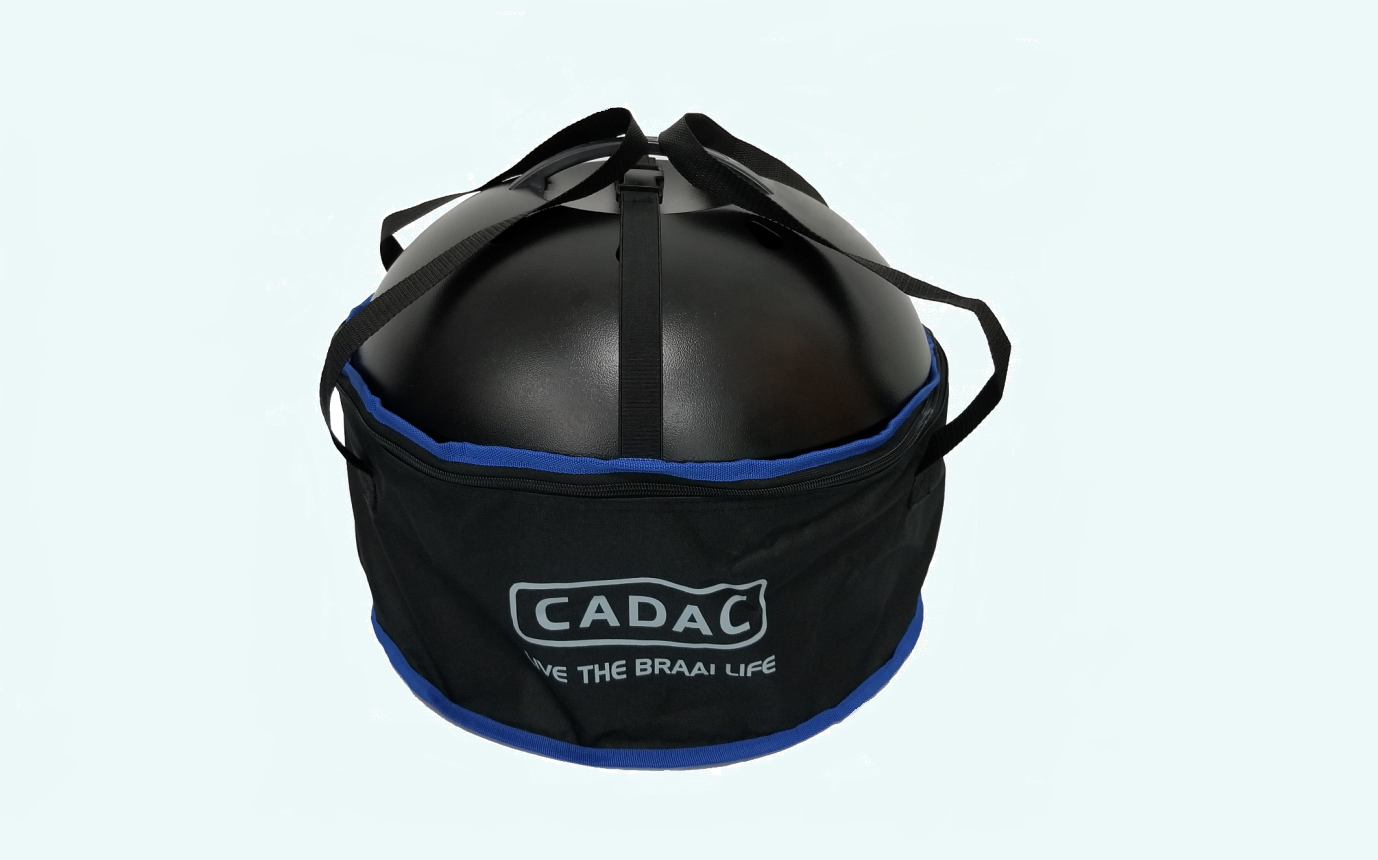 The warranty on this model is up to 5 years. Remember about the necessary additional accessories. Since the average pressure required for operation is 28-37 mBar, you will need a cylinder reducer and a hose with appropriate connectors. Alternatively, you can choose from 3 body colors.
Versatile powerhouse - CADAC CARRI 50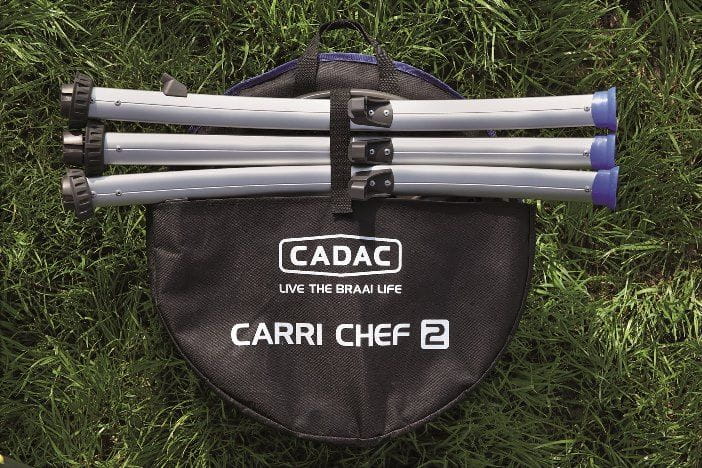 If you are looking for a free-standing model with a large grilling surface, you will definitely not pass by the Carri 50 BBQ indifferently. The diameter here is up to 50 cm. The powerful round burner is made of stainless steel and is equipped with a piezoelectric igniter. Thanks to the precise temperature control, we will realize every culinary adventure. Thanks to the closed lid, we can use it like an oven, and even stew food.
The CARRI 50 model is available in a number of versions, each of which can be equipped with a different set of surfaces. Depending on your preferences, we choose the "starter package" ourselves.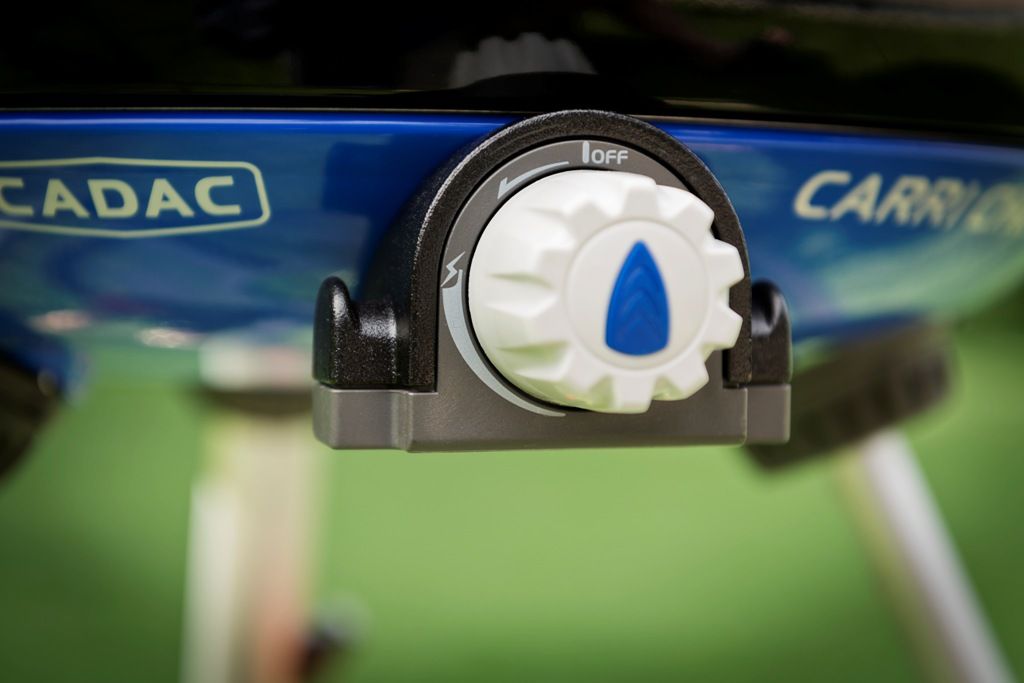 The grid equipped with the CADAC GreenGrill ceramic coating guarantees healthier and cleaner cooking. What is important - in order to keep the equipment clean, it is practically completely removable. The included bags make it easy to store and transport. The total weight is approx. 10.5 kg - taking into account the possibilities and size of the grilling surface
Carri Chef's aluminum legs are easy to unscrew and screw on. The shelf for spices between the legs ensures order and stabilizes the structure. This particular model is also ideal as a garden gas grill.
Or maybe electricity? Electric CADAC E-BRAAI 40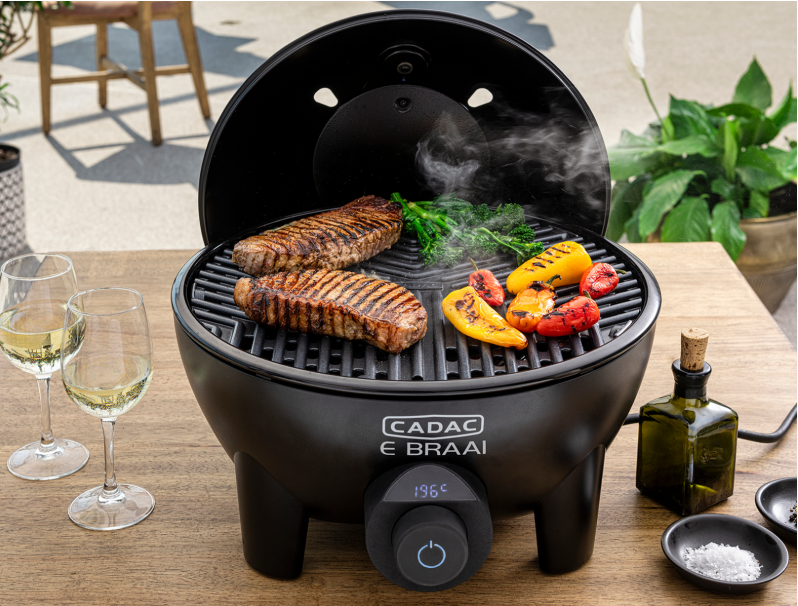 If you are not a fan of gas appliances and spend most of your time on campsites with access to a power source, the E-BRAAI 40 electric grill may be the optimal choice. Weighing 8 kg, the model is 48 cm wide, 35.5 cm high and 44.5 cm deep. The surface of the hearth that we have at our disposal has a diameter of 40 cm. The only one of its kind is the temperature control option in the range of 70-270 degrees Celsius, which enables a wide range of applications, including "slow cooking". The temperature sensor is integrated in the grille and not measured in the lid. The lid itself has four openings to optimize air circulation. The grease tray is of course easily removable and easy to clean.
E-Braai comes with accessory rack, GreenGrill ceramic-coated grill grate and lid. For even more possibilities, BBQ/Plancha and pizza stone are available as optional accessories. A transport bag is included, of course.
Where to buy a Cadac gas grill?
If you are interested in Cadac grill models, be sure to check out the ELCAMP store and visit the company's YouTube channel, where many aspects related to these excellent products are shown and discussed
I feel best in the form of trade fairs and meetings with enthusiasts. Technical freak. In my life I have dismantled many motorhomes for the first time. Fan of large vehicles, mountain biking and traveling without weight and financial restrictions. At CampRest, I am responsible for all publications on automotive topics.
Enjoyed reading this article? Share it!