Dorema vestibules - additional living space in all conditions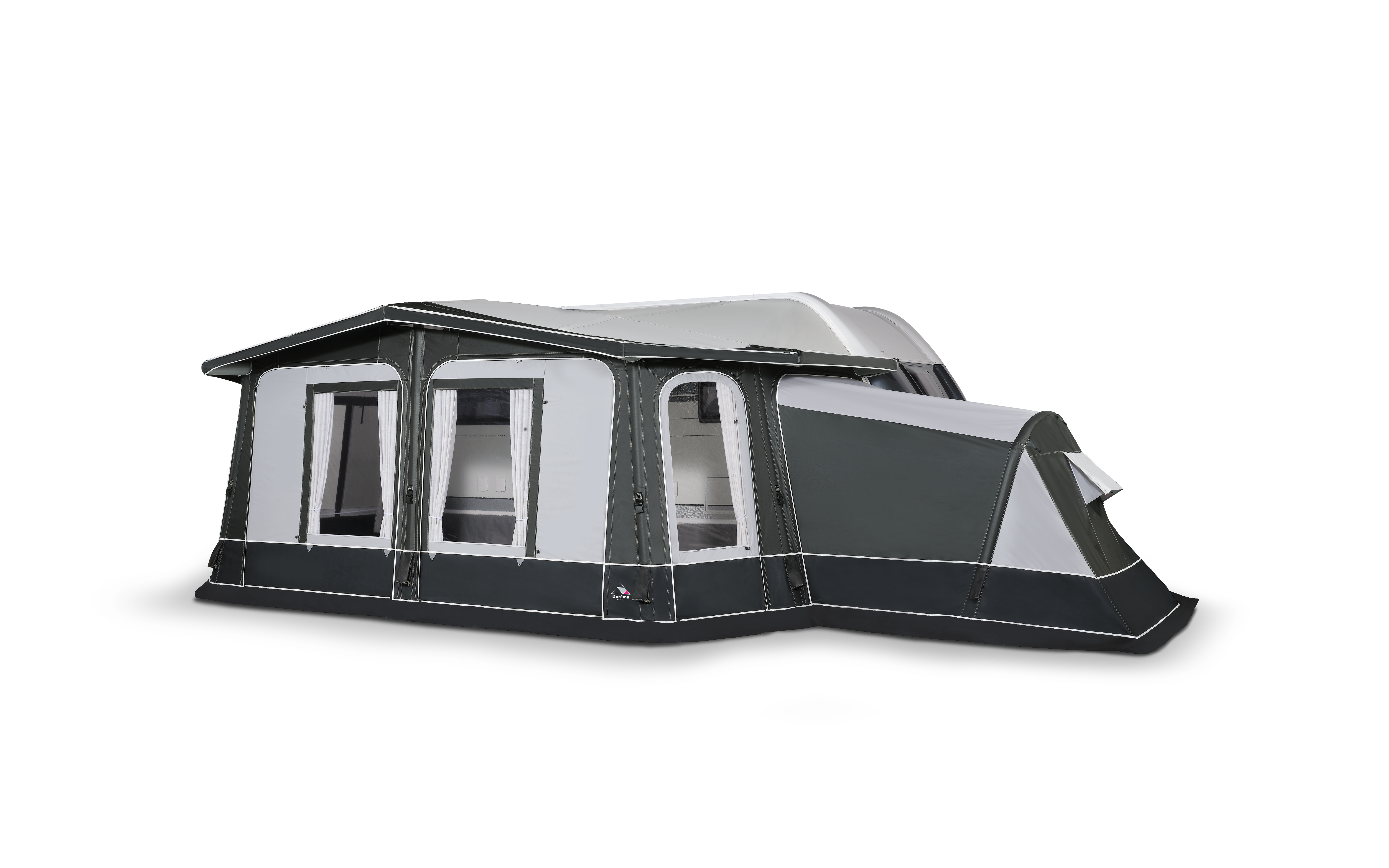 It is hard to imagine a longer stay at the campsite without the extra space to live outside. Attachment, vestibule, tent - regardless of the regional name, we all know what it is about. In case of bad weather, we will find a shelter here, we have a place to set furniture and accessories, bicycles or just sit with family or neighbors in intimate circumstances.
Among the many manufacturers specializing in the development and production of this type of solutions, the leader is the Dutch brand Dorema - after all, its logo has proudly adorned the walls of the vestibules of many generations of caravanning enthusiasts for decades. Legendary quality and durability are a commitment - invariably, despite the passage of years, they are the driving force for development.
In the technological arms race, the manufacturer does not compromise and reaches for the most advanced solutions and materials, flawlessly recognizing market needs and prevailing preferences / trends in design. The result of intensive development works is the current collection of vestibules for every season - also for demanding winter. We would like to introduce you to some of the most popular model proposals by Dorem in today's material.
Vestibules on a pneumatic rack
Although the decent supporting structure of the vestibule has been and will be an indispensable element of a caravanning adventure for many traditionalists, it is definitely worth looking at alternative solutions in this area. Many manufacturers rely on "inflatable tubes" in their flagship, all-year-round proposals. The benefits are rather obvious to most of us - quick assembly and disassembly, durability and flexibility in carrying loads and low weight of the tents.
Dorema Magnum Airforce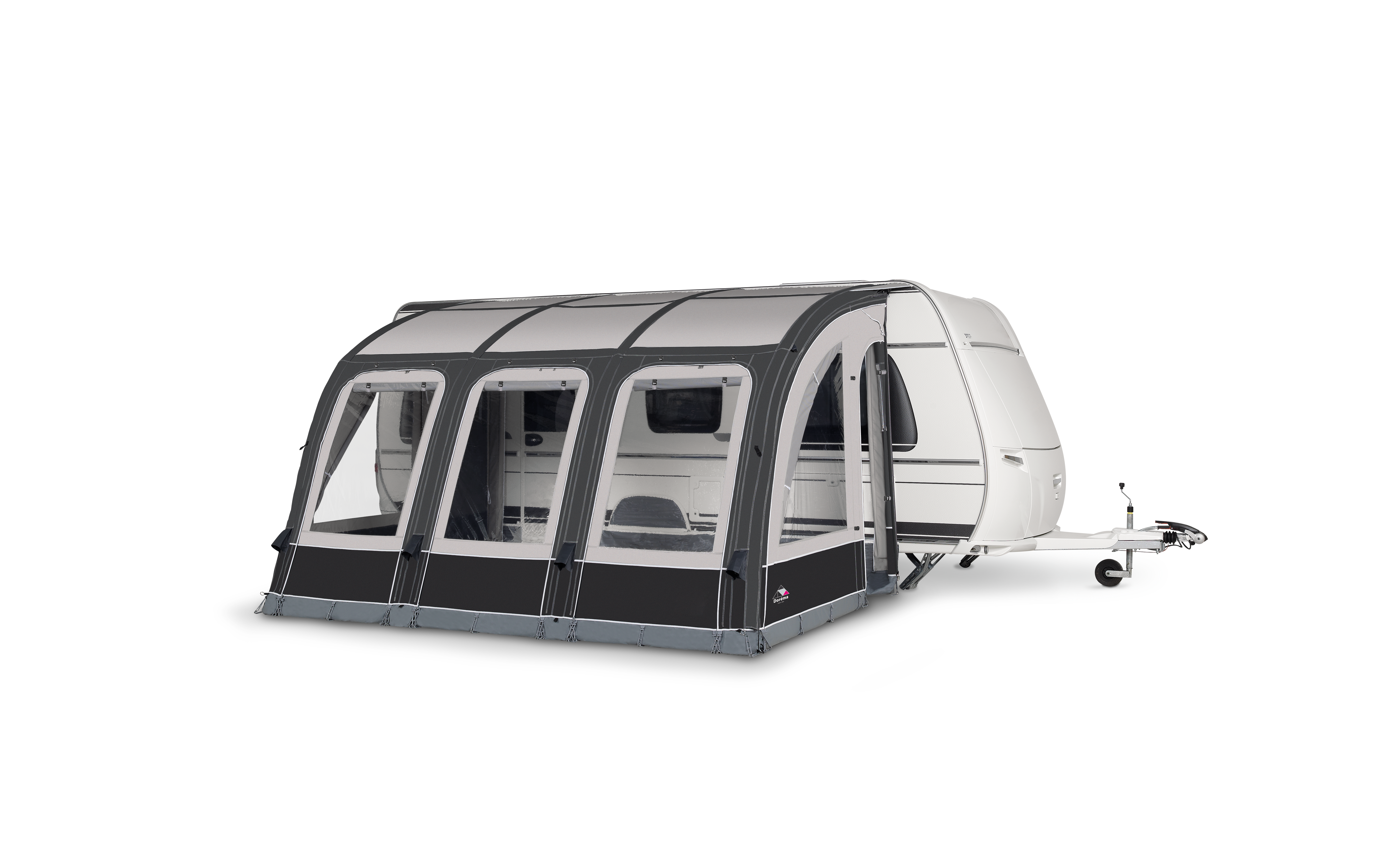 The top version of the pneumatic vestibule available in two material varieties - All Season DormaTex (winter-resistant) and KlimaTex (lighter, rather for people who frequently change their parking places). The Magnum is 280 cm deep and is available in 2 lengths - 280 or 360 cm. The type of materials selected make it the perfect partner in almost any weather conditions. Fans of winter trips will appreciate the advantages of the All Season version, which has excellent resistance to UV radiation, the legendary YKK zippers (including hydrophobic coating), durable double seams and breathable properties. It may be a bit heavier, but it can cope with even the most difficult conditions, even during longer stays. The mounting height in the range of 235-255 cm makes the vestibule an ideal proposition for caravans. Available widths are 260 or 390 cm, and the weight is approx. 27 kg. The roof can bear a load of 5 kg / m2. Both walls of the vestibule are foldable and removable, and the windows have nets and mosquito nets. Additional accessories include a utility tent (the so-called Cozy Corner right or left), a bedroom, an electric compressor, a sun canopy, an additional mosquito net, a pipe that helps to create a veranda, and even a set of curtains dedicated to the model. Prices start from less than PLN 9,500.
Dorema Luxor Air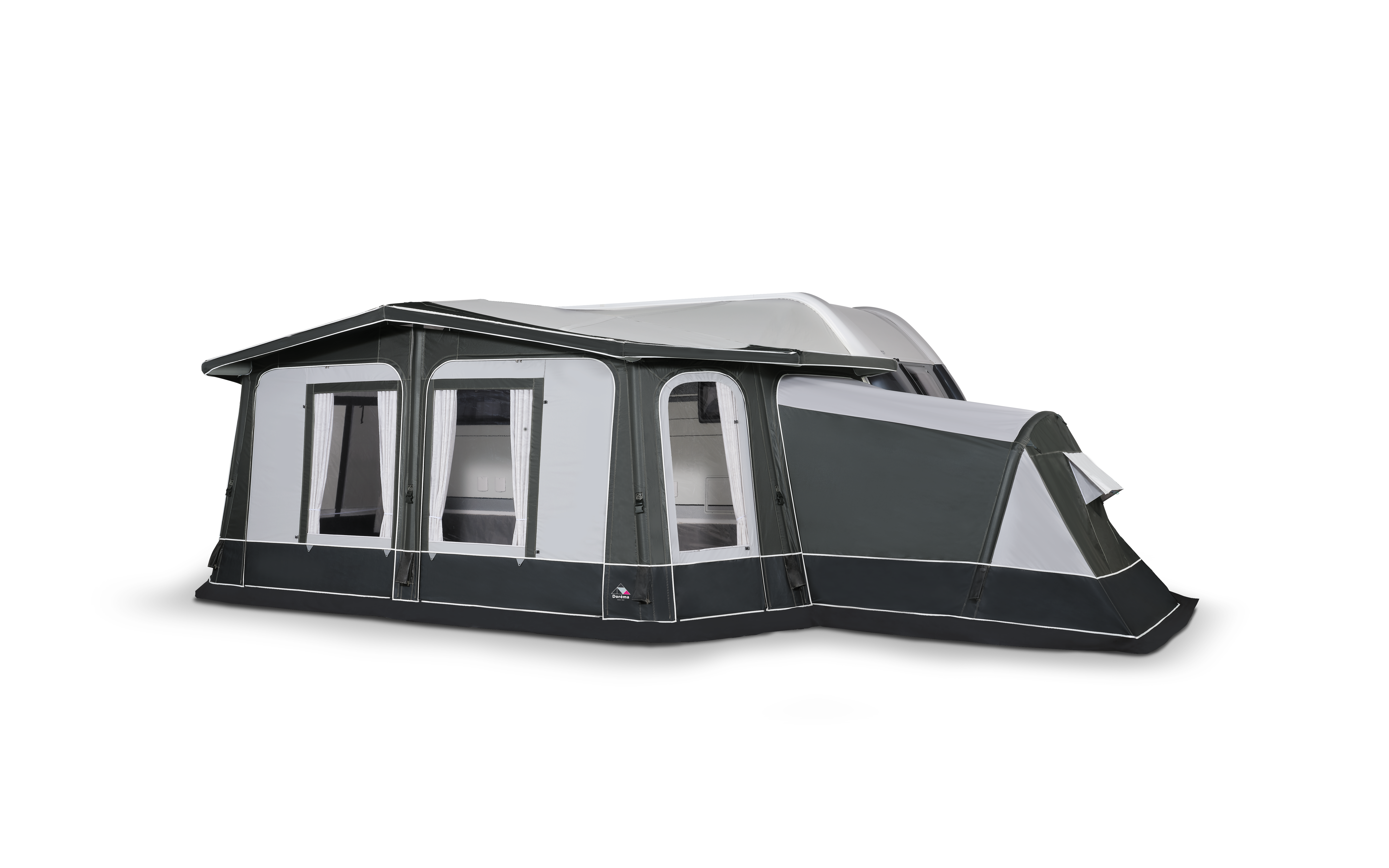 A full-size, 280 cm deep air-inflated tent. This bright and spacious family offer is offered in several versions for a circumference of 850-1125 cm. The anthracite / gray color is easy to clean. The condensation-reduced roof material is decorated decoratively on the outside. Both elements of the front wall can be removed, replaced and folded down to form a veranda. The list of options includes a utility tent, a bedroom, a storm belt, an electric pump and alternative fastening systems (Safe Lock). The range of prices is almost as impressive as the available models (it ranges from less than PLN 14,000 gross to over PLN 20,000). For the above-mentioned additional farm tent, we will pay about 5,000.
Dorema Maribor Air
He is a tough rider ready to cope with any weather. In terms of design and functionality, it is inspired by the popular Maribor series on a traditional frame - here, however, in a version that is incomparably simpler and more assembly-friendly, and more. The model is 240 cm deep and the range of sizes available covers a circumference from 775 to 1200 cm. An inflatable frame with proprietary EAF technology translates into the total weight of the tent (from 30 kg). The roof and walls are all-year-round materials, and both elements of the front, as in other models from the current collection, can be removed, replaced and folded to form a veranda. Prices start from less than 9.5 thousand. zlotys and with larger sizes soar to the ceiling of 17.5 thousand. We will have to pay an additional PLN 3,600 for the economic tent. Of course, here too, we can extend the functionality with accessories from the add-on list.
Dorema Octavia Air
It is a modern proposition with an extraordinary shape. Thanks to it, it is very stable and extremely quick to assemble. The rounded profile of the roof ensures that strong winds and bad weather will not spoil the joy of relaxation even in the most unfavorable weather conditions that the coasts of Europe can serve us. As with its predecessors, we also have a depth of 240 cm and a full spectrum of dimensions (circumferences from 850 to 1125 cm). In its smallest size, the vestibule weighs only 31 kg. The depth is 240 cm and the roof strength is 5 kg / m2. Octavia Air is available for PLN 12-18 thousand.
The authorized representative of the DOREMA brand in Poland is ELCAMP RV from Krakow. The full spectrum of vestibules and accessories for them can be found in the distributor's store - www.sklep.elcamp.pl .
I feel best in the form of trade fairs and meetings with enthusiasts. Technical freak. In my life I have dismantled many motorhomes for the first time. Fan of large vehicles, mountain biking and traveling without weight and financial restrictions. At CampRest, I am responsible for all publications on automotive topics.
Enjoyed reading this article? Share it!