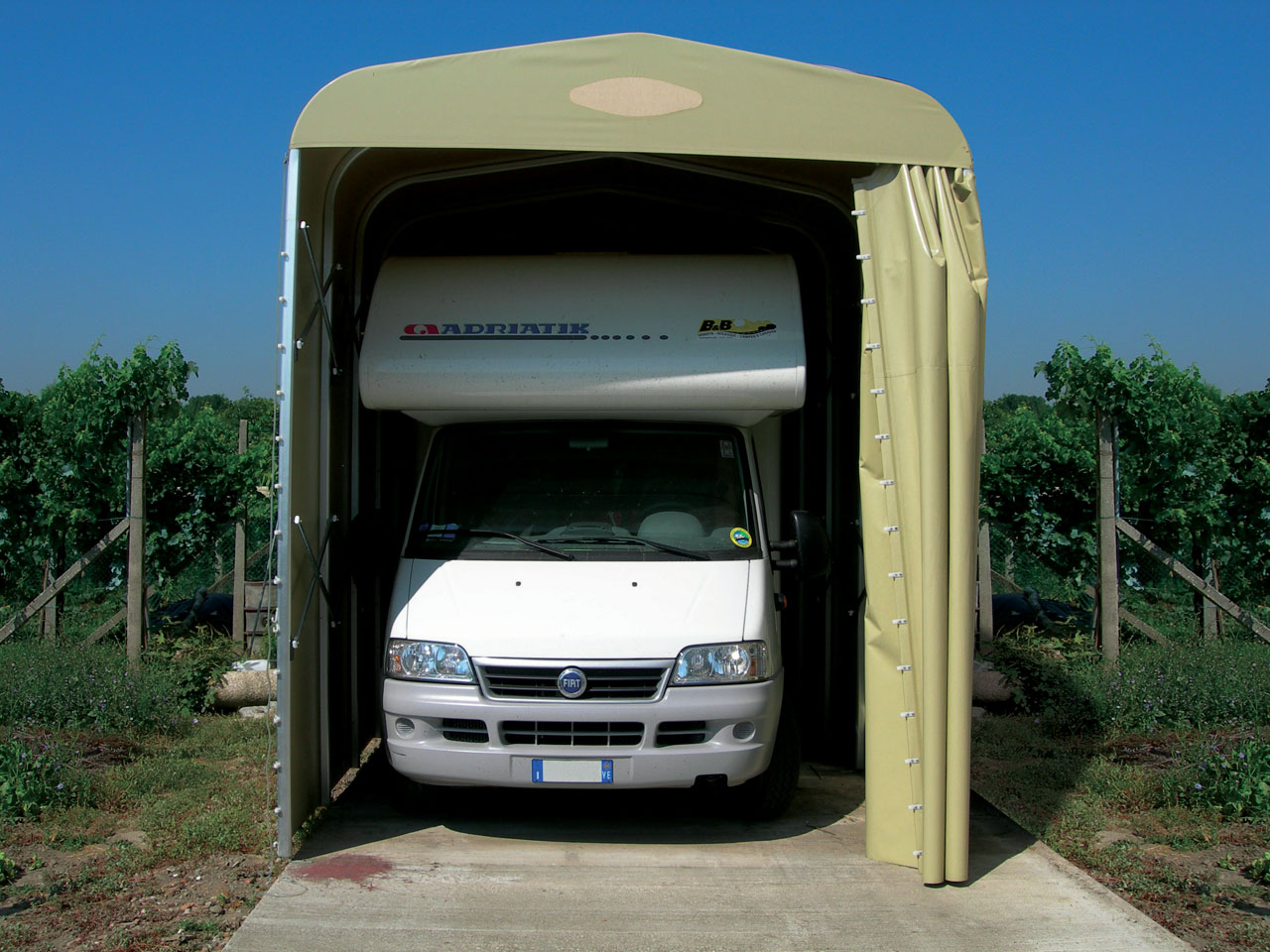 Those who do not plan winter caravanning are definitely looking for a safe harbor for their "house on wheels". Of course, you can use the services of storage facilities, which are the domain of campsites and agritourism farms. It can also be different.
The best solution is to winter the vehicle under a roofed carport or in a hangar, after all, a typical garage is definitely too small. Build? Rent? Garage tents are at the forefront when it comes to mobility, flexibility and cost. Contrary to stationary structures or the monthly costs of renting covered parking spaces, the cost of purchasing portable structures pays back relatively quickly.
Advantages of soft canopies
The garage canopy cover stretched over the bows offers almost unlimited possibilities of creating a volume that can accommodate any large tourist vehicle. Such constructions can be used anytime and anywhere, also - and perhaps above all, in autumn and winter. Tucked-in side walls and additional floor accessories will provide full protection against the effects of the weather, even in extremely adverse conditions. The industrial grade steel frames are designed to allow quick and easy assembly, while offering a stable, durable and much cheaper alternative to a fixed structure. A model dedicated to parking a motorhome or caravan is an expense of PLN 5,000. zlotys! In return, we acquire a garage with an area of over 27 sq m. (7.3 mx 3.8 m) and a height of 3.3 meters. The common feature of such proposals is that they offer a comfortable place to stand and a door size that allows for quick and easy access to the interior.
What requirements?
On the one hand, garage tents are a short-term solution. On the other hand, taking into account the affordable price, having such is an investment that hides many assets, albeit under certain conditions. Tear-resistant, UV-resistant and waterproof (welded seams) - this type of quality of the coating should determine the choice of the product. The use of ground anchors and anti-storm sets will not always guarantee resistance to the vagaries of the weather. When deciding to buy a garage tent, make sure that its frame has a static strength certificate. In our latitude, a garage tent should be resistant to wind speeds up to 100 km / h, which corresponds to the force of the wind, which in gusts can reach up to 10 degrees on the Beaufort scale. The tent should also be resistant to snow cover loads of up to 25 cm.
Producers
Several companies are famous for this type of offer. Some versions of portable garages were designed for owners of recreational vehicles (motorcycles, ATVs), so they are correspondingly smaller. Dancover portable garages are designed to protect cars, lawn tractors, motorbikes, bicycles, trailers, firewood, garden tools, building materials or other items from rain, falling leaves and bird droppings. Portable garages are available in sizes from 2 m wide and 2 m long. Prefabricated hangars and portable shelters and garages with a class II fire-resistance (self-extinguishing) certificate are offered by the Italian company Tecnoengineering srl. Modular structures are also designed by the Italian company Intenda . Umbrella constructions - the garage canopy cover is stretched on arches, produced in Great Britain by Cover Systems and Canvas and Nylon Ltd. The Taiwanese company Sportsman Corp also specializes in the production of similar.
Writing, traveling and good campers are what Rex likes the most :)
Enjoyed reading this article? Share it!