Mobile coolness - fans from Makita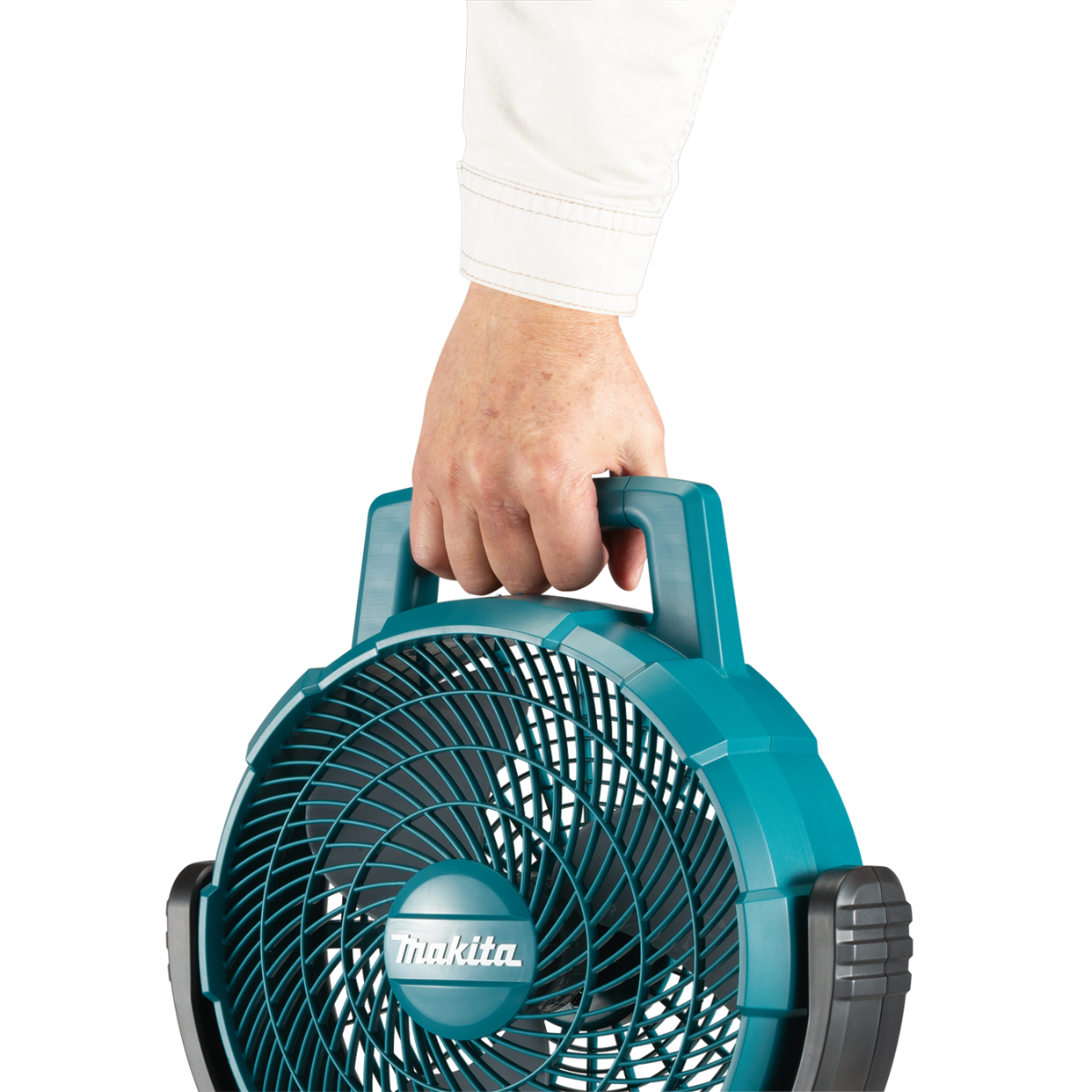 Anyone who has experienced the functionality of wireless gadgets will not be able to imagine their life without many of them. The collection of products of the Japanese manufacturer - the Makita company - includes a surprisingly large number of devices useful in caravanning. We recently discussed the popular vacuum cleaners. Today we would like to introduce you to the range of mobile fans powered by various battery models.
Over the years, Makita cordless power tools have undergone various modifications and improvements depending on their intended use. As part of product diversification, several series of power supply systems have also appeared. It is really possible to lose orientation in the maze of markings and symbols - 10.8V, 12V, 14.4V, 18V, and maybe 40V? Regardless of what type of battery you have - Makita makes sure that no one complains about the lack of choice of tools.
DCF203Z / CF001GZ - compact models for everyone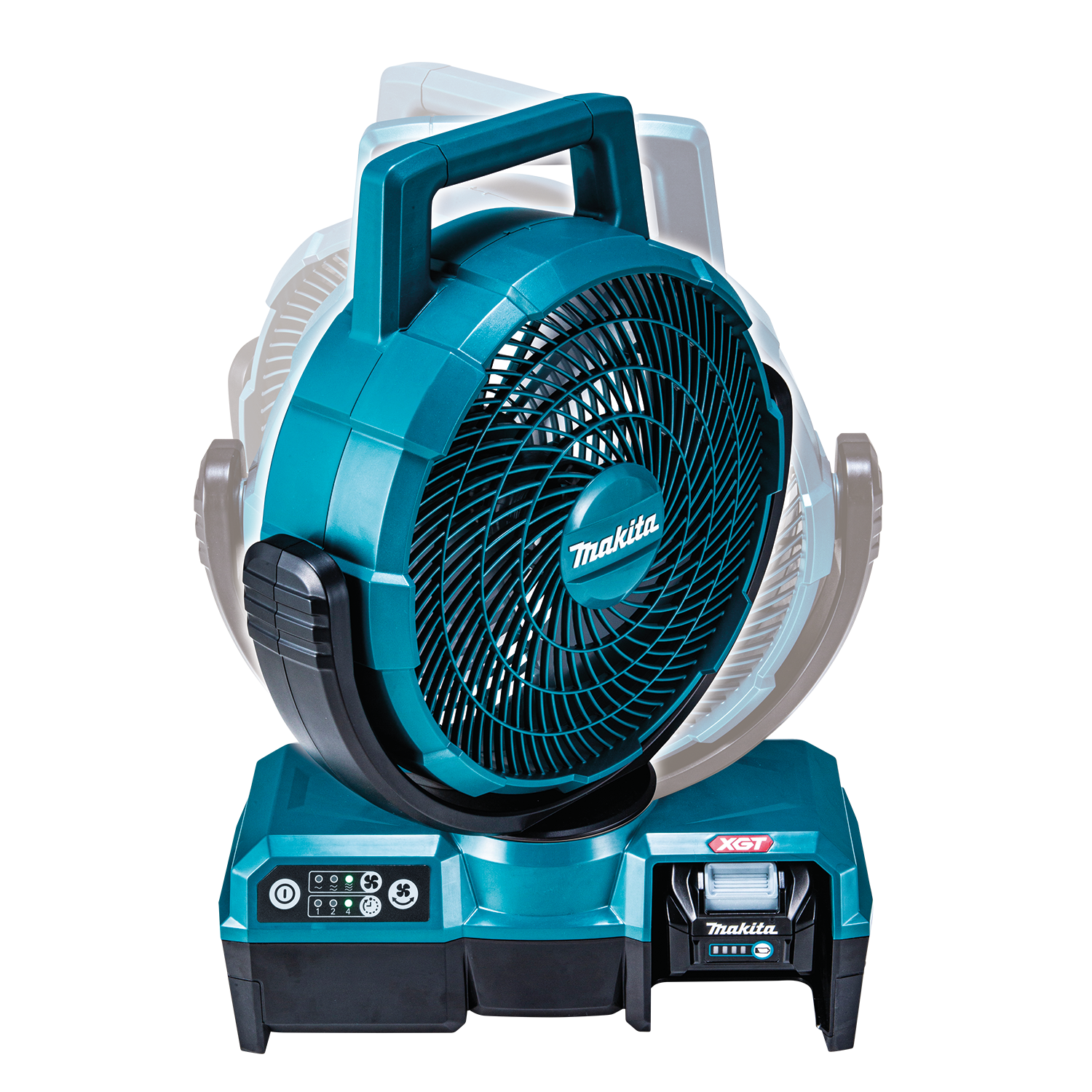 The most popular series of batteries are the 14.4V and 18V models and the basic model of the portable fan - DCF203Z - is adapted to them. It is available for sale at a price of approx. PLN 400 gross and will be a perfect solution wherever we need to cool ourselves and devices / tools at high temperatures. Thanks to its compact dimensions (140x333x447 mm), it can easily find a place in the vestibule, under an awning, in a caravan or motorhome, forcing air circulation and giving a pleasant feeling of coolness - also at night.
The automatic oscillation (right-left) function in the range of 45 degrees and the adjustable angle of inclination make the working range wide and can be adapted to individual needs. The 3-stage power control (low / medium / high) and the sleep timer (predefined working time is 1, 2 or 4 hours) are very useful functions - especially on vacation. The CF001GZ model, identical in terms of design and function (available at a price from PLN 560 gross), was created for users of the XGT 40V battery series (2.5 Ah / 4 Ah). Here, too, the fan diameter is 23.5 cm. The air flow depends on the power level (low - 5.2 m3 / min, medium - 6.5 m3 / min, strong - 8.2 m3 / min).
DCF301Z / CF002GZ - uncompromising power and efficiency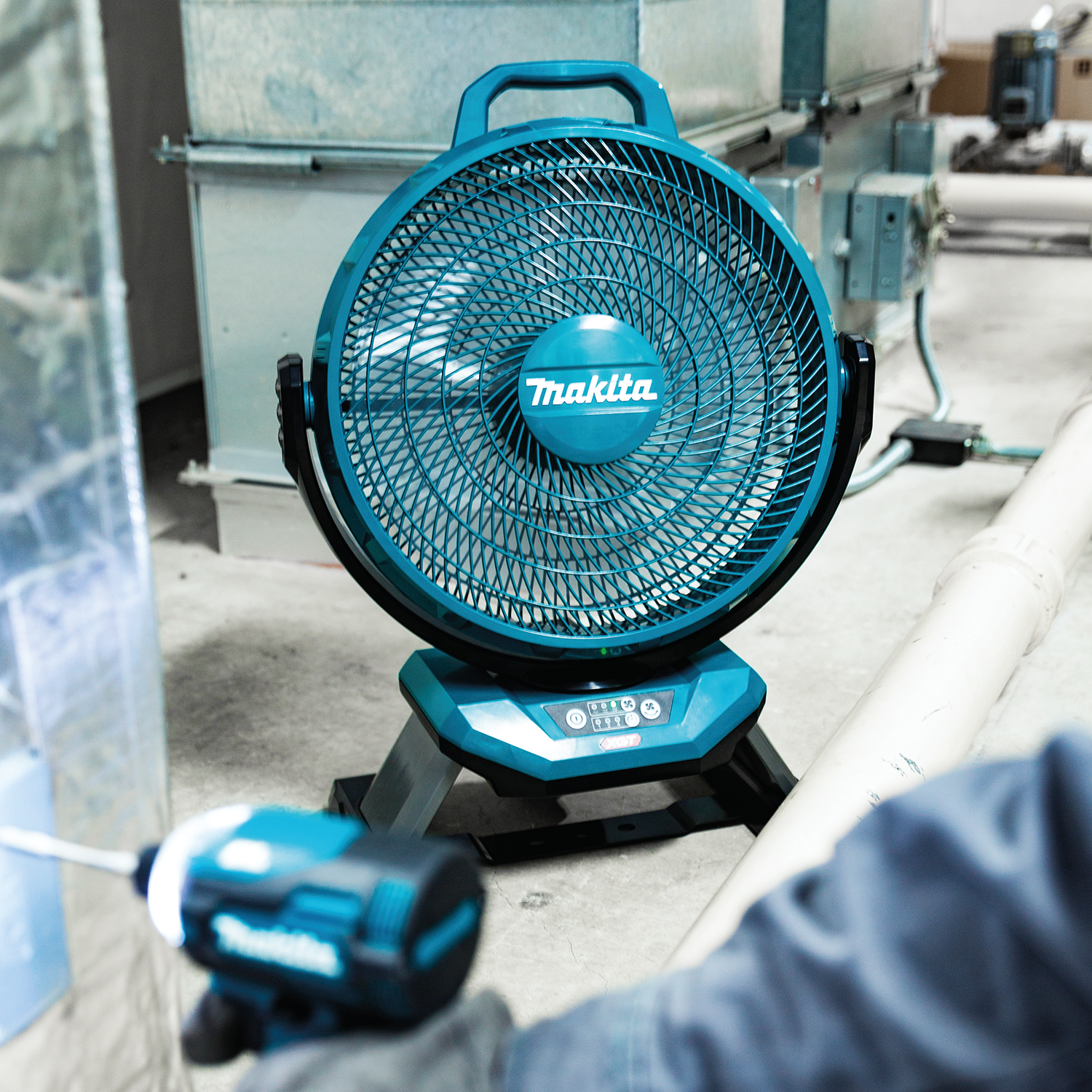 The DCF301Z, available at a price from PLN 570 gross, is a slightly stronger brother of the above-described models, in which the construction of the housing and cover have been changed, thus reducing the noise level. Works with 14.4V and 18V batteries. Depending on the power level, the air flow is as follows: low power - 10 m3 / min, medium power - 15 m3 / min, high power - 21 m3 / min. These are impressive figures for a strong breeze and unmatched performance. Also in the case of this model, we have the option of using the automatic rotation function, tilt angle adjustment and a timer after the set operating time (1, 2 or 4 hours). The function of maintaining a constant speed under load is also interesting. Customers with XGT 40V batteries can purchase the CF002GZ model - it has the same range of functions as the model above. They will differ in the working time of the batteries. The dimensions are 277x439x602 mm and the weight is a fair 3.8-5.1 depending on the power source. Thanks to the ergonomic handle, metal base and easy-to-read buttons, fan operation is simple and transport is hassle-free.
Of course - the operating time of both of the above models will depend on the capacity of the battery used and the set power, aration etc. However, taking into account the capacity for the most frequently chosen power tools (ie 3-6 Ah), the fan will "flick" from a few to several hours. Even without a replacement, this means effective cooling of our holiday camp for a long time. It is also very important that these devices can be supplied as standard from a traditional 230V socket. Such hybrid technology means that we can successfully use them at work or at home without having to remember to charge the battery.
Makita - equipment created by professionals!
The Makita brand is well known to professionals and DIY enthusiasts and is taking new markets by storm, including ours - that is, demanding travelers. Anyone who already owns any cordless tool and battery from this brand will surely find accessories for themselves. The legendary durability (special ABS plastic) and resistance to mechanical loads as well as a solid structure (the manufacturer "oversizes" basically everything compared to the competition) make it a device for many years.
I feel best in the form of trade fairs and meetings with enthusiasts. Technical freak. In my life I have dismantled many motorhomes for the first time. Fan of large vehicles, mountain biking and traveling without weight and financial restrictions. At CampRest, I am responsible for all publications on automotive topics.
Enjoyed reading this article? Share it!