The phenomenon of dry steam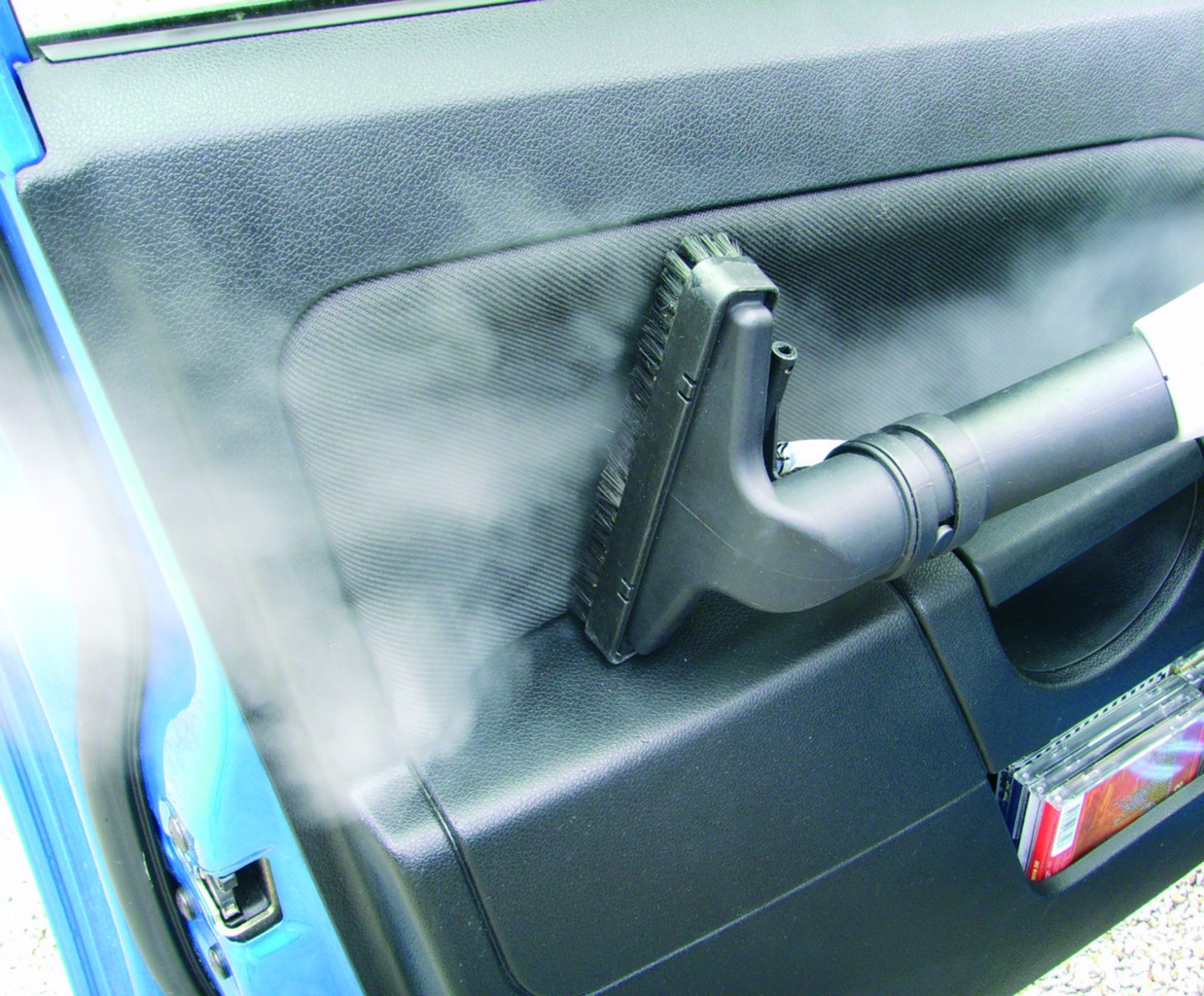 The combination of high temperature, dosed as planned and dry steam effectively eliminate dirt, grease, bacteria, mold, fungi, viruses and germs - all without the use of additional chemicals. Steam cleaners revolutionize the maintenance of impeccable cleanliness of caravanning equipment.
Ecological steam car washes are revolutionizing the car wash industry, gaining new customers at a rapid pace and becoming an attractive idea for a profitable business. Mobile steam car washes allow the service to be provided directly at the customer's site, thus saving his time and ensuring maximum comfort of services.
The phenomenon of steam is that dirt and debris are exposed to hot and dry water vapor released under pressure. This quickly warms up and softens the contamination, as well as shallow heating of the cleaned surface. Due to the difference in the rate of expansion of the soil and the surface to be cleaned, the bonds between the two surfaces are broken and the dirt falls off.
Disinfection
The phenomenon of the new proposal should be considered in the context of traditional methods. Since the use of chemicals is commonplace, can our equipment give us the expected enclave? After all, vapors of cleaning agents can remain in the air for up to 100 hours, which means that we actually inhale them every day! The ingredients of many detergents also cause allergies. Even the seemingly simple operation of vacuuming is controversial, considering the fact that it takes place in the small cubature of our motorhomes. The mites are so small that simple vacuuming only moves them around.
For these and other reasons, steam is an indispensable tool in the process of disinfecting and removing stains and dirt from all kinds of upholstery, leaving the cleaned surface dry, so there is no need for long hours of drying it. In addition, it eliminates unpleasant odors, cleans and disinfects. Moreover, the use of high-temperature steam ensures that microbes are eliminated.
Small cubature - many needs
This service works equally well in situations where rental companies have only a few hours to prepare a motorhome or caravan for the next customer. No wonder that this offer is becoming more and more popular among caravanning industry companies. It is worth noting that the use and efficiency of steam appliances exceeds all statutory food hygiene requirements! Today, there is no safer and more economical way to ensure that cleaning and sterilization methods are fully optimized.
- I often meet with customers who wonder why their motorhome smells suffocating, despite the fact that they regularly clean and ventilate the entire interior - says Błażej Napieralski from SteamArt, which runs a network of mobile steam car washes in Poland.
- More and more companies are convincing that the solution to this problem can be steam cleaning technology, which is a new and comprehensive approach to the issue of cleanliness, removing all dirt and germs from our caravan and motorhome. The steam cleaning technique is an innovative and universal solution for which new applications will not be exhausted for a long time. With the help of high pressure steam and low humidity, you can successfully clean any surface, while high temperature effectively sanifies and disinfects. Thanks to steam cleaning, we get rid of dirt, unpleasant odors and all germs.
It is worth emphasizing that in the process of steam cleaning, the skin does not come into contact with chemicals or water, so steam cleaning is an ideal way to keep your surroundings tidy.
- Studies have proven the high effectiveness of hot steam against resistant bacterial strains. It has been shown that the treated surfaces are clean and dry and disinfected without the need to use chemicals - echoes Jerzy Miosga, Technical and commercial advisor, PPHU "OTTIMO".
Writing, traveling and good campers are what Rex likes the most :)
Enjoyed reading this article? Share it!