What kind of cooler to buy? We compare: absorption, thermoelectric and compress refrigerators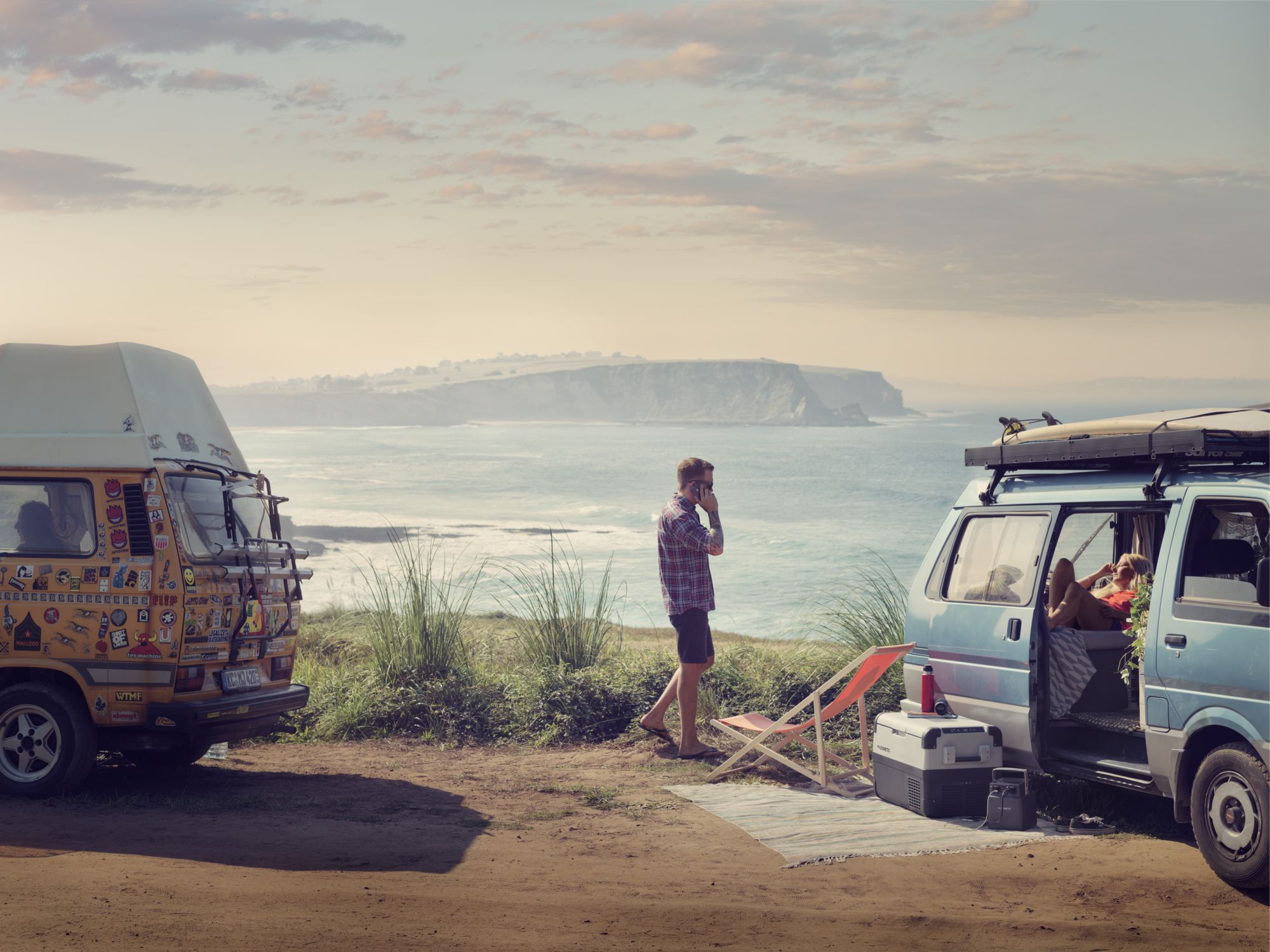 Choosing a portable refrigerator for a vacation, car, motorhome or caravan should be carefully considered. It is a device that must work in all conditions and provide us with access to fresh food also during longer journeys, so we believe that it is not worth saving on a good refrigerator. How do you know that the device will serve you properly? How to choose a quality refrigerator? We will present you some of the latest models of Dometic refrigerators - choose the best one for you!
Types of refrigerators
To answer the question of which type will be the best, you first need to consider what exactly you want from a refrigerator. Currently, there are three most popular and at the same time the best types. These are, in turn: thermoelectric coolers, compressor coolers and absorption coolers.
Thermoelectric coolers
These are refrigerators in the so-called Peltier system. This means that they can cool as well as heat, thanks to a cell inside them. Thermoelectric coolers are quite sensitive to temperature changes (their performance depends on the ambient temperature), so they should be kept out of direct sunlight.
These types of devices are designed to cool small batches of food, so they can only be used for short trips, e.g. for two people. In a situation where you are going on a trip with the whole family, a thermoelectric cooler may not perform well - it will be simply too small. It is perfect for one-day trips to the lake, also because it is very light. It is also worth mentioning that this refrigerator cools best when you put previously chilled food in it.
Thermoelectric coolers are powered by 12/24 / 230V. Their great advantage is the low price - if you are looking for the cheapest possible model, this one should meet your expectations. In addition, thermoelectric coolers also cool without any problems in an inclined position, so you do not have to watch them too much while traveling.
Importantly, they also consume less electricity than refrigerators that use absorption technology. We recommend thermoelectric coolers for boating or picnics - in such situations they should meet your expectations 100%!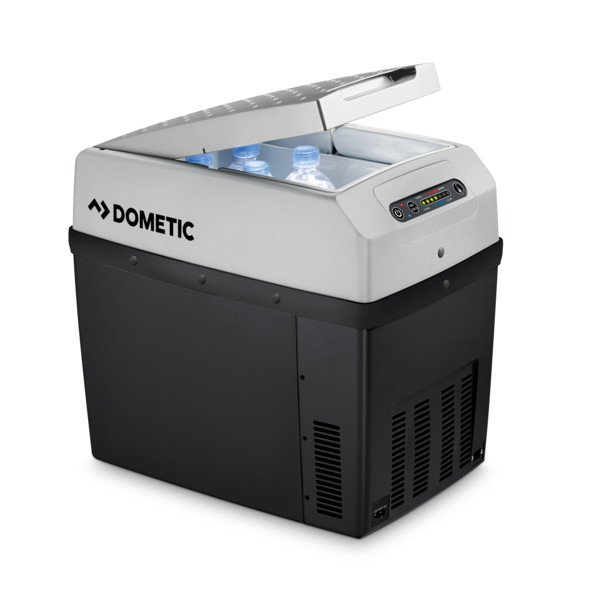 The TCX 21 thermoelectric refrigerator is a model designed for one-day trips. The refrigerator can hold 20 liters. The TCX 21 has additional features such as active battery protection and 12/24/230 V connections with network priority switching.
Compressor coolers
They are characterized by very high efficiency. Compressor coolers like CoolFreeze won't disappoint even when the outside temperature is really high. For this reason, they are perfect for summer travel. In addition, compressor coolers consume little electricity, so they are suitable for longer trips, during which you do not plan to visit the base every day.
Moreover, even if you do not want to power the compressor cooler with electricity, you can provide it with energy through solar power. These refrigerators operate on the basis of a refrigerant that changes from a liquid to a gas in the evaporator. They can work with a variety of power sources, from 12 V to 240 V. Most CoolFreeze compressor coolers have a wide temperature range (down to -22 degrees Celsius), so they can also be used for freezing. They are also relatively large and will easily fit, for example, 2-liter water bottles.
Their maximum capacity is 88 liters, so if you travel with your family or a larger team, these refrigerators should meet your expectations 100%. Importantly, the compressor coolers connect to WiFi, so you can easily adjust the temperature even when you are outside the motorhome. Such a function has, among others Dometic CoolFreeze CFX series of compressor refrigerators.
It is worth noting that CoolFreeze tubes periodically make sounds, but they do not differ significantly from those we know from domestic refrigerators. Some, however, may be disturbed by this - if you care about completely silent operation of the device, you should like the absorption refrigerator more.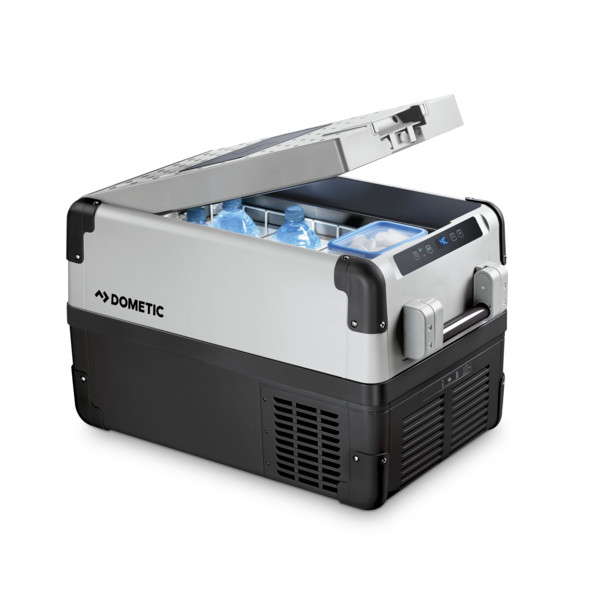 Compressor refrigerator CFX 35W in the energy class A ++ with a weight of 17.5 kilograms. Capacity: 32 liters. Temperature range: +10 to -22. The ability to regulate the temperature via WiFi via the application.
Absorption refrigerators
The absorption technology uses ammonia, which is released as a gas under high pressure. The ammonia condenses first and then evaporates when combined with hydrogen - this removes heat from the refrigerator.
The CombiCool ACX absorption coolers are powered by gas or electricity. These devices work with a power supply of 12 V DC and 230 V AC. Their advantage is the possibility of switching the power supply - in a motorhome or caravan you can power them with electricity, and e.g. switch to gas during a picnic. Thanks to this, you will not have to give up chilled food or drinks.
The universal ACX40G absorption refrigerator is also suitable for gas cartridges. It guarantees cooling up to 30 degrees Celsius below the ambient temperature. Its capacity is 40 liters.
How does the energy consumption of different types of refrigerators look like?
In this respect, compressor coolers perform best. For example, the CoolFreeze CFX 40W refrigerator consumes less than 1Ah per hour, so a total of less than 24Ah throughout the day. Thermoelectric coolers are in second place, consuming 3.92Ah per hour, which is 94Ah all day long. The last place is taken by absorption refrigerators. They charge 7Ah per hour and 168Ah all day long. If you plan to cool something for a long time, a compressor refrigerator will definitely be the most advantageous option in terms of electricity consumption.
Where to buy a refrigerator: in a supermarket or at a dealer in the camping accessories segment?
The answer to this question seems quite obvious to us - from a dealer specializing in camping accessories! Why? Because such a person will be able to advise you in a professional manner. Unfortunately, the supermarket may lack professional advice, which means that in a year or two you may be dissatisfied with your purchase and start looking for more equipment. Why pay double when you can immediately invest in a refrigerator that satisfies us?
We have created the CampRest portal for people who value freedom and travel on their own.
Enjoyed reading this article? Share it!