A camping vision not only for singles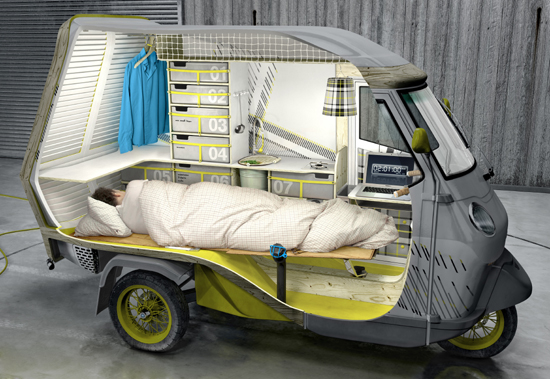 The APE 50 model, branded by the Italian scooter manufacturer Piaggio, is a small tricycle with a small motor. Although it looks like a miniature truck, it doesn't even have a typical steering wheel, but one that seems appropriate for bicycles.
The two-stroke engine with a capacity of 50 cc in many countries allows you to drive such a vehicle even without a driving license. Perhaps this is the reason why the APE 50 is so popular, for example, in Asia. It can carry more goods than a bicycle, is much more comfortable than a bicycle and provides a roof over your head. But to base the campervan design on such a structure?
Bufalino
It was inconceivable to anyone ... Nobody, except a German student named Cornelius Comanns, a former intern at the prestigious Art.Lebedev design studio in Moscow. Commans based its thesis on the APE 50 model. Or to be more precise - on the creative transformation of an Italian brand's tricycle into a functional motorhome for a modern single.
The young designer left the main structural elements from the APE 50. He did not change the engine or the frame, so the camper called Bufalino will not move at the speed typical of a car. However, this has a certain advantage - it allows you to explore the world in a completely new way, slower, more accurate, giving you closer contact with nature than when we sneak through multi-lane highways in fast cars.
For those who would like to contemplate their journeys, Bufalino offers not only a roof over their heads. The constructor of the vehicle in such a small vehicle (its length is 2.5 m) accommodated both a bed, a lot of compartments (numbered to facilitate organizational order) and a gas stove. The rear door has been designed to facilitate drying of washed clothes. There is a net under the roof for packing linen. There was even space for a laptop, which, thanks to its location on the shelf next to the steering wheel, can replace the car version of the navigation.
All elements of the equipment have been designed to take as little space as possible and be as light as possible. As a result, both the space and design possibilities of the APE 50 were used in an optimal way.
Ecco-Camper
However, if driving a Bufalino is too extreme for someone, you may be interested in the futuristic Ecco-Camper. Although it is also a tricycle, its character is completely different.
This unique motorhome was designed by the Immersive Cocoon studio. A vehicle with a teardrop shape while stationary can grow significantly thanks to the folding roof. This is where solar panels are placed, which collect the sun's rays and then transform them into electricity.
In this case, the single does not have to be left alone, as the Ecco-Camper model can accommodate up to five people. How it's possible? This tricycle is not as small as it seems in the pictures - in terms of dimensions it was modeled on an old Volkswagen, which we call "cucumber". Ecco-Camper measures 4.62 mm in length and as much as 2.55 m in width. The height (while driving) is 2.05 m. Therefore, there is room for both folding beds and a toilet.
However, both vehicles are connected not only by the number of wheels. Both the Bufalino and Ecco-Camper are concept vehicles that will probably never be produced. It's a pity, because they would bring an interesting change to our roads, compared to cars that are increasingly difficult to distinguish from each other.
Sometimes it is better to get lost than to ask for directions too much. Aldous Huxley
Enjoyed reading this article? Share it!