A large selection of small motorhomes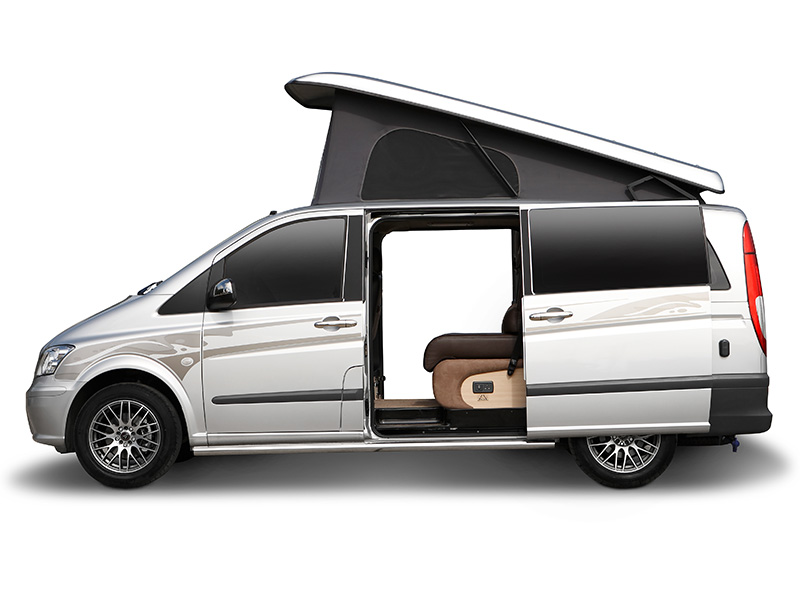 Auto-Sleepers gives customers something they love: variety. The offer of this British company includes both tourist versions of the Mercedes Vito, slightly larger motorhomes based on Peugeot and Volkswagen, as well as "real" mid-range motorhomes.
Although the Auto-Sleepers brand is virtually unknown in our country, its origins date back to 1961, when a British family converted a Morris delivery truck into a car that was to prove itself during a trip to France. And because products created out of passion usually work best, the amateur campervan aroused great interest and prompted its creators to remake more cars - this time for sale.
Today, Auto-Sleepers focuses on the production of small and medium motorhomes. Compared to other manufacturers, it focuses more on the so-called motorhome-vans , i.e. touring cars in the bodies of small delivery vans. Thanks to this, caravanning can be afforded by people who cannot afford a large tourist car or who want their motorhome to be primarily maneuverable (this is important if you plan to visit cities intensively).
No toilet
The smallest proposals in the brand's offer are the Wave and Wave HL models based on the Mercedes Vito . How can you make a motorhome out of such a small car? Auto-Sleepers' answer is simple - raise the roof! The Wave version has a thick canvas roof that is lifted by hand . The Wave HL, on the other hand, has a high fixed roof, which makes the car taller.
The upper floor with a double bed is not the only tourist solution in these cars. The first half of the vehicle is occupied by spacious, single seats for four people.
The second part is a typical motorhome with a sink, gas cooker, small fridge and a wardrobe. The car has a 32-liter fresh water tank and a 28-liter waste water tank. The only thing missing is a bathroom, or even a separate toilet. However, for a vehicle of this size, what is there is a lot.
Modest middle class
The Topaz is a slightly larger model, the only motorhome based on the Volkswagen Transporter in the offer. This car has a fixed, high roof with two sleeping places. Contrary to the Wave models, however, it is possible to find a bathroom and even a shower tray in the lower part.
The largest selection of Auto-Sleepers versions it offers in relation to Peugeot. Camper vans based on the Boxer are available in as many as seven variants .
Although most of them are adapted for two people, the Windrush model will accommodate up to four people. A practical solution in this case was a bunk bed . The second, double, can be converted from the couches in the front of the vehicle. Although the vehicle is not large, there is also room for a small bathroom with a shower and a kitchen area.
A bit higher shelf
Auto-Sleepers also offers larger, classic motorhomes . Six of them are based on the Mercedes Sprinter , and seven more are based - again - on the Peugeot Boxer. Among the latter there are also versions with an alcove over the heads of the driver and passenger .
The Auto-Sleepers offer turns out to be so wide that most European customers should find a model that suits them. Only supporters of large motorhomes and large families can be disappointed - for them, unfortunately, the British brand has no offer.
More information about Auto-Sleepers can be found on their website: www.auto-sleepers.com
Sometimes it is better to get lost than to ask for directions too much. Aldous Huxley
Enjoyed reading this article? Share it!