Adria Sonic Supreme - Slovenian summit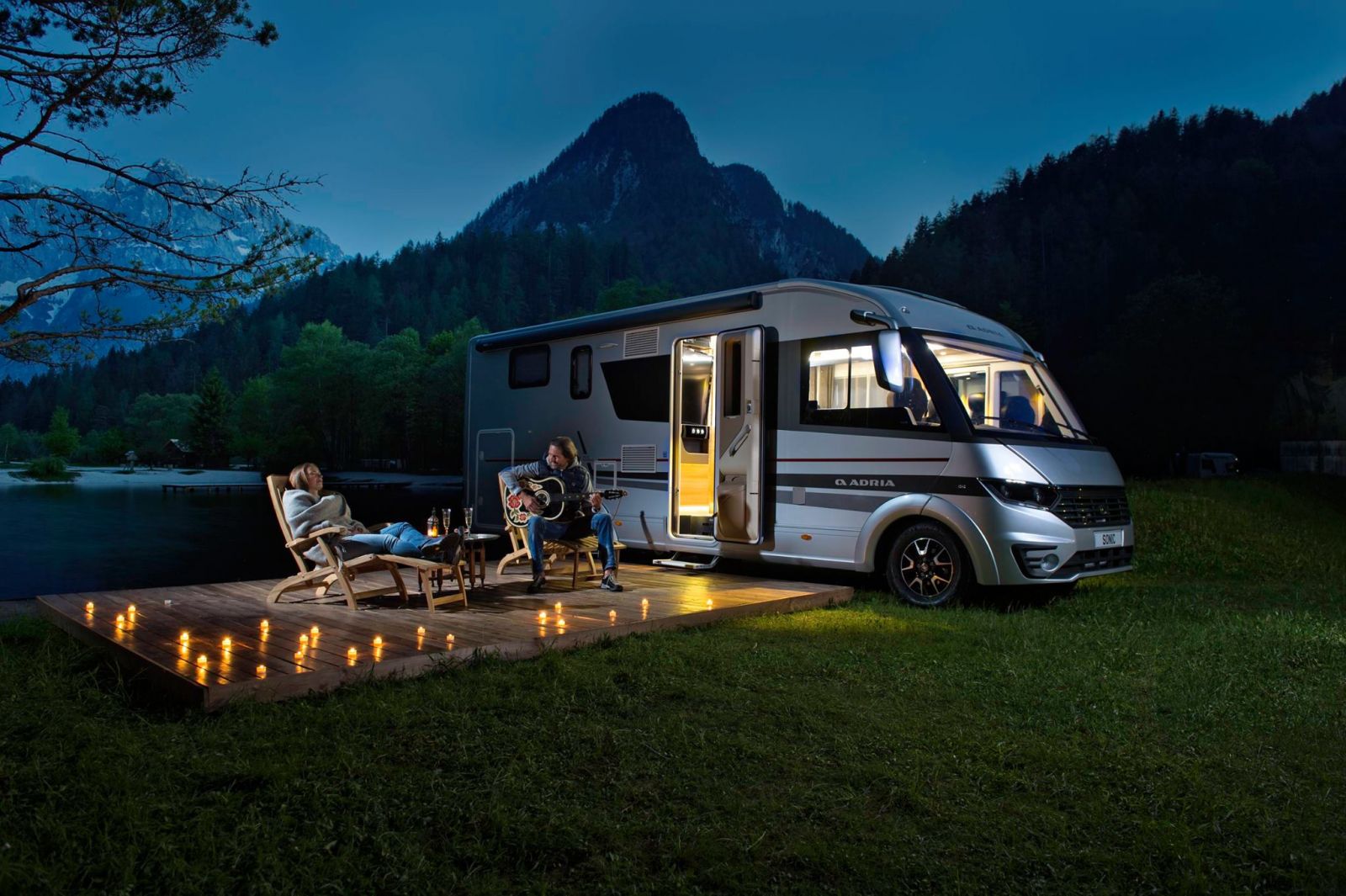 Sonic Supreme is Adria's top, fully integrated motorhome. The vehicle, which the manufacturer places at the top of its motorhomes hierarchy, usually shows the best capabilities of the brand. So what can a popular producer from Slovenia do?
Correct me if I'm wrong, but I think everyone will like the look of the new Sonic. The front of the vehicle is very expressive, which makes the motorhome unmistakable with cars of other brands. At the same time, however, it does not look too controversial - it seems modern rather than extravagant .
The large windshield gives the driver excellent forward visibility , and the low bottom edge of the side windows, combined with the narrow pillars, makes it easier to contact what is happening at the front corners of the vehicle.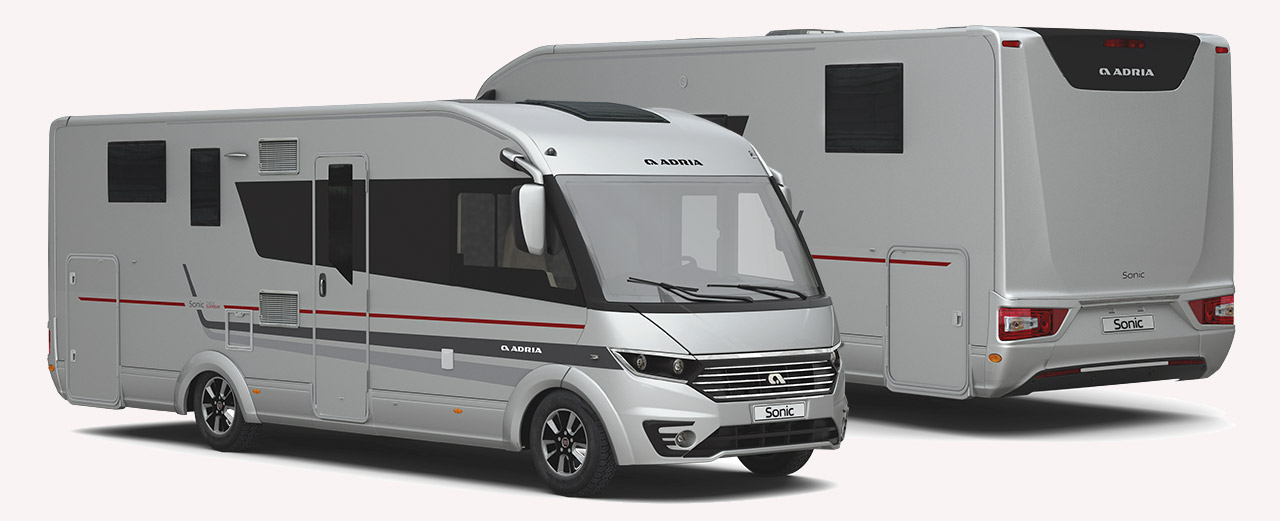 If you like the exterior design, the interior should not disappoint you either. There is probably no element in it that could seem archaic. Straight lines and delicate curves, and a combination of white, black and light wood - all this makes the interior, although it is difficult to find a revolution in it, fresh and exactly as you would expect from the 2017 vintage.
Walls covered with a fabric with an embossed pattern are an accent that can make the Supreme model a premium model. The same pattern can be found on armchairs and sofas. Unfortunately, some "exclusive" finishing details require an extra charge.
3.5 tons - or ... 5 tons!
The Sonic Supreme model can be ordered in five basic variants, with four of them having the same length - 752 cm . The version marked with the symbol 710 is dominated by only one: 810 SC, 880 cm long .
This absolute top model in the Adria collection is the only one that is not available at all in a version with a permissible total weight of 3.5 tons. We immediately have to decide on 5 tons and a huge load capacity of 1100 kg .
In the case of shorter models, it is possible to order a "passenger" version, but then we only have 300 kg of load capacity left. So it's probably better to immediately sign up for a truck driving course and opt for a model with a higher DMC parameter.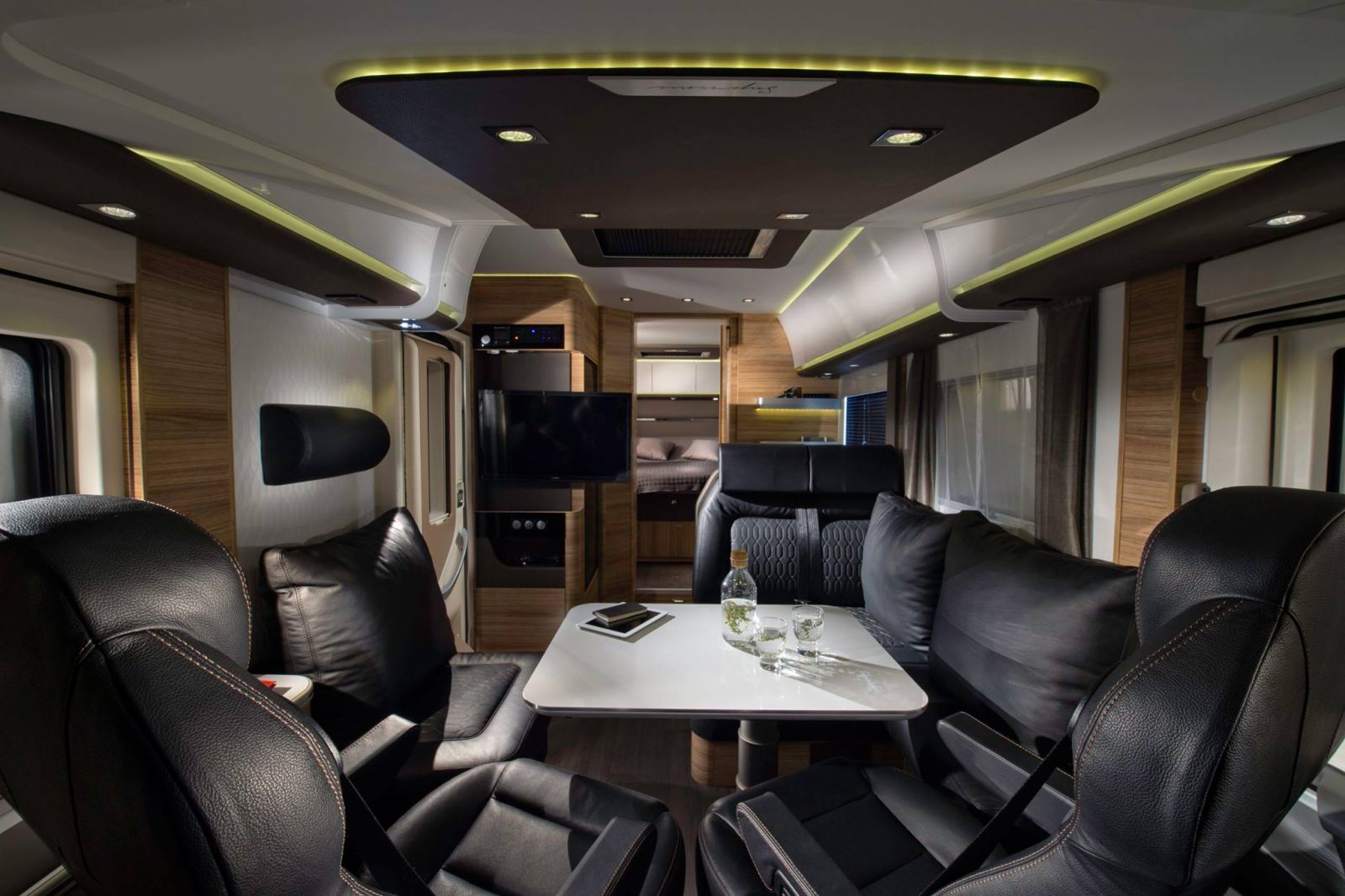 However, we must pay attention to one thing. Although we will not complain about the tightness of any Sonic Supreme, most models have only three seats with belts as standard. And this despite the fact that there are four sleeping places, and in one of the variants there are even five. Reason? An additional seat loaded with an additional passenger would probably significantly reduce the already small load capacity in versions up to 3.5 tons. Only in the 810 SC we will find as many seats as sleeping places (4).
Engines and equipment
Although it is not visible from the outside, Sonic Supreme is based on the Fiat Ducato . The basic power unit chosen by the motorhome manufacturer is an engine with a capacity of 2.3 liters and 130 hp. There are also 150 HP and 180 HP units to choose from.
The motorhome is equipped with Al-Ko suspension , and on request, you can also order an automatic rear axle leveling system (of the same brand), which will replace the standard shock absorbers. You can also choose from additional variants of the front axle suspension (Al-Ko or Goldschmidt). Optionally, we can also replace the 90-liter fuel tank with 120 liters.
Let's move on to the typical tourist equipment. A comfortable sleep should be provided by two 190 x 150 mm and 190 x 146 mm mattresses - both beds can be raised and lowered electrically.
The refrigerator has a capacity of 175 liters. The water tank holds 140 liters of life-giving fluid. The heated sewage tank has a capacity of 85 L. Optionally, an external sewage drain pipe can be used.
Alde floor heating is standard equipment. On the other hand, it may come as an unpleasant surprise that a USB port requires an additional surcharge , i.e. an element that is becoming a standard even in cheap passenger cars.
A successful motorhome with a strange specification
Adria Sonic Supreme is a motorhome that looks great both inside and out, making a great first impression. We can also assume that the well-thought-out interior is followed by the convenience of traveling and temporary residence in a motorhome.
When deciding on this vehicle , however, you should carefully study the equipment of the vehicle you are buying. It may turn out that although we will get a lot of nice accessories "for free" (such as "ambient" LED lighting in the cabin), we will not find some more obvious additions (such as a USB socket or four homologated seats for driving). Therefore, in terms of equipment, you can feel a bit disappointed. The more that we are talking about a motorhome, the price of which is not the lowest.
At Mobile.de, the 180 HP version of the Sonic Supreme 710 SL (a copy from a Czech dealer) costs PLN 110,000. euro . In Poland, the distribution of Adria brand vehicles is dealt with by, among others Elcamp from Krakow. And when buying, you can certainly enjoy the 7-year warranty on the tightness of the body.
Sometimes it is better to get lost than to ask for directions too much. Aldous Huxley
Enjoyed reading this article? Share it!