Adria Sport - a sports motorhome in name only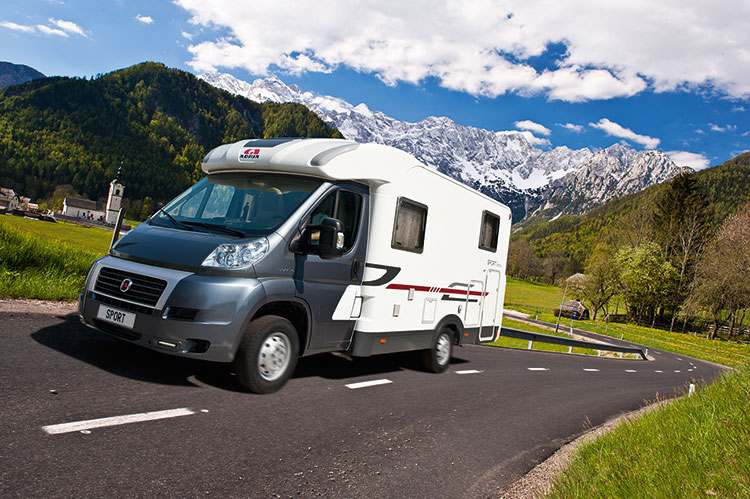 Adria Sport is advertised as a motorhome for people who lead an active lifestyle and want an equally active rest. It's just that the same can also be said for any other motorhome.
The slightly rounded shape of the exterior is not enough for the Adria Sport to even look like a dynamic car. It is an ordinary Fiat Ducato with a classic caravan.
The manufacturer offers in this vehicle everything that a modern motorhome should have, the level of finish is also appropriate, but nothing more. If a plebiscite for the most average motorhome was announced, Adria Sport would have a huge chance of winning.
In three varieties
The basis for the polyester body was the Fiat Ducato - in the basic version it is a car with a 2-liter engine with 115 HP. The permissible total weight is 3.5 tons. The length of the vehicle varies depending on the version.
Model S 572 L measures 6608 cm. This motorhome is designed for 3 adults and one child who can sleep together with their parents on an extra bed that can be folded between two single beds.
In this model, the small bathroom is integrated with the shower cubicle, and on the opposite side of the toilet part there is also a small kitchen area.
The S 650 SF model seems to be much more spacious, which can be indicated by the very length of the vehicle - 6,920 cm. In this motorhome, four adults can already count on the night, as long as they agree to sleep on double beds. You can choose a bed at the end of the vehicle and an alcove above the saloon.
In addition, in this model we can find a kitchen in a convenient L-shaped layout and a larger bathroom with a shower cubicle separated by a sliding door.
Even more space awaits passengers traveling with the S 690 SC, with the shower cubicle in a separate area, opposite the toilet area. At the back of the motorhome there is a place for a large double bed. Unfortunately, there is only one sleeping place in the front part of the cabin, and on one side it is slanting, which probably does not make sleep more pleasant.
What's included?
Adria Sport has a 74 x 80 cm storage compartment accessible from the outside, while the longest model also has an additional storage compartment with dimensions of 74 x 110 cm. The standard includes a 150-liter fridge, a stainless steel sink, a 3-burner stove with a lid, a chemical rotary toilet, additional ventilation of the toilet part, a submersible pump, an 85-liter waste water tank, a 110-liter clean water tank, and heating. Truma 4 with boiler.
There is LED lighting in the motorhome, but the number of light points does not beat the competitors. As a disadvantage, we can consider the fact that there is room for only one gas cylinder as standard. If we want to install two cylinders - we have to pay extra.
For an additional fee, we can also receive, among others panoramic window above the driver's cabin, heated sewage tank and underfloor heating.
In Poland, Adria Sport costs about 40 thousand. euro
Sometimes it is better to get lost than to ask for directions too much. Aldous Huxley
Enjoyed reading this article? Share it!