EleMMent - there are no compromises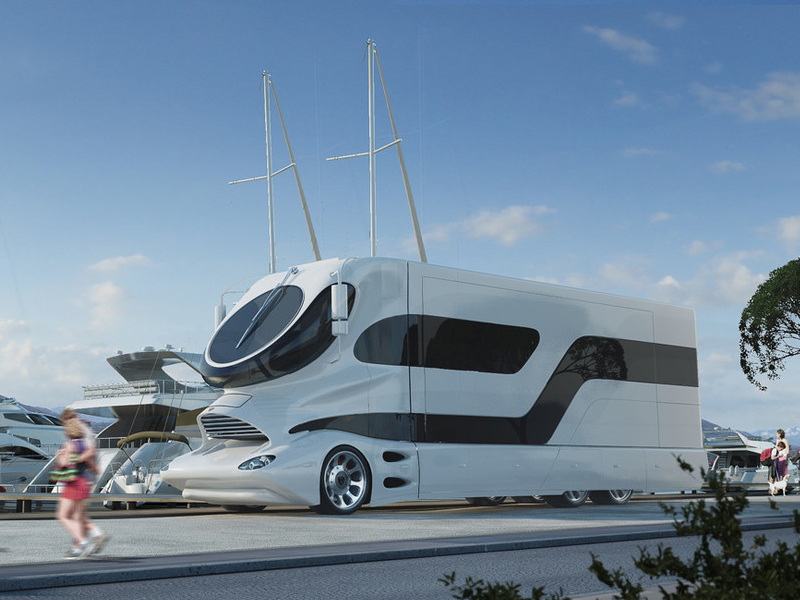 How big does a motorhome have to be so that it is not cramped? According to Mario Marchi, owner and designer at Marchio Mobile, such a vehicle should be 12 meters long and 4 meters high. Its weight, due to the large amount of electronics and precious materials, is approx. 20 tons.
Grandpa after facelift
Although the futuristic shapes give the impression that the vehicle was created very recently, the base of the car is the Colani model - a concept truck tractor presented at the Frankfurt Motor Show in ... 1977! It must be admitted that this vehicle has not aged at all - it still looks more than modern.
Gentlemen Jens Scheiwe and Mario Marchi decided to take advantage of the opportunities inherent in Colani, through the maximum modernization of the vehicle and amazing equipment. This is how EleMMent was created - a car with a power exceeding 500 HP and, despite its weight, accelerating to 150 km / h. The vehicle is made of a mixture of carbon fiber and plastics, which is said to give it a very high durability. The aerodynamic shapes allow you to use 20% less fuel compared to standard vehicles of similar dimensions.
The manufacturer offers three versions of the vehicle. The VIP Shuttle is like a luxury airplane with first-class seats and a conference room - the perfect vehicle for business use. The second version is a promotional vehicle that can be used for special actions (in Hungary, for example, a traveling medical clinic equipped with the most modern diagnostic equipment was organized). And finally - Mobile Home (also called Palazzo) - a motorhome with an area of 30 square meters with a 20-meter terrace on the roof.
A motorhome for a king
Although EleMMent offers a lot of space inside, it can be further enlarged when stationary by extending one of the walls (along with the floor and ceiling, of course) to the outside. Then we can feel like in a royal apartment. However, this is due not only to the space, but also to expensive furniture and elements allegedly made, among others, in of marble.
A bar? Fireplace? No problem! There is of course also a shower cubicle and, interestingly, a separate toilet. The royal bed was upholstered with red, quilted fabric and was given a truly palace form. Decorated mirrors complete the whole.
We can control almost all interior elements electronically. Interestingly, we don't have to be inside to do this. The devices can also be controlled from outside EleMMenta. Inside, we will find not only such trivial accessories, such as two 40-inch TVs, one of which can act as a monitor integrated with a rear view camera, but also, for example, steam heating.
Should it get too boring on the ground floor, you can always go up the stairs to the terrace. It's the perfect place for flashy parties! With a drink in their hands, leaning against the railings, guests glide majestically along the city streets, arousing a sensation among passers-by.
And it's not just a sensation to be in a vehicle that costs over 2 million euros in the cheapest version.
Sometimes it is better to get lost than to ask for directions too much. Aldous Huxley
Enjoyed reading this article? Share it!