Toilet in camping vehicles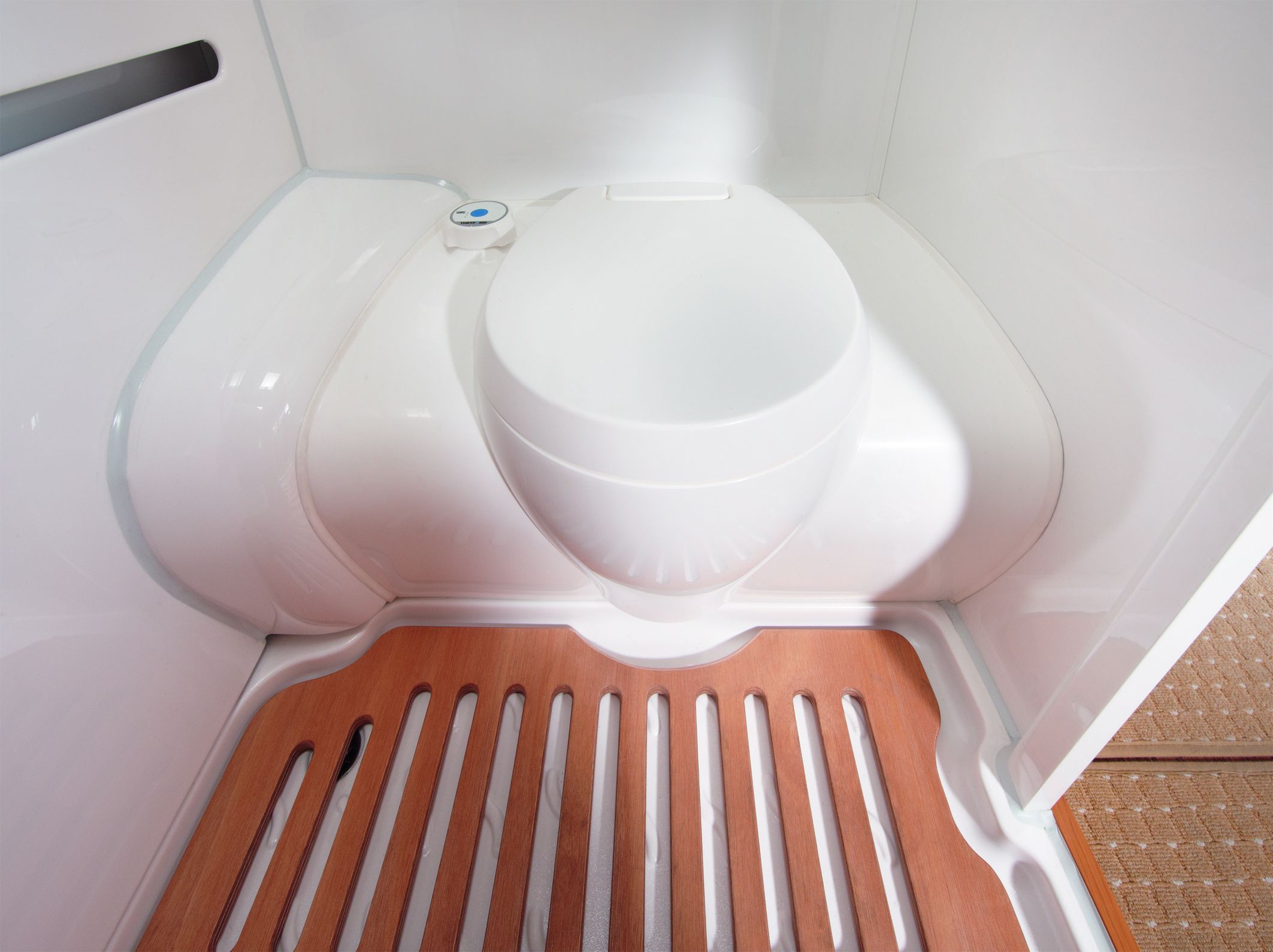 Toilet in recreational vehicles
A toilet in a camper or caravan is now a standard that you could only dream about in the past. It is a certain luxury that distinguishes this type of vehicle from other recreational vehicles. Undoubtedly, having a toilet in the car is highly appreciated and contributes to the high comfort of traveling.
Types of toilets
What types of toilets are there in a recreational vehicle? A vacuum toilet is a novelty on the market. Dometic specializes in its production. This device uses vacuum cleaning of the shells with grinding the impurities, even before they reach the faeces tank. An additional advantage increasing the comfort of use is the ability to adjust the height of the shell. Another advantage of this type of toilet is the fact that you do not need to use chemicals to eliminate unpleasant odors. The toilet is powered by 12 V.
In most cases, however, toilets are used that need chemicals, hence the name - chemical toilets, but beware, chemistry cannot be used in every model. These are mainly types of toilets that do not have their own separate flushing water tank. Chemical toilets are devices made of two parts separated by a latch. We are talking about the lower part, in which impurities accumulate, and the upper part, which is a shell with a lid and often a water tank for flushing such a toilet.
Principles of operation
The toilet is flushed with the pump. Depending on the model, it is a mechanical or electric pump. Someone might ask where the flush water comes from. Some, more expensive models are equipped with a special tank from which water is taken to flush the device. However, not all of them have it. In such a situation, the water comes from the main water reservoir of the motorhome. It is then a problem that you cannot add special chemicals to such a general tank, which min. are designed to eliminate unpleasant odors. However, it is possible and even desirable if the toilet has a separate flushing water tank.
How to get rid of impurities from such a chemical toilet? In a very easy way, by separating the bottom part with impurities and emptying it in an accessible place. There are special drainage basins on campsites where you can empty the toilets. If this is not possible, it can be done in the toilet, even at a gas station.
Can the toilet in the camper be kept immaculately clean? Of course yes. The market is full of various types of chemicals that facilitate this. The toilet in the vehicle may have bad smells. To prevent this, special chemicals are used, most often in the form of liquids, which are poured both into the toilet flushing tank and into the lower part, where the faeces accumulate. These chemicals are designed to reduce odors, but also help dissolve dirt and toilet paper. They also prevent the formation of possible gases. When talking about toilet paper, it is worth mentioning that in the chemical toilet and other types of toilets used in the camper and caravan, special paper is used that dissolves easily in water and does not clog the pipes. Most often it is double-fluted paper made of cellulose, an easily dissolving material.
Cassette or portable system
A type of chemical toilets are e.g. cassette toilets. However, they are used only in specially adapted cars or trailers. The point is that this type of toilet is emptied through a door that is mounted in the wall of the vehicle. Not every camper is adapted to it and in such a situation another type of toilet is perfect - a portable one. The latest models have fantastic equipment that makes it very easy to use.
Such amenities are, for example, toilet fill indicators, a larger capacity of the faeces tank, additionally mounted wheels or handles, thanks to which you do not have to carry the toilet, which is not easy if the waste container has a large capacity. When it comes to toilet capacities, they differ depending on the model. It should be mentioned that manufacturers are still improving their models of toilets, for example by increasing the capacity of tanks for both flushing water and faeces tanks. Usually you can come across the capacity of both tanks starting from 10 liters. Models that are equipped with, for example, wheels and handles that help in transporting the tank for emptying, have a capacity of up to 20 liters. A portable toilet is a great solution when it is not possible to install a permanent sanitary device. The small device can be easily hidden anywhere. The advantage of such a toilet is also the fact that it is hermetically closed, thanks to which it is easy to empty without contact with impurities. Every amenity comes at a cost, though, but that doesn't scare RV owners. After all, comfort during a trip contributes to a successful vacation, and a pleasant vacation is influenced by a number of factors, such as easy and trouble-free use of the toilet.
Producers
The most famous, leading manufacturers of toilets used in motorhomes or caravans are two companies, Fiamma and Thetford. They offer excellent sanitary facilities. They can boast a wide range of toilet models with various amenities, which are constantly modernized to increase the comfort of caravanners. The prices of toilets are also affordable, depending, of course, on a given model, on the number of amenities that are characteristic of a specific toilet. However, no matter what type, what type, with amenities, or a toilet in a camper or caravan, it is a great solution for long journeys or stops in places where it is not possible to use public toilets.
Sometimes it is better to get lost than to ask for directions too much. Aldous Huxley
Enjoyed reading this article? Share it!