SCANDICA caravan - for winter camping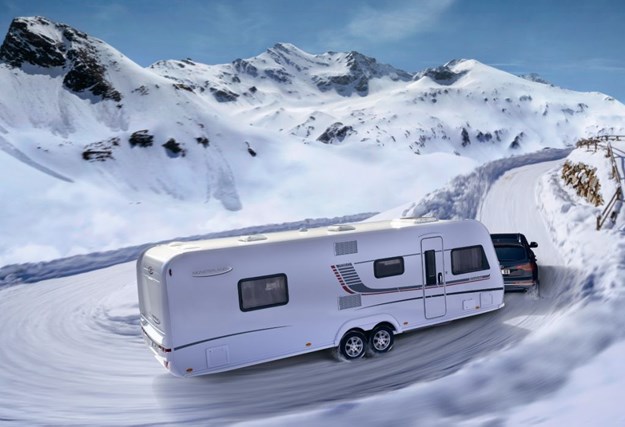 The LMC Scandica caravan was specially designed for those who love to travel in winter conditions. The large and frost-resistant caravan even has a special ski storage!
Those who need a caravan mainly in winter should consider the Scandica model. The trailer costs 30 thousand. euro (in Germany). The longest model measures nearly 9 meters, so it is not a baby. It can easily accommodate four people in its interior, providing them with a lot of space and a comfortable night. But of course, this is not its main distinguishing feature.
A trailer for skiers
LMC Scandica, although it can also be used in summer, reveals its greatest advantages in winter conditions. It has, for example, a special, sliding compartment accessible from the outside, which can easily accommodate several pairs of skis with poles.
Scandica's interior includes underfloor heating, as well as a heated wardrobe, in which we can dry a jacket wet with snow . There is also a special shoe dryer (also in the wardrobe). Thanks to an efficient heating system, after returning from skis, we do not have to freeze anymore - we can stretch out on a comfortable sofa, prepare hot tea and rest no worse than at home.
The rest of the equipment is no longer closely related to the winter use of the trailer. The two-color (white and wood) interior, typical for LMC models, attracts attention with numerous open shelves , as well as large drawers under the kitchen worktop.
The lid of the 3-burner gas cooker is split , so you don't have to reveal the three burners at once. You can uncover one and treat the rest of the cover as a part of the table top. This is a practical solution, especially since the table top is not large.
LED lighting is located both above the hanging cabinets, in the corners of the cabinets, and on both sides of two of the four skylights. The lack of such a solution in the bathroom is disappointing.
Longer version - better bathroom
Scandica is available in four versions, each with a different length: 7,679 mm, 7,714 mm, 7,903 mm and 8,943 mm. The permissible total weight of trailers is 1700 kg (three shorter models) and 2.000 kg (the longest version).
The two longer variants are worth recommending especially because of the larger and more spacious bathroom. In this respect, the two shorter models fare worse - they use an uncomfortable solution for the shower tray, which is the bathroom floor. In larger versions, the length of the bathroom corresponds to the width of the caravan (approx. 2.5 meters) . Only one version (the one with a length of 7,714 mm) is available with two single beds. The others have a basic double bed.
When deciding on the Scandica caravan, as standard we get, among others Alde 3010 heating , 103-liter fridge with 12-liter freezer, 44-liter clean water tank and 25-liter waste container. Admittedly, in a trailer adapted to winter conditions, one would expect more spacious tanks.
Like other LMC models, Scandica is backed by a 12-year body-tightness warranty and is equipped with an Al-Ko chassis.
Sometimes it is better to get lost than to ask for directions too much. Aldous Huxley
Enjoyed reading this article? Share it!