Knaus Travelino - a revolution in weight loss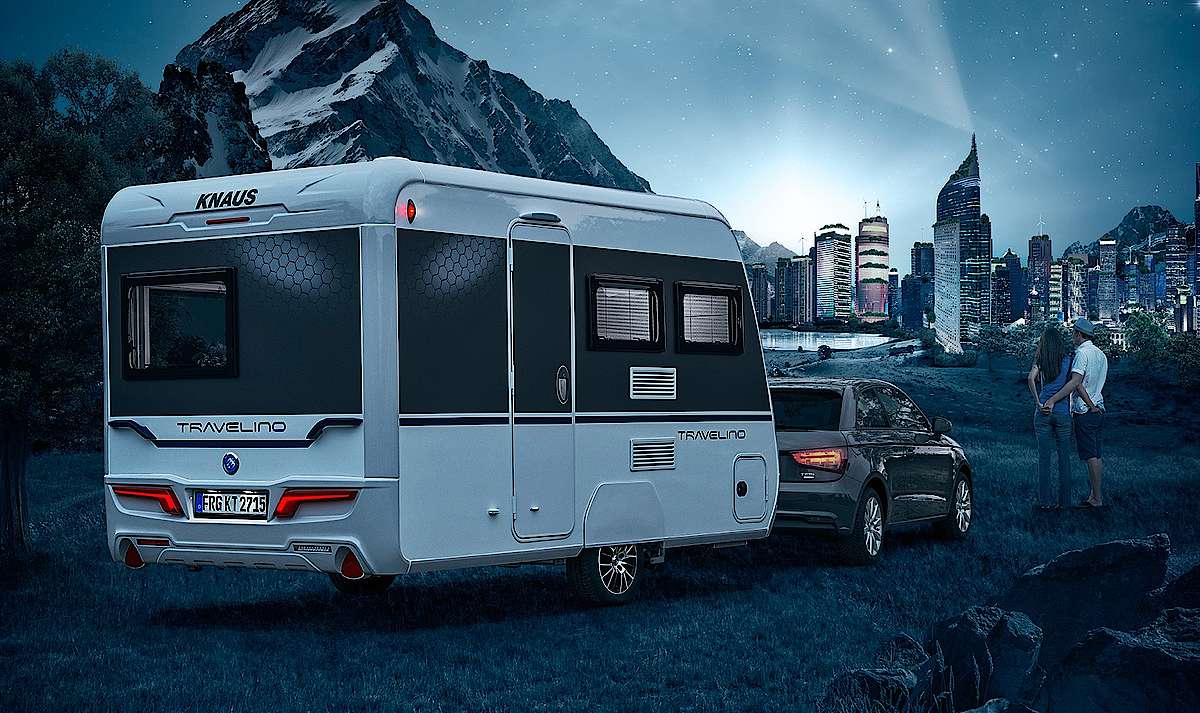 There has been talk of the prototype of a light trailer from the Knaus brand for several years. Now, however, the Travelino model really goes into production. Some say that this livestock can be a milestone in the caravanning industry because it weighs just 650 kg.
Is it possible for a caravan to weigh so little? Of course, yes, but with such weight, we can imagine an extremely small and cramped vehicle. Meanwhile, it is not so bad with Travelino - 519 cm in length , 210 cm in width and 258 cm in height are obviously not the dimensions of a giant, but for many customers these values will be sufficient. The permissible total weight is 750 kg , so we can allocate 100 kg for luggage and additional equipment.
State-of-the-art solutions
The weight of this trailer is a matter of modern technology. PowerAxle chassis 35% lighter (with micro-galvanization technology), roof made of hail-resistant laminate, special ultrasonic bonding technology (thanks to which most of the screws are eliminated), light walls, light furniture ... You can be sure that in the case of Travelino every piece of equipment, before it was used it was weighed and tested for slimness.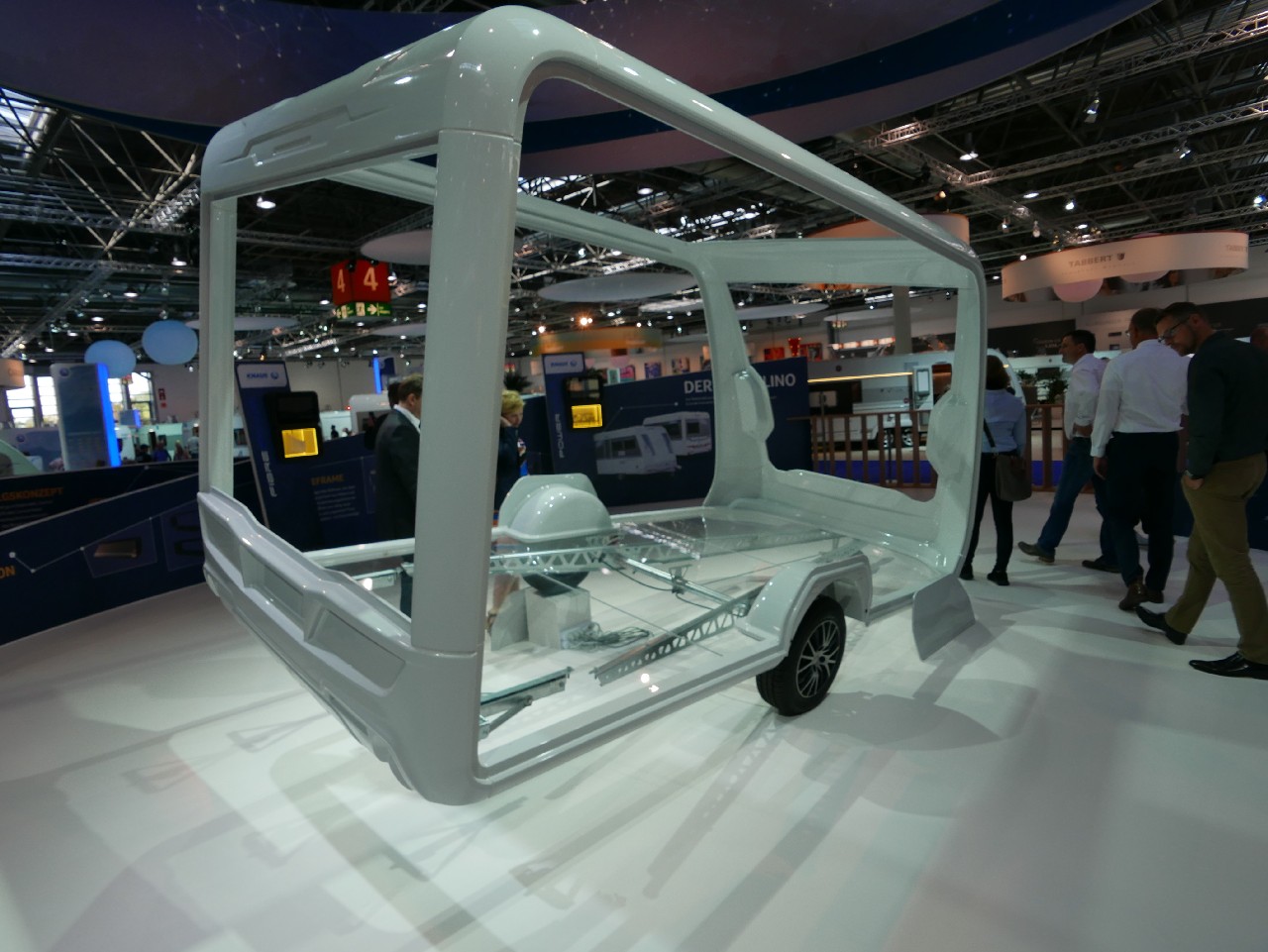 LED strips are led in the roof profiles and covered with acrylic glass. Cables and heating hoses are placed in the lower part of the frame. And these are just examples of the innovations used in Travelino. One only has to look at the furniture to understand how far Knaus has gone. The cabinets (except the doors) are made of very light, similar to polystyrene EPP material - foamed polypropynel.
Rounded interior
The advantage of using such modern materials is not only their light weight, but also the ease of any interior design . Knaus took advantage of these possibilities by rounding the edges of most furniture, as well as letting LED lamps into its interior. The curves in combination with bright colors make the interior look fresh and modern.
The bathroom is small, but thanks to the folding sink , you can use it comfortably. Very thin (but durable) bathroom door is also noteworthy. An interesting feature is also a convenient storage compartment accessible from the outside of the vehicle (optional).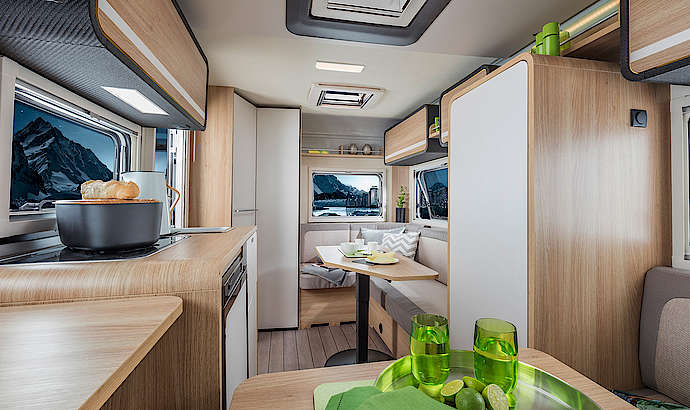 Cabin for four people
In such a small caravan you will not find a fixed bed, but the sofas can be folded out, making them two double beds. Large beds for four people are important advantages of Travelino, which is small and light from the outside, but it turns out to be strong and roomy inside.
The standard equipment of the new Knaus trailer includes, among others Truma Varioheat Eco Plus gas heating, water tank with a capacity of 20 or 40 liters, water pump, 2-burner stove, stainless steel sink, 80 liter refrigerator with variable power source (gas, 12 V, 230 V) and Thetford Excellence toilet.
In addition, we can buy many accessories - from aluminum rims , through a TV system, underfloor heating, and ending with an awning. For an additional fee, you can also increase the gross vehicle weight to 900 kg .
Time will tell if this revolution will find its supporters and followers. For now, the Knaus Travelino in the standard version costs 18,500 euros (price in Germany). Remember, however, that the vehicle is offered as a technological novelty. If Knaus develops equally innovative competitors, prices are likely to start falling.
Sometimes it is better to get lost than to ask for directions too much. Aldous Huxley
Enjoyed reading this article? Share it!