Sterckeman - one brand, three classes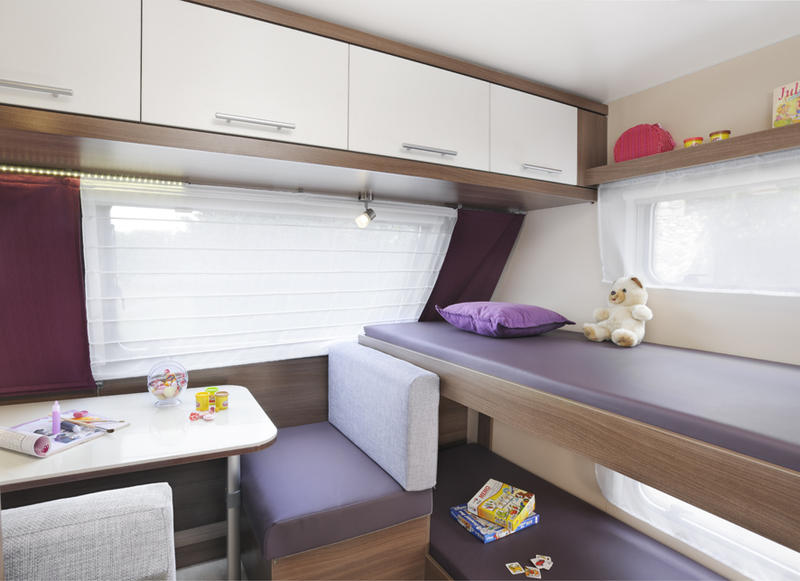 Sterckeman offers three models of trailers in 25 basic configurations. Interestingly, the largest selection will be in the case of the simple and light Starlett model (13 varieties), the more expensive Alize model comes in 9 varieties, and the most luxurious Espace model only in three.
Don't let the name fool you - Sterkeman is a French company with a 60-year tradition. It has its sales points all over Western Europe. In Poland, this brand does not have an authorized dealer yet, which is a pity, because its offer is worth attention.
Starlett
The most modest model is the Starlett 330 CP, which is offered in Germany for 8,490 euros. The weight of this trailer is only 900 kg. It measures 5 meters (but inside only 3.30 meters), and its width is 2.10 meters. A maximum of 3 people can travel with this trailer - by default two adults and a child.
Starlett has a kitchen with gas burners and a sink, but no bathroom area. Users of this trailer can take advantage of a 25-liter water tank and a 70-liter refrigerator.
Elements such as a 30-liter waste water tank or a Trumatic 3004 heating system are available as an option. There are four types of interior upholstery to choose from.
Espace
At the opposite extreme, we find the Espace 550 CE, which costs 17,930 euros in Germany. This trailer measures 7.34 m (with the hook), the inner length is 5.60 m. The inner width is 2.33 m.
In this case, there is no longer any question of exaggerated compromises. The high-class interior fittings can be seen at first glance. Both the furniture design and the type of materials used suggest that we are dealing with a higher class caravan.
In Espace, four adults or three adults and two children can count on a comfortable accommodation. It is also possible to use a bunk bed. The practical L-shaped kitchen is impressive, with elegantly finished drawers and additional shelves illuminated by LED bulbs in rectangular sockets.
Espace could not miss a separate toilet area. Unfortunately, a person using a toilet bowl must keep their legs in the shower tray, which in a trailer of this class should be considered a serious disadvantage.
In the most expensive trailer of the Sterckeman brand, we can count, among others for a 40-liter fresh water tank, fridge with freezer compartment, Trumatic 3004 heating, water heater and 30-liter waste water tank. For an additional fee, we can also get a microwave oven, air conditioning installed in the roof and underfloor heating.
In the most expensive model, we can choose between two types of interior upholstery.
Alize
Alize will be a representative of the middle class in this group. Consider the most expensive 6-seater model. Alize 550 PE costs a little less than Espace - 16,320 euros (although it also comes in a configuration worth less than 12,000). Its dimensions in the most expensive version are the same as the Espace, so differences should be expected in the equipment.
And here comes the surprise. In this case, we can also expect a bathroom with a shower, a fridge with freezer compartment, a 40-liter water tank, heating and water heater, as well as a 30-liter waste water tank. Well ... in Alize we will find mostly the same equipment as in Espace.
The difference will be mainly in the use of inferior quality materials for interior finishing. However, just like in Starlett, the customer will have a choice of four different variants of upholstery to choose from. Maybe not like in Espace, but here also everyone will surely find something for themselves.
Sometimes it is better to get lost than to ask for directions too much. Aldous Huxley
Enjoyed reading this article? Share it!