Electricity and electricity in a motorhome - EcoFlow stations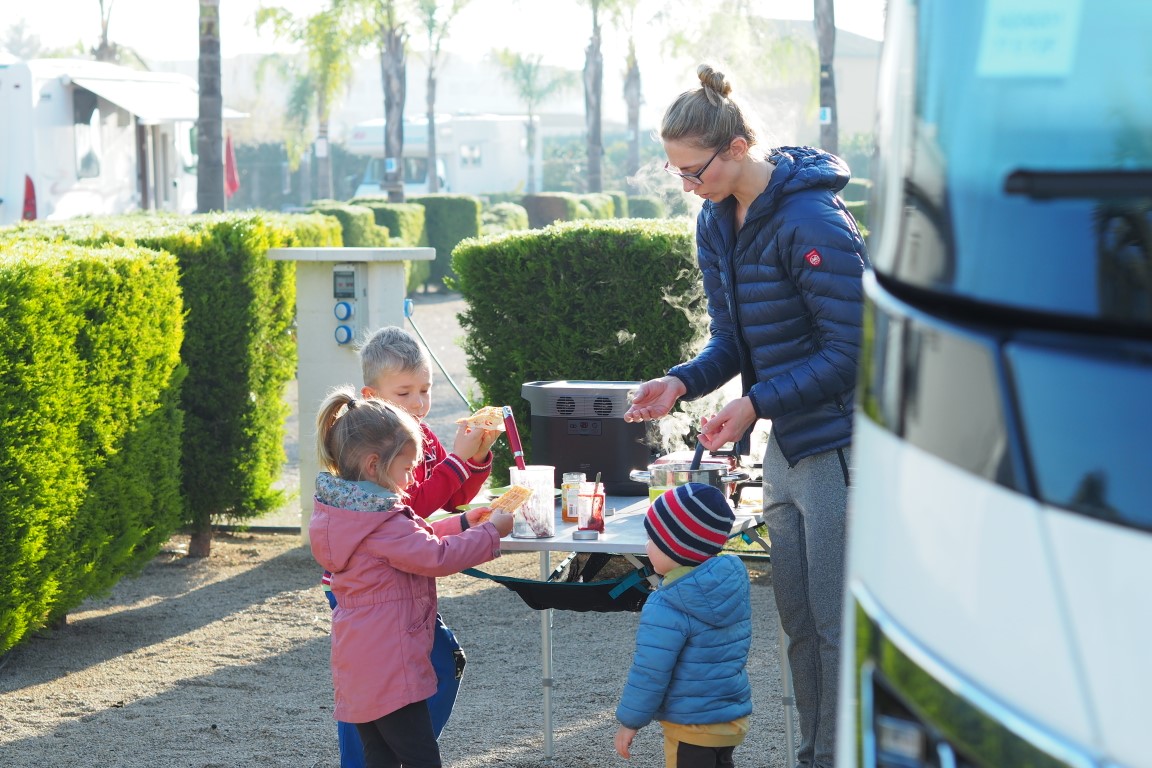 Probably everyone who drives a motorhome or caravan has encountered a power deficit on board. On the other hand, we are now used to using many electrically powered devices on a daily basis. Therefore, it is hard for us to imagine their absence during shorter or longer trips with a motorhome.
Basic solutions
To receive electricity in our house on wheels with a voltage of 230V, i.e. the same as in a home socket - we have to connect the motorhome to the electricity network, e.g. at the campground.
Another way is to equip the motorhome with a voltage converter . One of the tasks of the converter is to change the voltage of 12V (we get it directly from the battery) to 230V, which allows us to power devices such as laptops, miksey, drones, cameras, dryers, waffle irons, toasters, coffee machines, various chargers, etc.
The second task of the inverter is to amplify the power that we need to power a device.
How Much Inverter Power Do I Need?
How powerful a converter we need determines the power consumption of the device we want to power from it. Below I will describe some examples of devices and their current demand (these values will vary depending on the manufacturer and model):
Pressure coffee maker 1460W
Electric kettle 1650-2200W (such a range means that we will need a maximum of 2200W of power, but usually such power will be needed only for a while)
Laptop 60-150W
1400W waffle maker
600W toaster
1600W dryer
Information about the demand for a given device can usually be found on a plate / sticker placed somewhere on the bottom, specified in watts (for example 1650-2200W).
Of course, the inverter itself is not enough to power electrical devices because it must receive the current that is previously stored somewhere, i.e. the battery .
EcoFlow mobile charging stations
Usually, each motorhome is equipped with an additional on-board battery as standard, which supplies power to lighting and other equipment that can operate with a voltage of 12V .
The capacity of such an accumulator is usually limited and, especially in winter, it may be insufficient if the heating is on all the time. To receive 230V, it is necessary to install an additional converter.
The solution comes with mobile charging stations from EcoFlow , which I had the opportunity to test during our last month trip to Portugal.
These stations are characterized by a very nice design and, above all, mobility. We do not install them permanently in any car. We can use them in various places, where we only need electricity with a voltage of both 12V and 230V.
We tested 2 devices of this brand, which differed primarily in the capacity of the battery and the output power that we can power our devices.
Both devices, however, had a few common features, namely a very legible display , which showed us not only the remaining battery charge, but exactly how many minutes the station would be able to work at the current power consumption.
Each station also had the EcoFlow patented fast charging system and within 1 hour each device could be charged to 80% of its capacity. It's really very fast and we can confirm that it is. You just need to connect to a 230V mains socket.
In addition, each station can be charged in the car after connecting to a regular cigarette lighter socket or after connecting to a portable solar panel, which can be purchased as an accessory. This solves the problem with charging during wild stops.
EcoFlow River 600MAX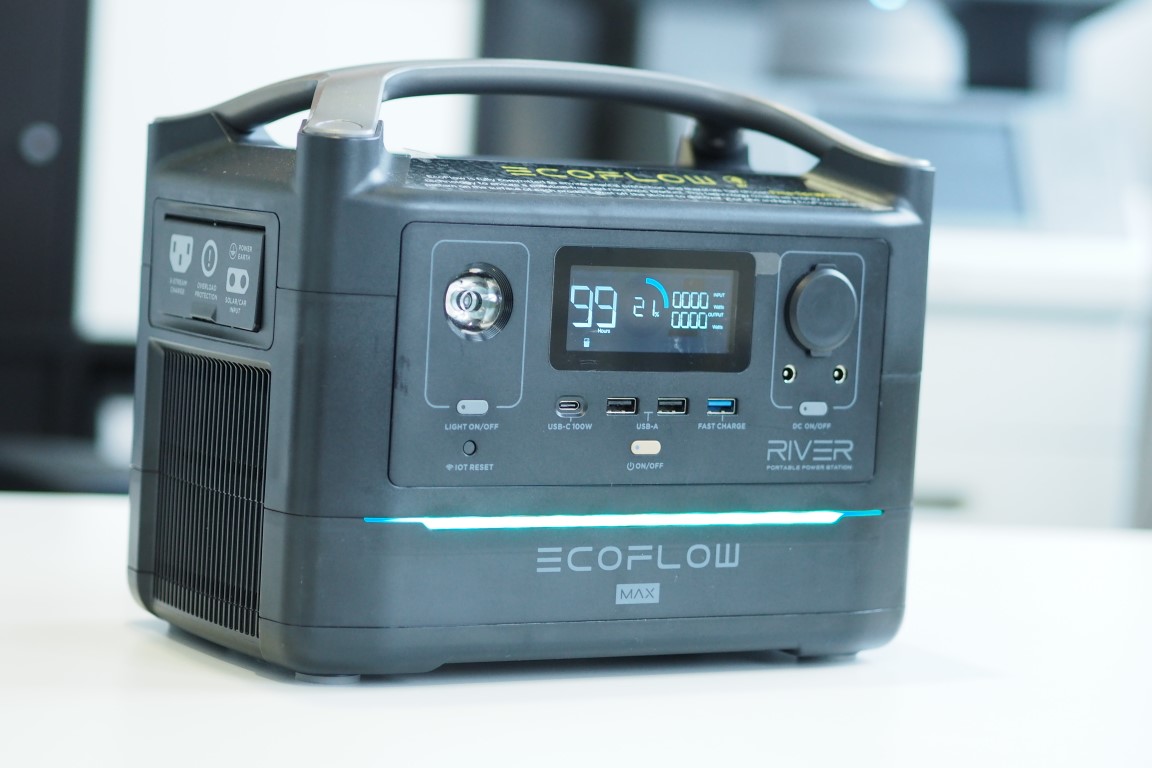 This model is characterized by its low weight (7.7 kg), which makes it very handy. The output power is 600W, but thanks to the X-BOOST function, they can also power devices with a power of 1200W.
The battery capacity in the MAX version is 576Wh. Such a station is enough if we need to power it mainly laptops and occasionally other devices that need more power.
A fully charged battery will allow us to charge the battery of a standard laptop about 5 times.
In River 600Max we find outputs such as 1x USB-C, 2x USB, 1x DC 5521 and a car lighter output + 2 outputs from the 220-240V converter.
River can be additionally paired with an application on the phone (via WiFi), with which we can view the battery charge level, turn on the built-in flashlight. However, this is only a gadget, because we still need to be close to the device for the connectivity to work.
EcoFlow Delta 1300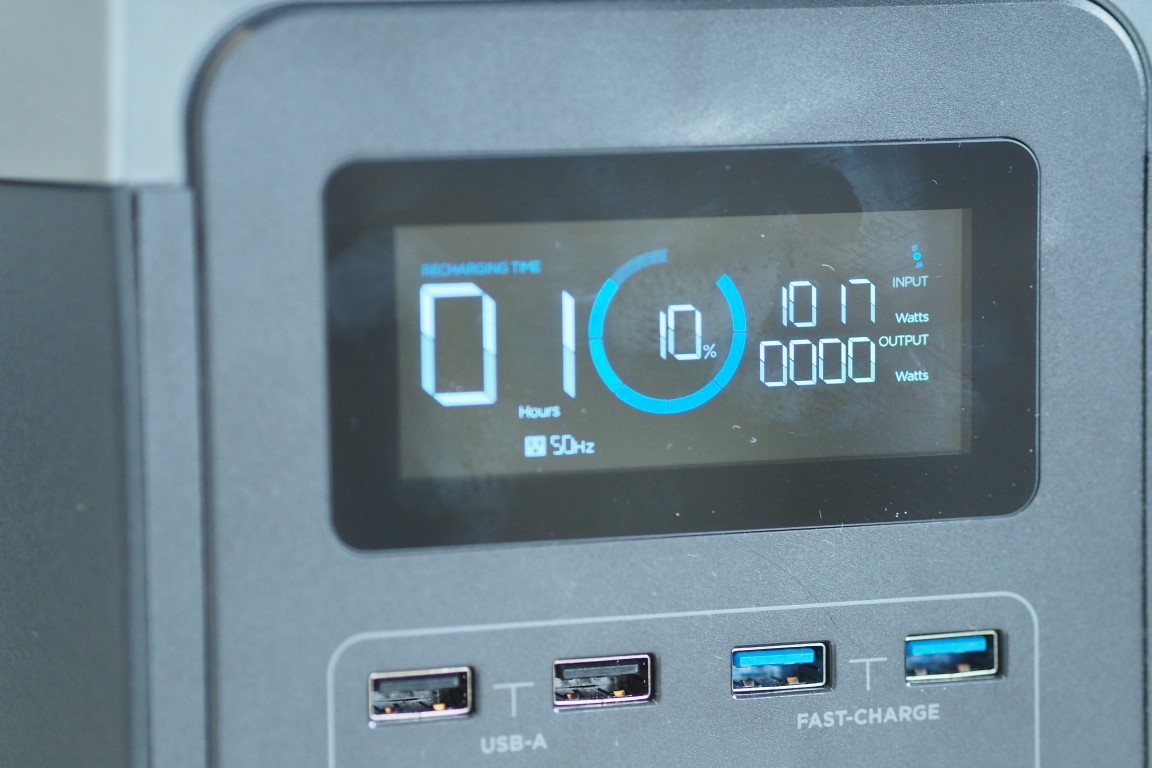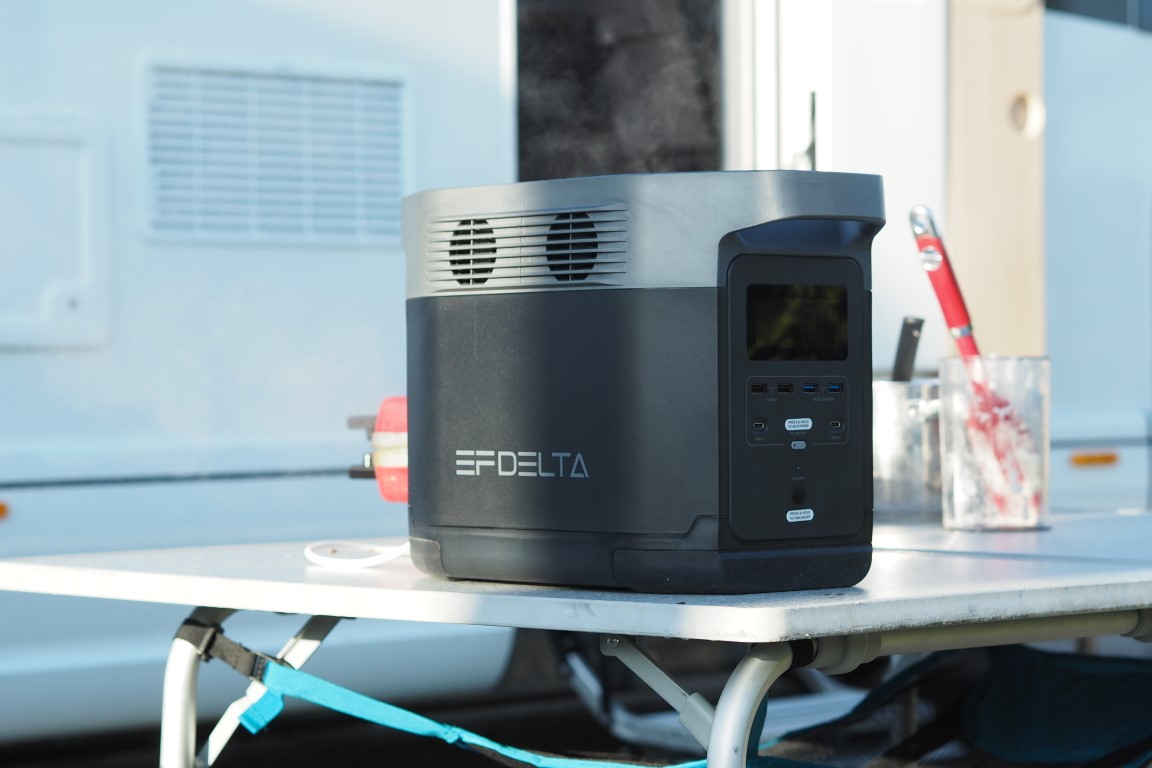 It is already the bigger brother of the River model. It has a much larger battery with a capacity of 1260Wh and a converter with a power of 1800W and at the peak even 3300W.
These are really big values for a mobile " power bank ". Certainly, this model will be more useful for those who want to power more powerful devices such as a waffle iron , pressure coffee maker or more powerful than standard hair dryers.
First of all, this model will be a better solution if we generally need to power more devices at one time and we do not want to worry about a quick discharge of the battery.
Here, too, we find, as in the previous model, various USB outputs, but the converter already has 4 sockets to which we can connect various devices.
Summary
I believe that EcoFlow devices are a nice alternative to installing additional batteries in the motorhome or the need to connect a converter.
This is particularly important for us, because we often test campers that are very basic and we almost always need 230V during our trips.
The only downside that I noticed while using the stations described above is that after turning on the inverter, the fans are quite loud. When working for a long time in a small room such as a motorhome, this can make a difference.
The best offers for EcoFlow stations can be found at this link: https://www.ceneo.pl/97536124
The main driver, founder and the brain of CampRest. He is the one who runs the whole mechanism, implements new ideas faster than he is able to invent them. He used to be a professional driver and have run his own freight forward company - as you can see, he has always been drawn to sleep in the car;) He likes to drive large motorhomes and encourages you to get a C driving license and buy motorhomes over 3.5 tons.
Enjoyed reading this article? Share it!