Adria Twin C - a good choice for a couple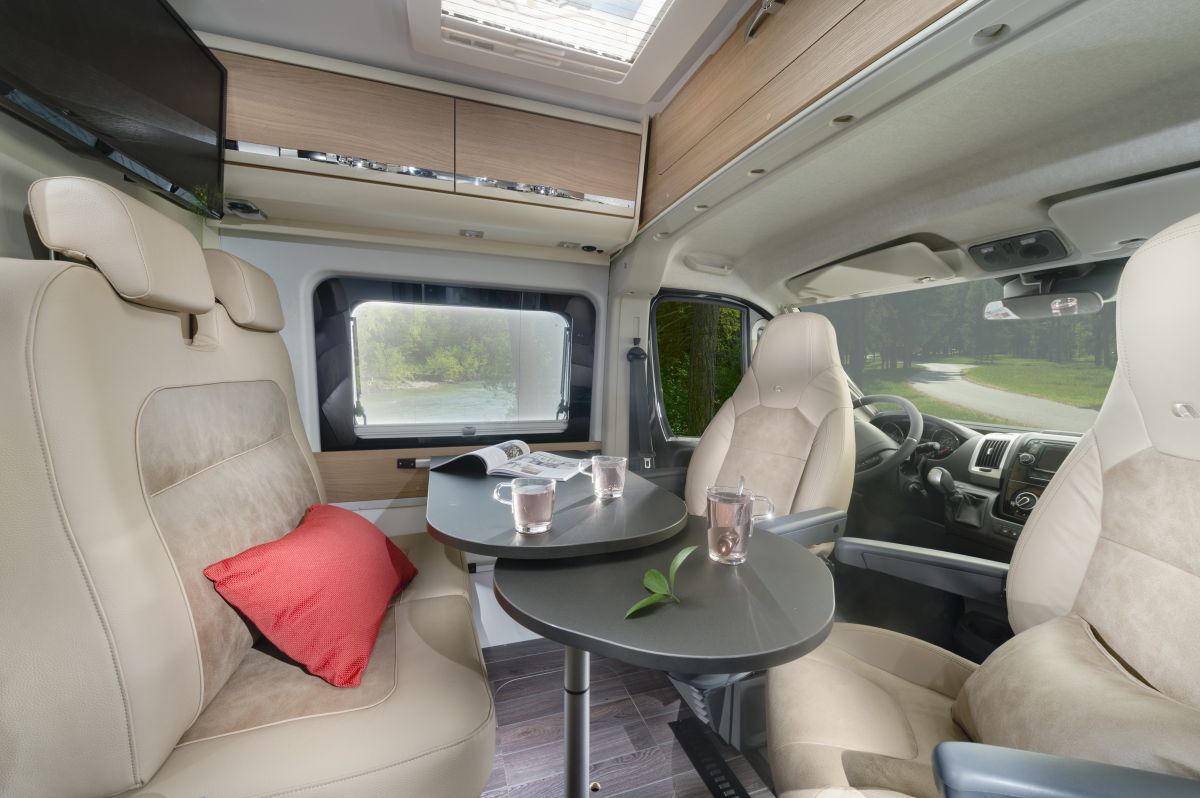 If you are traveling as two or three, a campervan may be a good option. These vehicles have a whole host of advantages, including a lower price point than their full-size counterparts.
Campervans are manoeuvrable, light and will fit even on narrow city streets or in low tunnels. And if we want, we can also use them on a daily basis, e.g. when making larger purchases.
Since we decide on a campervan, it is worth taking a look at the manufacturers' offers. The Adria Twin C is definitely worth mentioning. Twin C is a series of versatile vans based on the Citroen Jumper. The line consists of three models: Twin C 600 SP, Twin 600 SPT and Twin 640 SLX .
Something for everyone
In the Twin C series, we have a choice of 3 vehicle models with a length from 5,998 to 6,363 mm , a width of 2,050 mm and an unladen weight from 2,818 to 2,932 kg. The vehicle height is 2,580 mm. Four people can travel by car, but there are only two sleeping places .
Citroen engines with power from 110 to 160 HP , which in each configuration have 2 liters of capacity , are a considerable advantage. This is especially important for a Polish customer who, thanks to the low capacity, can pay a lower excise duty.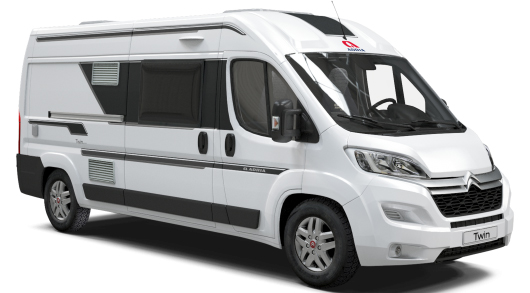 There are two colors of varnish to choose from: white and silver metallic . Standard features of the car include ABS, manual gearbox, reinforced tires, rear fog lights and daytime running lights. The manufacturer also provides a mounting bracket for an optional rear camera. The car was equipped with gas heating Truma Combi 4 with a boiler .
Compact interior
Moving on to the interior, it is worth paying attention to the ingenious table , consisting of two parts, which can be easily folded and unfolded. The parts are of different sizes and one of them may just hide under the other. There is a skylight above the table, which provides access to light. The second window is right next to the table, so we are not in the dark.
There is a double floor in the dining area. The cab is equipped with a blackout blind. The seats are swivel and adjustable in height. On the left side there are storage compartments above the sleeping and dining areas. Behind the dining room, on the right, you will find a kitchen area equipped with a set of cabinets located above the two-burner stove. The refrigerator , depending on the model, has a capacity of 90 or 97 liters. There is also a sink with an integrated lid.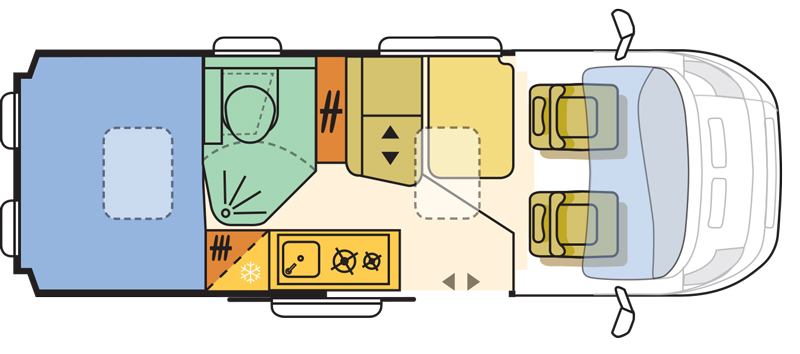 In turn, behind the dining room on the left you will find a bathroom with a shower . And here's a note: depending on the model, the bathroom differs in layout and size. It is the smallest in the Twin C 600 SP and the largest in the Twin 640 SLX. It is worth noting that in the car we have a 90-liter gray water tank and 100-liter clean water. A submersible pump is also installed.
Behind the bathroom there is a bedroom and here it is also worth paying attention to the difference between the individual models. In Twin 640 SLX we have two separate beds, while in the other two we can count on one, but "royal" bed with dimensions of 196 x 145 cm. USB sockets are installed in the sleeping and dining areas.
Good impression
The bright, calm colors of the interior also make a good impression, which is especially important considering the small size. The manufacturer called the interior Malaga, and there are 4 types of finishing fabrics to choose from.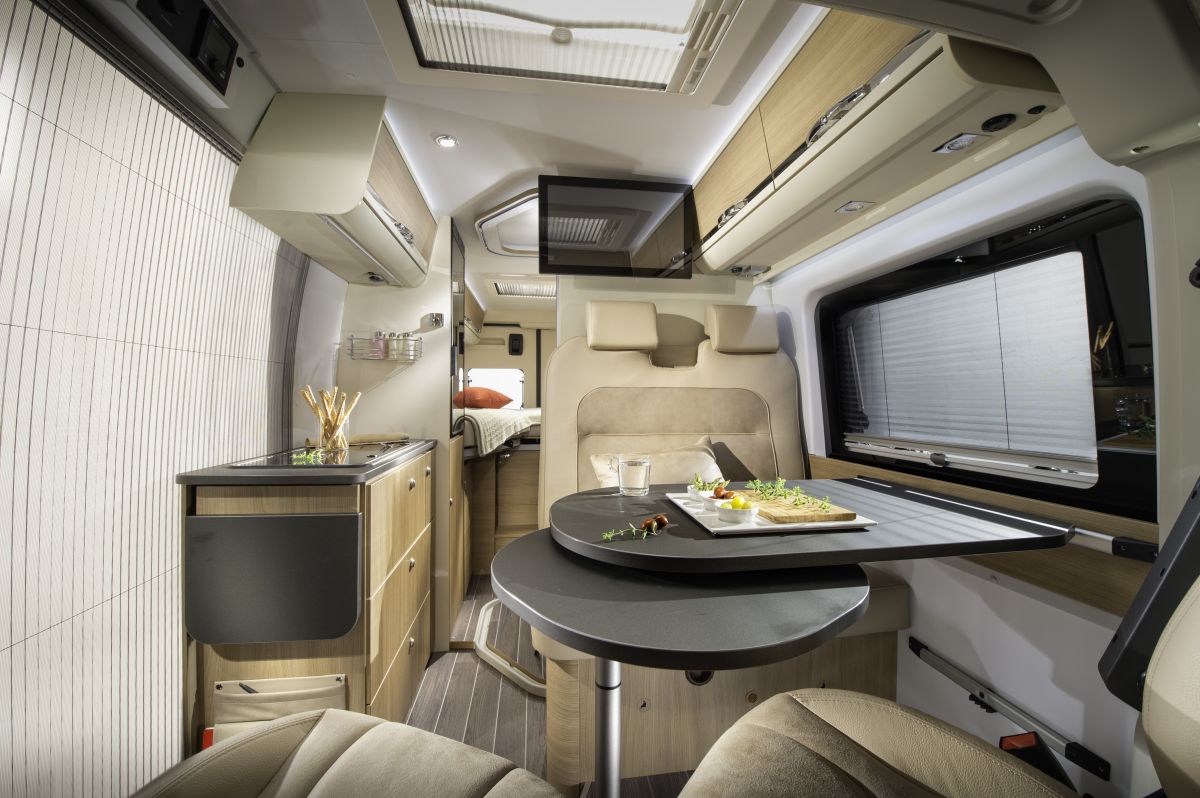 Twin C is a small car, but cleverly thought out and practical. Thanks to the solutions used, its interior should not cause claustrophobia. Well-placed lighting certainly contributes to this.
In Germany, this motorhome is available at prices from approx. 43 thousand. euro. In Poland, the Twin C model, as well as other Adria models, can be ordered, among others at Elcamp in Krakow.
A lawyer who loves traveling. Always with a book on the go. I collect memories of the color, taste and smell of every place I visit.
Enjoyed reading this article? Share it!