Axess Sonic - Fully Integrated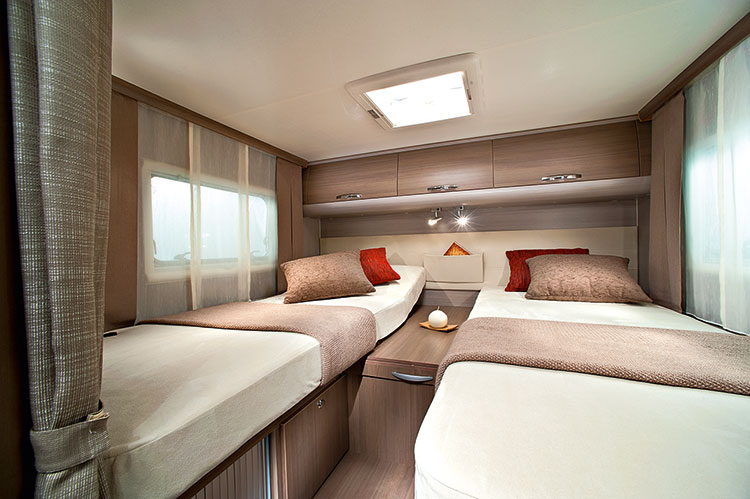 Axess Sonic is, like most other motorhomes, converted into a flat on wheels Fiat Ducato. It's just that you don't see it in this case. The bodywork has been completely overhauled so that the entire car is compact and does not look like a multi-block structure. Besides, its modern, aerodynamic look may just be liked.
Neat and stable
The base of this motorhome is a Ducato with a 2.0 engine, 115 HP. However, if this is not enough for someone, they can choose from seven different engine versions and various variants of additional equipment. Ordering air conditioning (choice of manual or automatic) or even automatic gearbox will not be a problem.
Axess Sonic was supposed to be neat in appearance, comfortable and stable to drive. In order to achieve this effect, the designers determined that the length of this motorhome will not exceed 7 meters - it is exactly 6980 cm.
For four or five people
The motorhome is available in three versions: I 600 SCT, I 600 L, I 600 SPS. The individual models do not differ in dimensions, and most of them also have the same equipment. The biggest differences are related to the interior layout.
The first and last models are designed for four people, and their toilets are located in different areas of the vehicle than the shower stalls. In the SCT version, the shower tray is located next to the main bed, in the rear part of the car. In the SPS version, the main bed is placed perpendicular to the axis of the motorhome, along its rear wall, while the toilet and shower face each other.
The I 600 L version, on the other hand, allows an additional, small bed for a child to be placed between two single beds, placed on opposite walls of the cabin. If we add to this a double bed, which can be obtained after transforming the armchairs in the "living room" part of the motorhome, we will have accommodation for five people. In this model, however, the toilet and shower are located in one room.
Fine, but without the luxuries
Both the furniture and equipment used in this motorhome are certainly not the most expensive, but they represent a decent level, sufficient for most users. The 3-burner gas cooker is a bit smacking, reminiscent of outdated gas cookers that are still sometimes found in homes. As a consolation, we get a kitchen area in a convenient L-shape, and there is also a place for a drainer next to the sink. In the kitchen you will also find a capacious 150-liter fridge with a freezer compartment.
The standard equipment includes, among others submersible pump, rotary chemical toilet, 85-liter waste water tank (heated on request), 100-liter fresh water tank, Truma Combi 4 heating with a water heating boiler (they can be exchanged for other versions of Truma heaters at an additional cost), sockets 12V and 230V, a control panel, and even a spacious garage that can successfully fit a bicycle or even a motorcycle.
For an additional fee, you can get, among others underfloor heating, a reversing camera or an LCD TV.
The price for the basic version is 63,000 euros.
Source: http://www.adria-mobil.com
Sometimes it is better to get lost than to ask for directions too much. Aldous Huxley
Enjoyed reading this article? Share it!