C'Go trailer or Dethleffs for young people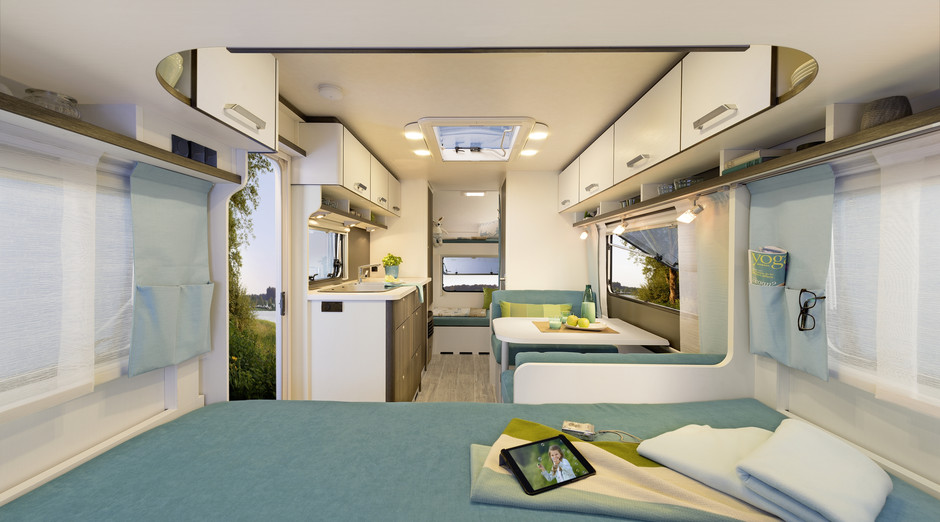 Light, full of colors and relatively inexpensive - this is what the new C'Go caravans are supposed to be like. Currently, they are offered under the Dethleffs brand, but in the future they will also appear in the offer of the Bürstner and LMC brands.
I don't know why it took so long! So far, the interiors of caravans have been almost identical, no matter what brand we choose. Sometimes there were slightly changed fronts of furniture, sometimes you could find flavors in the form of aluminum handles or glass washbasins, but most often the producers did not have the courage to introduce even colors other than brown, black and white into the interior.
The kingdom of colors
C'Go is just such a long-awaited breath of freshness. From the outside, the caravan looks quite classic, but inside we have a choice of interesting color combinations - apart from the gray and brick red sets, the offer also includes options with purple, blue and green .
In combination with white walls, smooth cabinet fronts and simple handles, the whole looks neat and modern. Although the interior layouts themselves are typical, the fresh colors have made C'Go look surprisingly interesting. Surprisingly, a floor that is an imitation of old boards is very suitable for a modern interior.
Al-Ko and GFK
It is worth paying attention to the large number of open shelves , as well as hanging compartments, thanks to which it is easier to use every corner. Lighting is, of course, an LED system . Contrary to some models, we will not find strips running above and below the hanging cabinets, but there are still a lot of lighting points.
C'Go comes in four versions (ultimately there will be five). Each of them is made on the Al-Ko chassis, enriched with shock absorbers, overrun brake and clutch of this brand. C'Go has a GRP laminate roof , an external gas cylinder storage box and an external water, gas and electricity connection .
Two variants shorter and narrower ...
The cheapest model - marked as 415 QL - costs 11,799 euros in Germany . For this price, we can purchase a caravan equipped with 3 sleeping places. The total length of the trailer is 629 cm, width is 220 cm, and height is 260 cm. The permissible total weight is 1100 kg, while the load capacity is only 100 kg .
In both this and other versions, the C'Go has a 44-liter fresh water tank and a 22-liter waste water tank . Under the kitchen countertop you will find a small refrigerator with a capacity of 86 l integrated with a 9 l freezer. The caravan uses Truma S 3004 heating. A big advantage is the installation of four 230 V sockets .
The 475 EL model is next on the list. It is longer - it measures 682 cm. Instead of one double bed, there are two separate sleeping places. The maximum permissible weight of this trailer is 1,200 kg with a load capacity of 150 kg. The price is 12,799 euros.
... and two longer and wider
When assessing the standard of a given caravan, it is worth looking at the amount of space available in the bathroom. In this respect, it is good to be interested in the 475 FR version. Only in this variant we will find a bathroom sink . In addition, there are two double sleeping places.
The length of the trailer is 689 cm and its width is 230 cm. Permissible total weight - 1300 kg. Load capacity - 220 kg. At the checkout, however, we will have to leave 12,799 euros.
The most, 13,799 euro, we will pay for the 495 QSK model . What distinguishes it the most are bunk, single beds prepared with children in mind. Parents can sleep in a double bed. In this caravan it is possible to find a total of five beds. It is only up to the users whether they prefer a fifth sleeping space or… a space for a mini-garage.
The longest version of the C'Go measures 717 cm . Its gross vehicle weight is 1,300 kg and its load capacity is 170 kg.
C'Go is an interesting proposition. This is a chance to buy a well-equipped trailer at a price that - compared to other models available on the market - is quite attractive. But the price and equipment are not all the distinguishing features of the new caravan. The original interior design will surely make your stay at the campsite more enjoyable.
Sometimes it is better to get lost than to ask for directions too much. Aldous Huxley
Enjoyed reading this article? Share it!