CarGO Camping Center! at the Motor Show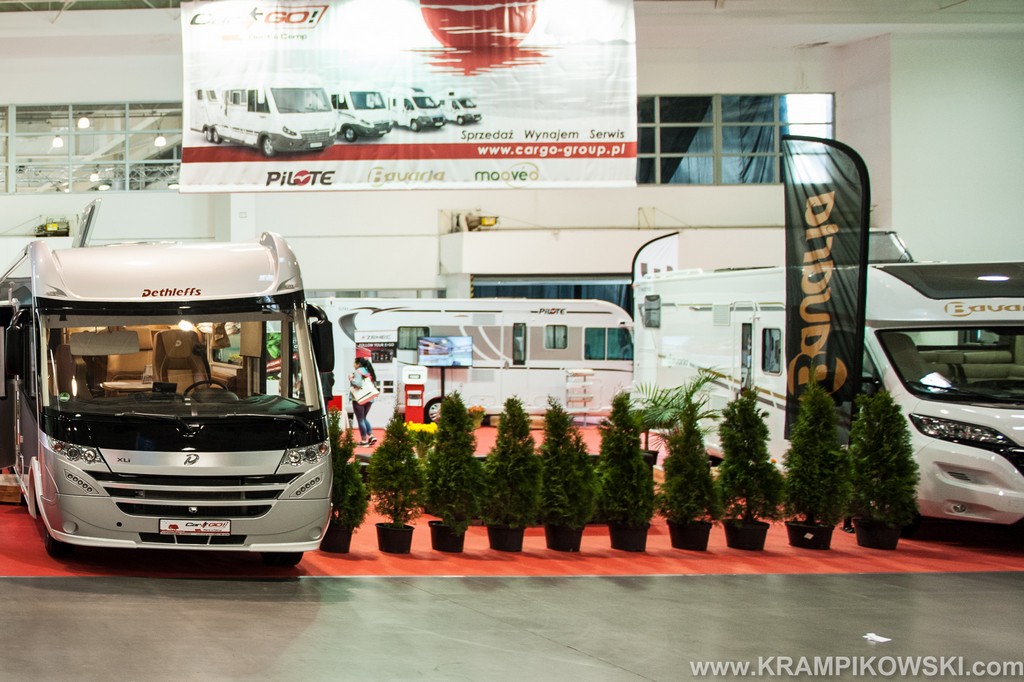 Each year, the Poznań motor show, Motor Show, gathers several hundred eminent exhibitors. In addition to the halls carefully filled by manufacturers of passenger cars and motorcycles, the part intended for caravanning enthusiasts was very popular. As in other exhibition halls, we could see hostesses often serving as help and a friendly smile, especially for lenses, at almost every stand. Walking around the caravanning hall, apart from rich information folders, we could use professional and reliable help of employees of companies presenting their products.
This year's edition of the event was dominated by authorized distributors of well-known European producers of caravans, motorhomes, accessories and caravanning equipment . There were also exhibitors offering various services - from rental to motorhome and caravan service. Many exhibitors presented only one vehicle, thanks to which, with the valuable help of employees of individual companies, we could get to know them practically from the inside out. At the other end of the scale of companies offering visitors much more than one model, there is the stand of the CarGO Camping Center! .
CarGO! showed visitors a small part of its official offer - nevertheless, the company's stand was impressive both with the size and the number of models . The presented fleet was largely based on motorhomes built using the Fiat Ducato chassis - the most popular delivery vehicle among motorhome manufacturers. One of them was the Pilote Emotion P746 G - guaranteeing more than sufficient comfort of travel, rest and standard of equipment. Of course, by visiting the stand of the CarGO Camping Center! we were able to configure and even order a selected vehicle (during the Motor Show we could count on very attractive prices).
Recently, CarGO! introduced another brand to its model offer - Dethleffs, a manufacturer of motorhomes and caravans. In addition to functional and thoughtful caravans, we could admire one of the top motorhomes of the mentioned manufacturer. Dethleffs Globetrotter XLi . At first glance, it impresses with its size. It was based on a three-axle chassis (modified Fiat Ducato platform). In the interior, it offers a very rich equipment, plenty of storage spaces, cabinets, a spacious kitchen, living room and a full-size shower cubicle . The cheapest version registered in Poland requires about PLN 500,000 and the model presented at the fair was worth EUR 220,000.
I follow the latest trends in the automotive industry, not only in caravanning
Enjoyed reading this article? Share it!