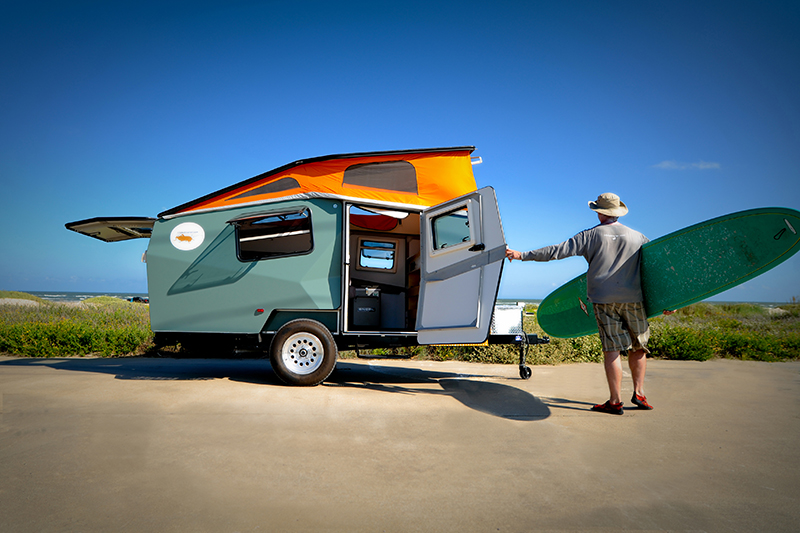 Light and practical like a tent, comfortable like a motorhome - on such assumptions the unusual Cricket caravan (that is, literally translating Świerszcz) was based.
It all started in 1972. It was then that Carrett Finney, a little boy from Philadelphia, wrote in a letter to St. Nicholas that he would like to receive a boat for Christmas. Unfortunately, his wish did not come true.
From childhood dreams to NASA
Even so, Carrett did not stop dreaming. His fascination with small rooms, in which one could live, led him to ... NASA. It was there in 1999 that Finney became one of the designers responsible for "interior design" in spacecraft. The constructors' goal was to design the most functional living space in the smallest possible room.
However, although the solutions created, among others, by Finney proved to be perfect in practice, it did not fully satisfy him. His dream was to design something that could be used in ordinary earthly life. Thanks to this, the constructor, using the knowledge and experience gained from NASA, decided to develop an unusual caravan.
Awkward Cricket
This is how the story of the Cricket began - a not very shapely, but therefore extremely original construction, which, thanks to its light weight, can easily be pulled by any passenger car. Cricket weighs only 591 kg, is 4.5 m long and 2 m wide. This trailer is not just a prototype. It has long passed the testing phase and is now available for sale. Without additional equipment, it costs $ 14,330.
The low weight is due to the "cosmic" design. Composite-aluminum panels are not only light, but also protect against rust, mold, moisture and unpleasant odors. However, it would be easy to make a lightweight trailer gain weight thanks to the extensive equipment. Finney had to plan the interior in such a way that each of the elements used was as light as possible. This was the biggest challenge.
Partisan kingdom
The effect is that the interior looks very austere. There are absolutely no superfluous elements in it. However, there are many foldable and multifunctional devices. Example? The washbasin is hidden under a flat table top. When we uncover a hole that hides a light bowl, we will be able to slide a folding tap out of the hole. Water can be taken from a 45 liter tank. Also, the waste water tank can hold 45 liters.
The shower is a coiled cord pulled out of the opening and finished with a handset. And since the cord is long, it is recommended to use it… outdoors. You can stand next to the trailer and wash yourself quickly. However, if the weather is not favorable, you can stay in the caravan, unfold the curtain around you and consider this small space a shower cubicle.
The beds are available in two variants. In the "V" variant, the sofa has the shape of this letter. However, if we lower the folding table so that it fills the space between the individual parts of the sofa, then we get a flat, compact surface of the bed. In the second variant, instead of the letter V, we get a double convertible sofa. What about the kids? For them, you can buy something like camp beds suspended from the ceiling.
A trailer unlike any other
The characteristics of Cricket are easy to see from the outside. Large side doors, large rear doors (when opened, they can replace an awning protecting against the sun), and a roof that extends (by means of springs) up to 2 meters, make up a characteristic shape that cannot be confused with any other caravan.
It is worth adding that in this Spartan vehicle you can live quite comfortably thanks to the additional equipment, which can include, among others refrigerator, cassette (portable) toilet or water heater. You can install solar panels on the roof and let the sun provide us with energy for 12-volt sockets. A roof rack for a bicycle may also be useful.
Those who like originality, cosmic technologies and ecology in one should be satisfied.
Sometimes it is better to get lost than to ask for directions too much. Aldous Huxley
Enjoyed reading this article? Share it!