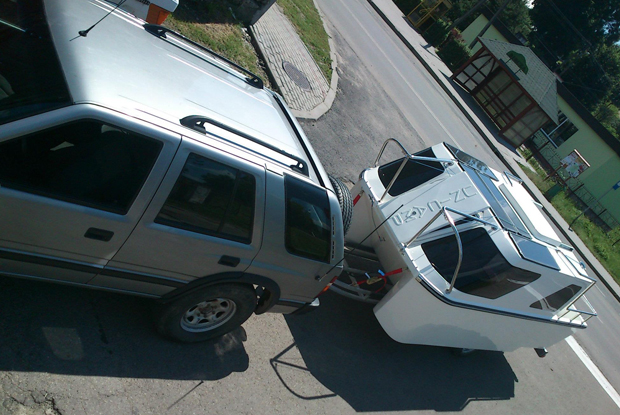 7 years passed from the idea to its implementation. A lot has changed during this time. Due to the tragic death of Mr. Robert (he died in a car accident), now Mr. Edmund runs the Unicamp company himself and tries to develop a project in which his brother was also involved in the past.
Where did the idea for a floating trailer come from? For the originators - fishing enthusiasts - it seemed obvious. Since most fans of active recreation most like to spend their free time by the water, they should be able not only to spend the night in their caravans, but also to swim on the lakes!
Light and universal
The Unicamp 4.0 Tulipann trailer has been developed both for participation in land traffic and for swimming. The manufacturer ensures that it is equipped like other trailers and, like them, meets the requirements for road safety.
On the road, the advantage of the trailer is its weight. The light structure can be easily pulled by any passenger car, thanks to the aluminum and steel chassis, or rather a stable trailer on which the cabin boat is mounted. During the journey, the boat mounted on such a "tow truck" becomes a caravan.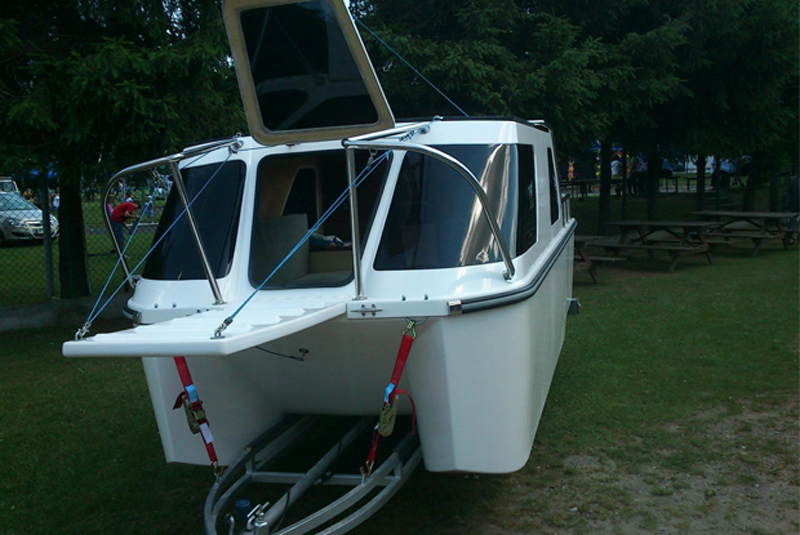 But the trailer shows its full potential on the water, when it transforms into a fully-fledged cabin boat with electric drive and solar (powered by sunlight) or hybrid (electric-combustion) charging. If you run out of fuel, sun or breakdown, you can always use your own muscle strength - the boat can also be powered by ... oars.
The boat can be used in all inland waters in Europe, including those covered by the silence zone. To launch it, 70 cm of water is enough. The caravan can accommodate up to two adults with two children or three adults.
What's inside?
The hull of the trailer is made of glass fiber reinforced with an aluminum or wooden skeleton (depending on the model). The trailer is 4 meters long and its permissible total weight is 750 kg. Inside, you will find foam mattresses, 6 luggage compartments, cabinets with LED lighting, as well as a place for an 18-liter drawer refrigerator (available at an additional cost).
Unicamp 4.0 Tulipann has 4 gel batteries with a capacity of 110 Ah each and two 48V electric motors with a power of 1.4 kW. For an additional fee, it is possible to increase the power to 3.0 kW or install driving gondolas with a power of up to 10 kW. The list of available options includes 4 solar batteries (each with a power of 15 W), a power generator, as well as such mundane equipment as a radio or a TV set.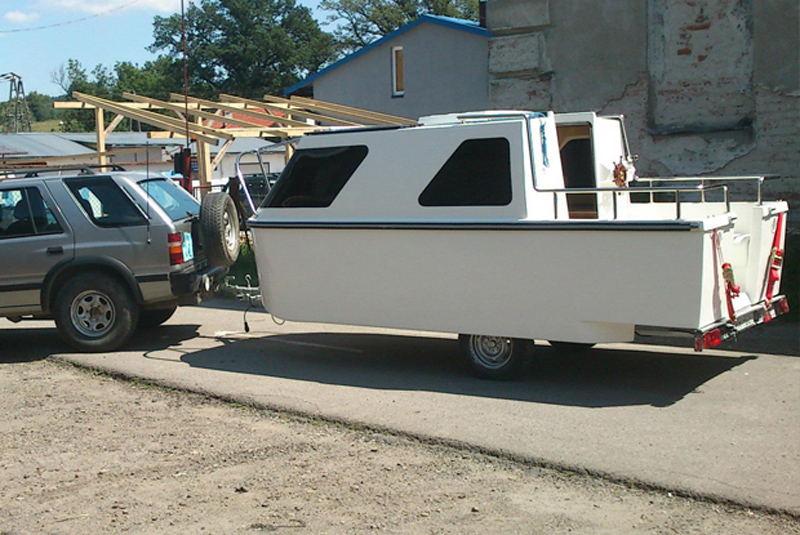 Mr. Edmund is already working on a new, slightly more futuristic trailer in version 7.0. Whether and when such a boat will be built, it is not known yet. Recently, the owner of the Unicamp company was looking for an investor. If there is someone among our readers who would like to support Polish innovative technical thought, he should report to Bircza as soon as possible.
Everyone, on the other hand, can follow Mr. Edmund's achievements on Facebook: http://www.facebook.com/pages/Unicamp-P%C5%82ywaj%C4%85ca-Przysznea-Campingowa/231100007000559

Sometimes it is better to get lost than to ask for directions too much. Aldous Huxley
Enjoyed reading this article? Share it!