DaOrffo Shqiptar - how to build an expedition caravan in Poland?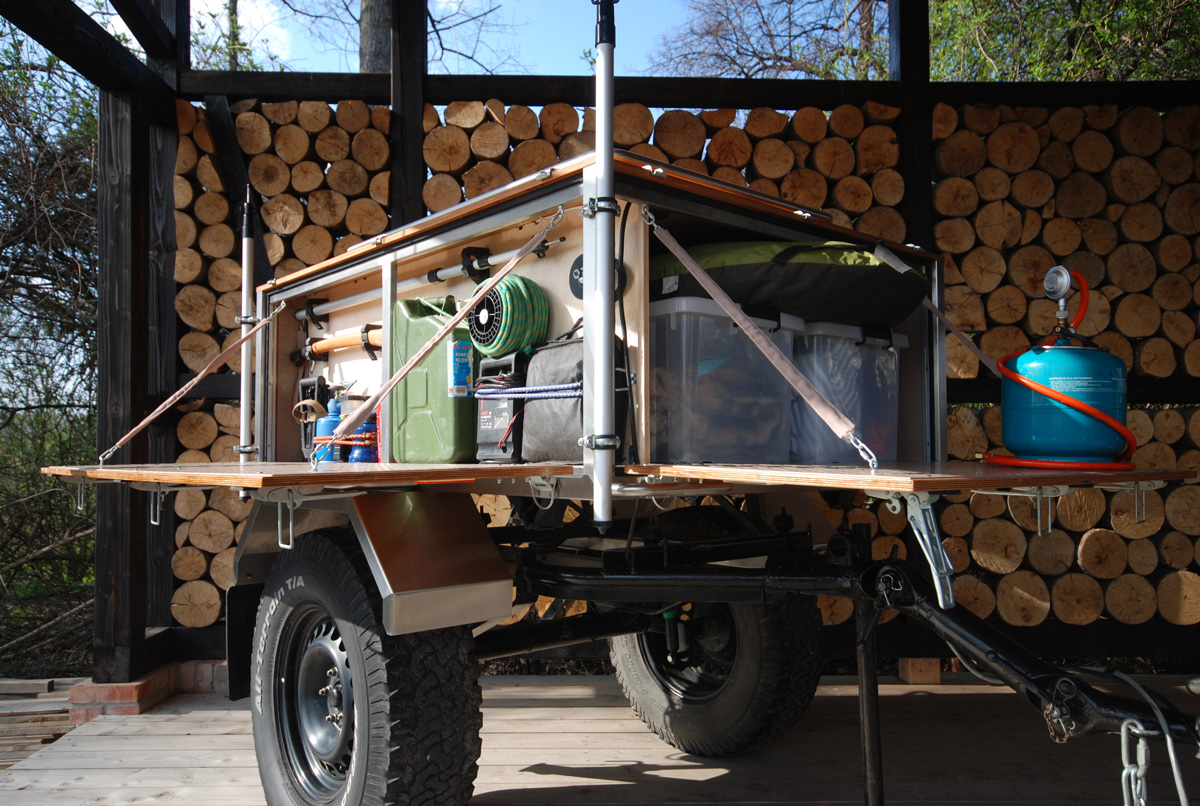 Shqiptar is a vehicle with unique off-road properties that ordinary campers, caravans or tent trailers do not have. It was created on the basis of the expedition and tourist experience of its builder. The mini camper trailer is distinguished by a unique combination of functional features, efficiency in moving off the asphalt and design.
Necessity is the mother of invention
The most comfortable way, especially in difficult terrain, is to travel without unnecessary ballast. However, when we stay away from civilization, it is convenient to have at hand everything that is responsible for our well-being. When you wake up in the morning in the Fagaras Mountains, do you dream of coffee from an espresso machine served with milk foam in a ceramic mug? Or maybe in the evening, in the setting Provençal sun, we will feel like drinking pink wine in a glass? Why not? In the past, during an expedition, each long stop was preceded by emptying the contents of the trunk, pitching the tent, cooking on the grass and then sitting cross-legged around with metal cups in hands. The table and chairs usually did not fit and we had to forget about many everyday items. Minimalism works well for three-day escapades, but packing equipment into the trunk of an off-road vehicle for longer trips with the family is a difficult task. The DaOrffo expedition trailer became our companion in these near and far adventures.
This is how we used to travel
We spent our holidays with small children, hauling a borrowed Niewiadówka to Croatia with our Land Cruiser. First with a caravan, and finally with a large two-cabin tent, we visited almost all the Mediterranean islands and Provence. In spring and autumn, the off-road vehicle equipped with an expedition rack with a roof tent traveled through the wilderness of the Ukrainian Carpathians and Romanian mountain ranges from Apuseni through Parang to Fagarasha. We drove along the eastern wall of Poland from Krakow through the Bug gorges to the Masurian lakes in a rented camper .
A heavy and difficult to maneuver caravan, just like a camper , forces you to travel on asphalt. Replacing it with a large tent and, consequently, a fully loaded trunk discourages frequent moving from place to place and the associated packing and unpacking, folding and unfolding. Both ways of traveling, like it or not, are limited to moving between organized campsites. When wandering off-road and spending the night outdoors, a roof tent helps in different places every day. Unfortunately, longer trips with family require something more.
I needed a real off-road trailer
I dreamed of combining the expedition style of traveling in an off-road vehicle, the ease of reaching often wild places inaccessible to most tourists, independence from tourist base, with the comfort of a caravan or camper. While looking for inspiration, I came across Australian expedition trailers . The concept, proven in the interior, convinced me from the functional point of view. However, in Europe or Asia, people often travel along mountain trails. I have not found a manufacturer that offers trailers capable of overcoming mountain passes. Finally, I decided to design and build it according to my own needs.
The trailer chassis is equipped with a height-adjustable drawbar , allowing the frame to remain in a horizontal position regardless of the hook height, which in off-road vehicles may exceed the range regulated by EU regulations. Large ground clearance and angles allow you to overcome obstacles. The vehicle was equipped with 265x75x16" off-road tires with AT tread, just like the Land Cruiser pulling it. The suspension was supported by additional shock absorbers for better damping. The next step was to build the body. I designed the frame of the case from closed stainless steel profiles, walls and a partition in the box. made of waterproof plywood protected with yacht varnish. From the outside we can operate the roof tent attached to the rail, extendable masts for attaching the canvas roof and the valve of the water tank located under the box. The trunk contains complete tourist and expedition equipment . Thanks to the opening side walls, access to the interior is available is provided on all sides. The sides are lined with rubber lining and, when opened, function as worktops. Inside, there are compartments separated by bulkheads, lit with diodes: a kitchenette with a sideboard - a cabinet with containers for various purposes; a technical compartment equipped with tools and camping equipment; extendable expedition boxes; shelf for table and folding chairs; space for a fridge and supplies. During transport, the equipment can be secured in many ways by attaching it to the bulkhead thanks to numerous hooks and handles. The low weight and dimensions help in maneuvering the uncoupled trailer , especially on mountain climbs when you need to back out and turning back without unhitching is not possible due to the slope.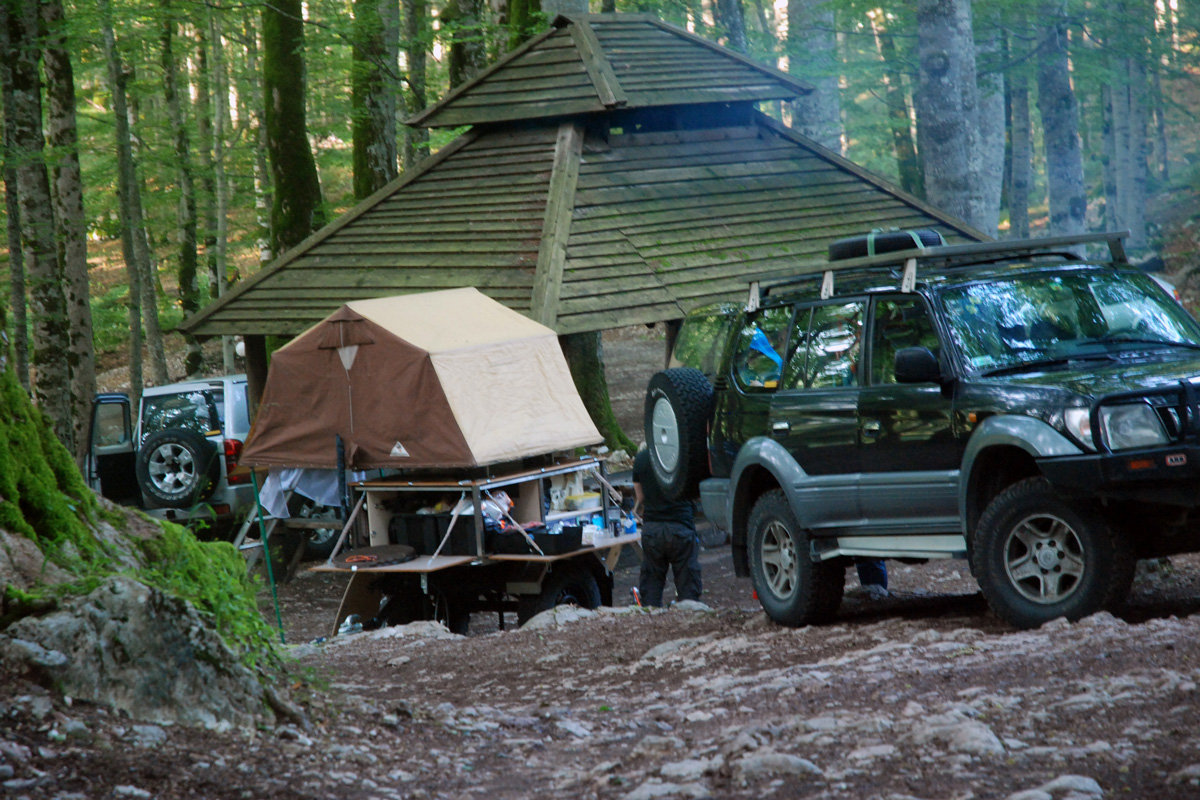 DaOrffo Shqiptar is a vehicle born from passion and the need for independence. The name was created while planning our first Albanian adventure and means native Albanian . The inspiration for the original design were wooden travel trunks, old suitcases with metal hinges, fittings and locks, covered with stickers from all over the world, just like Duduś's suitcase from "A Journey for One Smile". This mini camper attracts attention, arouses admiration and sometimes even a bit of envy among off-road and caravanning enthusiasts, and most of all it helps to make friends. First, building and then testing the trailer was one of our most interesting family adventures so far. We dragged it through Durmitor in Montenegro, the Albanian Riviera and all the way to Corfu. On the way back, we crossed the Albanian mountains to Ohrid and then through Macedonia, Serbia, Hungary and Slovakia to Poland. Traveling with an expedition trailer, comfort during camping and freedom of movement thanks to its functionality and off-road properties allow you to confidently plan further routes, even taking into account daily moving from place to place.
DaOrffo Shqiptar trailer parameters
Dimensions: approx. 250x150x150cm
Weight: 350kg
GVM: 700kg
Materials: Stainless steel, plywood, yacht varnish, galvanized and varnished steel
Body:
Opening and removable sides, roof railing, 2 retractable masts attached to the body box, covers for the front side and masts, 4 maneuvering handles, wheel arches with railing, 4 wheel chocks, LED interior lighting on each side, 4 12V sockets, interior partitions , , luggage mounts, rubber mud flaps
Chassis:
Wheels 265x75x16", Googrich AT tires, steel rims, adjustable drawbar, axle suspension, front and rear support, 35l water tank with tap
Equipment:
3-person roof tent 160x220x110 with ladder, mosquito net and sponge mattress; 2 additional masts; axe; cauldron stand; cauldron; shovel; gas igniter; rectifier; 3kg gas cylinder; gas grill; 4 plastic boxes; 230V 30m cable on a drum; 10l fuel canister; quickly set-up tent for 3 people, table 60x120, 4 foldable chairs, tent shower cabin, portable shower with a hand pump, 100 meters of string on a spool, 4 quick fist holders for attaching an ax and a cauldron stand
I professionally deal with design and interior architecture. In my spare time, I design and build expedition trailers that I test during expeditions.
Enjoyed reading this article? Share it!