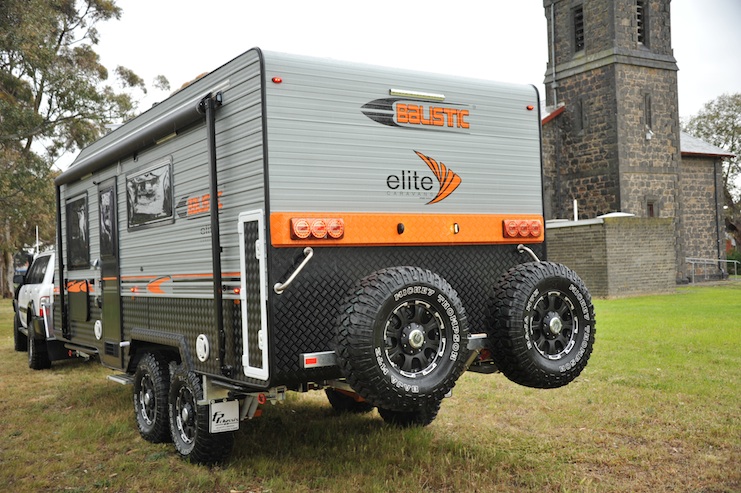 One TV in the trailer is not enough? Australians will add two more, and a washing machine and dryer.
The entire family of Elite caravans consists of several dozen models. However, there are three basic series, although it must be admitted that there is a lot of variety within each of them.
Elite , as the name suggests, wants to produce elite (read - luxury) caravans. Luxury, however, has many names, so the offer includes both the diamond series, which includes trailers with very rich equipment, a family series with bunk beds, as well as the most original series of off-road trailers in this set.
Most trailers are 17 to 24 feet, or about 5-7.5 meters . The smallest is the Brudny Harry 14-foot (4.2 m) roadster.

Family Banks
There are seven models in this series. In each of them there are three beds as standard. One double, the so-called a royal bed and two smaller ones, arranged in two tiers.
Australians, like Americans, find it difficult to imagine a camping without a TV set, so we will have three flat-screen TVs at their disposal. One can be located in the living or sleeping area, while the other two will be installed in the wall or ceilings by children's bunks. TV games can be connected to the screens. There are also three headsets available in the trailer, so that - as stated in the company materials - nobody would disturb anyone.
If someone is fed up with games, he can look out the windows. A nice solution is to place two windows - on the ground floor and on the first floor - next to the children's beds .
Interiors in this series are mostly decorated in bright colors. White dominates with elements of dark wood and even stone (kitchen and bathroom countertops). In larger versions, there is a place for a washing machine. A family caravan can be off-road.

Off-Road
Can I go into difficult terrain with a trailer? It turns out that it is. The reinforced structure, aluminum walls, double glazing, specially tuned suspension on powerful springs and large wheels allow you to move without fear also off asphalt roads.
We can choose not only the Goulburn Off-Road or Dirty Harry single-axle model, but also the Balistic two- axle model. If someone would like to check how a 3-axle caravan is driven, they will also find one in the Elite offer, although it will not be an off-road model. When it comes to 4x4s, you can choose the family Hume Bunk Off-Roader (two axles).
On the outside, the Elite SUVs look stern, almost menacing. Inside, however, they are completely different - they do not resemble Spartan jeeps at all. Air conditioning , microwave oven, radio, gas cooker with oven , 185-liter fridge-freezer and spacious bathroom are equipment that does not force you to make any sacrifices.

Diamond
The diamond series offers the most luxury. It is in these models that we find retractable TVs (after pressing a button), washing machines and even separate dryers. Solar panels and a rear view camera are other useful pieces of equipment. In addition to the shower inside the vehicle, in some models it is also possible to connect it outside.
If that's not enough, I recommend the Murray Home Theater Van with a 60-inch TV , Blue Ray system, cinema sound system and leather armchairs.
Is the price of 100 thousand. Australian dollars for an Elite vehicle is a lot? Everyone has to judge for themselves. You can read more about ELITE caravans on the manufacturer's website.
Sometimes it is better to get lost than to ask for directions too much. Aldous Huxley
Enjoyed reading this article? Share it!