Jeep JKU - for thrill seekers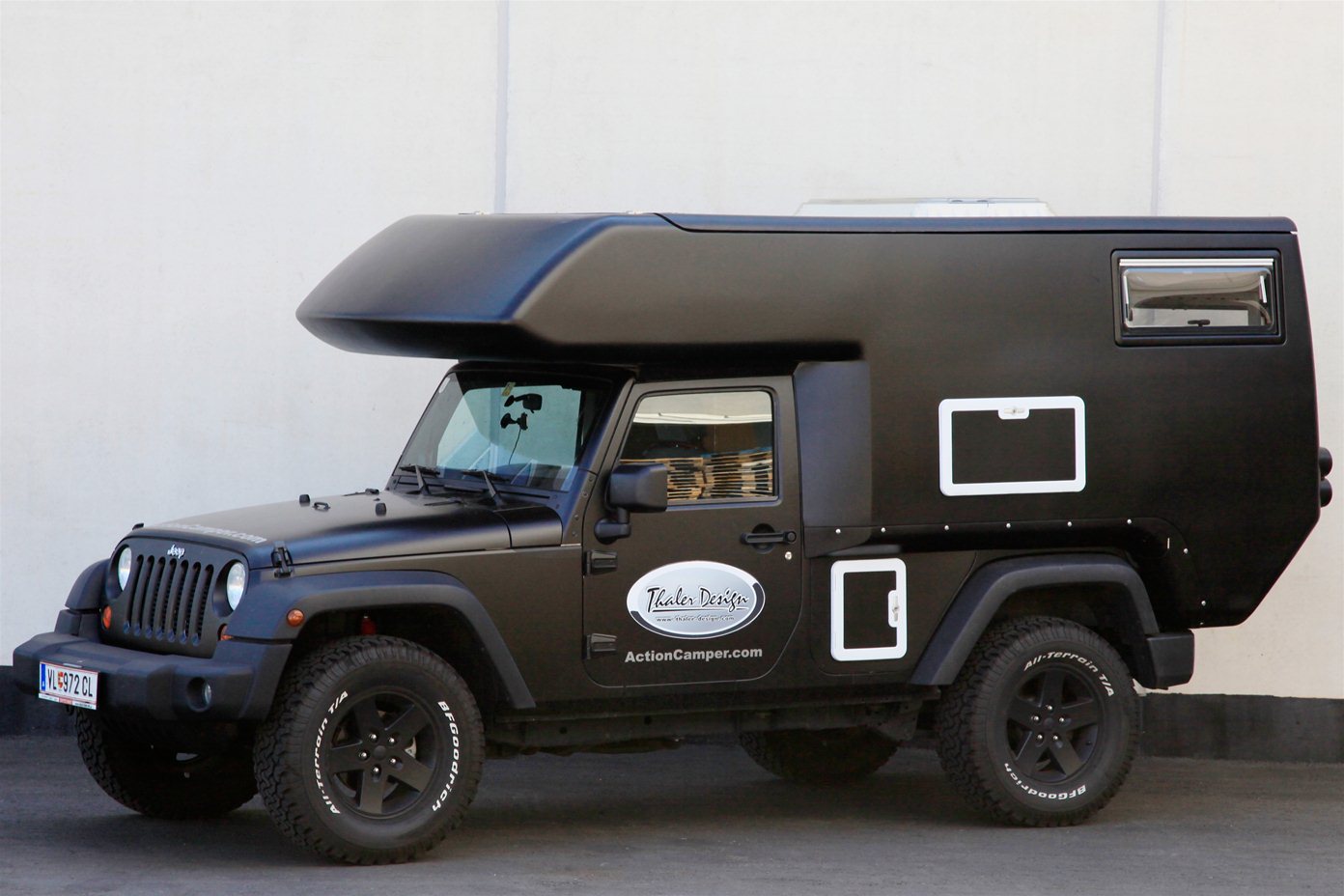 Off-road vehicle and motorhome in one? Yes, the American company ActionCamper converts ordinary Jeeps, incl. for pickups and motorhomes. A ready-to-travel car, after caravanning tuning costs $ 29,990 in the US. That's about $ 7,500 more than the salon version.
Jeep ActionCamper JKU - this is the full name of this vehicle - is not a car for the whole family, unless the family consists of two people who like active recreation. The idea behind the creators of this version of Jeep was to create a comfortable vehicle for long trips - they would not necessarily end at the campsite.
Double-decker Jeep for caravanning

What immediately distinguishes this car from the crowd is the sliding top made of fiberglass . It is in this peculiar attic that a folding mattress can be spread over the entire width of the vehicle, so just right for two people ( 200x180 cm ). And when the mattress is folded, you can stand in the Jeep without your head touching the ceiling. It is also possible to partially unfold the mattress, so that one person can cook and the other sleep (by the way, it's a good patent for a successful holiday).
For a moment, however, let's stay outside the vehicle, because that's where we find the door leading to three compartments . One of them, the largest, allows access to on-board equipment and cables, which would be difficult in a cramped interior. Another has been divided into four convenient compartments.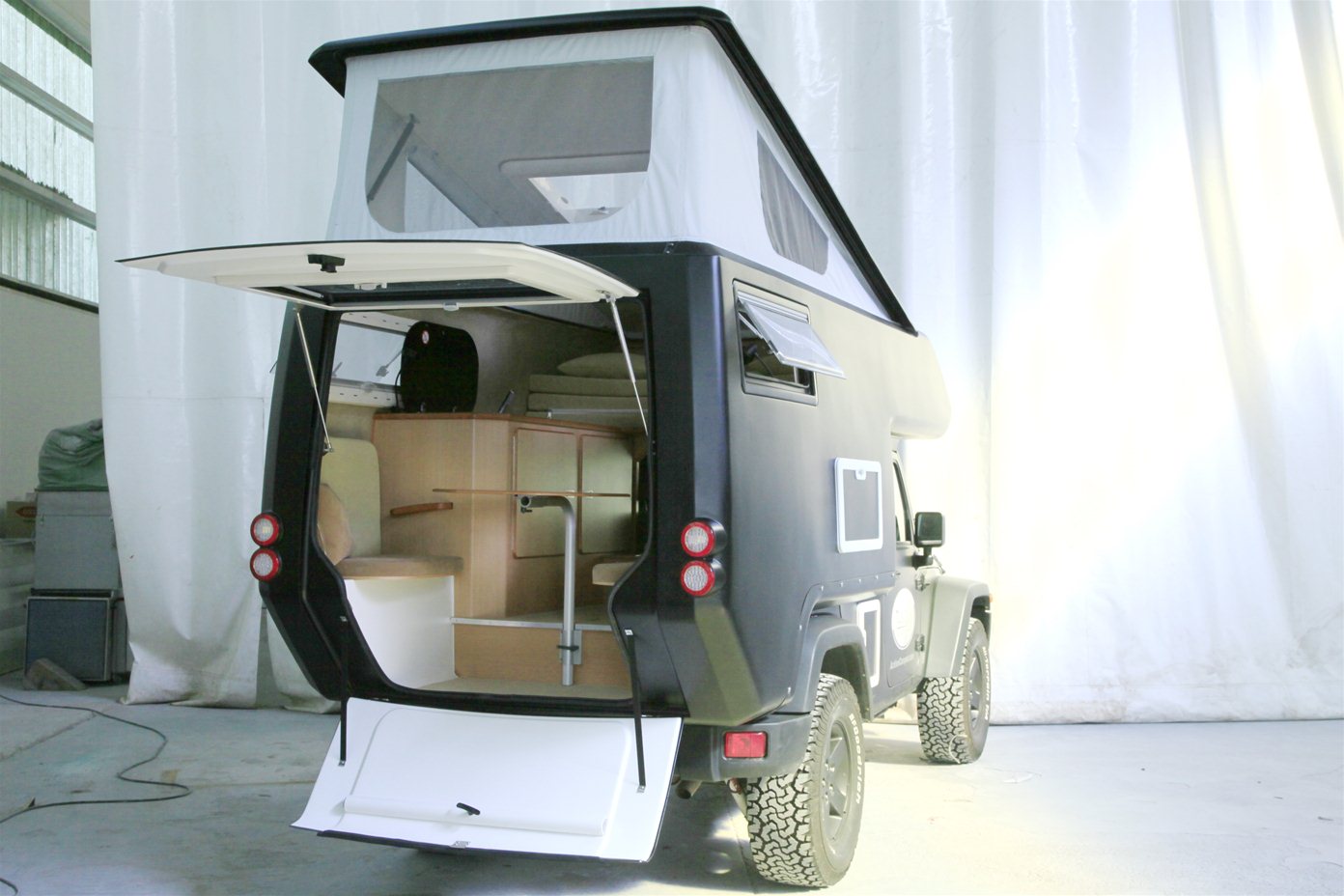 Shower in the sink or above the toilet
Well, how is it with the amount of space in a camping SUV? To put it mildly - it's average. The vehicle has a modular structure, and individual devices are hidden in cabinets . So in order to use the chemical toilet, it must be removed from the cupboard.
And in order to wash yourself, you have to reach for a shower attached to the kitchen faucet and keep the toilet clean. In order not to splash the entire interior during such an operation, it is possible to stretch the curtain around you . However, it is probably more convenient to use an outdoor shower (that is also possible).
Only the sink and the 3-ring gas hob are really accessible. To eat a meal, we can unfold the table. All in all, if we set a few days at JKU to be a survival school, we'll be pleasantly surprised. It is definitely not a camping bus or even a van, but somewhere in a remote area this car will provide us with a substitute for civilized conditions.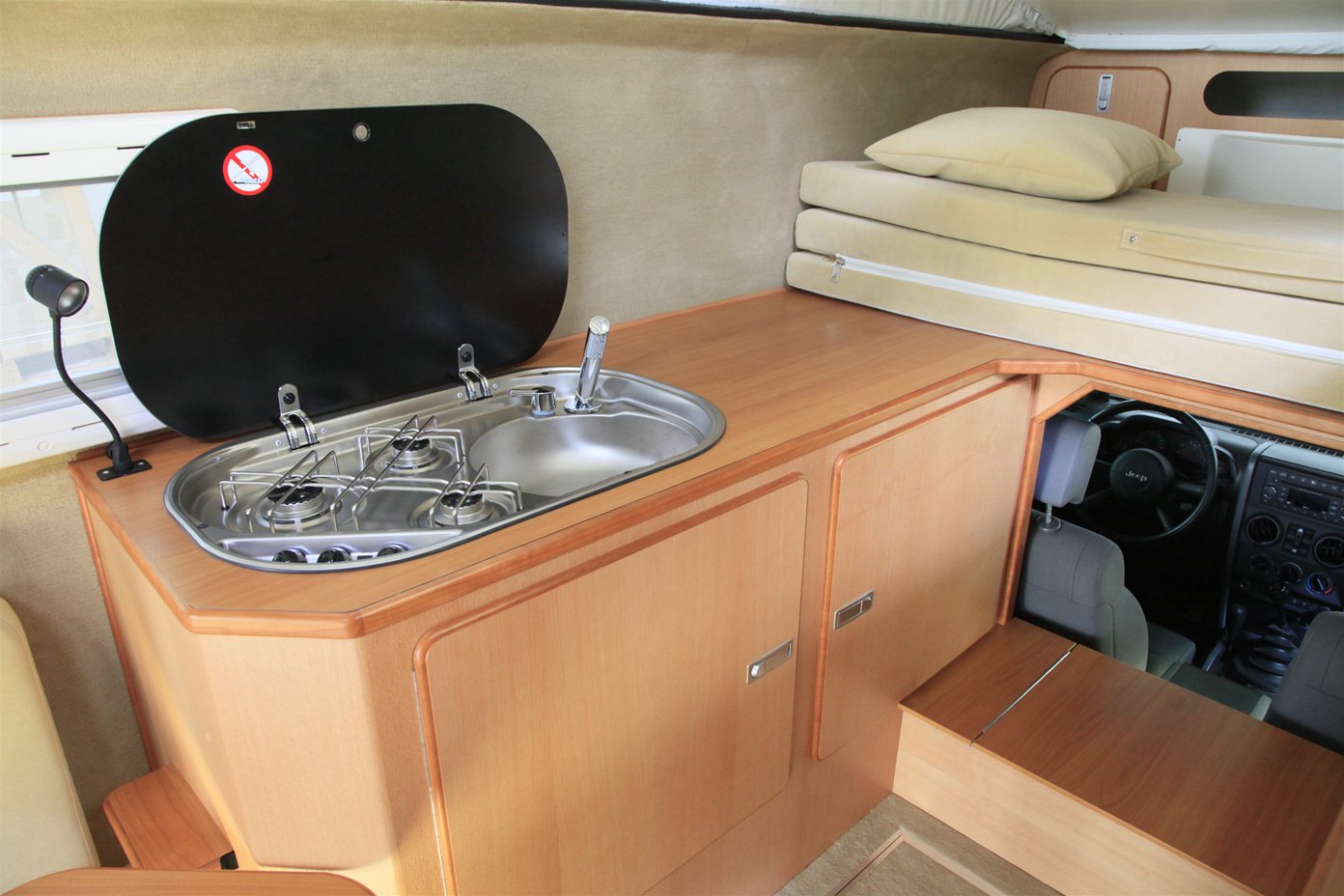 What is necessary in a motorhome
Since there is little space, every scrap of space has been dedicated to cupboards and lockers. The car also has a sunroof (Dometic Heki DeLuxe), integrated with LED lighting. The roof is prepared for the installation of solar panels on it.
The Jeep JKU has room for a clean water tank with a capacity of 15 liters and a 21-liter waste water tank. There is also a 40-liter refrigerator in the car, which has been located so that the passenger can access it from his seat. The vehicle even has a large under-floor storage space - for example, additional batteries or other devices can be placed there.
It can hardly be called a luxury, but in the end the Jeep ActionCamper JKU is a vehicle for adventurers ... Maybe not extreme, but definitely original.
Video: http://www.youtube.com/watch?feature=player_embedded&v=f8XTNX6s640

Sometimes it is better to get lost than to ask for directions too much. Aldous Huxley
Enjoyed reading this article? Share it!