Isuzu D-Max - hardworking tourist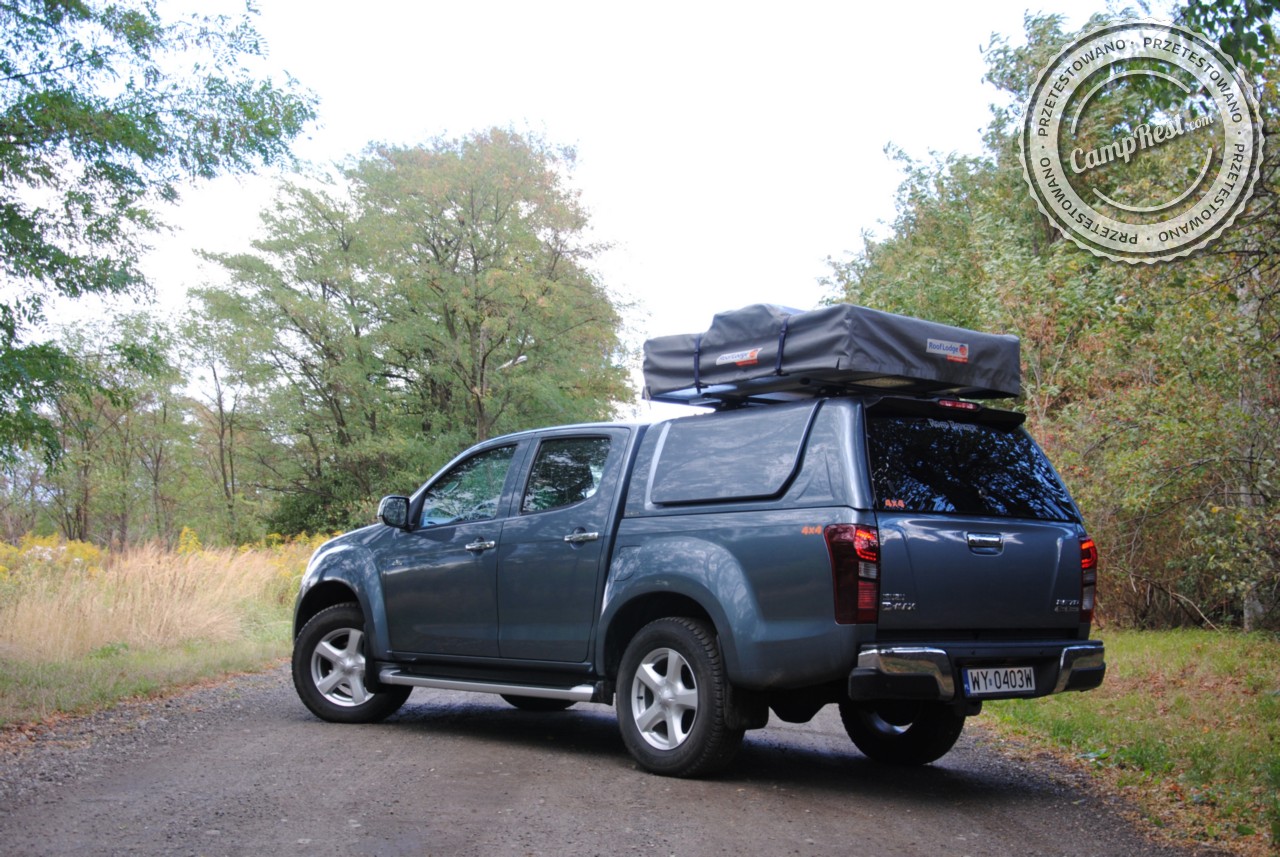 In most cases, the main point of interest for caravanning enthusiasts are SUVs, off-road vehicles or spacious station wagons that work well both on the daily way to work and during the holidays. Paradoxically, only a handful of enthusiasts pay attention to pickups that are becoming more and more popular in Poland.
In Polish realities, working vehicles very often replace off-road vehicles - after all, extensive additional equipment is enough to achieve a similar result, while taking advantage of tax exemptions typical for delivery vehicles. Nissan Navara and Toyota Hilux are the leaders on the Polish market, but we cannot forget about another offer from Japan - Isuzu D-Max .
The current generation of the Asian pickup truck is winning the hearts and wallets of construction companies that value the D-Max for its durable construction, resistant to harsh operating conditions . The maintenance costs are also important, as they turn out to be surprisingly close to a passenger car.
Universal worker
For many years, pickups, including previous generations of Isuzu, showed a truly working character. The crude design and primitive workmanship guaranteed durability unparalleled in other classes. However, the situation has changed, also in the case of D-Max. The modernly drawn body can be equipped with, among others, massive, tubular thresholds to facilitate boarding, a solid steel bumper with a winch and one of several cargo space superstructures . We also have three body variants to choose from, but only the version with a double cabin can meet the family's expectations.
Functionality above all
If we manage to climb into a high-set cabin, we will experience truly personal conditions. The seats are seated very low, which guarantees an ideal driving position. In addition, the front seats are extremely comfortable (we can optionally use the electric control ). Two adults will comfortably sit on the back sofa - unfortunately, we cannot count on the armrest and any adjustment. In terms of additional equipment, Isuzu offers, among other things , leather upholstery, automatic air conditioning, a multimedia center with navigation .
The optional roof tent (costing PLN 4,500 ) is a real treat for active people. A tent is installed on the roof of the building, which can be easily unfolded by one person in a few moments. Access the ladder to the double bedroom located on the roof. The Isuzu D-Max is also an excellent base for further modifications to enhance off-road capability. In addition to the winch , we can order off-road tires, underbody covers and far-reaching headlights .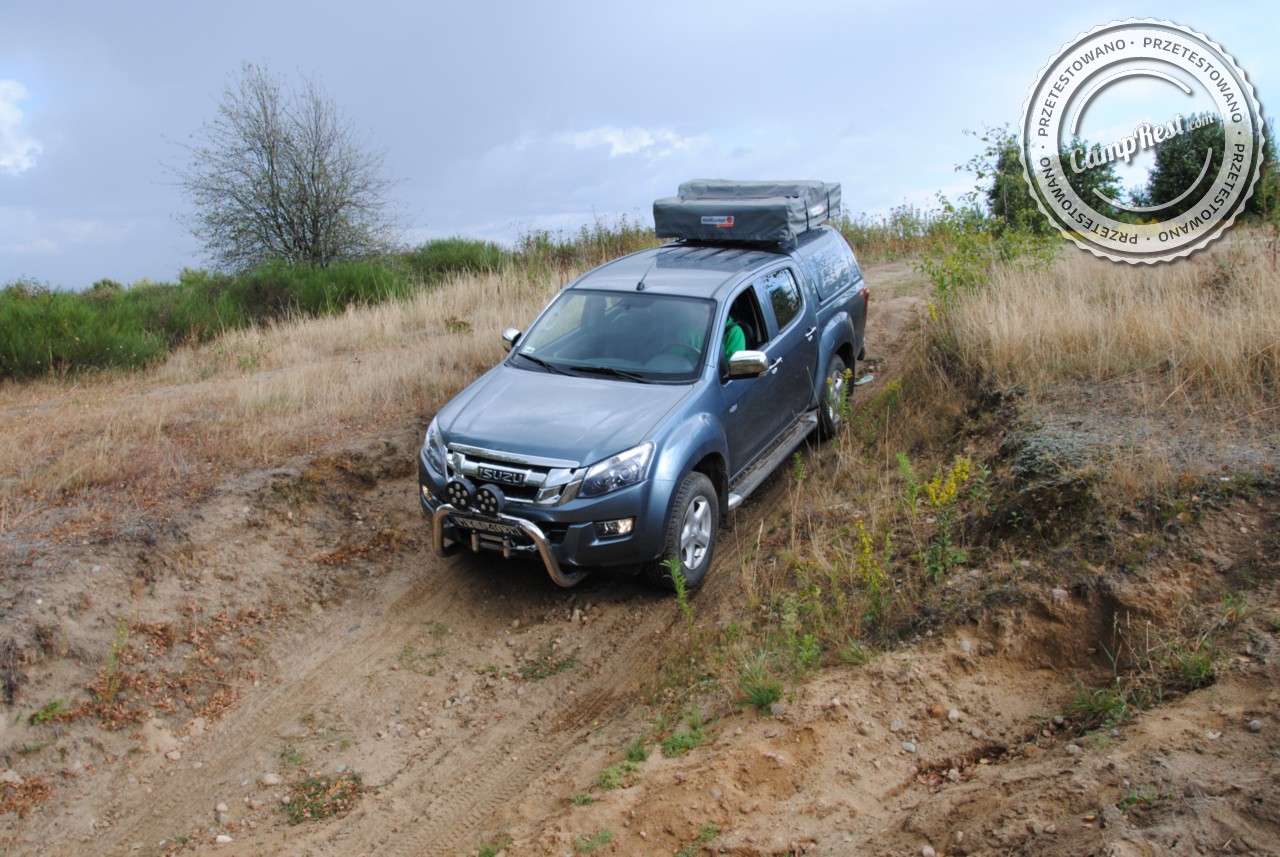 Surprisingly economical engine
The D-Max is only available in one engine version in Europe. A 2.5-liter turbodiesel generates 163 HP and 400 Nm , the above values hit the ground via a manual six-speed gearbox or a classic automatic . As standard, the power goes to the rear wheels , but on loose surfaces, it is enough to activate the front-wheel drive and even the reducer with the help of a knob - to take advantage of almost unlimited levels of traction. High ground clearance and a refined drive will allow us to get to any camping site, without worrying about the depth of the ruts in the forest. In everyday use, the D-Max also performs well, the engine generates enough power for typical street traffic. In the city, fuel consumption reaches 9-10 liters , while on the road, to the driver's surprise, this figure drops even below 7 units per 100 km. When towing a trailer (trailer weight with brakes cannot exceed 2500 kg ), fuel consumption will increase by about 3 liters.
Isuzu D-Max, like other pickups, is perfect for everyday use, especially for holiday trips with a powerful caravan. Their transport properties will allow us to take much more tourist equipment, for example a few bicycles or a quad bike. The presented D-Max is valued at PLN 138,000 - from which we can deduct 23% VAT when running a company.
I follow the latest trends in the automotive industry, not only in caravanning
Enjoyed reading this article? Share it!