Dethleffs Campy trailer - the absolute minimum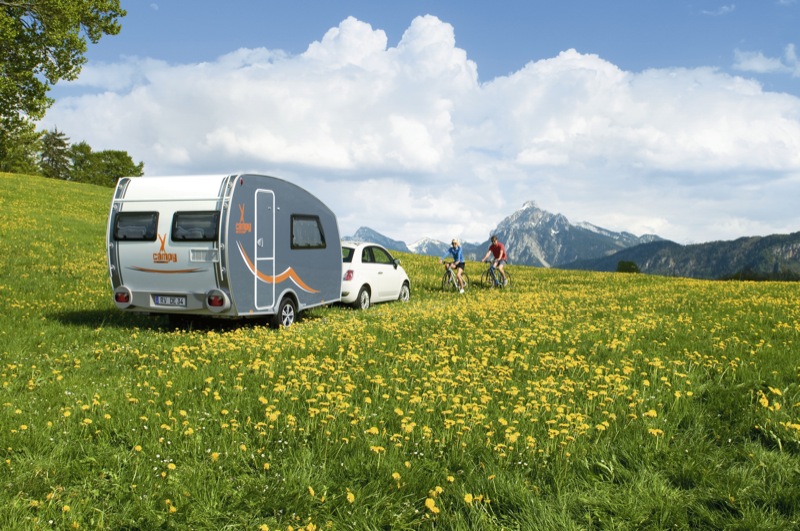 What can a company with an outdated product in its offer do? Maybe add a few designer flavors to it and announce that it is a vintage model. We can suspect that this is how the Dethleffs Campy trailer concept was born.
Small, cramped, but own. The design of the Campy caravan is reminiscent of the models from the 1950s. Small dimensions and neat curves make the smallest Dethleffs vehicle appealing, and thanks to its low weight it can be pulled by even a small passenger car . The trailer is offered in three color versions: white, gray and blue. The blue version can be additionally varied with a veneer.
Luxus for two
Campy is available in two lengths and four versions. The shorter model (001 and 002) measures 496 cm . The Luxus model (001 and 002) has 515 cm . They are all 213 cm wide. The versions marked as 001 have a fixed double bed and large storage space. The 002 variant has a U-shaped seat that can be transformed into a double bed .
Campy has an active Al-Ko Classic suspension system , independent wheel suspension and a galvanized body. The 42 cm thick floor consists of layers of aluminum sheet, polystyrene and plywood. As the roof is sloping, the height of the interior is not constant - it is 194 cm at the highest point and 146 cm at the lowest point. Optionally, a window with a lighting panel can be placed in the roof.
Upper cabinets deserve special attention. There are holes in their fronts that can be successfully used as places where you can hang, for example, a clothes hanger. Thanks to such ideas, the cramped interior can be used to the maximum.
A very modest standard
As standard, apart from beds, spacious cabinets and lockers, we also find a sink and a 2-burner gas stove. The water tank holds 19 liters. Everything else already requires an extra charge - even a bathroom with toilet and sink is optional , as well as an 86-liter fridge with a 9-liter freezer compartment. It is therefore all the more surprising thatTruma heating also requires an additional fee. You also have to pay extra to get the front window and even "stable support legs".
If we do not want to get a "naked" vehicle, we should immediately add approx. 2,000 to its basic price. euro for an additional package.
Campy 001 and 002 have a permissible total weight of 750 kg, and its factory weight is 630 kg. The permissible total weight can be increased to 900 kg. Such a trailer costs 9,612 euros as standard, to which you need to add 1,000 euros for transport to Poland.
The Luxus version costs 12,988 euros (including transport). Its factory weight is 720 kg, and the permissible total weight is 900 kg. The total weight can be increased to 1000 kg.
To sum up - Campy is a good solution for a couple who need a light, low-end trailer with two comfortable places to sleep. If the ease of maneuvering and a mattress for two are all you want, this caravan is for you.
Sometimes it is better to get lost than to ask for directions too much. Aldous Huxley
Enjoyed reading this article? Share it!