Dethleffs Evan motorhome - with young people in mind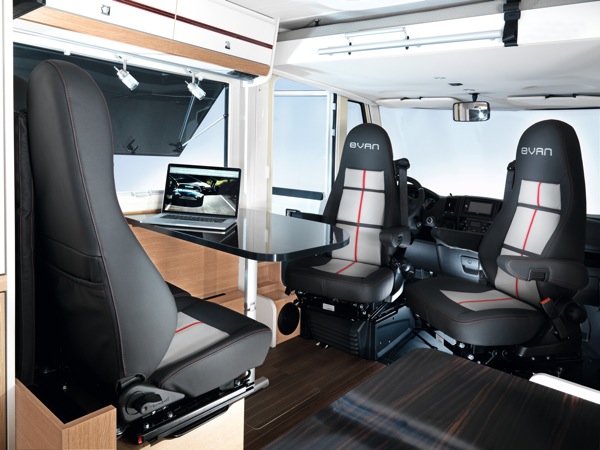 Evan is a completely new look at motorhomes. While working on this model, Dethleffs decided to abandon the accepted rules and completely rethink the concept of a motorhome.
The fact that this is a completely different motorhome is evidenced even by the fact that its description cannot be found on the Dethfless brand website. Evan has his own website, and the relationship between the German manufacturer and his new brand is not exposed. All this to emphasize that Evan was not created to meet the expectations of camping enthusiasts. This vehicle is to appeal to those who have not seen a place for themselves in the camping world so far.
A simple, compact body of the vehicle, large glass surfaces, wide rear doors , interesting front, two-color body - Evan may like it. From the outside, it is not visible that, like a "typical" motorhome, it was also based on the Fiat Ducato. The car seems neat, but small at the same time. Evan is 5.65 meters long and 2.15 meters wide.
First of all - spacious
What really distinguishes it can be found in the interior. In fact, the first impression may be… negative. We are already used to vehicles in which we can immediately feel at home. Against them, Evan looks very modest. The constructors did not want to reproduce the design of the apartment, or even more the hotel apartment, but to use the space as functionally as possible.
For lead designer Michael Studer, it was quite a challenge. He analyzed the interior layouts of motorhomes of various manufacturers, trying to combine as many practical solutions as possible in a small area. After many attempts, it finally worked. Evan has a place for a bathroom with a shower, and even for 6 beds (4 are available as standard).
Given Evan's size, the amount of space it has managed to find inside is truly impressive. In addition, the beds do not take up much space in it. One of them has been suspended from the ceiling , and the other can be used by unfolding the raised fabric roof . Therefore, both mattresses may be completely invisible during the day. The third double bed will be made up of armchairs and a table.
Well equipped
Evan also has a kitchenette with a 2-panic cooker, a sink , and an 88-liter fridge . The motorhome is also equipped with underfloor heating, a 45-liter fresh water tank and a 90-liter waste water tank .
The motorhome is available in Active, Sport and Performance versions. The basic versions in Germany cost from 56,599 euros to 68,999 euros. The basic Active model is powered by a 2.0-liter diesel engine with 115 HP . The basic power unit of the other two models is a 2.3-liter engine with 130 (Sport) and 148 (Performance) hp.
Who can you recommend Evan? First of all, young people, open to new ideas, who are looking for a vehicle with an interesting appearance, roomy, functional, and at the same time one that can be conveniently traveled both around the city and on winding, mountain serpentines.
However, it is not a car for those who expect great comfort. It cannot be denied that collapsible bathroom equipment and modular construction may require some sacrifices. But picky customers can choose from quite a wide range of other Dethleffs motorhomes.
Sometimes it is better to get lost than to ask for directions too much. Aldous Huxley
Enjoyed reading this article? Share it!